If you're sending your child off to camp for the first time, it's hard to imagine all the things they'll need once they're away from home.
If seemed like we were spending a fortune for someone else to host our children for 4 weeks…but that's even before we started camp shopping! Oh boy, the list was endless! It seemed like it cost more money to buy the stuff our kids needed for camp than for camp itself.
We put together a list of ideas that our kids have taken to sleepaway camp over the years…aside from clothing (everyone can use their own judgement as to how many skirts/tops [girls], shorts/t-shirts [boys], undergarments, socks/stockings, shoes, pajamas, and Shabbos outfits your child needs.)
Here's our list that includes clothing and other basics to help you get started checking things off.
First, before we get to the list, here are some pointers.
*Label all important things. Click here to order labels. USE CODE: BCP23 for 10% off.
*For girls: Every camp has different clothing styles. At some camps all the girls wear long skirts, at others shorter midi skirts. Call someone that goes to that camp to find out so that your child can fit in.
*If your child is going to camp over the 9 days – keep in mind that you'll need more clothing as laundry won't get done for 10 days.
*How much clothing do you need? That depends on how often your camp does laundry. Even if it's weekly, it takes a couple of days for the clean laundry to come back so you'll still need those 10-16 t-shirts or polos. Boys change more often than girls.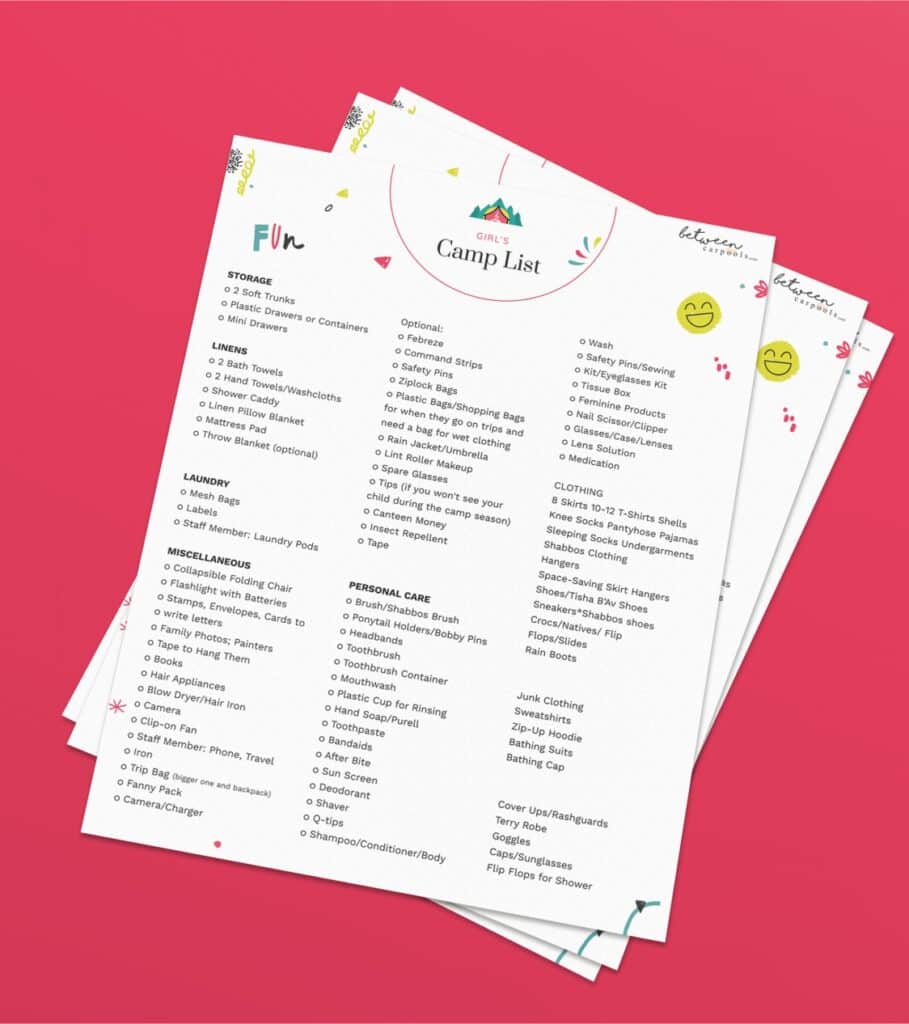 CLICK HERE TO DOWNLOAD THE FULL LIST
Note: We didn't buy all this the first year. Over the years we've collected these items and they get used year after year, and passed down to siblings. You may also want to speak to someone that went to the same camp that your child is attending, as kids in different camps have different needs. Also, this list is as generous as they come (and combines the ideas from multiple families). Use your discretion and take whatever ideas here you feel are important. Some children need more than others. Have fun shopping! And once they leave, enjoy reading some good summer books. Or, if you're feeling homesick (even though you're not the one that's away), you may enjoy reading this one.
(Links updated 2023)

*Labels!
Storage:
*2 soft trunks.
*Plastic Drawers or Containers – Whether drawers or containers is better depends on the layout of the camp room. Some girls prefer to have colored drawers like these, rather than clear, so that they're not see-through. You can also buy stackable drawers like these that pack easier in a duffle bag.
*Mini Drawers – A neat way to keep their letters, stamps, pens, canteen card, small change, camera, and other little items they have in camp. These fit right onto a shelf. You can easily find these for $3-4 at closeout stores.
---
Bed & Bath:
*Towels—2 bath towels, 2 hand towels/washcloths. You can find a set of everything they'll need here.
*Linen—When buying new linens, put aside the old linens for camp. Keep that linen stored with the camp essentials from year to year, packed away with the covers in Ziploc Space Saver Bags so they take up less space. You can also find some fun linens for as low as $29.99 at H&M online.
*Pillow
*Blanket
*Throw Blanket (optional)
*Mesh bags—For sending stockings/socks or underwear to the laundromat in camp.
*Staff Member: Laundry pods
---
Miscellaneous
*Collapsible Folding Chair—You can buy this for $5 at Five Below. This is what they look like.
*Siddur (with Shabbos davening)
*Flashlight/ with Batteries
*Stamps, envelopes, cards to write letters, pens. (Stationery sets like this one for girls or this for boys makes it easy to write home).
*Photos of the family; painters tape to hang them up
*Books—Don't send more than 2-3 as they won't have much time to read
*Hair appliances—blow dryer/ hair iron
*Camera
*Staff Member: Phone, travel iron
*Trip Bag (bigger one and backpack)
*Fanny Pack. This Lululemon Bag is popular. Here is a good dupe thats available in lots of colors.
*Camera/ Charger
Optional:
*Command Strips
*Ziplock bags for open packages of food it shouldn't get ruined
*Plastic bags/ shopping bags for when they go on trips and need a bag for wet clothing
*Rain Jacket / Umbrella
*Makeup
*Reading Material
*Spare Glasses
*Tips (if you won't see your child during the camp season)
*Canteen Money
*Tape
---
Personal Care:
*Ponytail holders/bobby pins
*Headbands
*Toothbrush, toothbrush container
*Plastic cup for rinsing
*Hand Soap/Purell
*Toothpaste
*Bandaids
*Shaver
*Shampoo/Conditioner/ Body Wash
*Safety pins/sewing kit/eyeglasses kit
*Tissue Box
*Feminine products
*Nail Scissor/ Nail Clipper
*Glasses/ Case/ Lenses/ Lens Solution
*Medication
Clothing – Girls:
*Skirts
*T-shirts
*Shells (check what your daughter's shirts need)
*Knee socks
*Pantyhose
*Pajamas
*Sleeping socks
*Undergarments
*Shabbos clothing (Friday night and Shabbos day)
*Shoes/Tisha B'Av Shoes
*Sneakers
*Shabbos shoes
*Crocs/Natives/ Flip Flops/Slides
*Rain jacket
*Junk clothing
*Sweatshirts
*Bathing suits
*Bathing cap
*Cover Ups/ Rashguards
*Terry Robe
*Caps/ Sunglasses
*Sweatshirt (H&M carries great sweatshirts without logos. For kids sizes click here. For Girls ages 12 and up click here.)
*1-2 outfits they can ruin (tell your daughter which one it is!)
*Sneaker/shoe for Tisha B'Av
*Boots
*Rain Jacket/Poncho (especially for Shabbos)
Food Ideas:
We don't want to send our kids off with just junk. Here are some options that are good to have on hand if they skip a camp meal.
*Beef Jerky
*Salsa and Tortilla chips – buy smallest jars possible so they can be finished same day
*Jar of pickles
*Cans of Israeli pickles
*Hearts of palm – Make sure it's the pull and open cans.
*Granola Bars
*Noodle Soups—Some camps don't let kids get hot water
*Cereal—1-2 boxes is enough for 4 weeks.
*Water bottles—You can ship directly from Amazon to camp.
*Healthy fruit leather
*Yellow croutons—for Friday night soup
*Gum or small candies
*Some snack bags
Did we miss something? Leave us a comment below.