Add some protein to your butternut squash soup…you might like this version more than the veggie-only version. 
How many years have you been making the same butternut squash soup? Forever? It's simple, everyone likes it, and if you're buying precut butternut squash (is that the vegetable that virtually everyone buys precut?) it's really quick to prep, depending on your go-to recipe.
But, admit it–the standard butternut squash soup can get a little boring.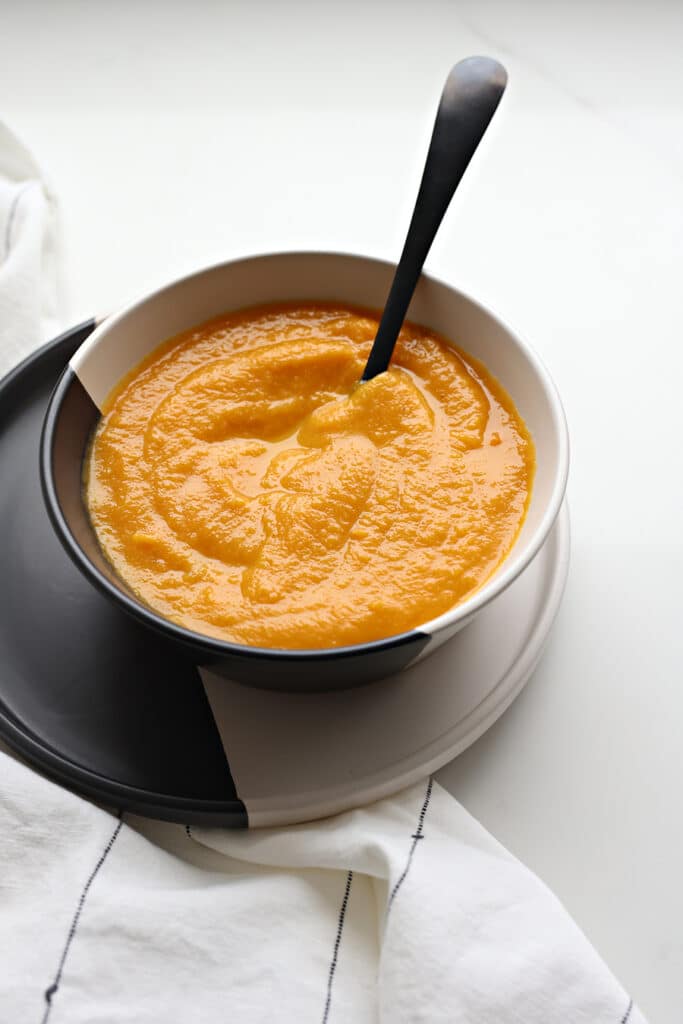 I used the Vitamix to get the soup super creamy, but an immersion blender is just fine too. 
This is my favorite way to change it up. It adds a little bit of Middle Eastern flair to the soup and a lot of protein too (so it's actually a complete, creamy meal). 
Bonus: This soup doubles as a gorgeous puree to serve under fish, like in this recipe (swap out the sweet potato puree for it). 
Creamy Butternut & Lentil Soup
Ingredients
2 Tbsp oil
1 onion, diced
2 garlic cloves, crushed
3 carrots, peeled and diced
20-26 oz chopped butternut squash
½ cup red lentils
6 cups water
1 tsp salt, or to taste
½ tsp cumin
Instructions
In a saucepan or soup pot, heat oil. Add onion and garlic and saute until soft, 5-7 minutes. Add carrots and butternut squash and cook 2-3 minutes.
Add lentils and water and bring to a boil. Lower heat and simmer for 20-30 minutes, until vegetables are super tender and almost disintegrated on their own. Watch the pot as lentils will drink up a lot of water. Blend using a blender or immersion blender. Season with salt and cumin.
FOR EXCLUSIVE CONTENT AND A PEEK BEHIND THE SCENES, MAKE SURE TO JOIN OUR WHATSAPP STATUS HERE. JOIN OUR WHATSAPP GROUP AND WE'LL LET YOU KNOW WHEN A NEW POST IS UP!