The reason we women love summer? BBQ dinners. Of course.

What is it with men (and little men, I shall add) and cooking over an open flame? I'm not quite sure. All I know is that anything grilled on a flame, outdoors, goes. Even for Little Mr. Picky.
Yes, I love BBQ dinners too. The kitchen stays (relatively) clean and everyone is happy for a change. What I can't stand is how many recipes for BBQ season are creeping up everywhere, ruining a perfectly good thing. This is the time when we are supposed to kick up our feet, relax, and keep it simple. Why are we always looking for ways to make ourselves miserable?
And no. You don't need much to make that meat delicious.
Here are a few BBQ hacks that I use all the time, recipes that aren't recipes, the ones you will make over and over all summer long.
Incredible  and Easy Ribs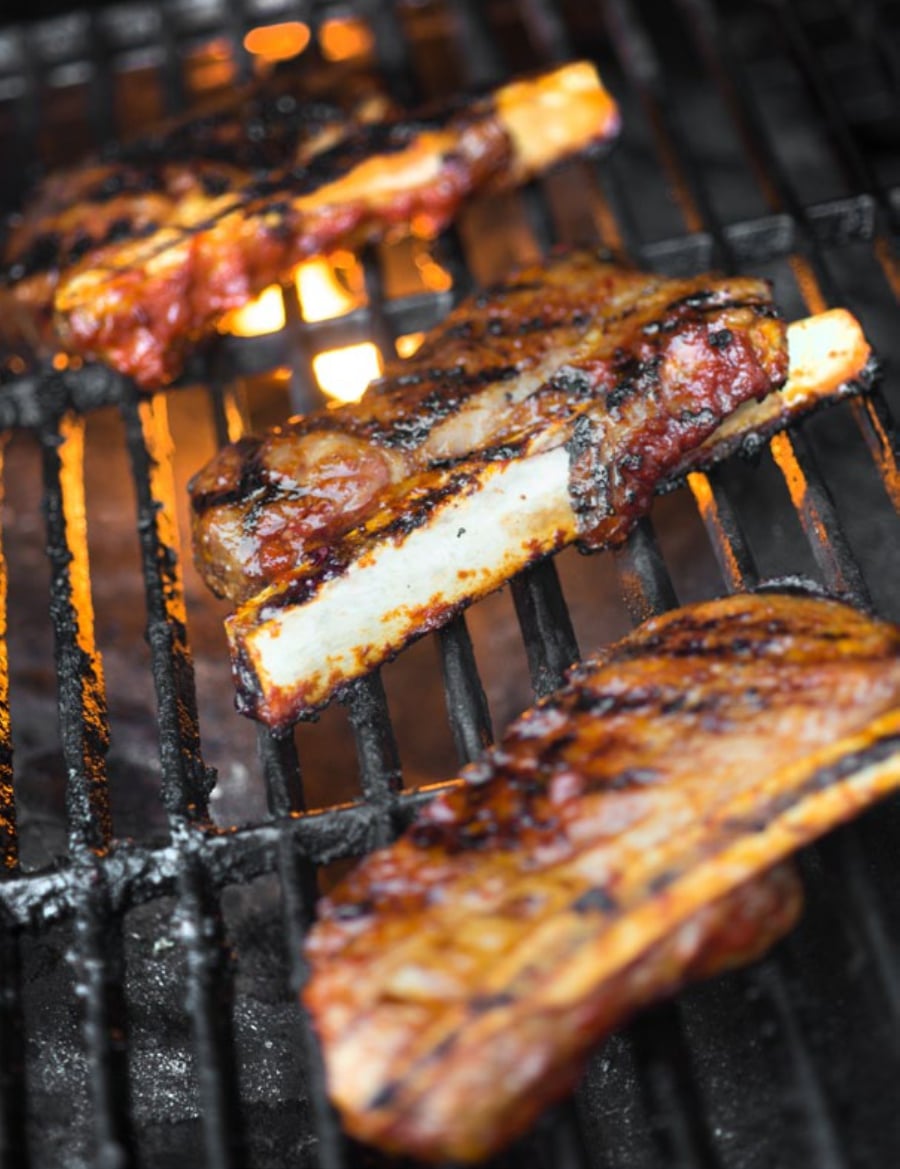 Here is a recipe that is not a recipe at all. All you need to do is open a jar.
This method results in incredibly soft and flavorful meat that will have everyone asking for more.
What to buy:
Use either spare ribs or miami ribs (miami ribs are basically flanken that have been sliced very thin). Place however many ribs you think your family will need in a large ziploc bag, cover with Bone Suckin' Sauce (the original recipe only) and let marinate for I don't know,  somewhere between 30 minutes to one day. You will obviously refrigerate if marinating longer than 30 minutes. (Bone Suckin' Sauce is ridiculously expensive on Amazon and is literally sold in all the groceries I've been to in my neighborhood. Just figured I'd add a link to make it clear which sauce I'm referring to).
How to grill:
Preheat your BBQ by turning on all the burners on high and let it heat up for a good 10 minutes. For the spare ribs: Place the ribs on the hot grill, and let sear on one side for about 1 to 2 minutes, flip over and then sear second side. Once the searing is done, close the lid and lower flames to low. Cook for about 10 minutes, or until done.
For the Miami ribs: Place the ribs on the hot grill, and let sear on one side for only 1 minute, flip over and then sear second side. Once the searing is done, close the lid and lower flames to low. Cook for about 5 minutes, or until done.
WARNING! Because of the sugary consistency of the sauce, it is important not to overcrowd the grill with ribs. Rather, cook in two separate batches. Failure to do so might result in a flareup. (#truestory)
Tender Soft Grilled Chicken (Even Your Toddler Will Eat)
This grilled chicken is something everyone enjoys, no matter how old. I find that whenever I am grilling my little one is kind of stuck being that chewing meat is not age-appropriate for him yet. This grilled chicken recipe makes him (and the rest of the family of course) so happy.
About 2 lbs chicken cutlets
½ cup low-fat mayonnaise
½ cup ketchup
(spices, like salt and pepper, optional)
Prepare the chicken cutlets: chicken cutlets should be evenly thick, about ½ inch. If too thin, they may dry out. In a small bowl, combine ketchup, mayonnaise, and spices (if using), mixing until smooth. Place cutlets and marinade inside a resealable bag and let sit for at least ½ hour at room temperature. (If marinating longer, place bag in the refrigerator. You can do this step up to one day in advance, but a longer marinade is not necessary).

Preheat your grill, turning all the flames to the highest setting. Dip a folded paper towel in cooking oil, holding it with tongs. Wipe cooking grate carefully. This is my preferred method to ensure that the chicken releases itself easily from the grate.

Place all chicken cutlets on the grill and lower flames to medium-high. Leave lid open. After 3 to 4 minutes, flip cutlets over to the other side (you should have nice grill marks by now). Lower flame to medium. Close lid and grill for an additional 5 minutes.
Grilled Potatoes in Foil Pouches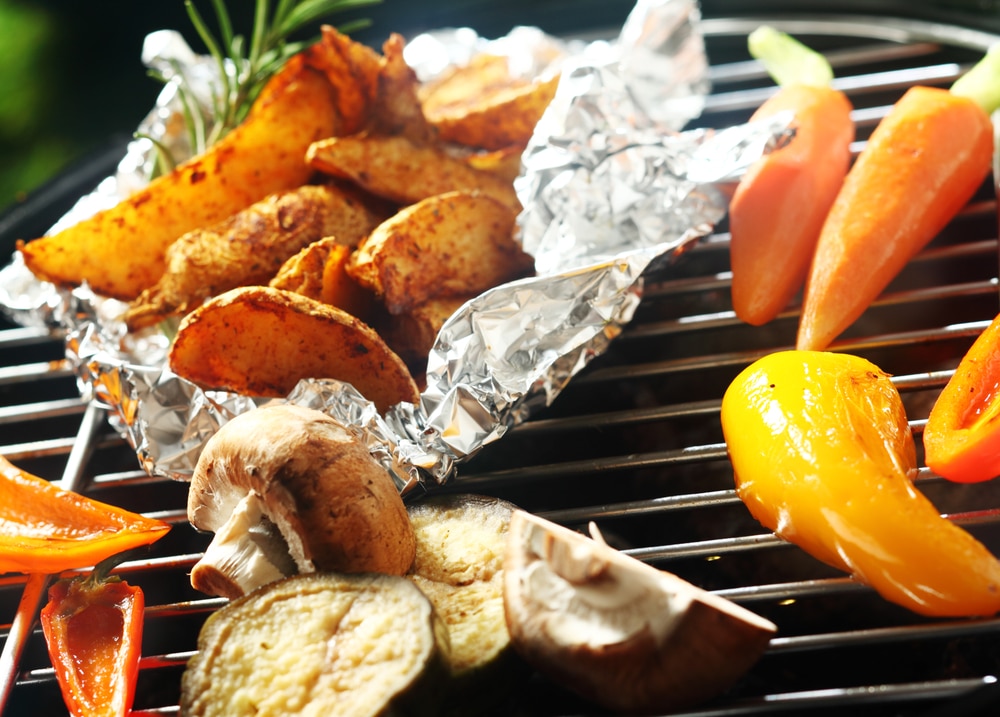 Sooooo hip.
I don't know about you, but whenever I'm grilling, I kinda get stuck with the side dish. Sure, a nice big salad is a given, but how about some potatoes? And no, I do not want to turn on my stove or my oven. The whole point is keeping my kitchen clean, right? This is how I came up with these adorable and flavorful potato side dishes that are a snap to prepare and fun to present.
1  (2.5 pound) bag of mini Yukon gold potatoes, scrubbed, quartered
1 tablespoon olive oil
3 garlic cloves, minced
1 teaspoon salt
½ teaspoon pepper
½ teaspoon parsley flakes
Place potatoes in a large bowl and wrap tightly with plastic wrap. Microwave for 2 minutes. Shake the bowl a bit to redistribute potatoes and microwave for an additional minute. Remove plastic and gently toss with oil, garlic, and spices.

Turn all grill burners to high. Close lid and heat grill until very hot, about 10 minutes. Meanwhile, prepare the pouches. Cut four big pieces of heavy duty aluminum foil and divide the potatoes amongst them. Fold over edges (like a letter) and crimp corners to seal shut.

Grill pouches, with lid down, until potatoes are completely tender, about 8 to 10 minutes, flipping pouches halfway through cooking. Serve alongside your main.