And, to add to the stress, it's still pretty hush hush. You don't want to call your neighbor, not yet, for help. So what does one do?
Note: Different communities might have different customs. Some of these tips might not be applicable to you. But if this does seem to be what's done in your circles, then this post will be helpful. 
It's kinda funny that I'm the one  writing a post about how to set up a l'chaim, when in truth, I haven't married any kids off, yet. None of us at Between Carpools have. But, I have set up many many l'chaims and vorts in my lifetime. You see, I'm the youngest of 8 and when one of my siblings calls me that my niece  is getting engaged "… and could you please help me set up the house, I cannot think straight right now" I do my best and I run.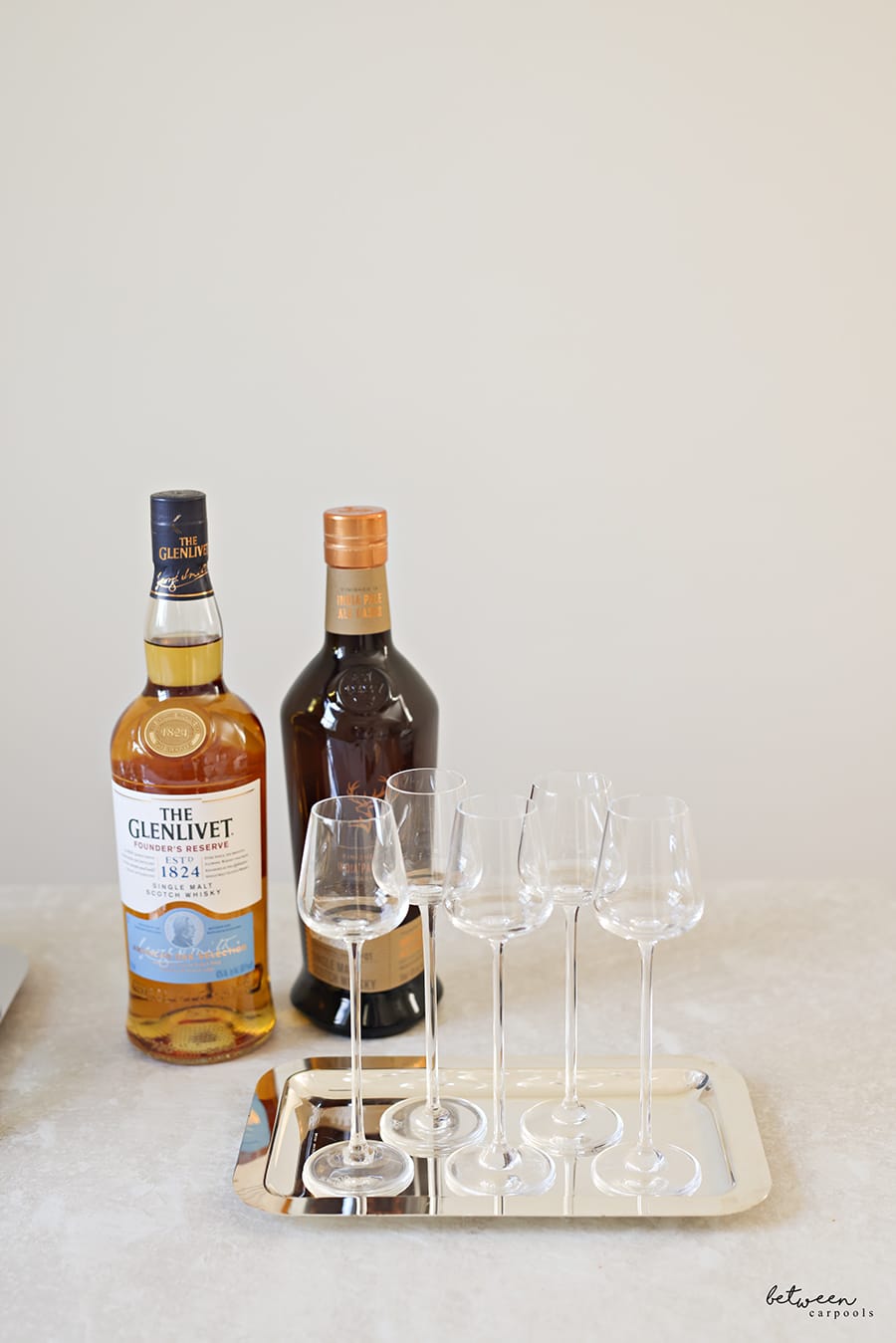 Why do they call me? Well, by now you should know. I love setting up a pretty table. 
So, back to you. Your daughter is dating seriously, your life is on hold, you haven't slept or eaten in who knows how long… and you need to get your house together to host a party. What?!?!?
Don't worry. It's not that hard. All you need to do is to lay out some schnapps, some food, some drinks, and trust me, usually nobody eats. People come to wish you a heartfelt mazel tov, give you a hug, check out the lucky guy and then leave. But still, you need to put something out. Right? Let me help: 
THE GENERAL SPACE:
Try to clean up the space, put things away (read hide) and clear all surfaces. Nobody needs to see your stack of mail in the kitchen.

If you are anticipating a big crowd, remove your dining room chairs and rent chairs. That way it's a cohesive look and you will have way more room to fit in more chairs.
Pick one area for the men's side and one for the women's to place refreshments.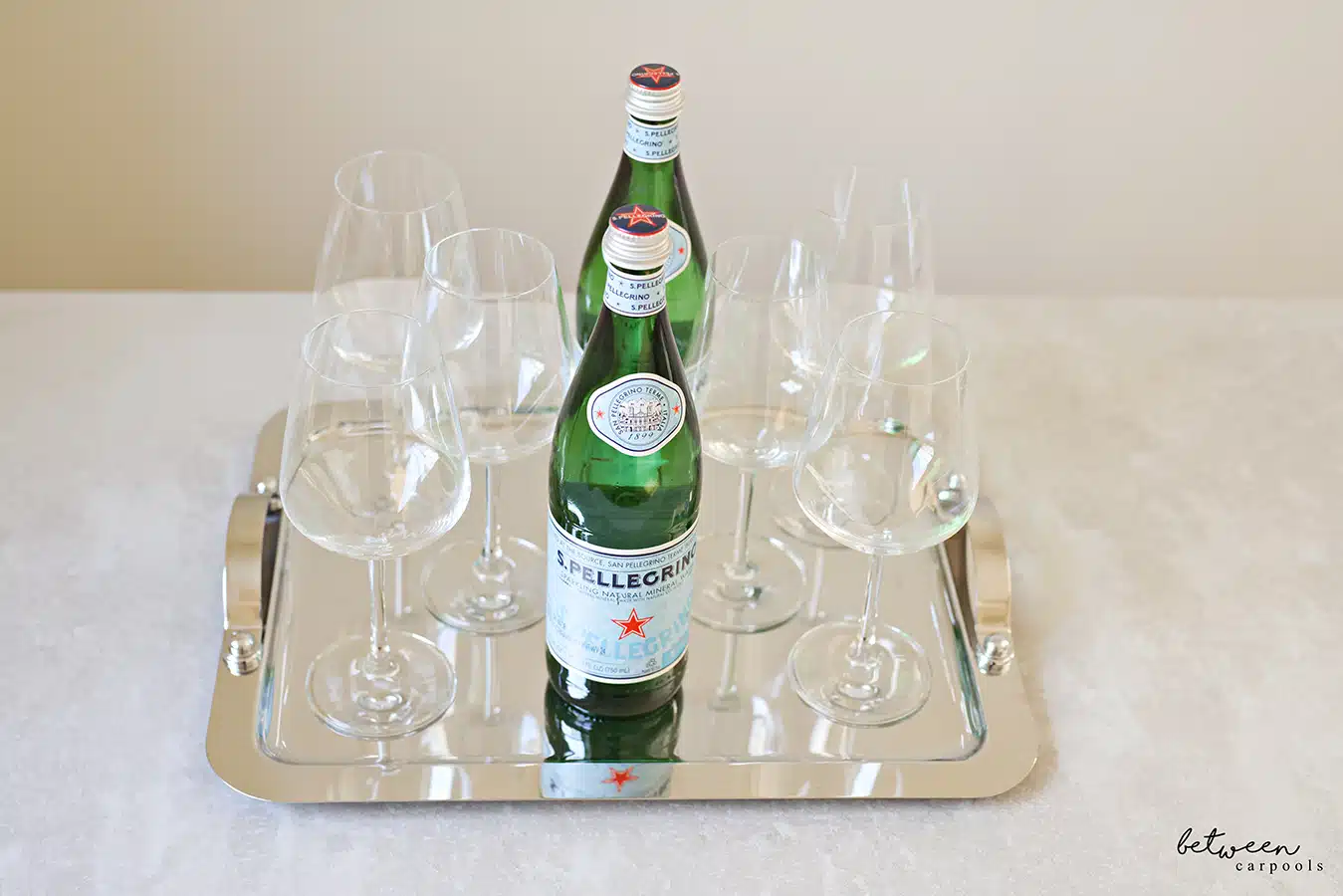 TABLECLOTH:
You don't need to rent a tablecloth. Just use any pretty tablecloth you already own. If you want, buy paper napkins. 
DINNERWARE:
You don't need much. A stack of dessert plates here and there. Can be real or disposable (see below for ideas). You are not setting a table. Include a stack with small forks and small spoons not far from the plates.
Glasses: I prefer using real glasses vs. plastic, but to each his own. Both work. 
L'CHAIM CUPS:
These are something I'm always on the lookout for. You can definitely use the small schnapps cups but it's nice if you own pretty glasses (either from silver or crystal) to set out on a small tray for the special occasion. See end of post for some ideas.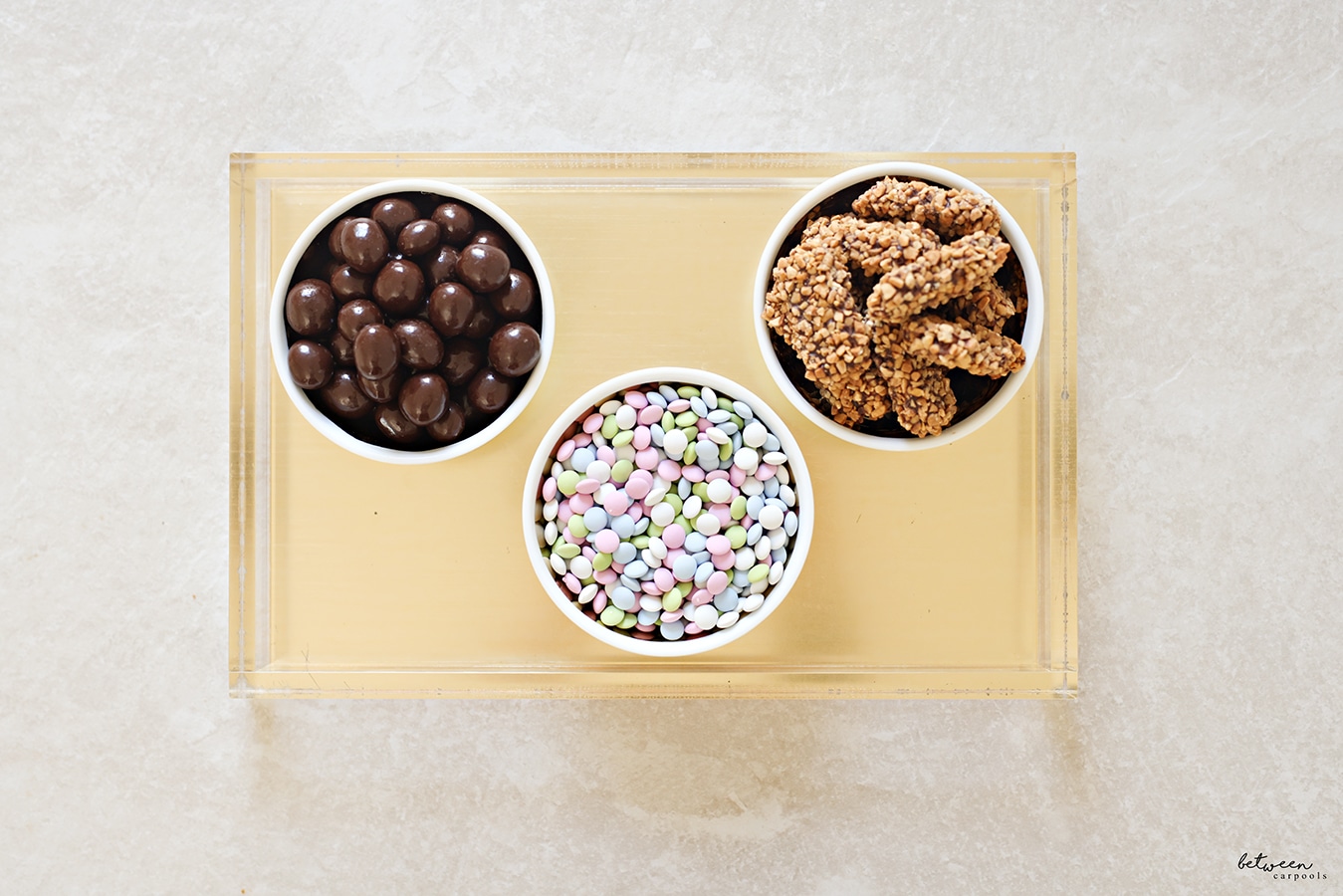 TRAYS:
When it comes to setting up a party as such at home, I find that trays are everything. You can do so much with a tray. I use larger trays to line up the drinking glasses (see image) and smaller trays to display food. Trays keep everything neat and uniform. 
SMALL CANDY DISHES:
Perfect for salted nuts, chocolates and candy. 
THE FOOD:
No need to panic. Most cake places have things ready on short notice. They are in the business of last minute simchas and are ready for it. Don't be afraid to call. If you are ordering, get small items to display on trays rather than a big cake. Big cakes don't get eaten as much. 
Also, one trip to the grocery store is enough too. Here is what you are looking for: 
Nice bottles of water or seltzer

Chocolates (rum balls, viennese crunch)

Pretty candy (wrapped taffys, mints)

Nuts. Like salted peanuts, pistachios, trail mix. 

Pastries that are small, almost bite size like mini rugelach, cookies and petit fours. 

Paper goods, if using (dessert plates, napkins, cups, forks and spoons)

Cut up fruit (most groceries now have nice selections of either trays or diced fruit)
IF TIME ALLOWS, MORE FOOD: 
A nice addition always is hot potato kugel, on a sterno. Also, baking individual apple cobblers is delicious and gives the house an inviting and yummy aroma. So homey! 
FLOWERS:
Always a nice addition, not a necessity. My advice to you is to buy nicer flowers for Shabbos if you see something might be developing, and set them up in low vases. We always want a good excuse to buy more for Shabbos! Also, setting up flowers takes time and you won't have much time, so doing it for Shabbos is always best. Ordering bouquets from a florist works as well.