Sod Ha'adam's courses teach an understanding of the whole person, to bring you real connection with others and yourself. Learn more below, and visit www.sodhaadam.org for all the details.

Now, use code BTWC50 for $50 off!
Do you wish you could feel closer and more connected to the people around you? Do you wish you could understand them, and yourself, better? Do you want to learn foundational truths, from Torah text-based sources, to acquire a deep inner happiness? Meet Sod Ha'adam, the mindset that teaches a new understanding of human nature: that at our essence, each of us is pure. With that understood, you can face your own and others' weaknesses and recognize that they can be your greatest assets.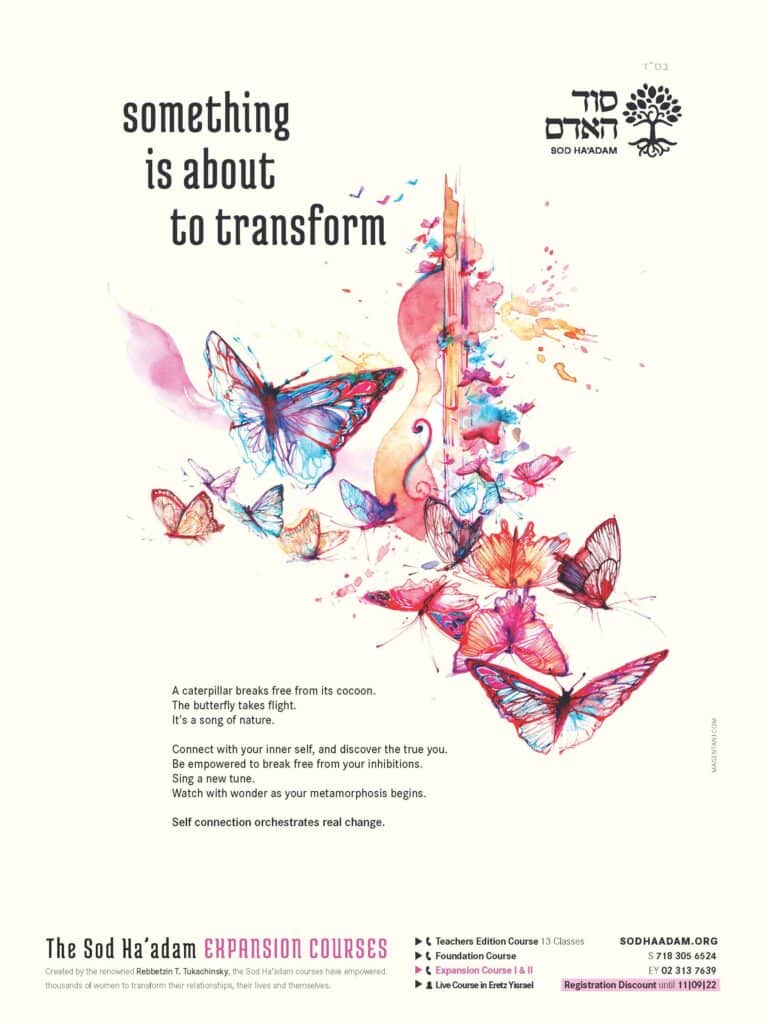 Sod Ha'adam was created by Rebbetzin Tzivi Tukachinsky (née Grama), a world renowned lecturer and teacher. She began her career teaching at Bais Yaakov of Boro Park, where she not only taught, but advised and coached students and parents alike. Rebbetzin Tukachinsky's grasp of human nature was revolutionary: understand the core of the emotional world and use that knowledge to connect with yourself and others. Today, Rebbetzin Tukachinsky lives in Eretz Yisroel, where she guides and advises parents, educators, therapists and more, with her trademark perspective.
So what's the secret perspective? I spoke with one of Rebbetzin Tukachinsky's students, who shared just a little bit of what you'll gain from Sod Ha'adam. 'Sod Ha'adam is understanding people: understanding their emotional world to understand what's behind their behaviors. There are real people hiding behind their challenges, and when you fully understand the whole person, all the blockages to connection are removed.'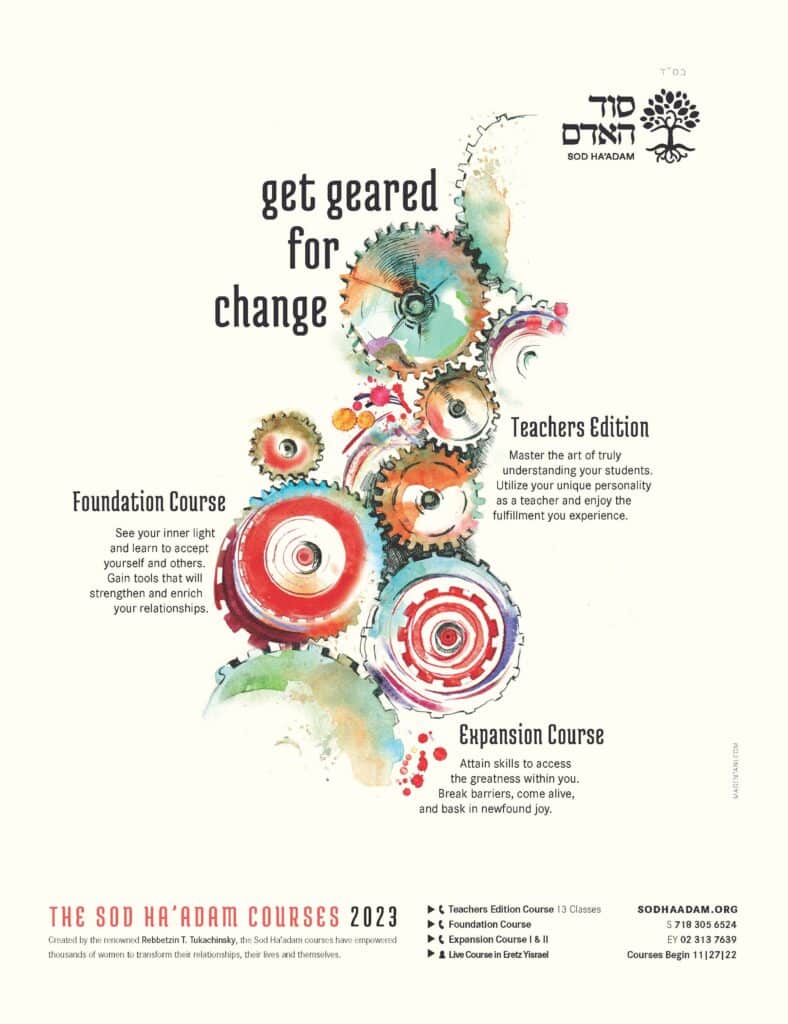 We can all think of the person in our life who we just don't 'get.' Whether it's a child, a family member, or a friend, Sod Ha'adam teaches how to relate and connect to them, by understanding their emotional world. Intrigued? Sod Ha'adam offers four courses: Foundation, Expansion I, Expansion II, and Teacher's Edition.
Let's start with the Foundation course. This is Sod Ha'adam's classic beginner course that will teach you how to relate and connect to the people around you, from Torah, text-based sources. That person in your life that you just don't 'get'? Sod Ha'adam will give you that 'oooohhh' feeling, the 'Now I understand them!' that you're looking for. Deepen your connection with the people around you, and deepen your understanding of yourself. This course begins on November 29th, so don't wait! The Foundation course consists of 24 weekly classes, weekly live Q&A sessions, with access to recordings available. Visit the Foundation course page here for more details and to register.
Now, for the teachers! The Teachers Edition course takes the trademark Sod Ha'adam perspective and brings it to your classroom. Learn how to understand your students: then watch your connection with them deepen, empowering you to be the best version of yourself and your students to succeed. With topics like discovering your uniqueness as a teacher, communicating with parents, connecting with different types of students and delving into 'why do I teach?,' among so many others, this course will give you the tools to succeed with each and every person in your classroom, including yourself. This course begins on November 27th (yes, that's in just one week!), and includes 13 classes both recapping the ideas found in the Foundation course and then bringing it to your classroom. Visit the Teachers Edition course page here to find out more and register!
Want to hear from women who've completed Sod Ha'adam's courses?
One woman commented, 'I learned to reframe my attitude toward the people I love and the challenges that relationships often bring. I am stunned at the positivity that gets reciprocated and the positive attitude it creates in my home.'
A teacher said, '"I was amazed to see how differently I related to my playgroup children this year. I used to see it as a mostly physical and intellectual hard work, a necessary hishtadlus for parnassah. I saw misbehavior as an additional burden. Now I approach my job as an opportunity to connect and uplift Yiddishe neshamos, to enrich their lives. I see misbehavior as an opportunity to practice compassion, give them what they're missing, and remind them that they're really good.'
With Sod Ha'adam:
Learn the core of the emotional world, from Torah texts.
Gain an understanding of the whole person, including the people around you and yourself.
Take the relationships in your life to a new level: both with others and with yourself.
Visit Sod Ha'adam here to learn more and find the course that's right for you.