You can use lots of items you already own when replacing this Siyum table.
Devoiry Kalisch of Noir Gifts invited us over to show us the setup of a siyum she hosted–and we're sharing the ideas over here with you. Ready to hear about the brainstorm for this fall-inspired table? Let's get started with the basics.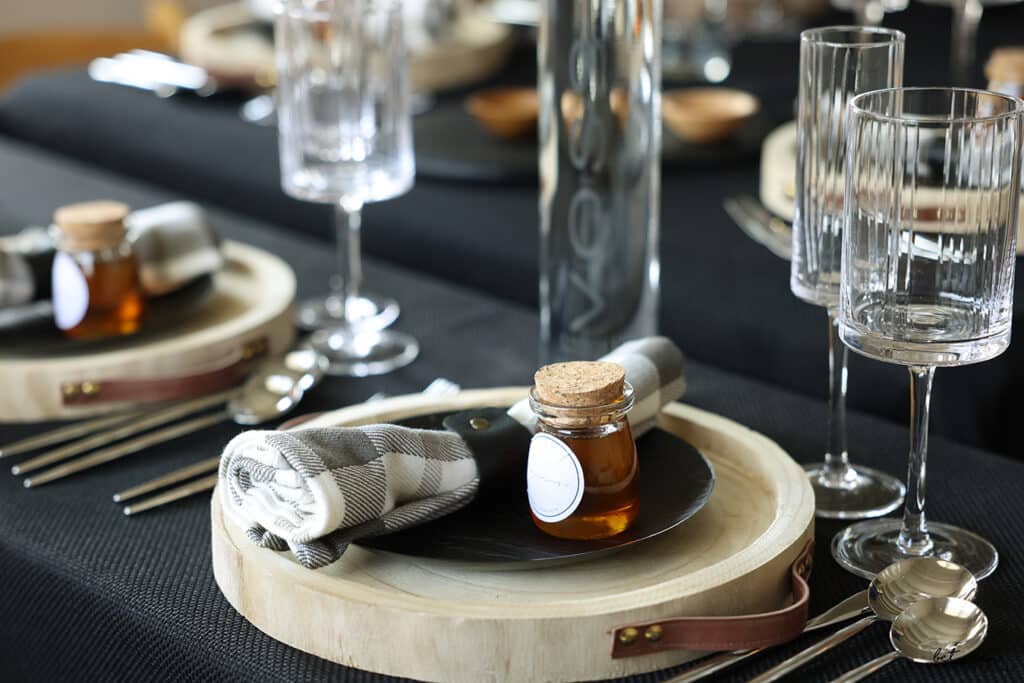 The tablecloth is a black burlap–when there's a lot going on like there is here, you want to keep it simple and neutral. Once we get further into winter, you can bring in the velvets.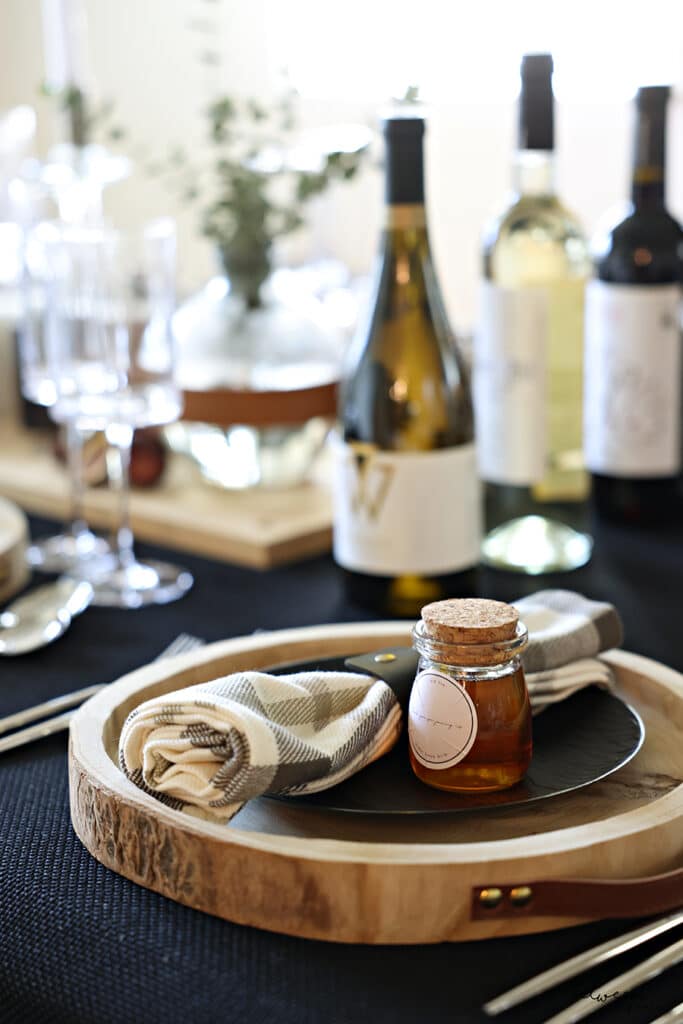 Devoiry nabbed the wooden chargers with leather handles and the plaid napkins from her own shop. Here are lots more ways to get a wood look on a budget.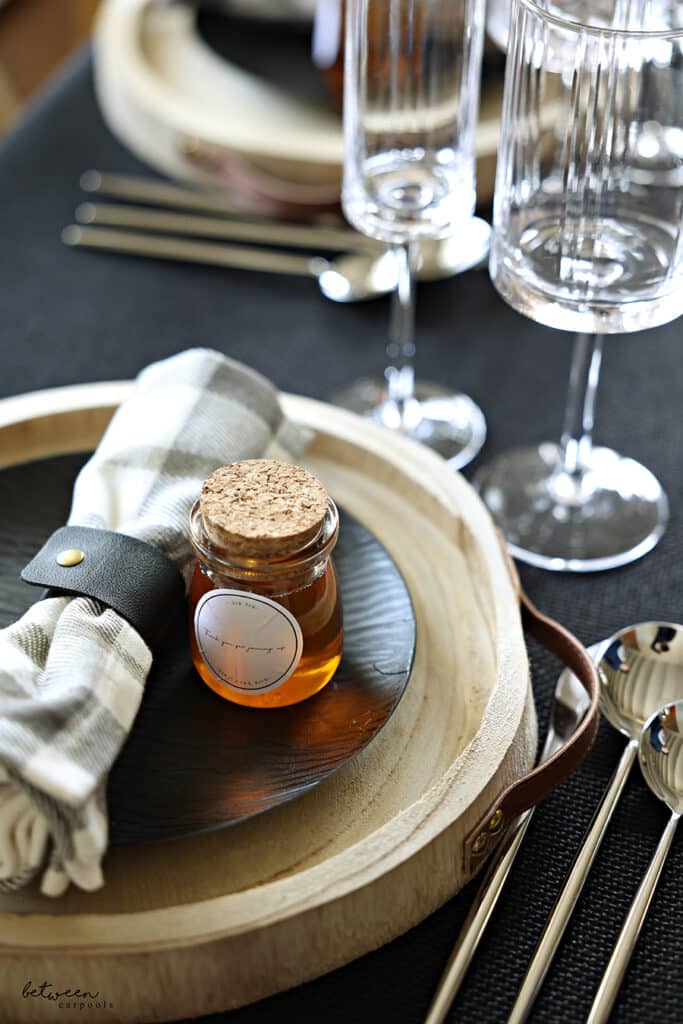 The leather napkin rings are $1 a piece over here.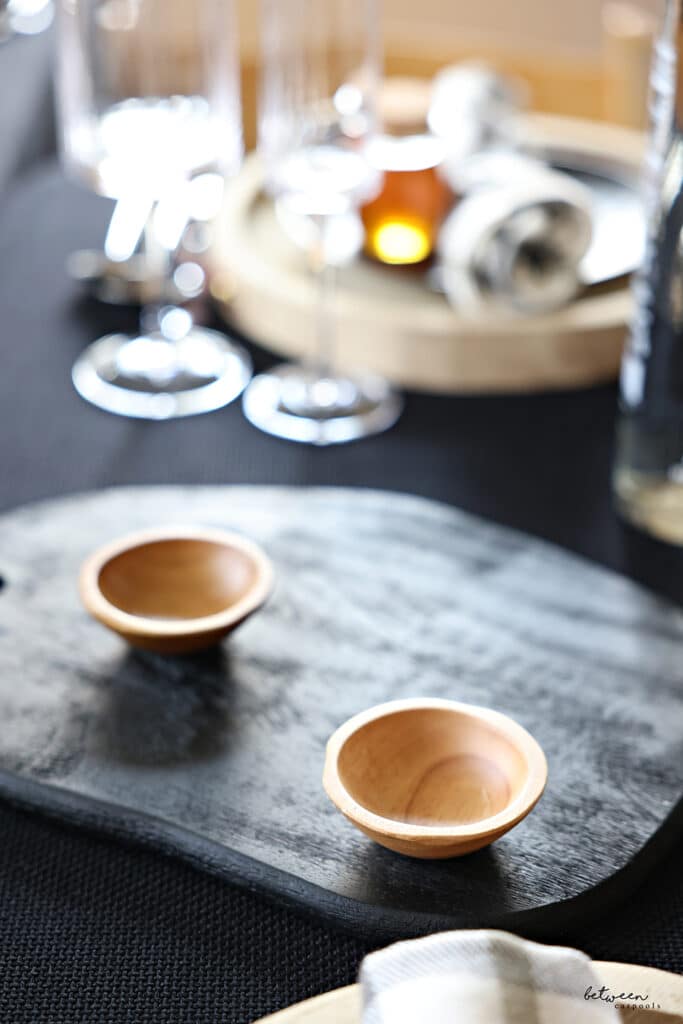 Lots of the table accessories you see are from H&M Home.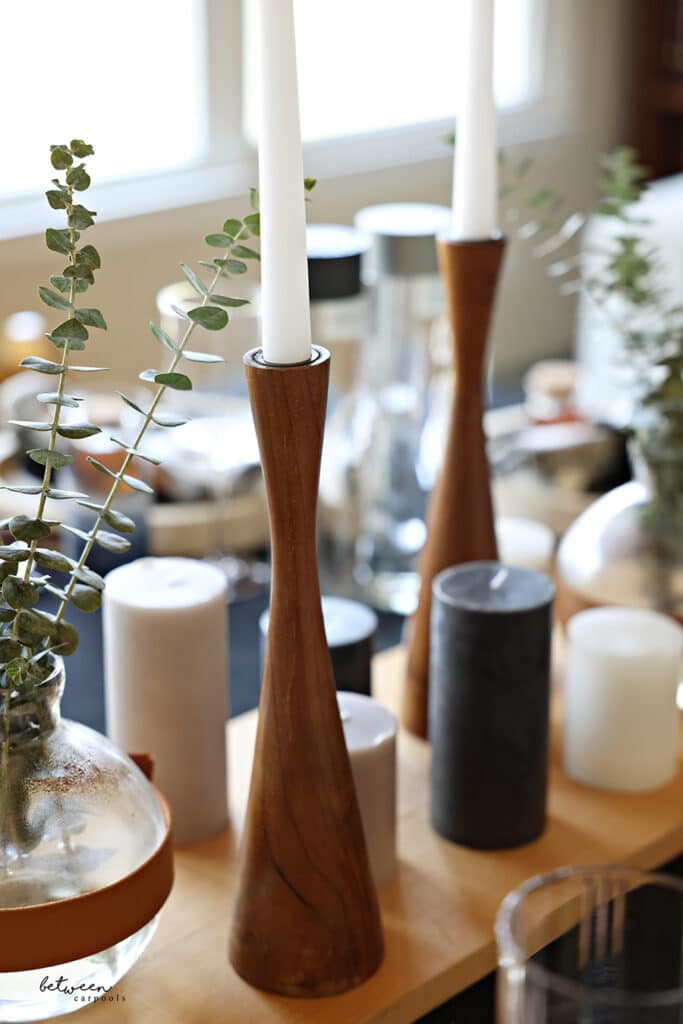 Devoiry used a wood plank as a base (just a simple piece of wood from Home Depot!). Besides for serving as a focal point, the wood is practical too because it'll catch the drips from the candles and keep them from ruining the tablecloth.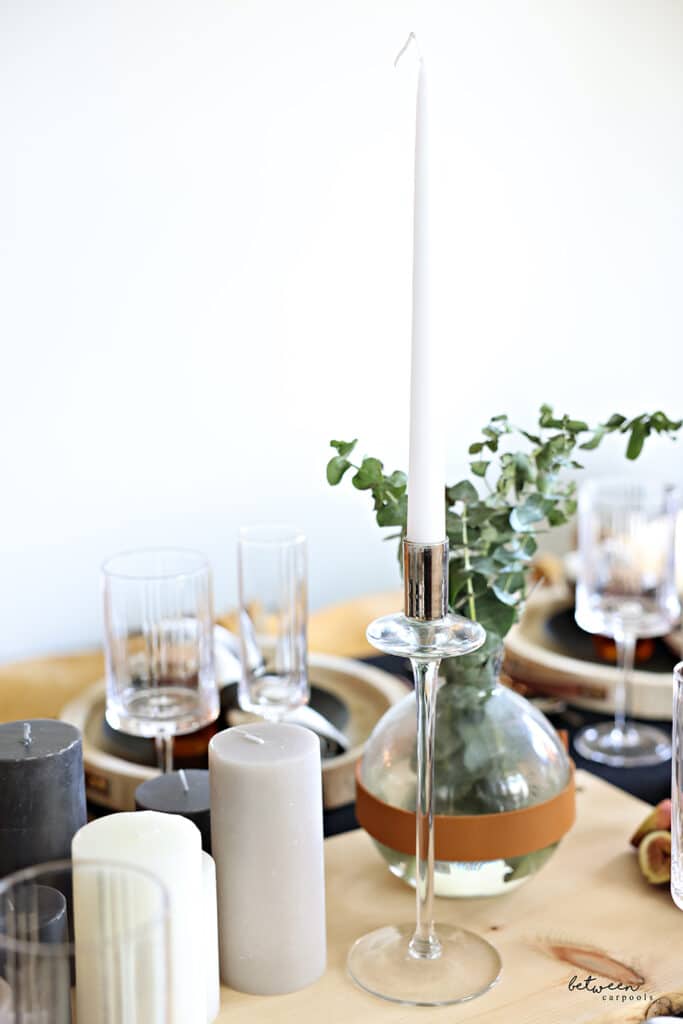 The pillar candles are available from H&M Home over here (scroll down for a few nice candles in fall shades like grey and taupe). These candles burn for 40 hours, so you can use them for multiple parties.
The candle sticks were also nabbed at H&M over the years. The selection is always changing, but there's super cool items to enhance your table. See the selection of candle holders over here. Here's another wood candle holder that fits the look.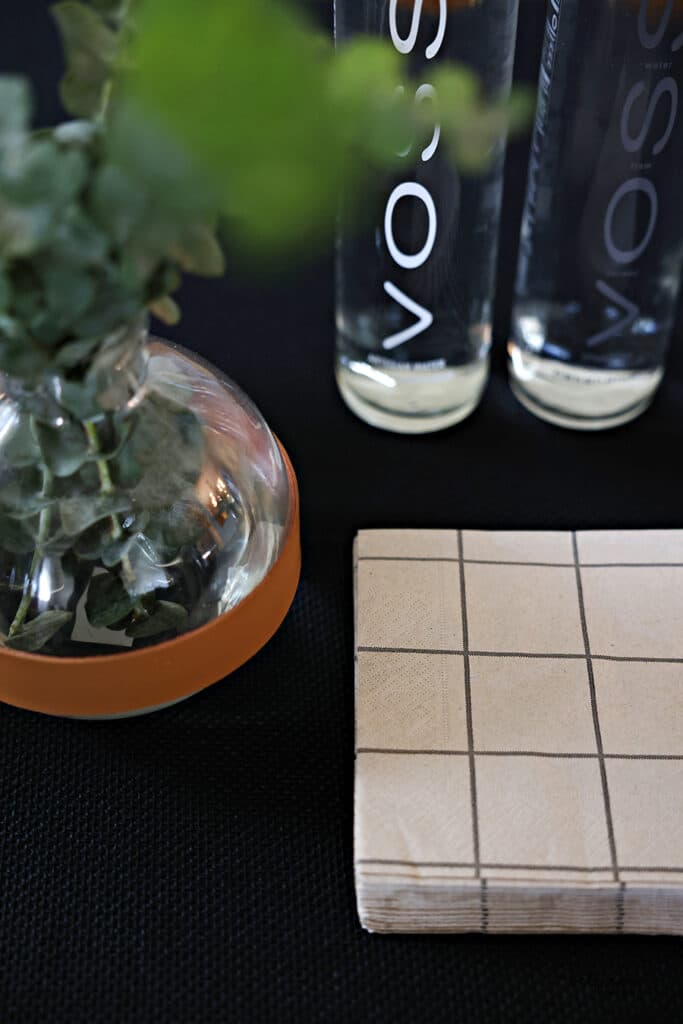 For a men's party, you can keep the florals simple: just some eucalyptus leaves do the trick.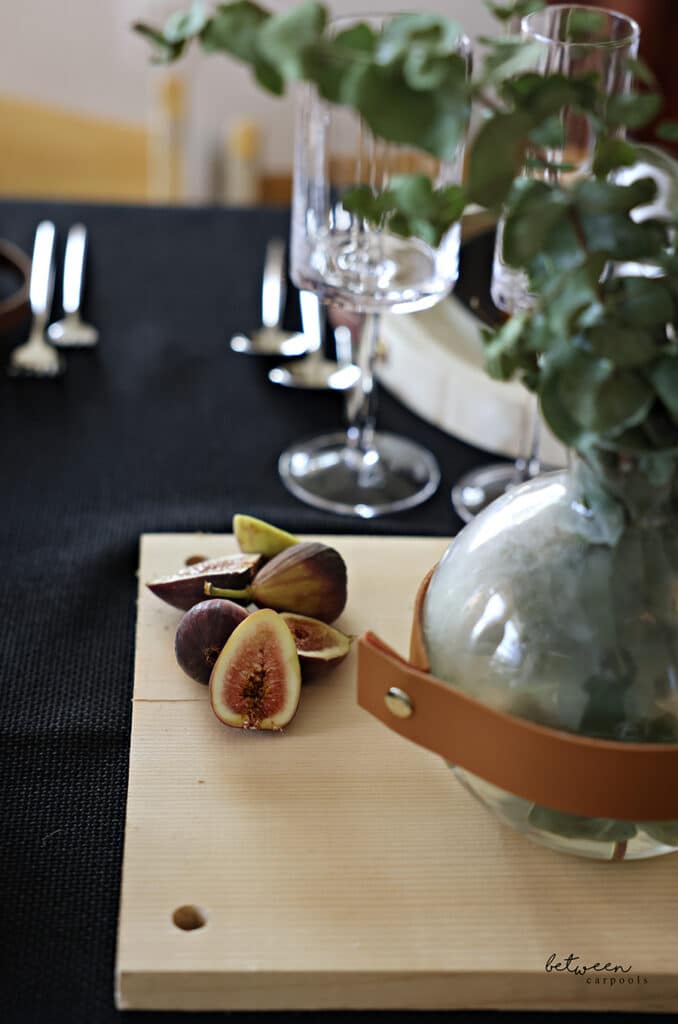 Table tip: Use fresh fruit to add some color, like the fresh figs Devoiry sliced up over here.
We didn't stay to see the food, but Devoiry told us that on the menu was our Pulled Beef Gnocchi and the Beer-Braised Ribs; the Pickled Onions from Dinner Done were on the homemade meatboards. Our Candied Facon was chopped up and used as a garnish for Devoiry's Split Pea Vegetable Soup.
FOR EXCLUSIVE CONTENT AND A PEEK BEHIND THE SCENES, MAKE SURE TO JOIN OUR WHATSAPP STATUS HERE. JOIN OUR WHATSAPP GROUP AND WE'LL LET YOU KNOW WHEN A NEW POST IS UP!