Have everyone raving tonight and enjoy this Gnocchi with Short Rib Ragout. Prep and freeze for Shabbos Chanukah now!
I don't go out to eat often. If I don't have a successful restaurant night, I walk out feeling let down. Often, it costs a lot of money and I don't taste anything special that I couldn't have prepared better myself. If it was a successful night, that means the food was solid and tasty…or better yet…I leave with inspiration for a new dish that I can't wait to try at home.
This dish is based on the "gnocchi, short rib ragout, white truffle oil" appetizer that's on the menu at Entree in Lakewood, NJ…one of the standout restaurant dishes this year (click here for Entree's Braised Beef recipe that they shared with us). And I think I nailed it. A ragout is meat that cooks in vegetables, so even though it looks like the pulled beef that we usually prepare with barbecue sauce, like the meat in these tacos, it's savory rather than sweet. I adapted this ragout from a short rib recipe I received from Zami Caterers years ago when I went behind the scenes and watched how all the food for 1,000 people gets prepped all in one day! Most of the other short rib recipes I prepare involve some type of sweet sauce…this was the only savory one and the preparation fit the traditional method for "ragout."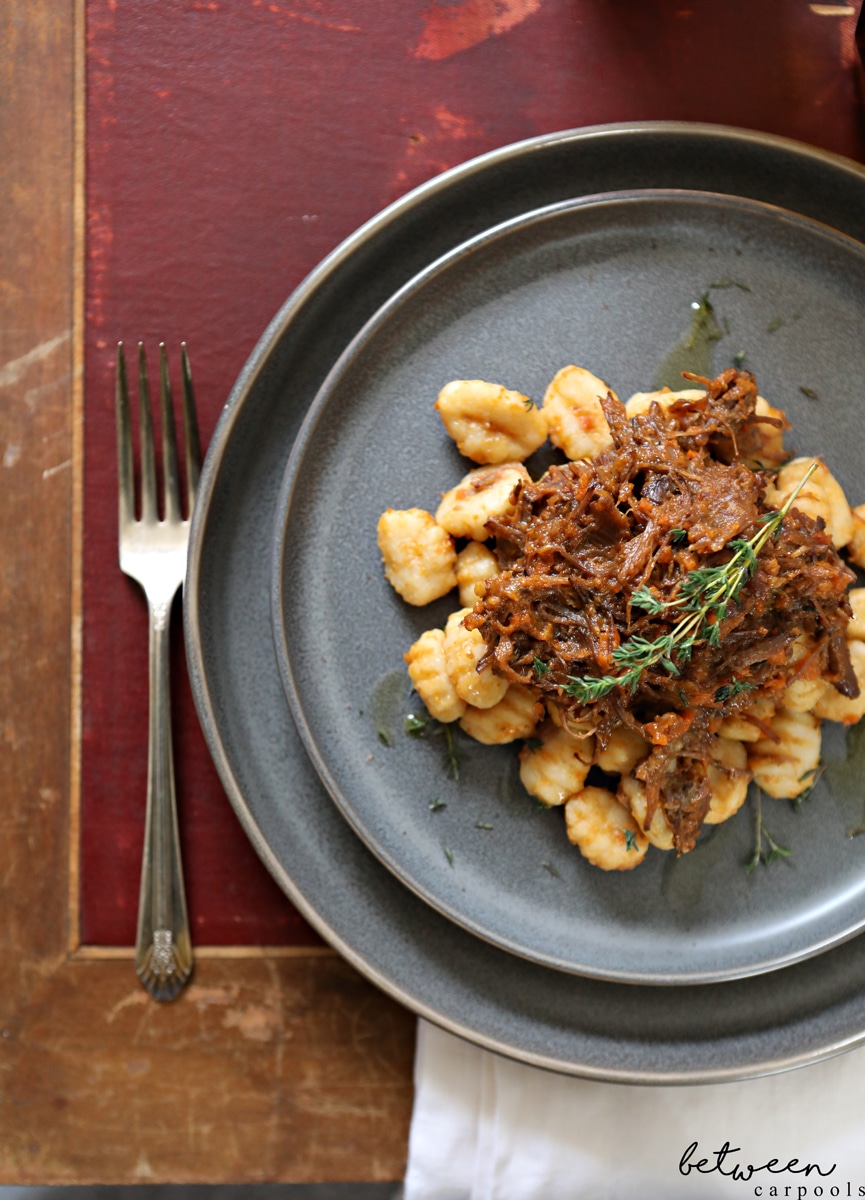 I highly recommend finishing this dish with some herbs (if you're using dried instead of fresh, add them to the pot earlier in the cooking process), and a drizzle of truffle oil. I use this white truffle oil made by D'Allesandro (even with the shipping, it's less expensive on Amazon than it is at your grocery). Renee Muller prefers this brand.  
Note that you might think that using short ribs would yield too little meat for the money. Actually, short ribs worked out very well here because you don't need a large quantity. I used only 4 ribs (about 1 ½ lbs) or about $22 worth, and it yielded enough meat to fill an entire 9- x 13-inch baking pan along with the gnocchi.  The sauce is very thick so it really makes the meat seem like it "grows." There's enough sauce in the recipe to prepare a full 3 lbs of ribs too, so you don't need to double the recipe to prepare more (just use enough stock to cover). It's a great way to "stretch" an expensive ingredient.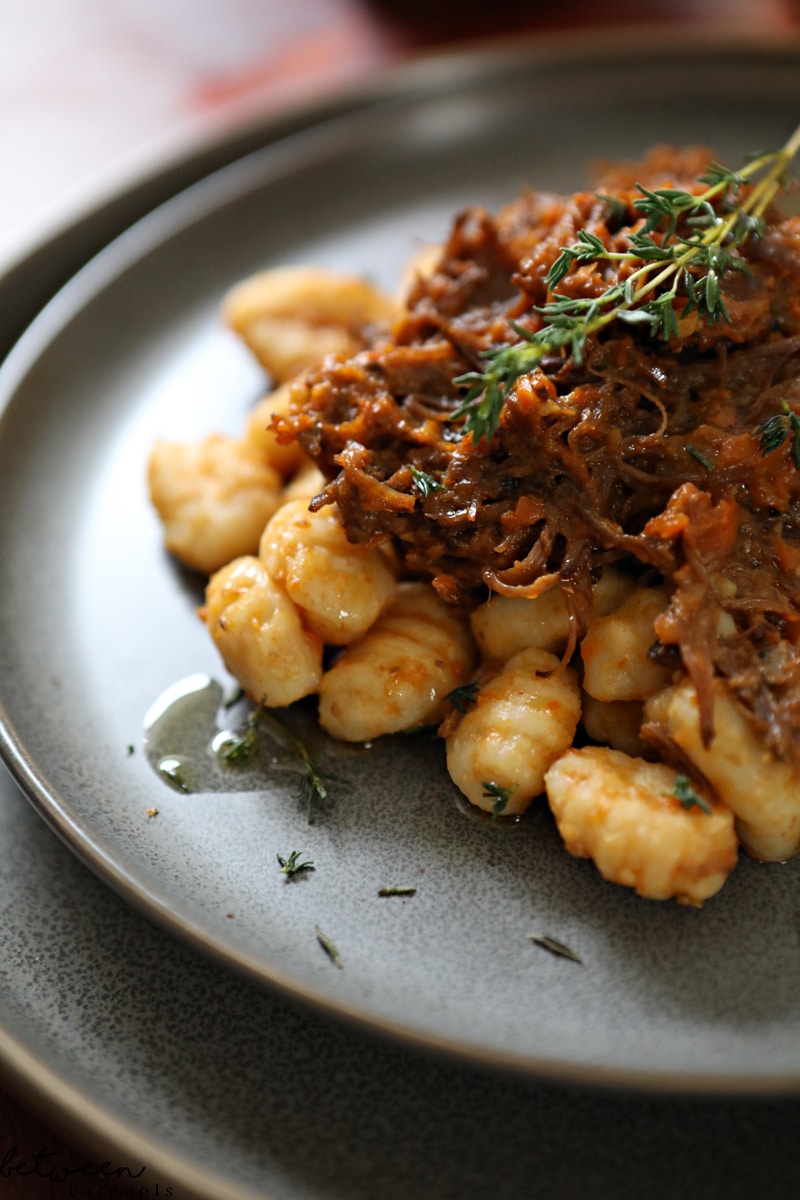 And of course, ragout is super freezer-friendly. You can prepare the meat in advance, and just warm up and throw over freshly cooked gnocchi. I've also prepared the whole dish in advance, with the gnocchi, and kept it covered in the refrigerator to warm up the next day. That works fine too, but don't refreeze the cooked gnocchi or it will get too soft when being rewarmed.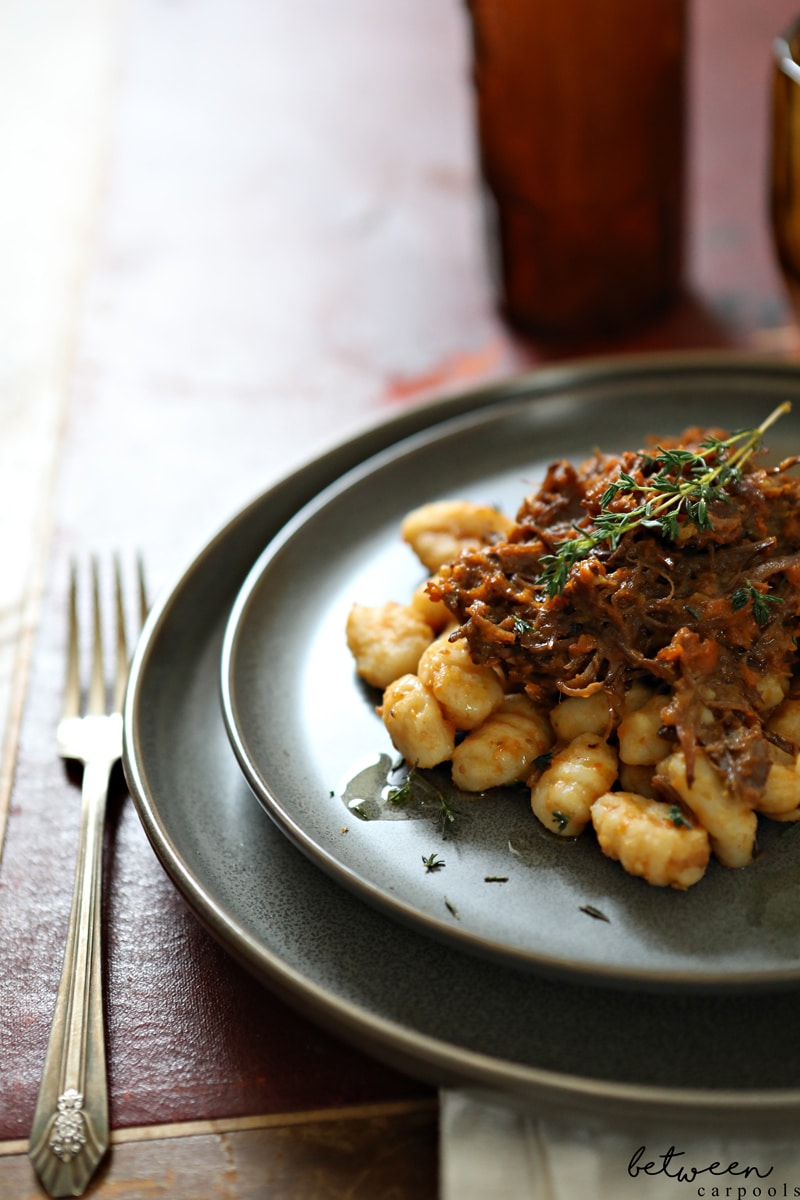 Gnocchi with Short Rib Ragu
If you use one bag of gnocchi, your dish will be meatier and more of a main. But if you're feeding a crowd, you can still deliver the flavor and stretch the meat by boiling 2 bags of gnocchi (up to 32 ounces) with the meat and sauce.
Ingredients
1½ - 2 lbs short ribs
Salt and black pepper, for sprinkling
Oil, for searing
1 large Spanish onion, diced
2 ribs celery, diced
2 carrots, diced
2 garlic cloves, smashed
1 (6-ounce) can tomato paste
2 cups red wine
2 cups beef stock, or more to cover
1 bay leaf
10-16 ounces frozen gnocchi
Fresh or dried rosemary or thyme, for sprinkling
White truffle oil, for finishing
Instructions
Season ribs generously with salt and pepper.
In a Dutch oven or large pot, heat a thin layer of oil over medium-high heat. Once oil is hot, add ribs and sear for 2-3 minutes per side (sear in batches if needed). Remove the ribs and set aside.
Preheat oven to 350ºF.
Drain most of the oil and fat, leaving 1-2 tablespoons.
In a food processor, combine onion, celery, carrots, and garlic. Add processed vegetables to pan and cook until beginning to turn golden, while scraping up the bottom of the pan. Stir in tomato paste and cook for an additional 5 minutes, scraping up bottom of pan.
Add red wine and let simmer for 10 minutes to reduce. Add ribs and add enough beef stock to cover. Add bay leaf. Check them throughout the cooking process to make sure they are covered by liquid, and add more stock if necessary.
Cover pan and bake for 3 hours, or until ribs are falling apart and shred easily. Remove ribs and bones from pan and shred, removing fat as necessary. At this point you can put the pan over the stovetop and cook to reduce the liquid. If you've only cooked 1 ½ lbs of ribs, you'll likely only need half the liquid.
Return meat to reduced liquid. Season with salt and pepper to taste.
Prepare gnocchi as directed on the package. Serve meat over gnocchi and add some of the sauce. Top with fresh or dried herbs and drizzle with a bit of truffle oil and serve.