Need a fun creative activity? This fun canvas art craft idea will be a hit with children of all ages (there are some more sophisticated art projects for tweens and teens coming in a post next week!) 
They would also make a fun Chanukah party activity!
Value packs of canvases can be ordered online from Michael's or Amazon. Or if you are making a quick trip to Walmart for some basic supplies add some value pack of canvases to your cart so that your kids can quickly get creative! We most often use 8×10, 10×10, or 11×14 pre-stretched, gallery wrapped canvases. They usually retail for under $20 for 6-8 canvases. Michael's often has them on a buy one get one free promotion or 40% off sale. For added interest, mini canvases, black canvases, burlap canvases or extra-large canvases can be exciting to work with as well.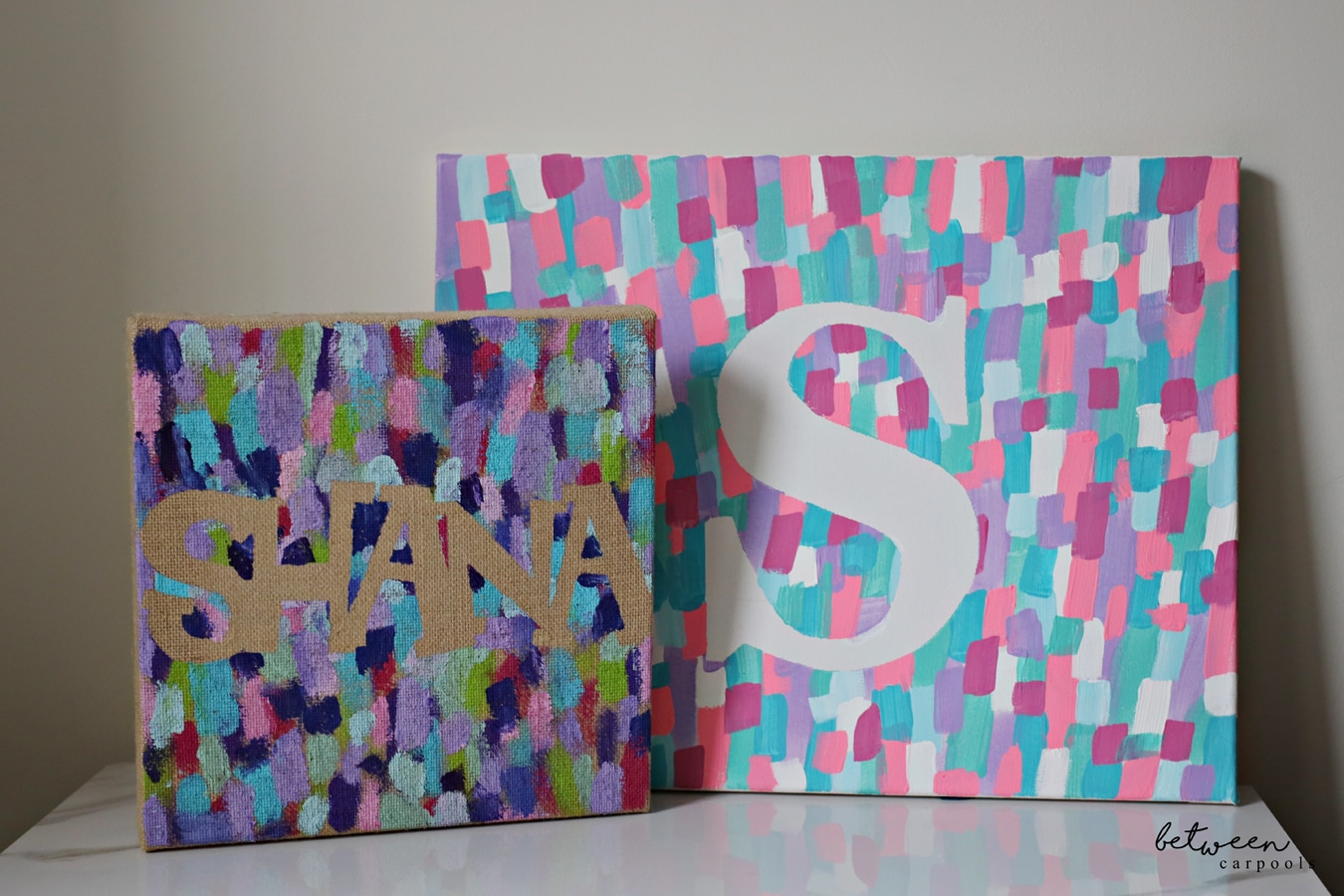 Party Pointers:
Group painting activities are great for Chanukah, long Motzei Shabbos nights, birthday parties or mid-winter vacation. The trouble is that so often painting = mess. Follow these pointers so that you can host a fun party without the anxiety of ruined clothing and/or furniture.
Set up in an area away from food tables and general socializing 

Cover the table with a disposable tablecloth, butcher block paper, or newspaper.

Place a drop cloth on the floor if the area is carpeted.

Provide disposable or inexpensive cloth aprons for participants (and gloves if necessary).

Leave ample room between each participant

Set up a station for each child with canvas, bowls of paint, brushes, and any other supplies they may need. 

Place water in small glass jars or cups (plastic cups easily tip and spill). Have paper towels handy for the inevitable spill or to wipe wet brushes

To transfer projects and/or take them home, prepare small pizza boxes, shoe box covers, or disposable aluminum pans  to use as trays for children to easily take home wet projects without ruining their creation or creating a mess.

Always have a few extra crafts available for the child who "messed up" or guests who were unaccounted for. (You'll be surprised at how many adults may want to join in the fun.)

Most of all encourage participants to have fun and be creative! There's no right way to create something!
Now, let's get painting!
Name Art
No artistic skill necessary for this fun, personal and customizable craft project. All that's required are some basic craft supplies and your creativity!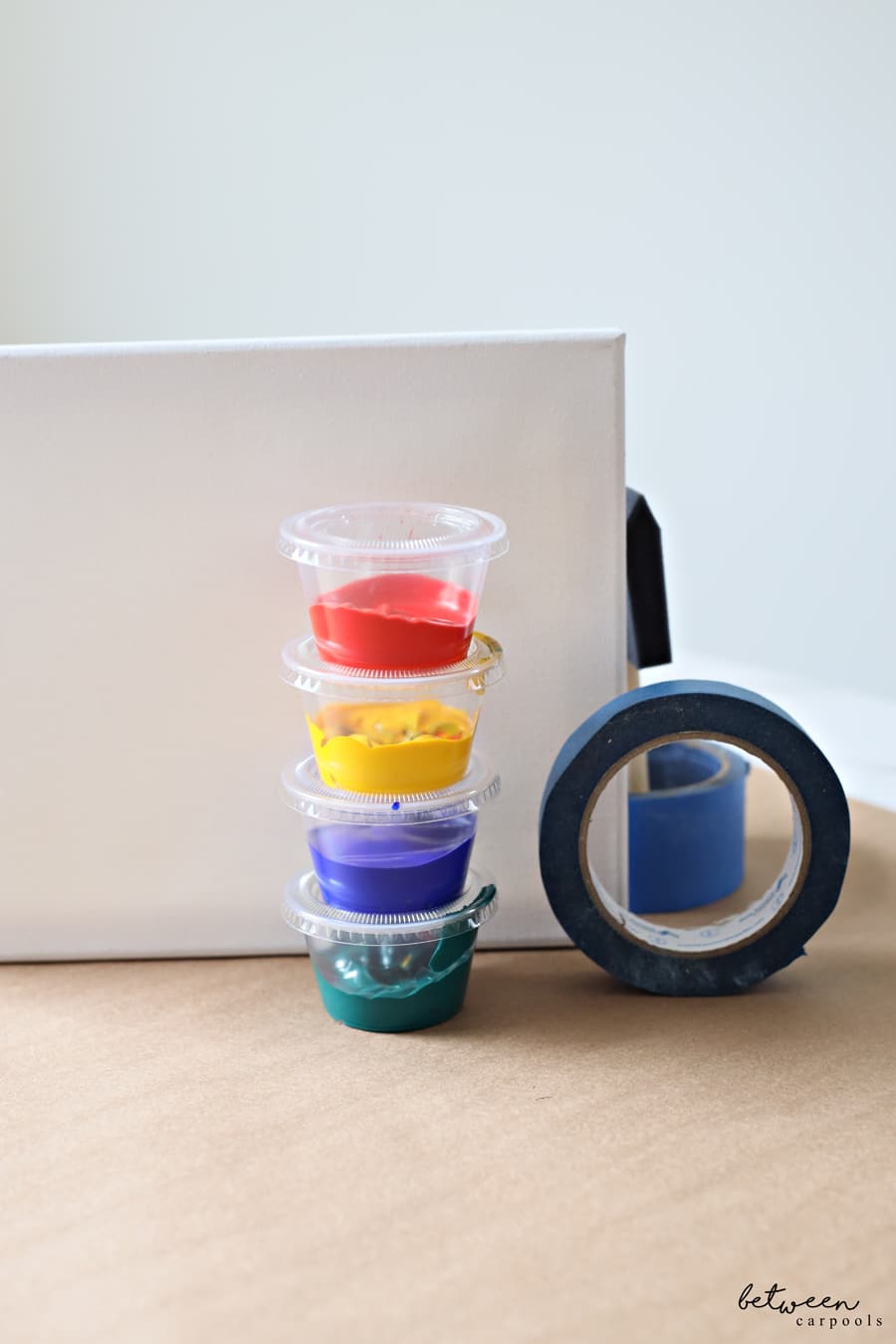 What you will need:
Stretched canvas in the size of your choice 
Letter stickers and/or painter's tape OR contact paper, scissors and Sharpie
Acrylic paints in the color of your choice, plastic bowls
Small foam or bristle paint brushes (1/8"-1/4"-1/2")
Optional: Decorative clothespins and hot glue gun and glue sticks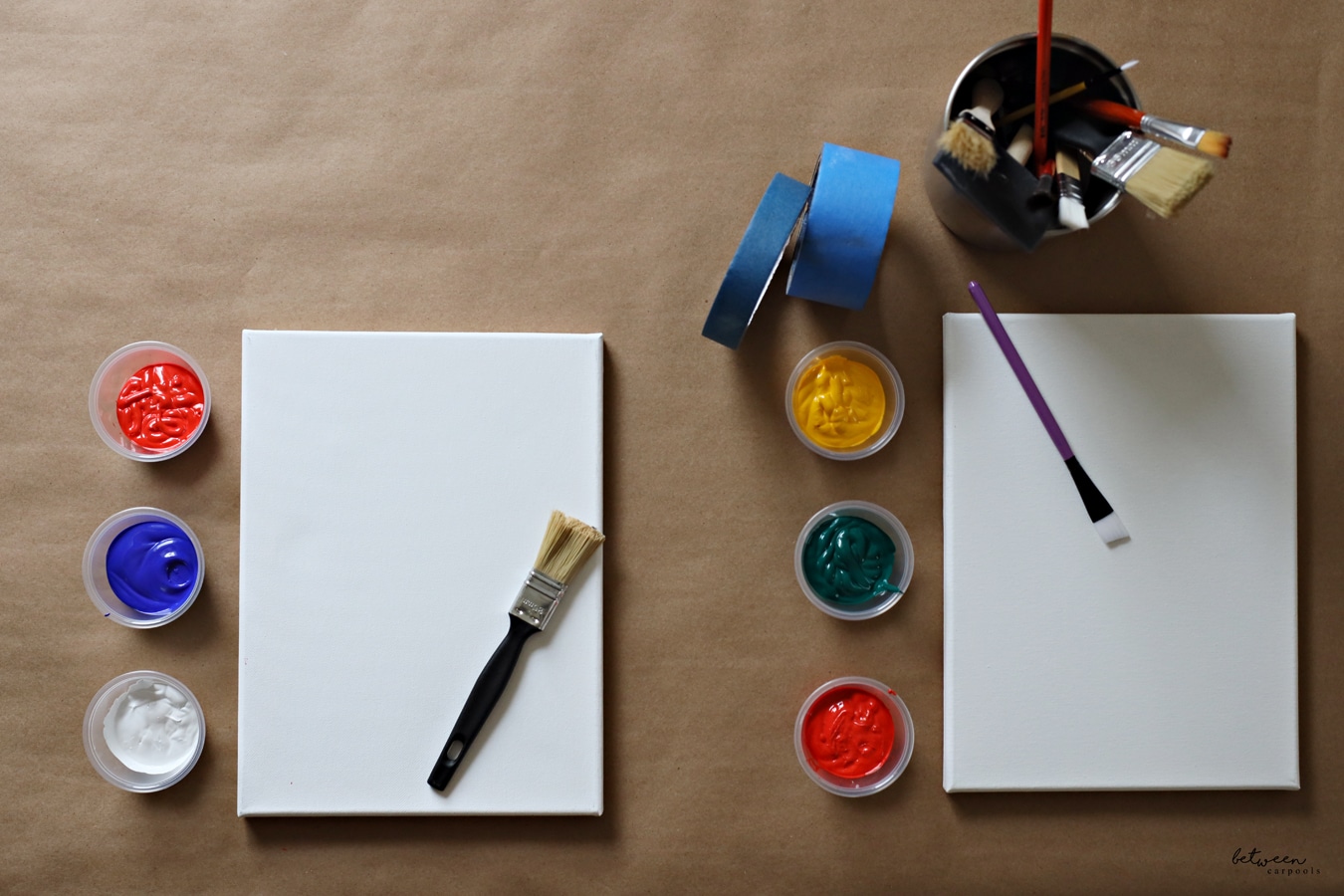 How to do it: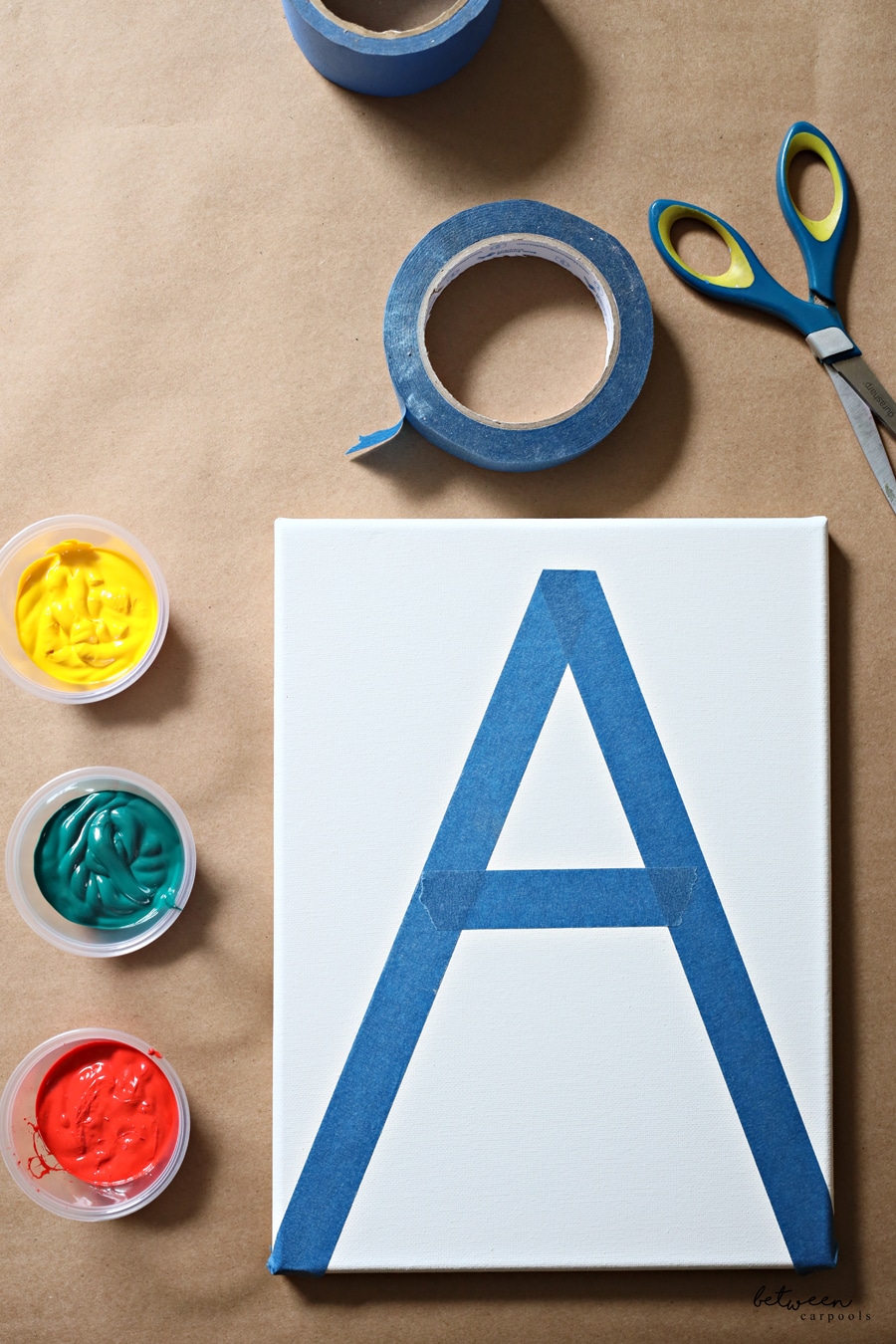 Choose a letter or name that you would like to display on your canvas. 
Option one: spell out the name with scrapbooking letter stickers, by firmly adhering the sticker(s) to the canvas. Or use painter's tape to form a large letter on canvas. Be sure it is adhered well to the canvas.
Option two:  Use a computer to print out your name or letter, in the font and size of your choice. Cut out name or letter and trace on to the front of your contact paper with a pen or Sharpie. (Alternatively you can hand draw the letter.) Cut out. Adhere to the canvas. Be sure to rub the letters deeply into the canvas so that there are no air bubbles around the edges.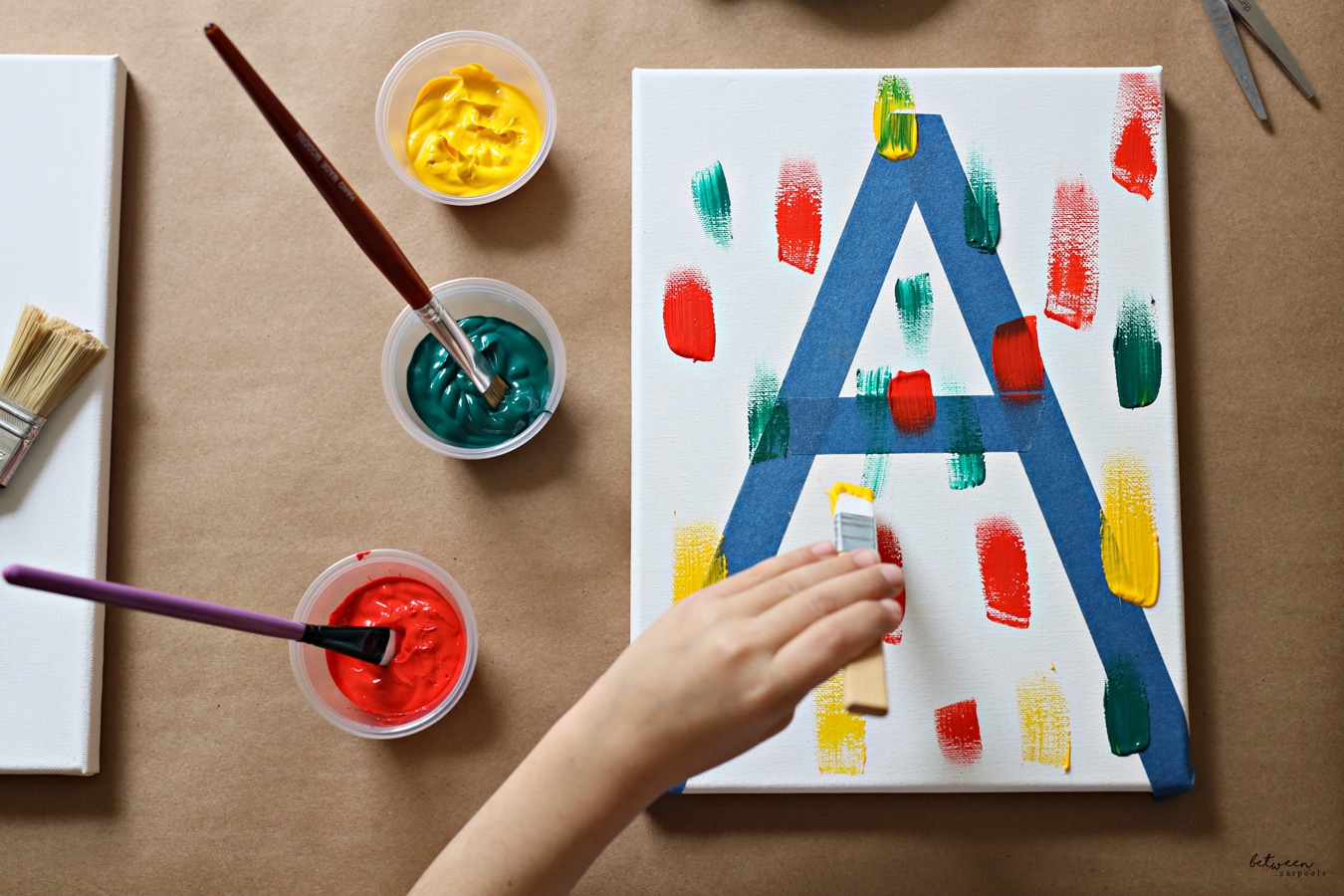 Squeeze out a few paint colors onto a plastic plate or into small bowls. Brush short brush strokes of color all over the canvas, alternating the colors in a random design.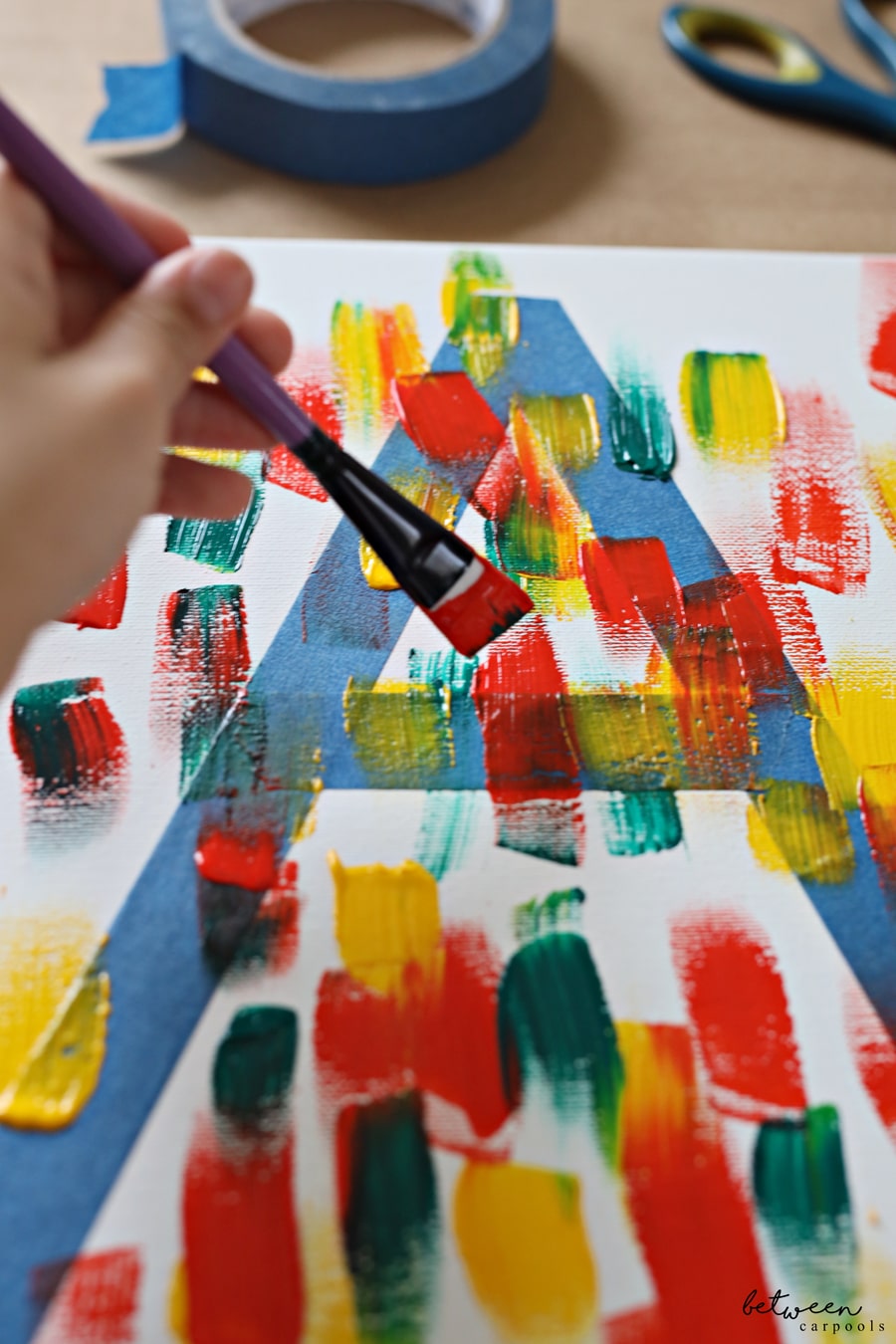 Completely cover the canvas; you can paint over the letters. Be sure to paint the sides as well. Let dry until just slightly tacky.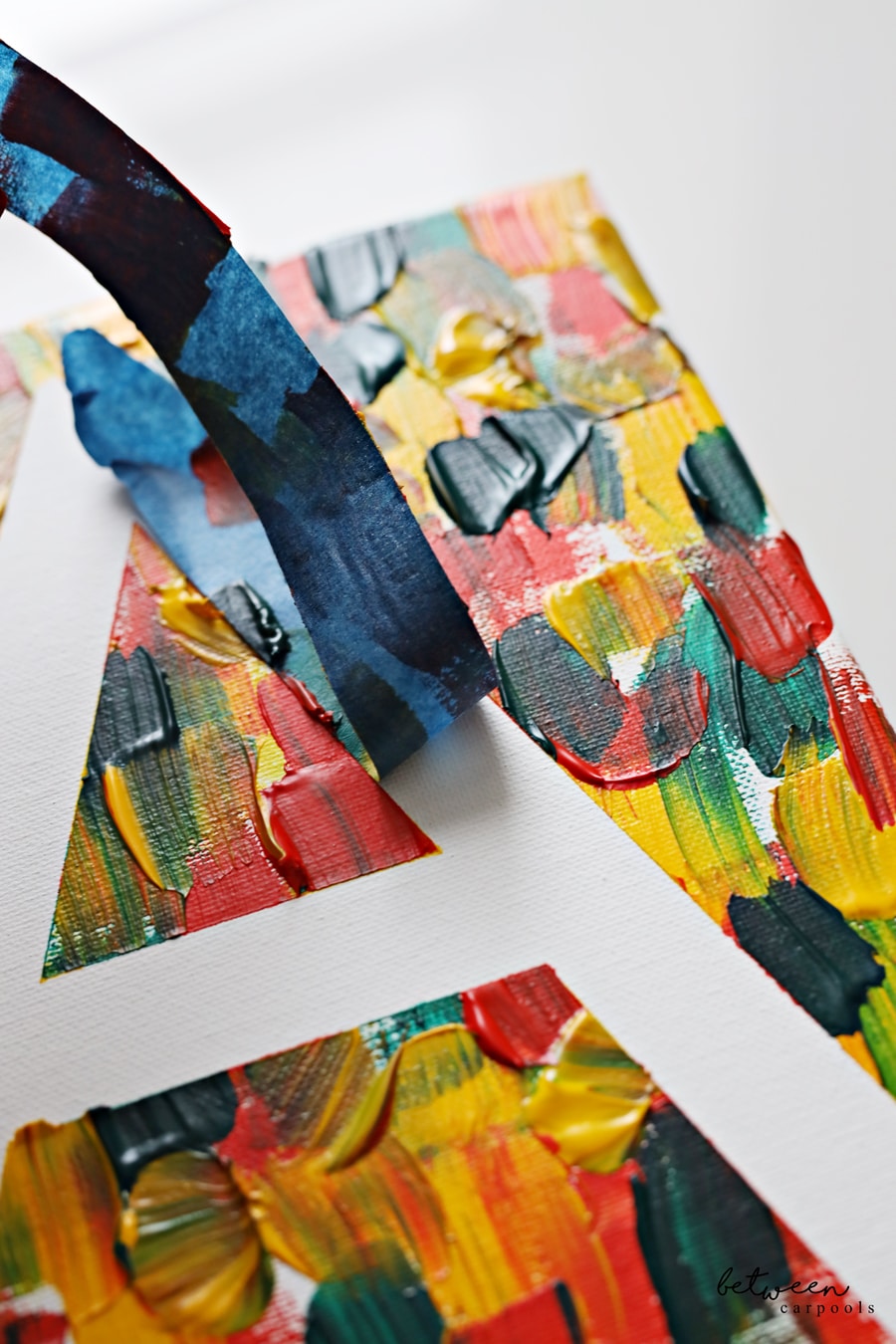 Carefully peel off the stickers or contact paper. Viola! You're done!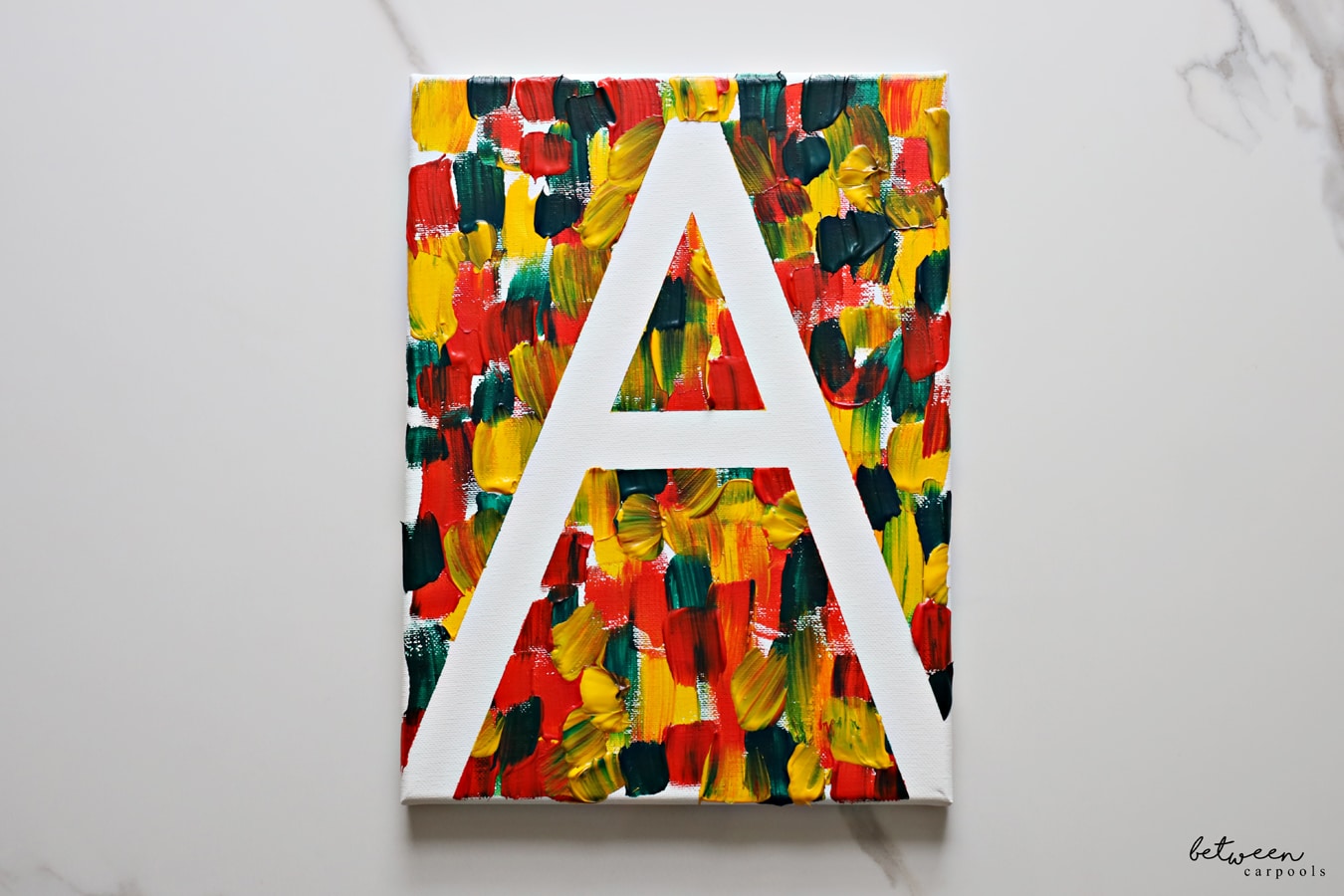 Optional: Hot glue small decorative clothespins to the bottom of your canvas to turn it into an awesome photo or note board.