The Kichel Collection 2
is out! This week only get 20% off your copy at Feldheim.com with code Kichel20.  (Plus, enjoy an exclusive sneak peek of carpool-related comics and more you'll love!)
I got super excited when I heard that there was a new Kichels book coming out. So did Esti Waldman (one of my Between Carpools partners). She told me that when her son was learning in Israel, he bought his own copy of the first book, even though the family already had a copy at home. No way was he going to wait until he came home to read it!
Last Friday at around 2 p.m., I was driving down County Line Road in Lakewood, when I received this message from Esti:
Esti: FYI Kichels book is in stores. My son just texted me from the Judaica store (he went to buy tzitzis for this post).
Victoria: It is?! I'm on my way. Never mind the grocery, I'm going to the Judaica store NOW!
I ran straight to the Judaica store. I saw The Kichels Collection 2 right in the front and grabbed it fast enough, but then I spotted the line…it reached all the way to the back of the store. But no long line was going to deter me from the Kichels. I grabbed my babies with one hand and my Kichels with the other and trekked to the end of the line.
Then, while I was waiting, I opened up the book and started reading and giggling in public. I must have waited on that line for at least 15 minutes, but it was all good–I had the Kichels! They're just one of those delights of frum life, the comic strip that makes you feel like there's people out there who can relate to you.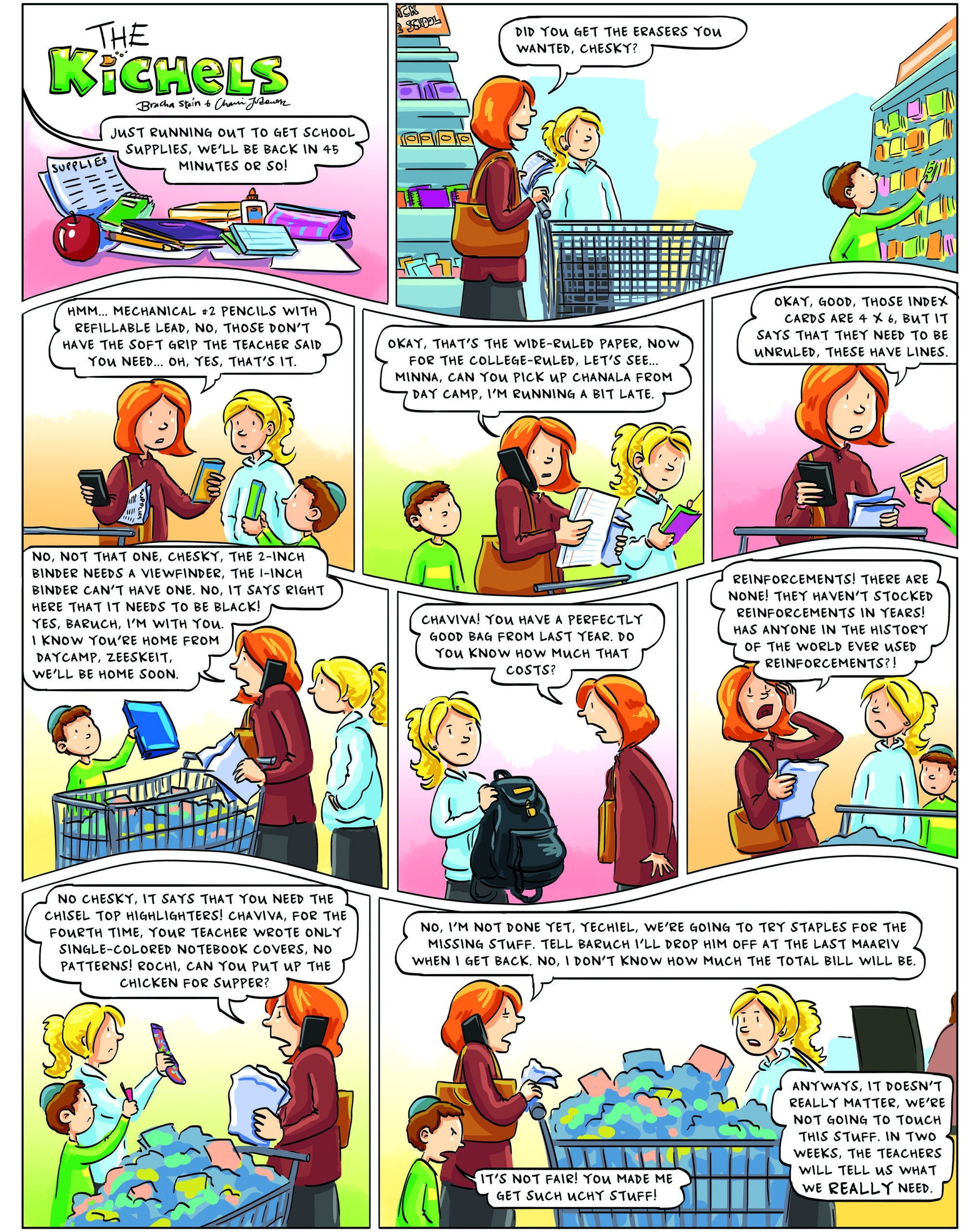 Like the strip when the Kichels go shopping for school supplies ("It's not fair…you made us get such uchy stuff…")…
or when Nechama Kichel is sitting on the couch post-Yom Tov ("What do you mean it's erev Shabbos. It was just erev Shabbos yesterday…It's been erev Shabbos for a month!")…or the EZ Wait Update Screen that lets every wife know at a simcha just how long her husband has been waiting for her by the mechitzah (because c'mon…you know we're all in denial when we have that one last conversation).
From carpool pickup to PTA to getting into school…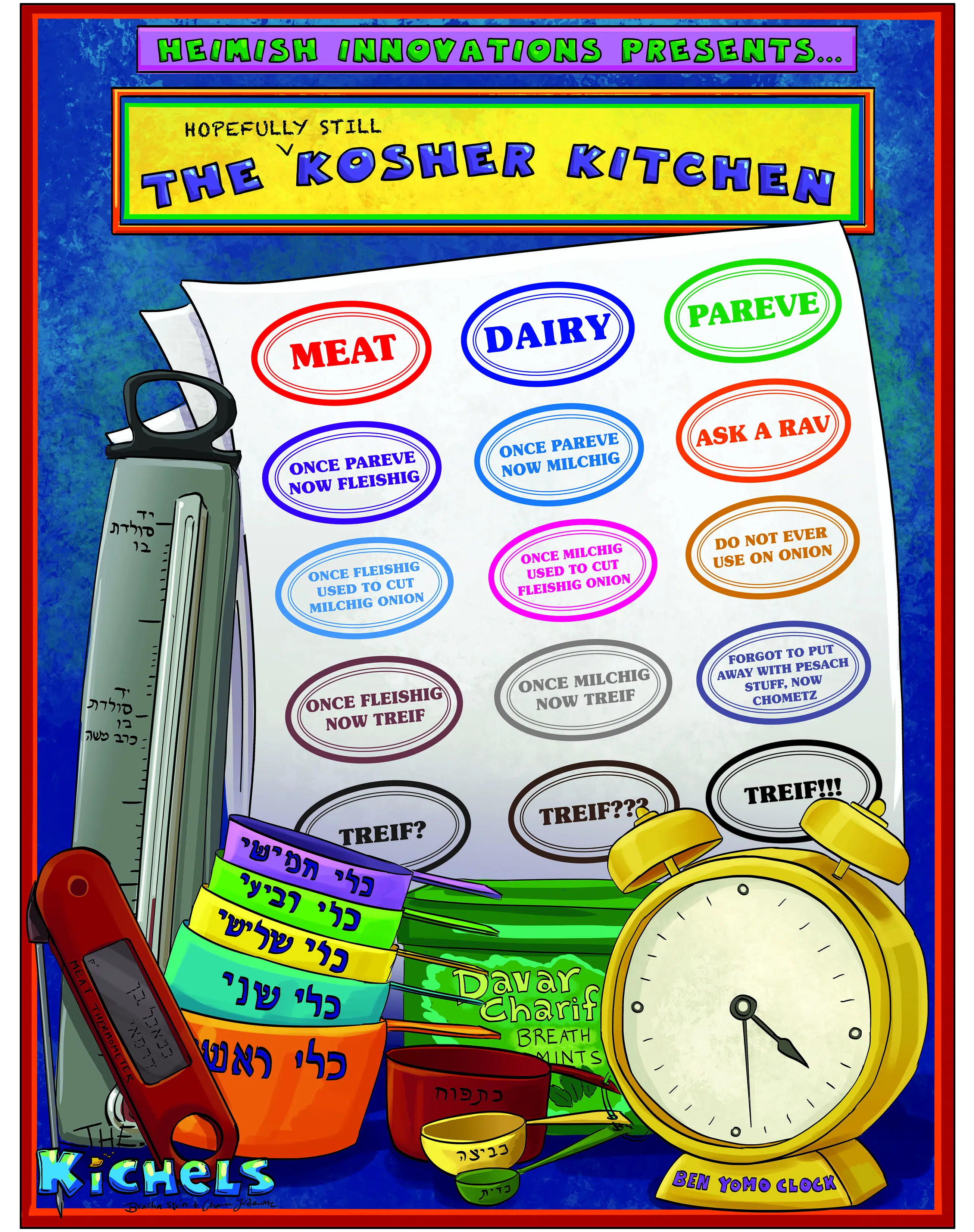 Kichels takes us through all the nuances of life with humor. 
When I came home, my kids asked me what I got for Shabbos party. I held up our oneg Shabbos: The Kichels Collection 2!
I had one issue–and it was a big one. The kids were already fighting over who got to read the Kichels first. I had to make a rule: No taking the Kichels to your room. Reading is only allowed in the main living area. We had to make a Kichels schedule. When the boys went to shul, I told my daughter, "Quick, get the Kichels. You sit on this side and I'll sit here. We have to read fast before the boys get home because they won't let us have it!"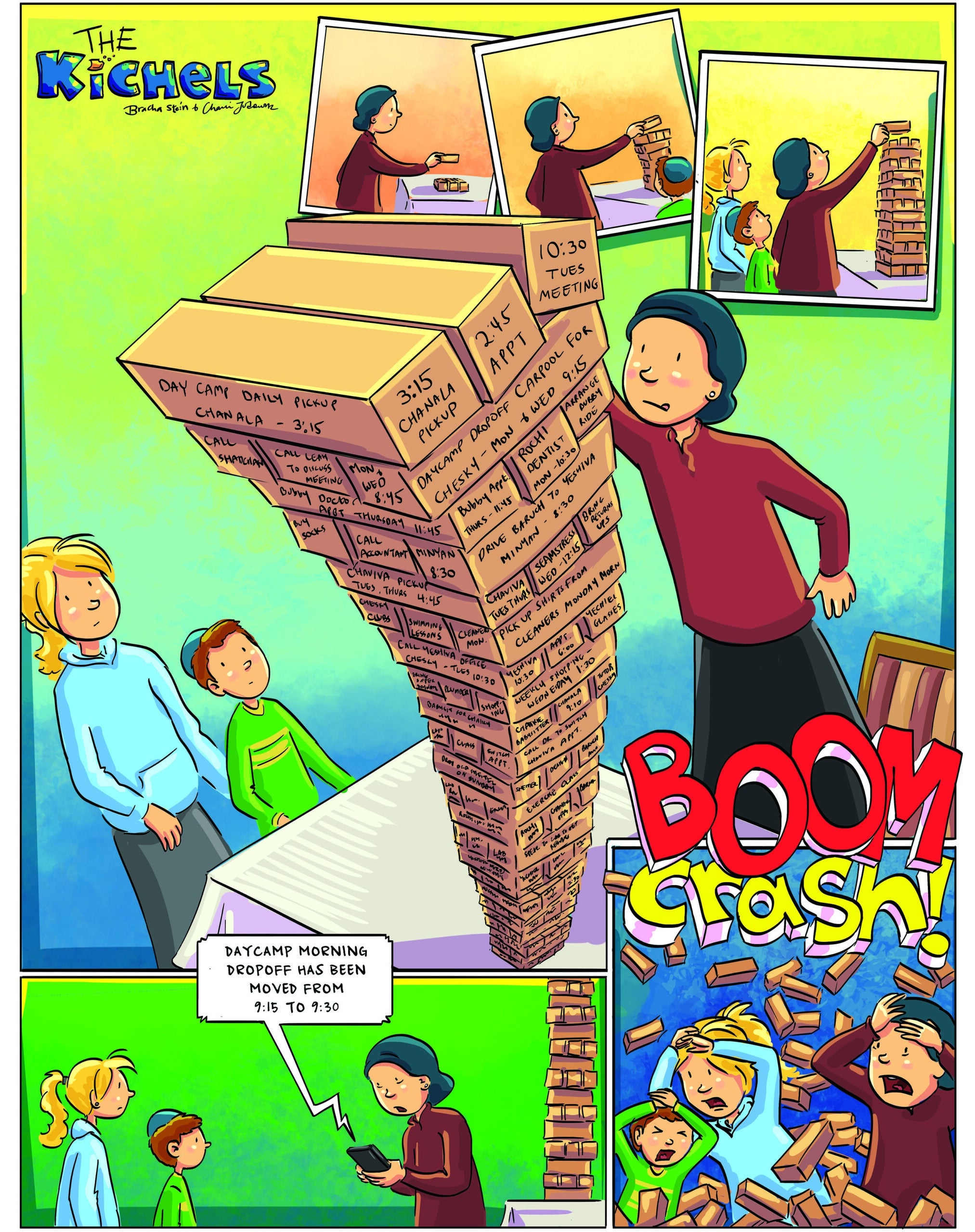 So we read and laughed until the boys came home–and then they took over. That Friday night, after everyone else had gone to bed, I stayed up reading The Kichels Collection 2 until I'd finished the whole book. (I really didn't want to spend the next day waiting for my turn!) 
I don't like suspense, and I'm totally not the type to be able to hold out on The Kichels Collection 2 until Chanukah. However, if you do want to gift it to your kids, you can buy it and read it now while sitting in a closet, just so you can get your Kichels fix. Then, you can wrap it up and hide it away until Chanukah comes.
If you're already a Kichels fan, get The Kichels Collection 2:
Over here at Feldheim.com Use code KICHEL20 for 20% off your copy! (Or copies in plural, because it's a great gift too).
Or over here at Amazon.com
And if you're not already a Kichels fan, then what are you waiting for?