How to get the most perfect beautiful sufganiot / donuts every time.
I can handle the heat, the gallons of oil, and the sticky fillings. But what I can't stand are misshapen donuts. Say goodbye to deflated,  uneven, overworked , over-floured sufganiot, and especially, an over-messy workspace. I received this recipe and hack from a friend who received it from Israeli Baker Yifat Regev. Skeptical but desperate, I gave it a try. It's too good not to share! Chag sameach!

Sufganiot
Instructions
Combine all ingredients in the bowl of an electric mixer. Mix for 10-12 minutes.
Turn the dough onto your surface. Using a sharp knife, cut the dough into uniform balls. Weigh the pieces on a digital scale so you know they're exactly the same size (30 grams is a good size for minis; 60 grams for regular). It helps to spray your hands with nonstick cooking spray or wear gloves.
Place each doughnut balls onto its own square of parchment paper (do not use wax paper!). Cover loosely and let rise for 1 - 1 ½ hours.
Preheat oil to between 340ºF - 360ºF. Place dough balls carefully in oil with the parchment paper square (hold the sides of the parchment paper as you lift it up and drop it in). Cook in batches of about 4 donuts at a time. Remove the paper with tongs once in oil. The donuts should fall off the paper on their own after a few seconds. Cook 2 minutes and then flip. Cook another 2 minutes and remove.
Drain on baking sheet lined with paper towels. Let cool and fill with desired fillings.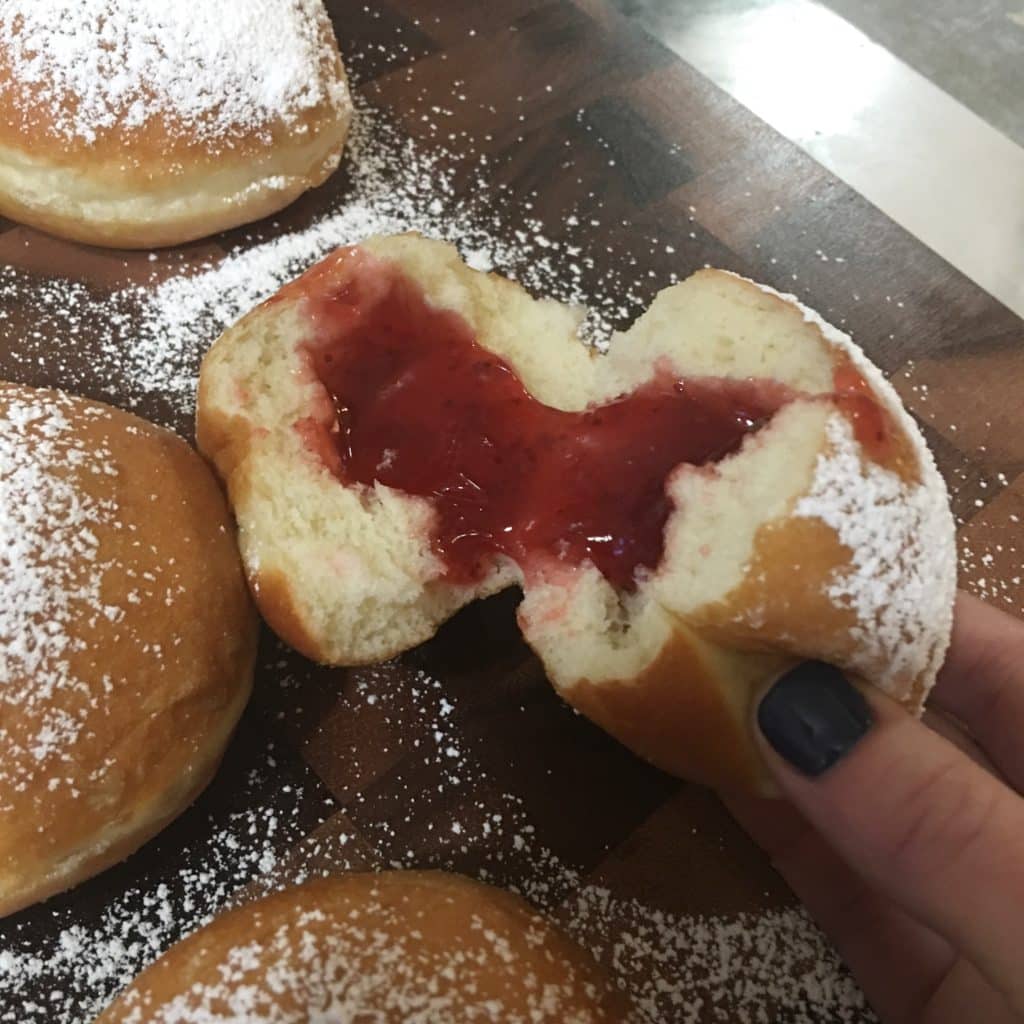 How to Fill Your Donuts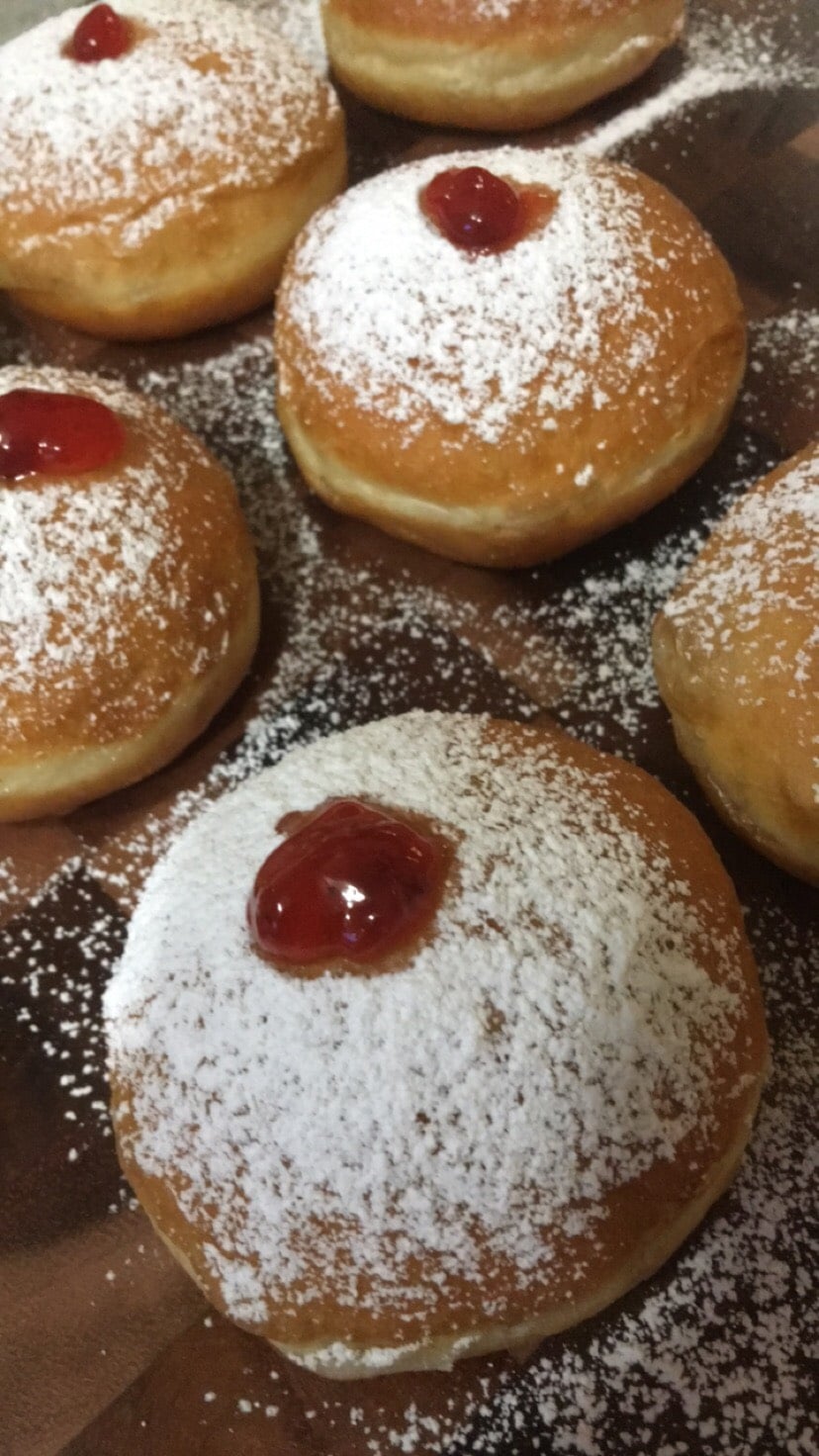 Use either the Norpro Cupcake Injector or Wilton's Dessert Decorator Plus to inject a filling into your donuts. Simply place the jelly or custard into the filler and pipe it inside. You can also use a traditional piping bag fitted with a bismark tip. I use this jelly—it's the best jelly ever! Simply slip it right into the injector or piping bag. Note that the Amazon listing doesn't note the hechsher, but I buy this in baking supply stores and it's marked with an O-U. The certificate from the O-U is available here. Other Special equipment used: Deep fryer (or fry in a pot using a thermometer like this one), Tongs, Parchment paper squares like these or these larger ones (or cut squares yourself)
Yes! You Can Freeze the Dough and Fry Fresh!
Here's how. Place them (on the parchments) on a baking sheet and freeze. Once frozen, place in freezer Ziploc bags. On the day that you want to fry, let thaw on the counter. To keep them from drying up, spray with nonstick cooking spray and cover loosely with plastic wrap. It'll take about 4 hours on the counter for them to fully thaw, rise again, and be ready for frying.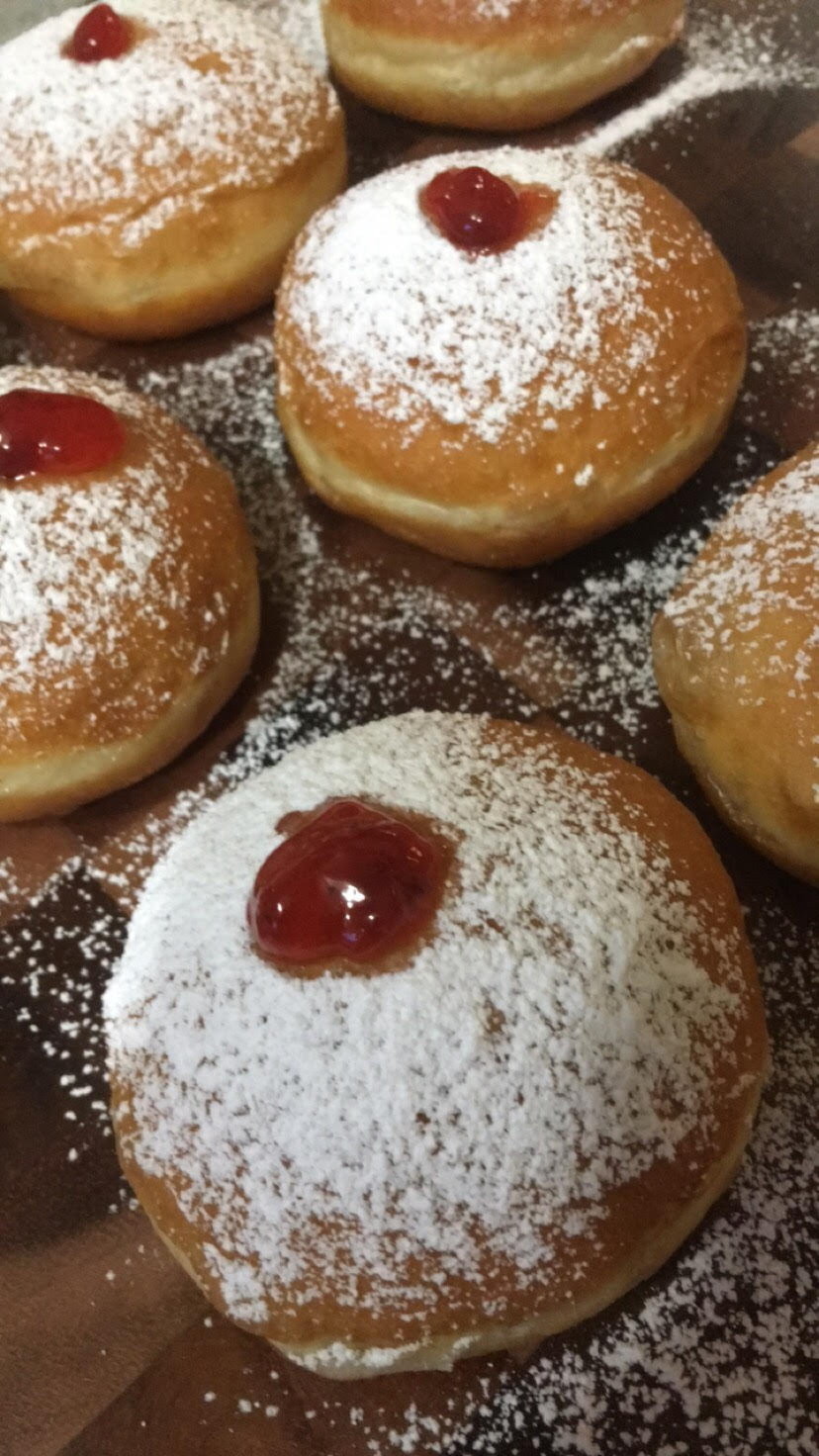 Note: Always check the hechsher on baking paper. It's the only food packaging/baking item that does need a hechsher. Ours did, but it's always good to check the packaging when you purchasing.