Planning a spring trip to Europe? Your European experience isn't complete without getting lost in Venice, Italy.
When I was a girl, and I'd come from Europe to spend my summers at sleepaway camp in the United States, my friends would ask me, "Do you live in the place with all the water? Or the place with the kangaroos?" Oh well, I live in Vienna, Austria – there's no water or kangaroos here. I know Vienna and Venice sound familiar, as do Austria and Australia. And though I don't live in Venice, it is one of my favorite places to visit, so I'll tell you all you need to know in order to make your trip there as enjoyable as possible.
Before you plan your trip, it's advisable to think about where you'll be staying. Hotels in Venice are small, expensive, and often not air-conditioned. The area called Mestre is just a bus ride away and offers big, modern hotels for decent prices.  From the main bus terminal in Mestre, you cross a class bridge and officially enter Venice.
Venice is made up of canals and the main mode of transportation is by boat. The public boats are called Vaporettos and it's best to buy a 1-or-2 day pass ahead of time so that you don't end up paying outrageous sums of money for single fare tickets. Take some time to familiarize yourself with the map of the Vaporetto lines so that you know what to expect.
You will enter Venice at the Piazzale Roma station, just ahead of the Ferrovia station where the trains from all over Europe disembark. The lines 1 and 2 will take you along the Grand Canal and to all the famous sights:
Rialto Bridge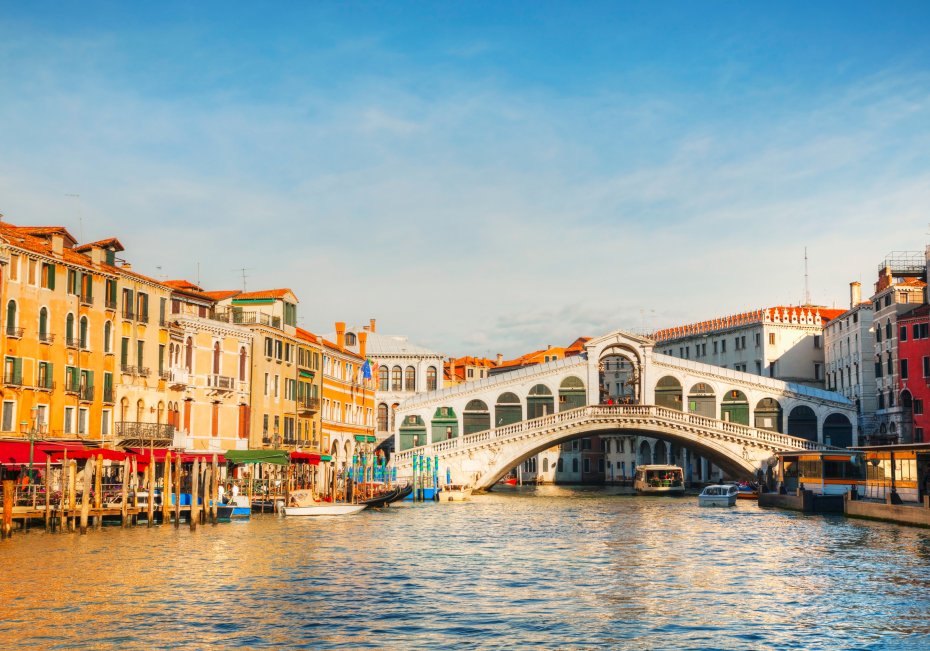 This used to be the only bridge in Venice and was built in 1588. Near the bridge, you can find lots of shopping and a busy food market where Venetians buy their produce and fish. The bridge is a popular spot for tourists taking pictures of the Grand Canal.
San Marco Square

The architecture of Piazza San Marco is truly spectacular. This square is dubbed 'Venice's living room' as it's the place where all the locals meet for coffee and tourists browse designer stores and try to catch a gondola ride.
Doge's Palace/Bridge of Sighs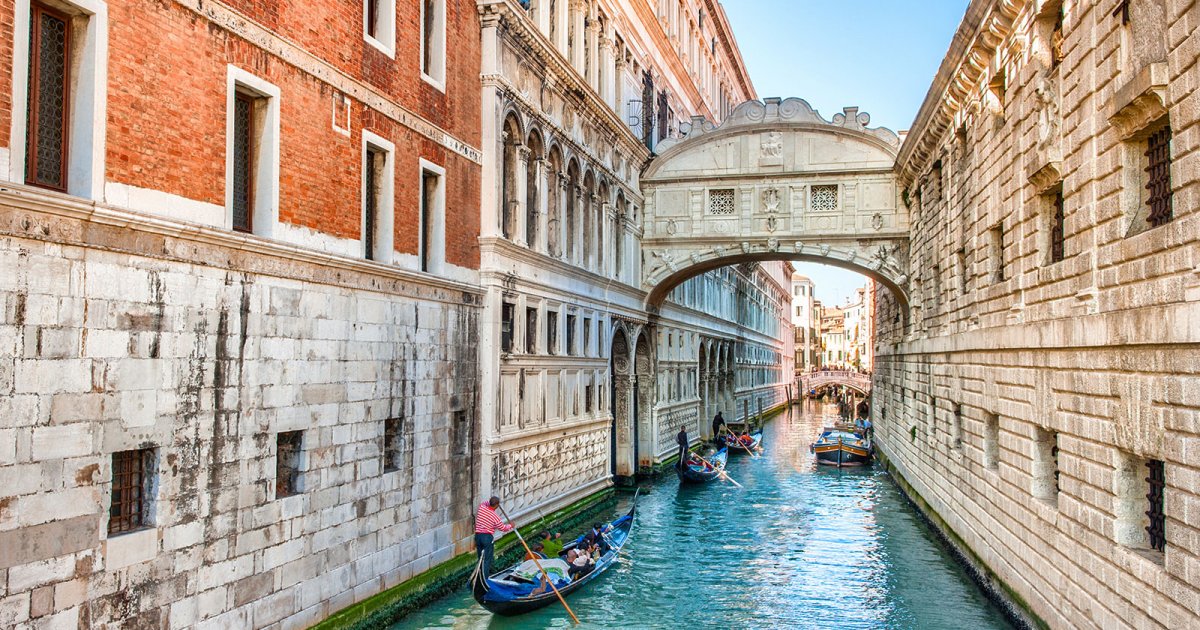 The palace never fails to impress with its grandeur and splendid Gothic-style construction. Inside you'll see art by the Venetian greats including the world's largest oil painting, Paradise. Lines are often long; booking a tour is recommended.
But the most important part of Venice is just walking around and taking it all in. The tour books and websites all say the same thing – get lost in Venice. And they're right. You'll always find your way back to the Grand Canal and back to the Vaporetto lines, so don't be too scared of getting lost.
When you immerse yourself in the city and venture away from the popular tourist spots, you'll get glimpses of what life in Venice is truly like. Sit at the side of the canal and watch residents haul shopping, furniture, children, and pets on little boats. Watch police boats and ambulance boats speed by and delivery boats dropping off the days' worth of groceries and restaurants.
Walking through tiny alleys and crossing over rickety bridges you'll find quaint shops, old Italian nonnas hanging up their laundry on lines dangling four stories high, and the most beautiful architecture. The houses in Venice are numbered in a seemingly illogical manner, with numbers not following any specific order. Make a game of finding the house number that corresponds to your house at home or your birth year.
In the evening, when the city calms down from all the hustle and bustle, get on line 1 again and make a full circle around the Grand Canal. You'll enjoy the city in a different light. It's quiet and beautifully lit up.
Jewish Highlights in Venice
The Venice Ghetto, the oldest ghetto in the world, is divided into two parts – the Ghetto Nuovo (new ghetto) and Ghetto Vecchio (old ghetto).  The Jewish community in Venice counts about 450 people, but most of them do not live in the ghetto itself. However, Chabad has a yeshiva where you can find 3 minyanim daily. The kosher stores and restaurants, the old shuls and Jewish museum are all located in the ghetto.

To reach the ghetto you can get off at the San Marcuola stop on line 1 or 2 and walk through the narrow Venice streets. Or you can take the line 4.2 to the Guglie station, which stops directly in front of Gam Gam, the kosher restaurant. They serve Israeli cuisine as well as some Venetian specialties. Venice also has a kosher bakery and pizza shop, but beware – both close at 6 pm sharp. The old-age home in the ghetto also has some kosher food available for purchase and the gift shop in the Jewish museum offers some snacks and coffee. Become familiar with European hechsherim before you travel.
Murano and Burano

If you plan on staying in Venice more than one day make sure to check out the islands of Murano and Burano. Each of these smaller islands surrounding Venice has something unique to offer.
Murano is famous for its glassblowing. You can watch a demonstration (not during lunch break) and browse the many stores that sell the dainty hand-made figurines and dishes.
Burano is the island of lace. You can find doilies, tablecloths, and frilly dresses in all shapes and sizes. But the real beauty is all the tiny colorful houses that sit in a neat row along the canals. Legend has it that each house was painted a unique color so that drunk sailors could easily find their way home at night.
If you stay in Venice itself, your hotel might offer a shuttle that will take you directly to the islands.
In Venice with Kids?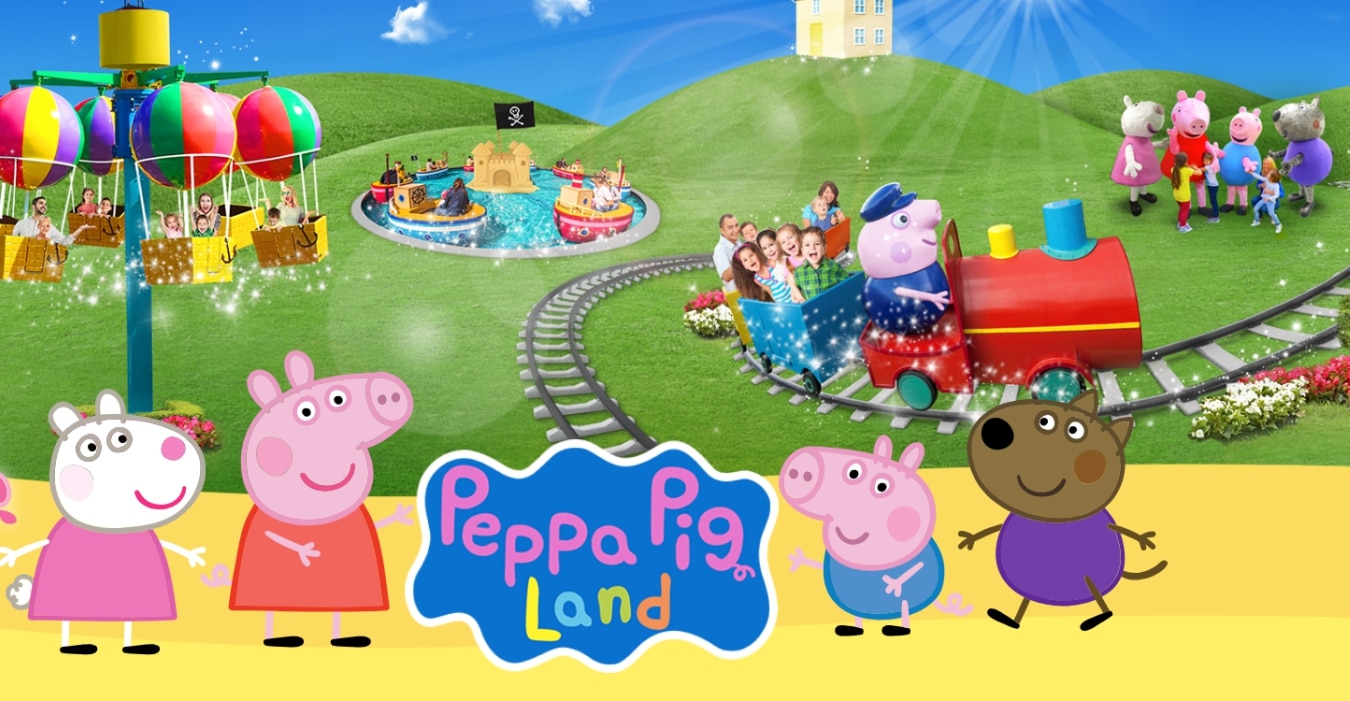 If you're traveling with kids, head to Gardaland – one of the top 10 amusement parks in the world. With high-speed rides, water rides, family rides, entertainment shows and the sea life aquarium, there's something for everyone. It's situated near Lake Garda, one of Italy's beautiful lakes and only an hour from Venice.
Ready to plan your trip to Europe? Search for Flights to Europe now on the Do-All Search Engine.

About Do-All Travel:
Are you ready to get up and go? We know you love the convenience of browsing for flights on your own 24/7…but wish there was someone reliable you could also speak to when you need to make a change. You can truly get it all when you search and book your flight using Do-All Travel's Super-Easy-to-Use Search Engine. When you use the Do-All engine, you'll find clear flight information, great pricing, and a effortless booking process. Whether you book online or over the phone, Do-All, the trusted name in travel for over 50 years, is standing by, ready to assist. Chat online or speak directly! Their agents are informed, experienced, and know everything they need to help you get to where you want to go.