All you need are three ingredients and three minutes to bring this gourmet fish dish–with hoisin sauce and crispy garlic topping–to the table. 
Yes, it happens that there are many days that I don't have time to cook. So then I turn to this recipe. But there are also days that I do have time to cook, and I also turn to this recipe.
Because it's just easy and so good! There's really just three ingredients.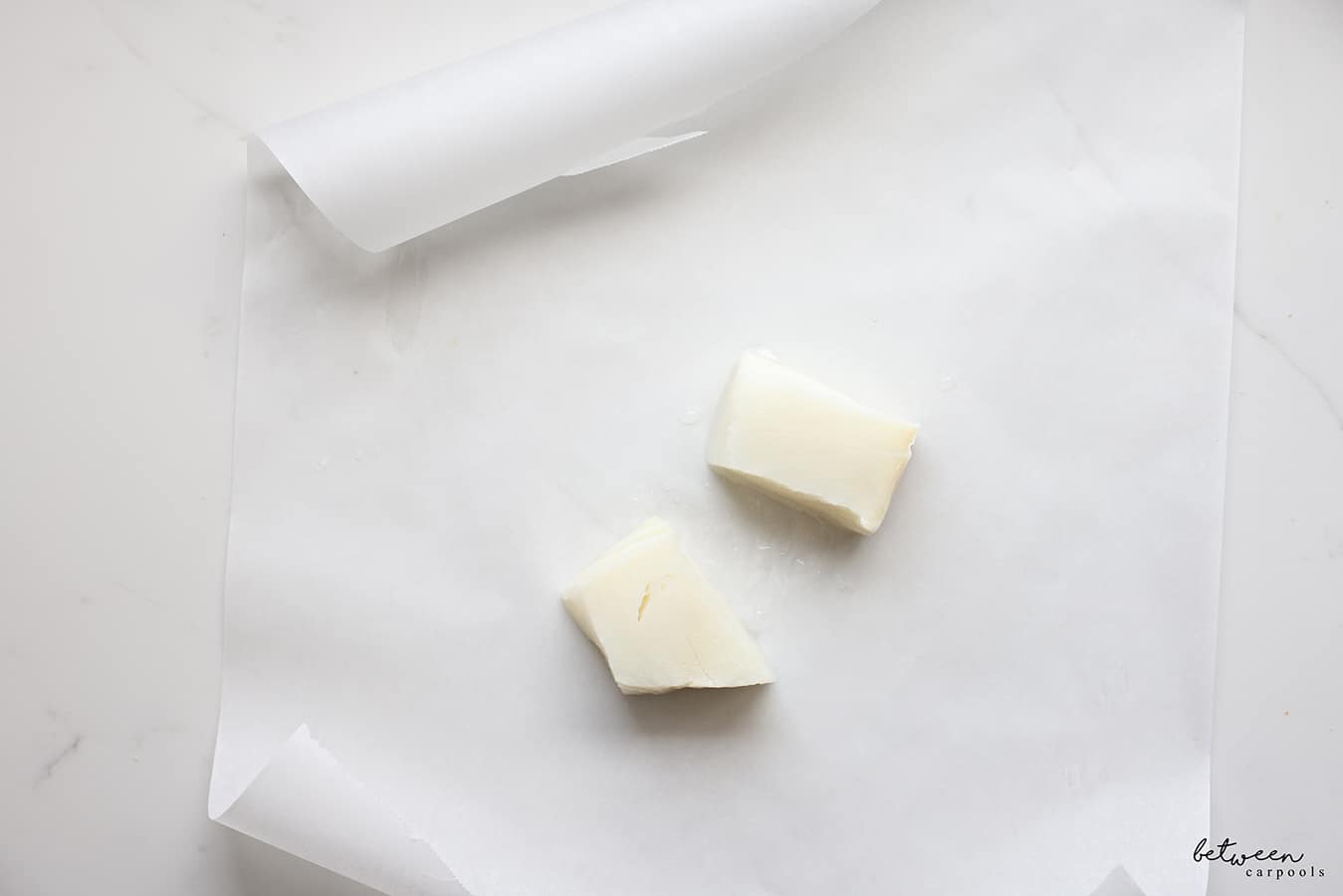 Your fish. Really, this will work with any fish. I'm more likely to use this recipe when preparing sea bass or turbot, but all white-fleshed fish recipes are interchangeable. The only exception would be really thin fish, like perhaps flounder or branzino. It takes time for the garlic to crisp up. Thin fish would be fully cooked before the garlic gets crispy. There's no reason why it wouldn't work with salmon too.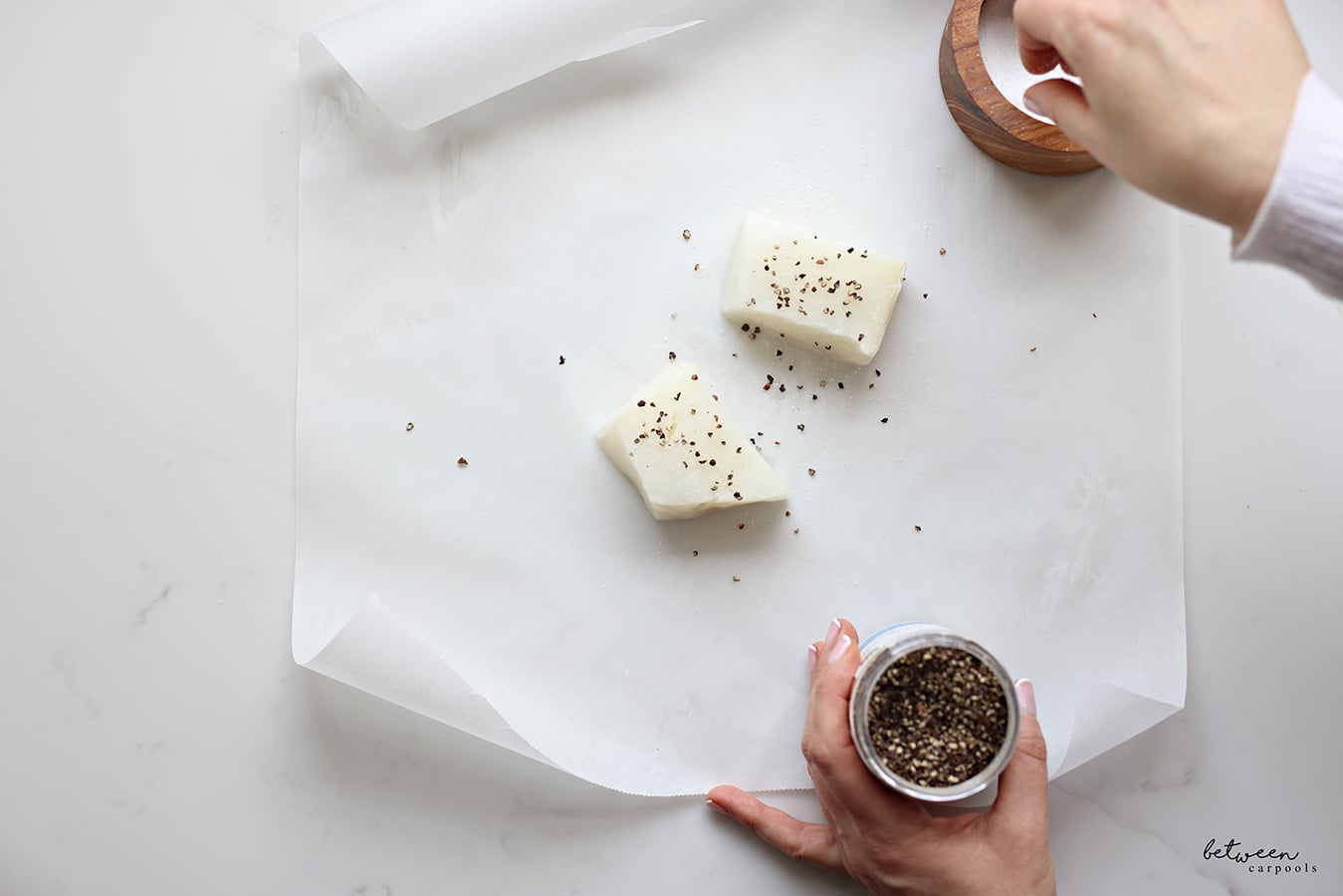 Simply sprinkle your fish with salt and pepper.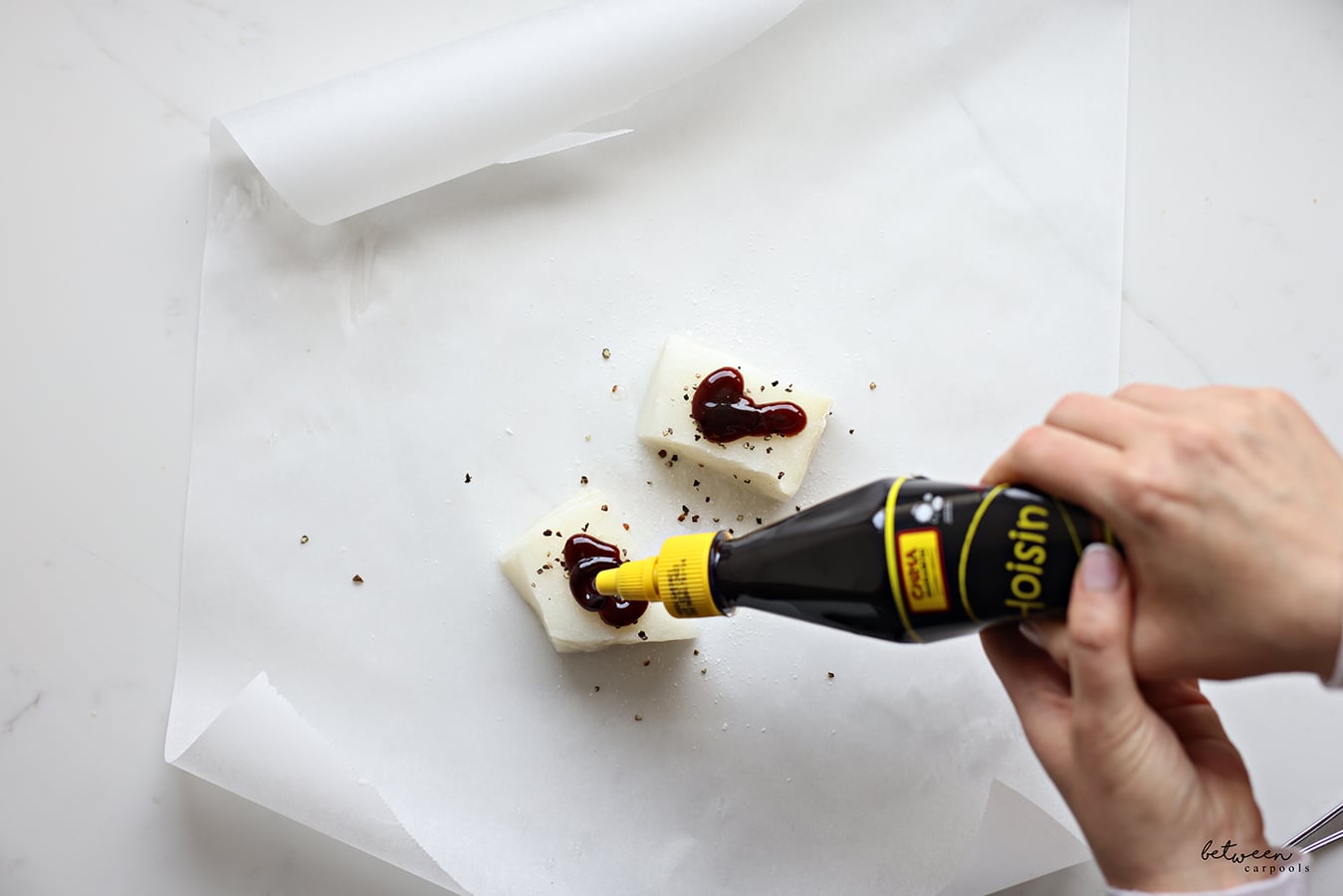 Now for the sauce! If hoisin sauce isn't already in your pantry, it should be. Think of it as your Asian barbecue sauce. Or your teriyaki sauce with a twist. It's just one of those Asian condiments with lots of robust flavor. I use it often. Squeeze a generous amount on your fish and brush it all over.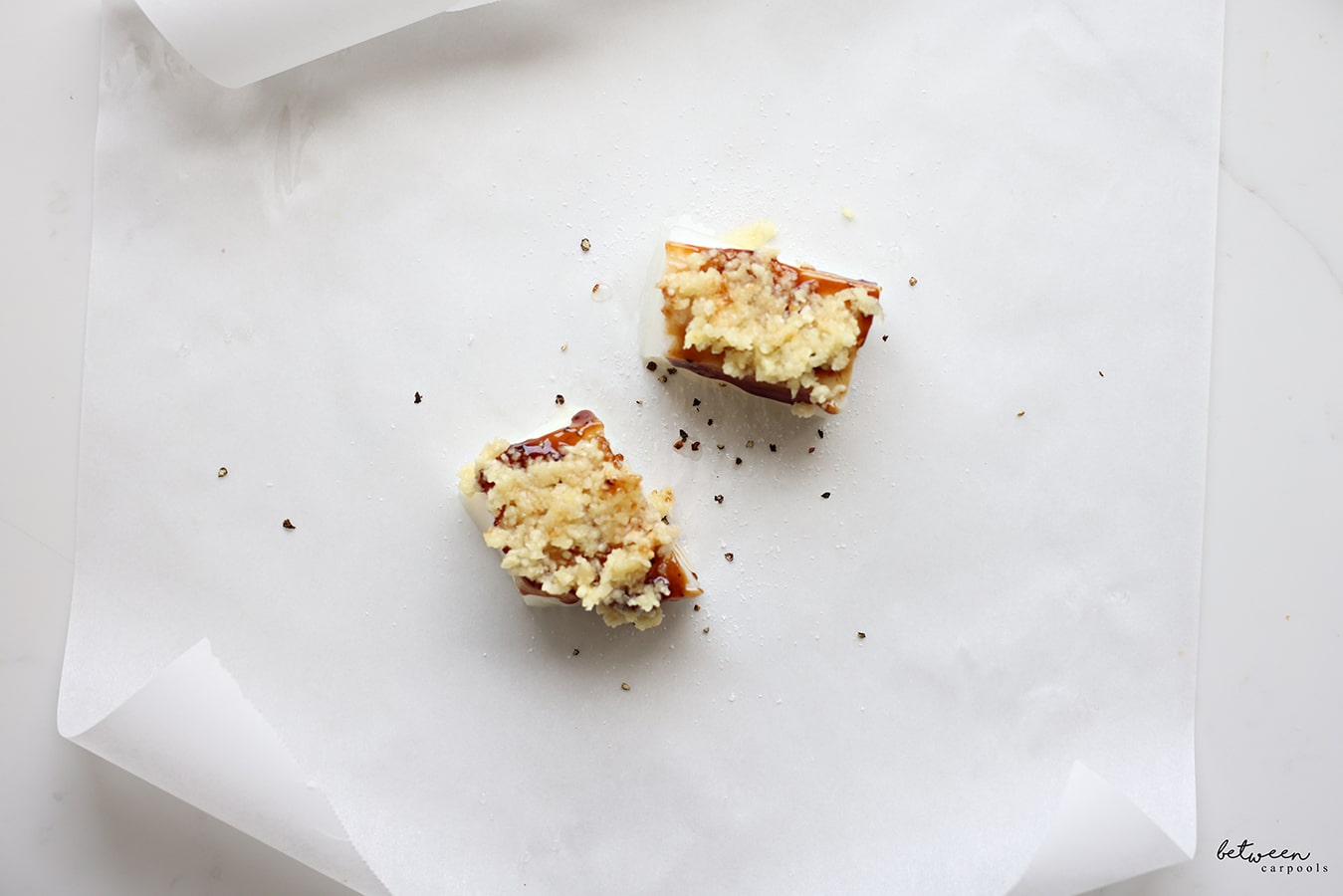 Then, top your fish with lots of crushed garlic. You're going to want to bake this on a TOP rack at at least 400F so that garlic gets nice and brown and crispy.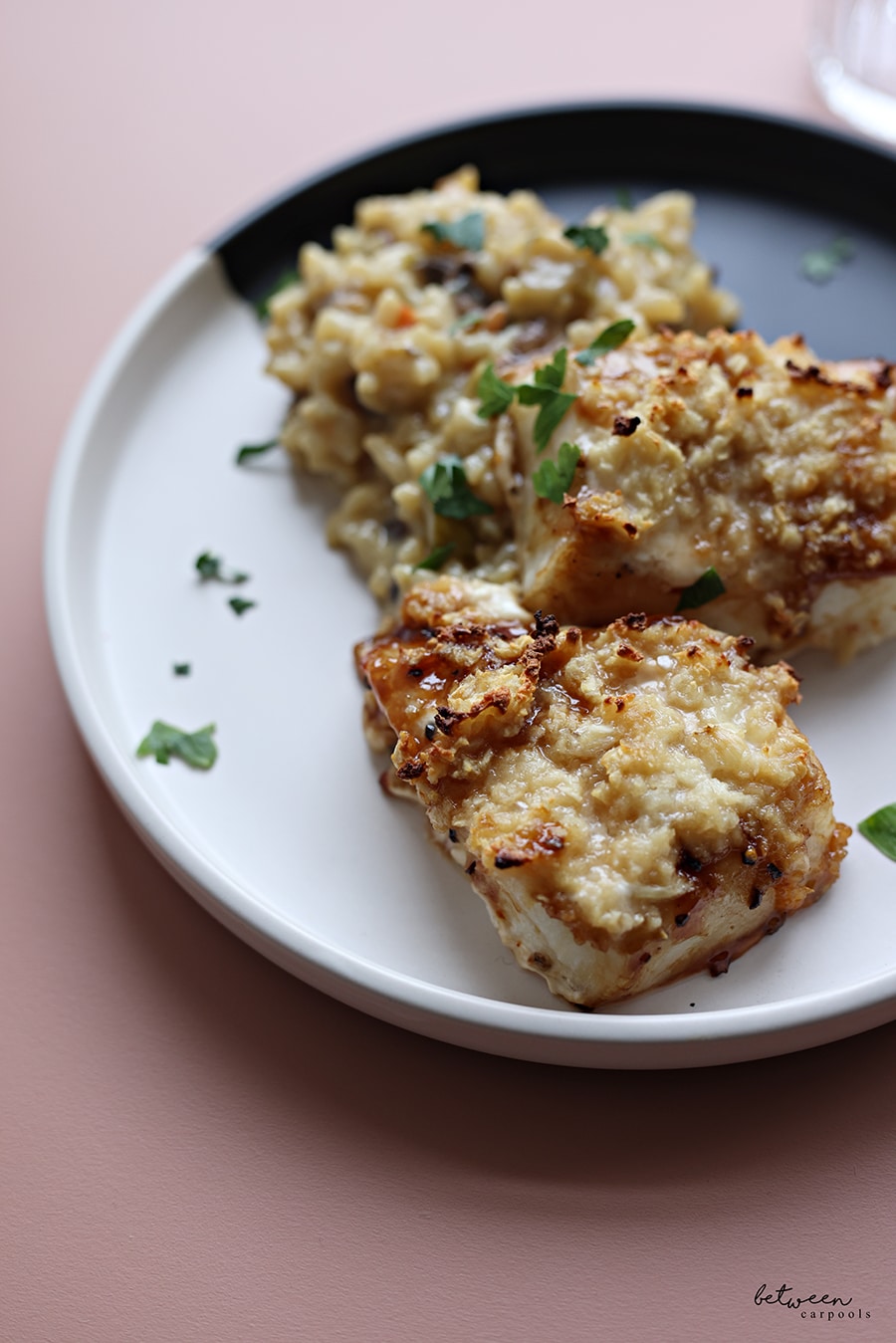 Perhaps it's not such a "recipe." But it's a dish I turn to over and over again "in real life." And if you're curious about that side dish, we plated this next to Shiffy's Risotto and you can find the recipe over here.
If you want a fancier presentation for your fish, try this Fillo-Topped Sea Bass (it's also easy but has a few more ingredients and steps). 

Hoisin Fish with Crispy Garlic
Ingredients
Fish of your choice (I use sea bass/halibut/turbot)
Salt and pepper, for sprinkling
Hoisin sauce
Many garlic cloves, crushed
Instructions
Preheat the oven to 400⁰F. Make sure there's an oven rack placed on the top.
Place fish on a lined baking sheet. (When baking on the top rack, be careful that there is not extra parchment paper sticking up off the tray.)
Sprinkle fish with salt and pepper. Spread hoisin sauce generously to coat the fish. Top with lots of fresh, crushed garlic.
Bake for 15-25 minutes, depending on the thickness of your fish. It's ready when the garlic is browned and the fish flakes easily with a fork.
FOR EXCLUSIVE CONTENT AND A PEEK BEHIND THE SCENES, MAKE SURE TO JOIN OUR WHATSAPP STATUS HERE.