There's Tiro 17, Tiro 19, and Tiro 21 (and now Tiro 23). There's also funny sizing. So how does a mom know just what to get?

Editor's Note: We updated this post, originally published in 2021, to include information on the new Tiro 23 pants, along with any other necessary changes and updates.
Your son needs his Tiro pants stash for the summer. But some mothers know just what to get and where, others are still looking for guidance (and links). So, due to your requests, we've put everything we know about Tiros into this post (and if we missed anything, feel free to comment below and share info).
There's pros and cons to this trend that looks like it's here to stay.
Pro: A mom doesn't need to search around anymore for pants or shorts that their son finds acceptable like we needed to in the 'ol days. Not that it's necessary to wear Tiros exclusively, but it does make it easier when all she needs to do is let him pick the same pants in a few different colors. Add a few t-shirts and their summer weekday wardrobe is done. 
Cons: They're probably more expensive than the alternative (depending on what you were buying before, if you can remember that far back).  Usually, previous season Tiros (i.e. Tiro 21s) can be found at discounted pricing (i.e. $15-$20 in kids sizes).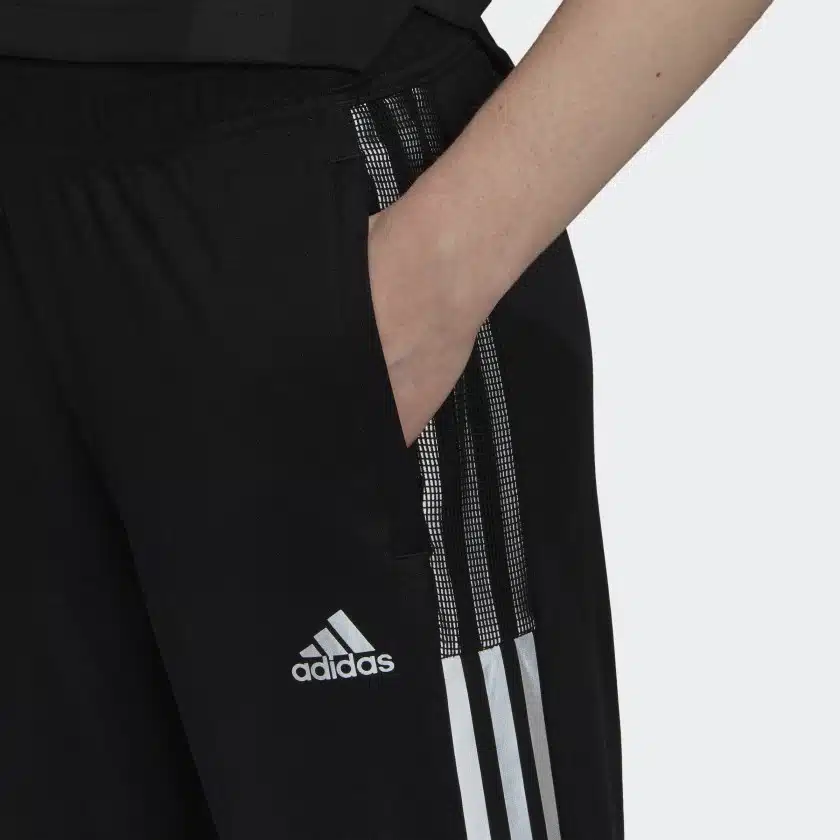 About the Styles
Every couple of years, Adidas introduces a new style. The fit is just about the same, baggier at the top of the leg and tapered at the bottom. There's a zipper on the bottom which has some function. And, there's the iconic stripes down the sides. The Tiro 17s were a half stripe style with some mesh around the waist. They are not typically available anymore. The Tiro 19s feature a full stripe style with an asymmetrical strip of fabric across the front of the leg. Those are also hard to find nowadays. The Tiro 21s have a three-quarter stripe down the side and a piece of mesh over the top of the stripes. Tiro 23s have a diagonal stripe that goes around the bottom of the leg. Really, it's all the same. Boys who are wearing the same clothes every day all winter long, though, like when there's something that's "new."  
A IMPORTANT NOTE ON COLORS AND PRICES: The Tiro 21s were disappointing in that they did not come in the popular black on black color, rather there was a black/grey. Those who wanted black/black tried to snatch up the remaining Tiro 19s.  I suppose Adidas got the memo because the Tiro 23s come in black/black. As far as pricing, since there is now a new version, the Tiro 21s can be found discounted while the Tiro 23s are full price. 
ABOUT THE FIT:
Adidas pants are known to run large. For example, a boy who is a size 8-10 will start to wear a size small (until he reaches size 12 likely). A medium will definitely fit a boy who is wearing sizes 12-16. The Adidas sizing chart is not particularly accurate. We found that the larger boys' sizes are larger than the smaller mens sizes. So, if your son needs something bigger than a medium, but the large is too large, try the mens' x-small or small. 
There are also toddler/little kids sizes and they likely overlap with the xx-small and x-small.
About the fit on Tiro 23s: Whether these feel slimmer or looser than the Tiro 21 will be different for every boy. You might need to buy a couple sizes and return the first time. Consistent with our experience on previous styles, once a boy outgrows the size medium, the next best size to get is a men's XS. These will be smaller than the kid's large. The kid's large and the men's small will be similar in sizing, except the kid's one will have a shorter length.
About the Quality
When boys play rough, like any other clothing, Tiros will tear. But if they do make it through boy #1, they'll still look great enough to pass on to boy #2. We've had boys pass along Tiros (miraculously, it's a hand-me-down they actually accept). 
Bottomline:
Tiro 21s are really the much better deal. If your son only wants to wear black/black, Tiro 23 is the way to go.
Where to Buy
Adidas will have the largest range of styles and colors, except the Tiros will be full price ($45 for kids and $50 for adults) and coupon codes are not applicable. 
Amazon will often have the best prices on Tiro 21s. Tiro 23s are full price like elsewhere. 
Zappos is very organized and they have most sizes and colors, along with nice discounted pricing on the Tiro 21s and discounts on odd colors of Tiro 23. 
Here is where you can find each style in different size categories: