A salad like this makes the whole table look beautiful…and it's so enjoyable too.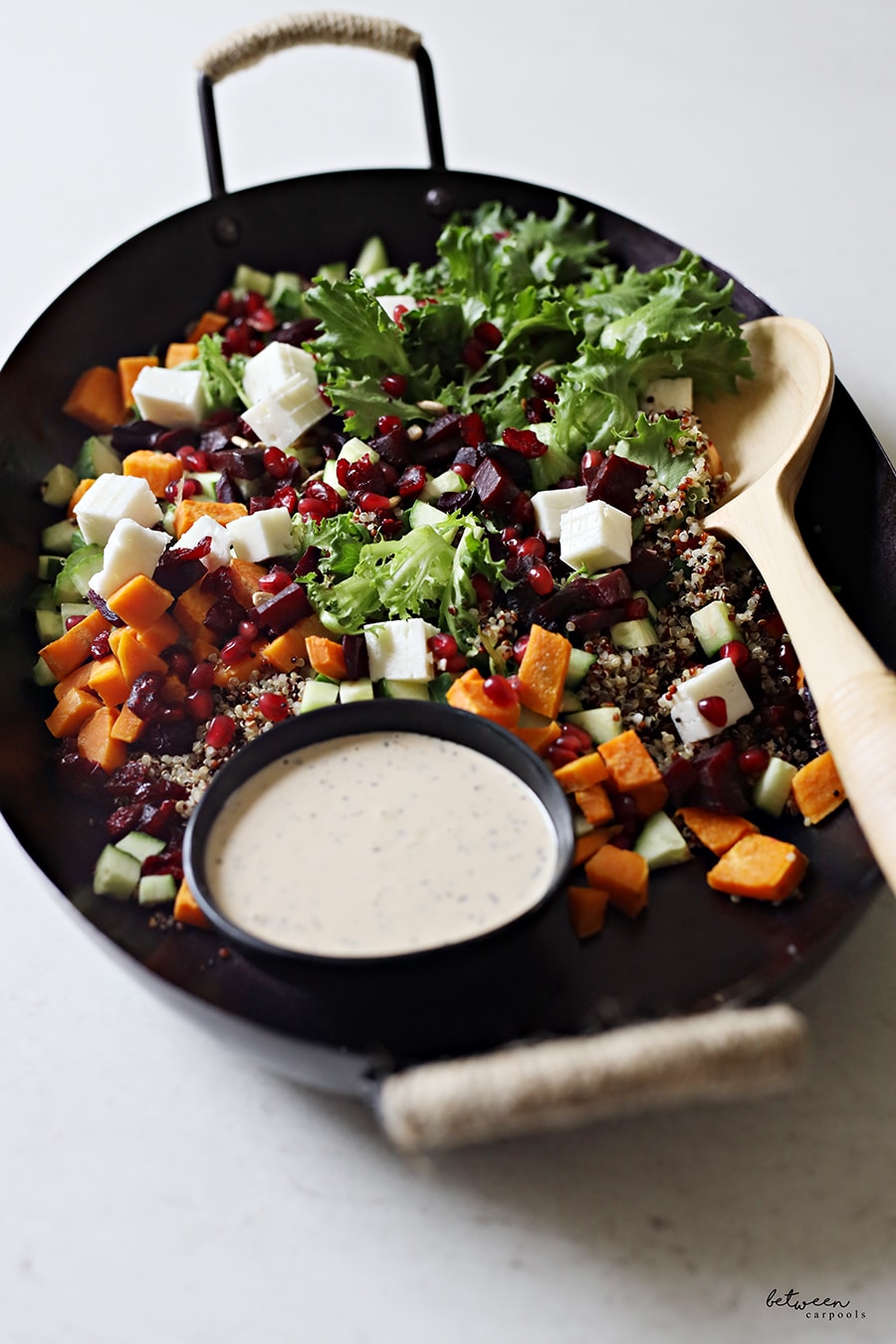 This salad is a new favorite. It's exciting to prepare, serve, and definitely to eat.
You can definitely swap the quinoa for any whole grain (or leave it out if you already have some grainy side dishes in your meal and want to focus on the veggies).
You can pair this with any balsamic vinaigrette; store-bought is fine. Or, simply use the recipe below.

The Jewel Salad
Ingredients
5 ounces kale or arugula
1 sweet potato, peeled and diced
2 vacuum-sealed beets, diced
1 cup cooked quinoa
½ English cucumber, diced
½ cup pomegranate seeds
3 ounces feta cheese, grated
3 tablespoons craisins
2 tablespoons sunflower seeds
Creamy Balsamic Vinaigrette:
2 tablespoons balsamic vinegar
2 tablespoons lite mayonnaise
2 tablespoons water
1 tablespoon olive oil
1 teaspoon dijon or yellow mustard
1 garlic clove, crushed
1 teaspoon salt
½ teaspoon dried basil
Instructions
Preheat oven to 425ºF. Add sweet potato cubes to a greased baking sheet. Add beets to another baking sheet. Spray veggies and sprinkle with salt. Bake for 20 minutes, or until sweet potatoes are soft.
Combine all dressing ingredients.
In a bowl, layer kale, whole grain, sweet potatoes, beets, cucumbers, pomegranate seeds, feta, craisins and sunflower seeds. Drizzle with dressing and toss before enjoying.