You can give your tablesettings a bright spring pop this Shavuos with a disposable placemat or charger from
Altoona Designs.
**Limited Time Only** Get 15% off your purchase of $49 with code 15%OFF (all caps). 
We all want our spring and summer tables to put our family and guests in a happy, cheerful mood. But where to start? Often, one inspiration photo is the starting point that can bring the spring table of our visions to life. All of these tablescape ideas begin with one of Altoona Design's beautiful disposable chargers and placemats (all designs are available in both sizes) – the easiest way to set a fresh gorgeous table without the big investment! The placemats are available in sets of 12, 16, or 30 so you can mix it up with each meal, or buy one pack and be set for the entire Yom Tov. It never gets boring!
In all the tablescapes below, we tried to find items that are similar to the photos and are also well-priced (some items in photos are no longer available). Of course, you can use these as a starting point, mixing and matching the chargers or placemats with items you already own as well as new accents to bring that table to fruition.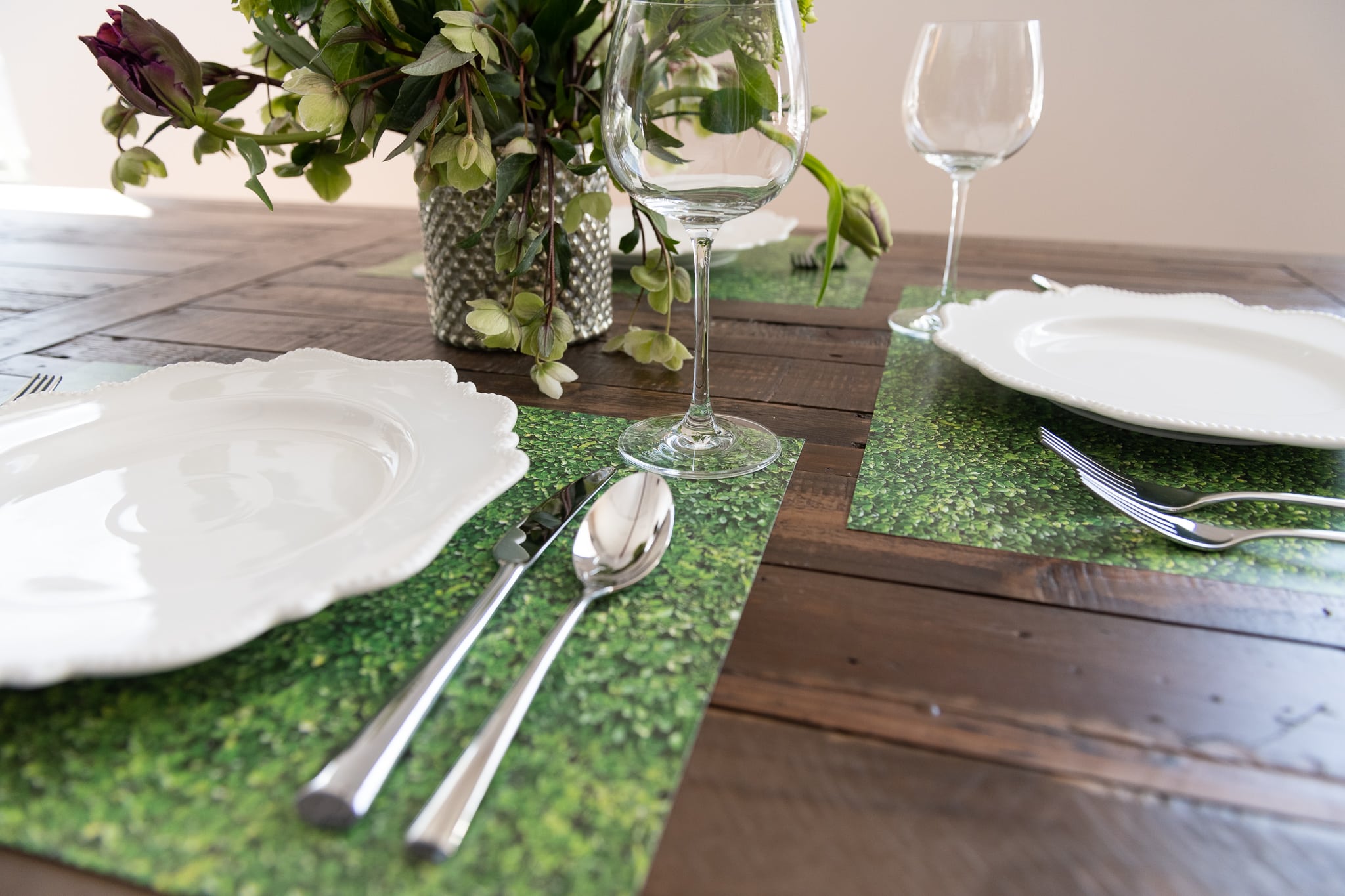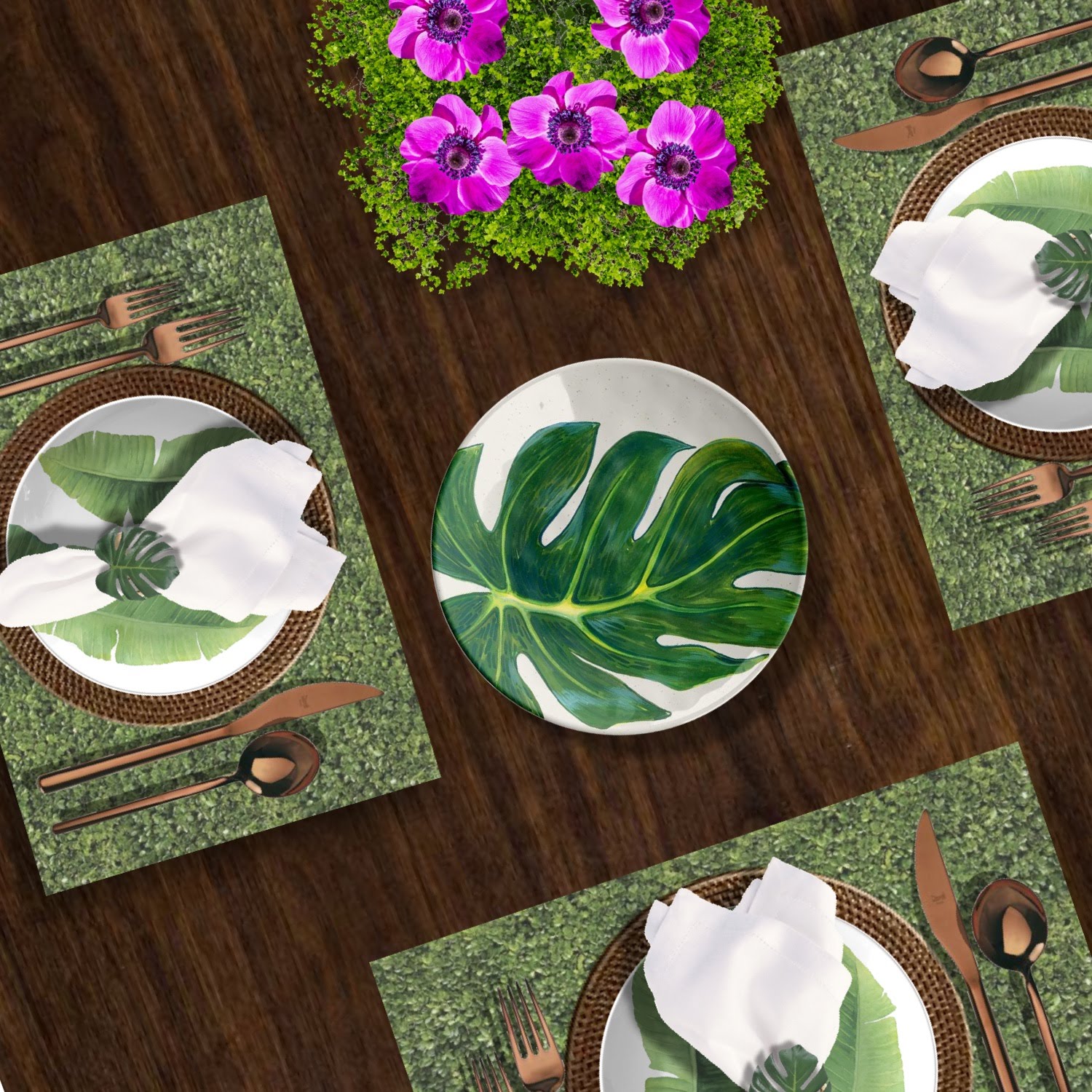 (Pictured above.) Go tablecloth-less and show off that wood. Pair your bare wooden table with Altoona's Hampton Hedge Charger or Placemat.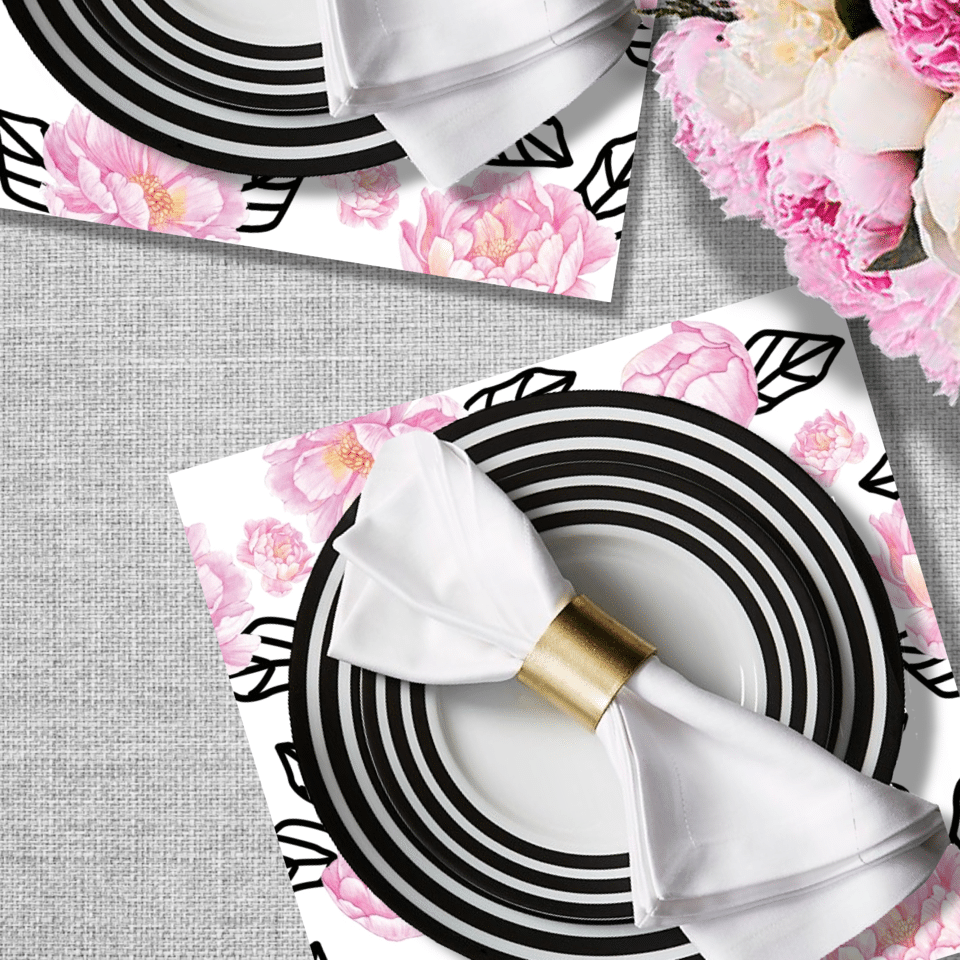 This tablescape starts off with our newest favorite from Altoona, the Graphic Peony Charger. It has the perfect blend of modern style and fresh florals. Pair it with Black-Rimmed Dinnerware like these from Kate Spade or this simpler version for less. You can also simply add a black-rimmed accent plate or a black salad plate to top your current white dishes and pull off the look. Finish it up with bold Gold Napkin Rings…a great look atop a simple grey linen tablecloth. And of course, pink peonies are the natural choice for your centerpiece.

Here's another way to use the Graphic Peony Charger using black and white dinnerware. (This is the dinner plate and this is the salad plate). Love the black flatware in this look? Here's one set by CB2 or a more affordable version here. Finish off with black and white napkins. We found a few similar versions that work here.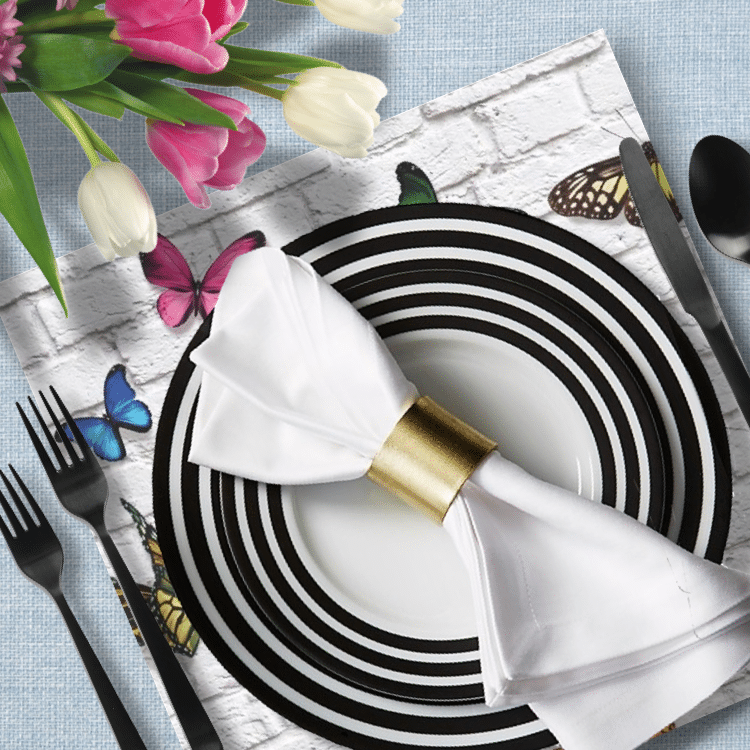 Then, use your same dishes, napkin rings, and cutlery…simply change your tablecloth and switch it up to Altoona's new Flutter Placemat for a new fresh look for the next meal (the tulips don't hurt either!)

Here's another way to feel spring in the air. This tablesetting features Altoona's charming Need Point Garden Placemat. It pairs perfectly with this Denim Dinnerware Set.  Here's a beautiful disposable plate option to achieve this look. (This two-toned flatware is unavailable but there's other beautiful options here or here.)

Top the most basic white linen tablecloth with an Altoona Eucalytus Frame Charger and white dinnerware and it's automatically special. This one features quilted dinnerwarebut anything fresh and white will work! Repurpose that black flatware (see above for sources) in this look too. Like with the Graphic Peony looks above, black and white dishes will also work because the charger gives you just the right pop of color.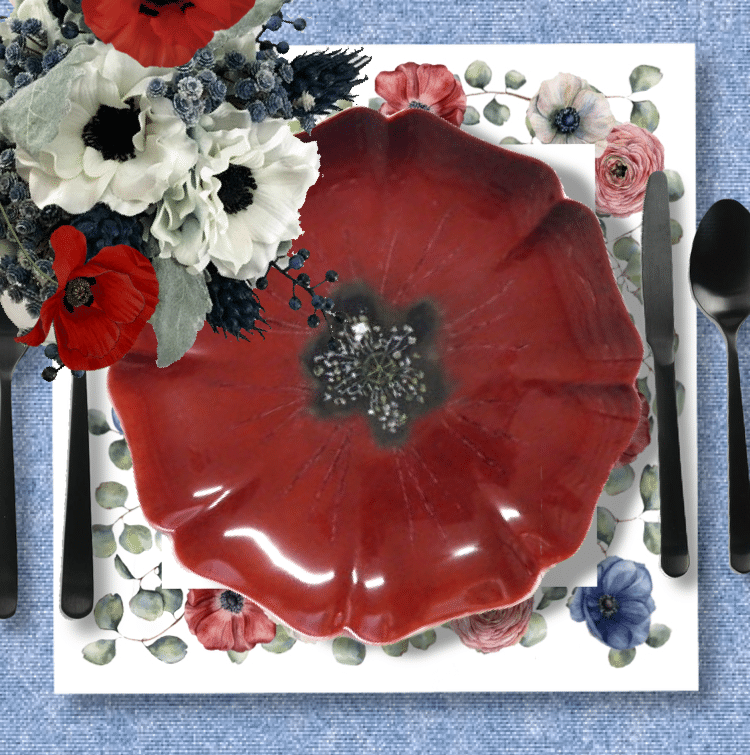 Here's another way to style the Eucalyptus Charger. (Pfaltzgraff has a great deal on a similar dinner plate here. Match a red dish wtih red and white poppies for your centerpiece florals.)
Here's more favorite looks we love from Altoona for Shavuos!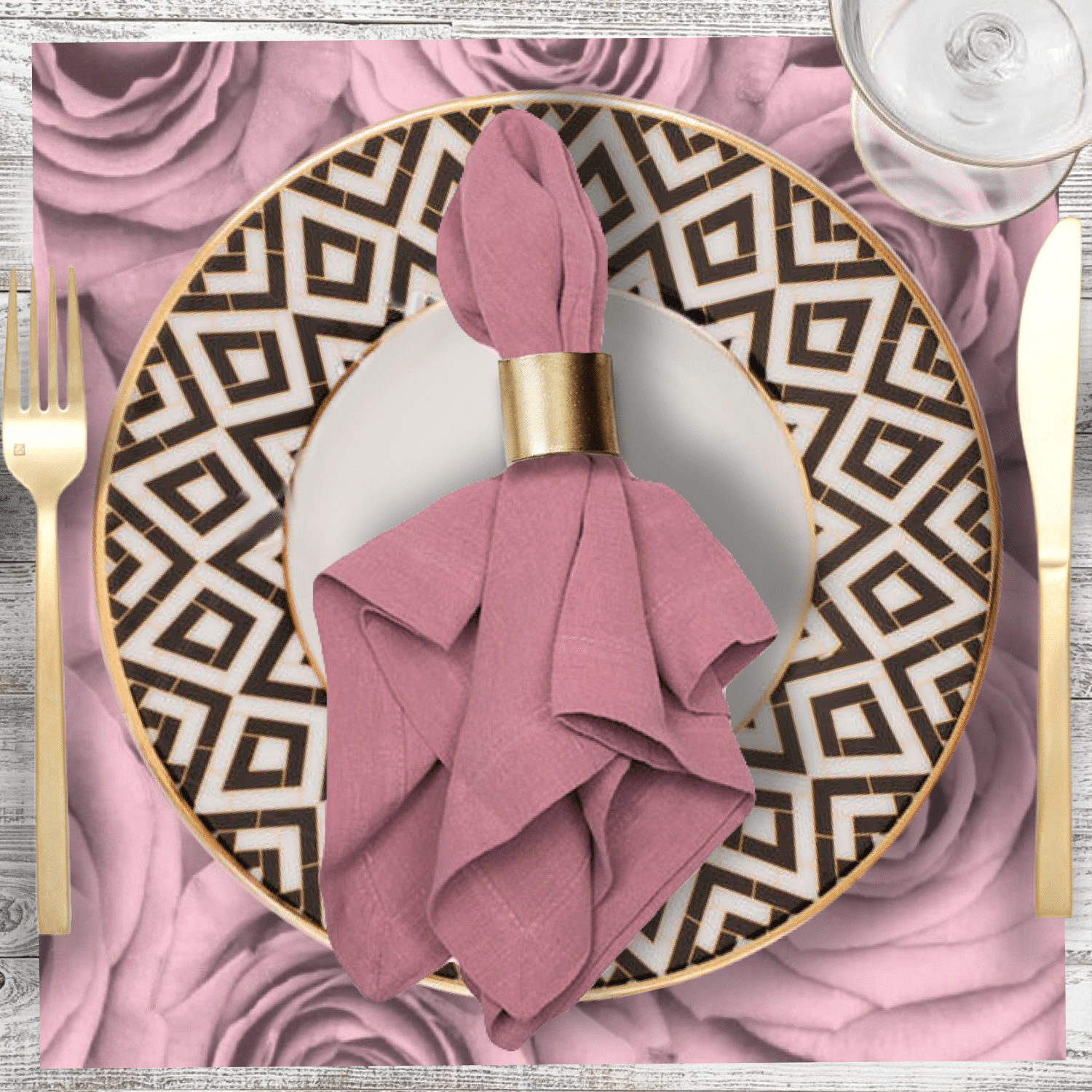 This one features the Blush Blossoms Charger. Great for dressy, classic, elegant looks with any formal China. Pair it with the same gold napkin rings used in the first look above.
Here's another way to style the Blush Blossom design, this time using paper plates and plastic cutlery from the party goods store!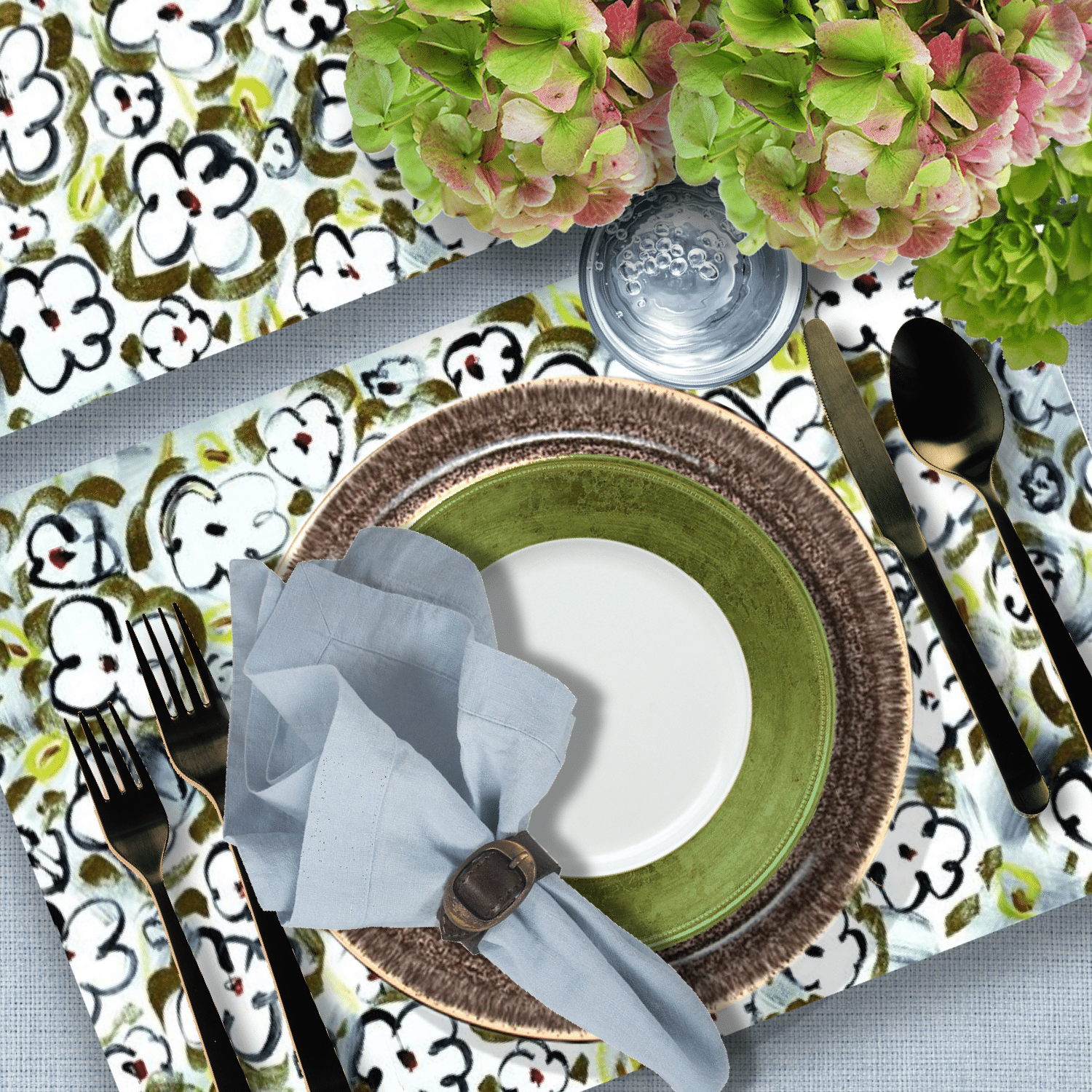 How gorgeous is this placemat designed by artist Yaeli Vogel?!? To duplicate this look, start with rattan-style chargers and this Noritake Green Rim Dinnerware…but this placemat also looks great with basic white scalloped edged dinnerware. Or, pair it with disposable scalloped dishes! The flatware looks dark in the photo but they're actually a beautiful rose gold.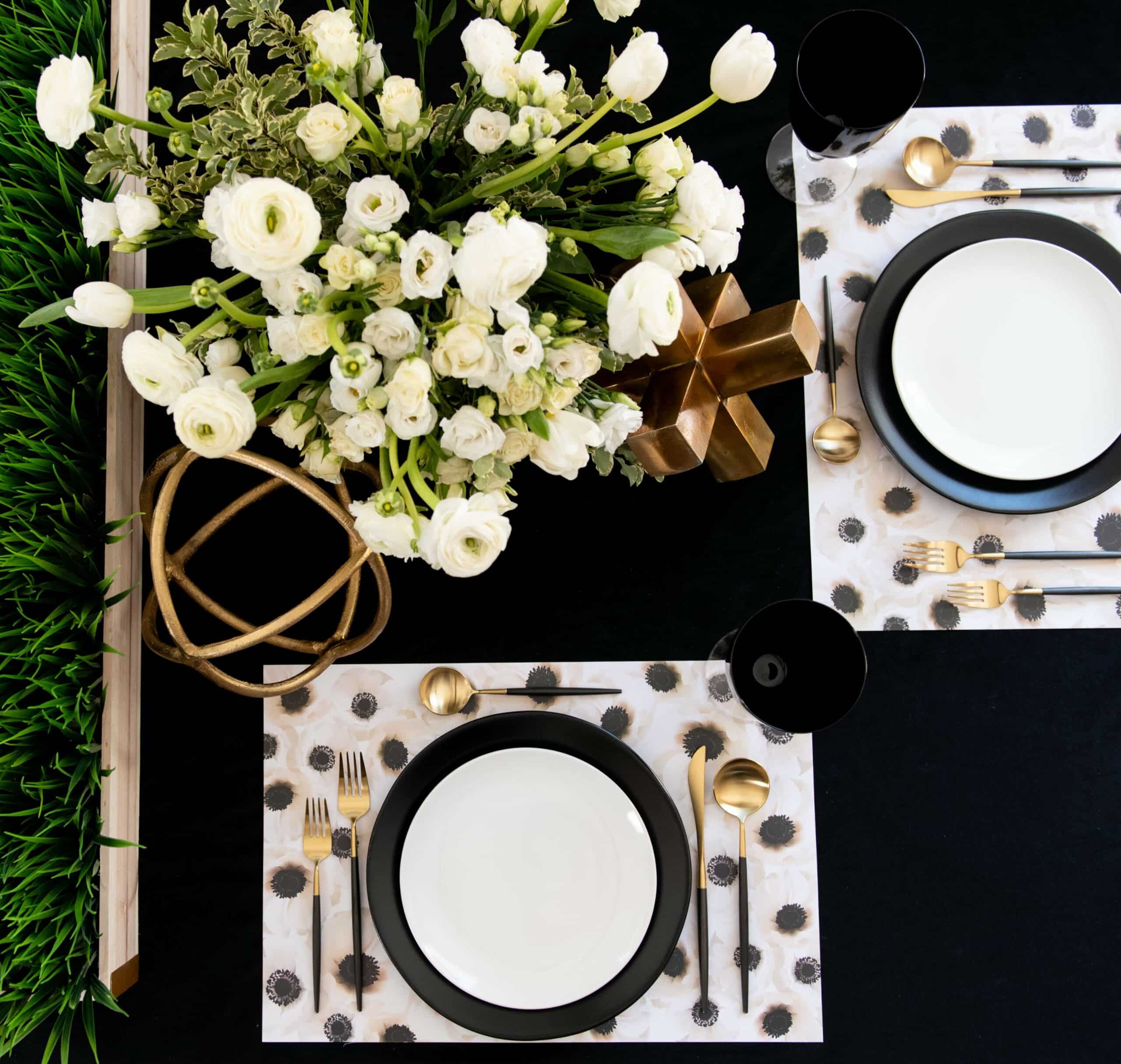 Ah…the Wind Flower placemat. And yes, those black and white dishes still look fab. And the black and gold flatware doesn't hurt either (this is the best deal we could find on 'em)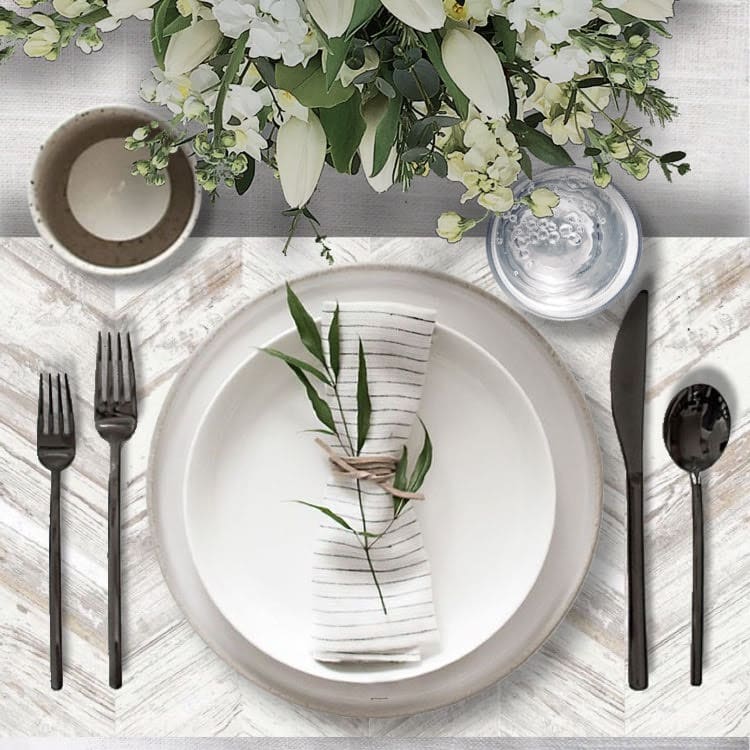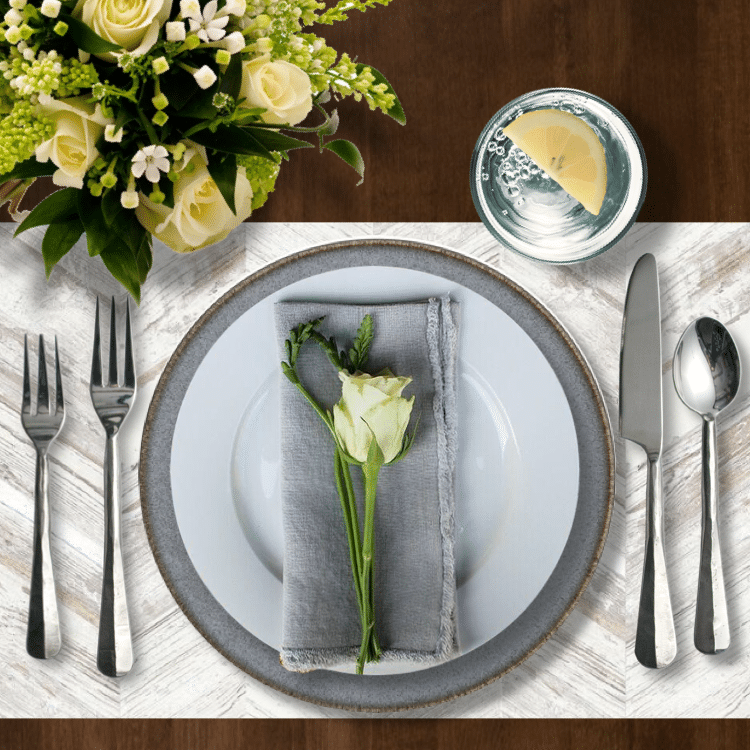 Here's another organic gorgeous look using basic white dishes, black cutlery, and a striped linen napkin tied simply with leather rope and a leaf. The rustic style all goes perfectly with  Altoona's Whitewash Herringbone Charger (a favorite!) The second look is similar, but the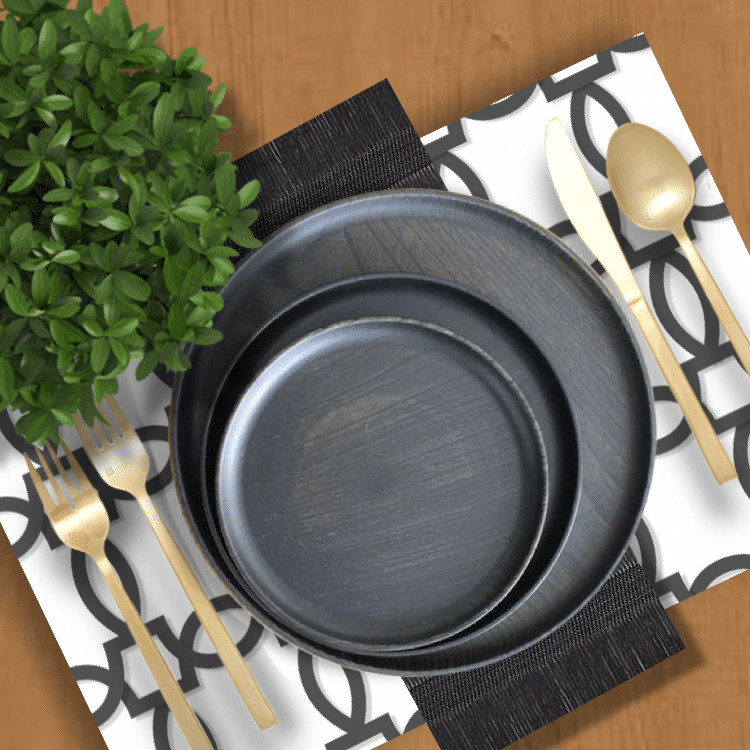 Do you like to keep things crisp and modern? This table setting features Altoona's Iron Links placemat with black dinnerware (here's an amazing set, but any would work) and black fringed napkins.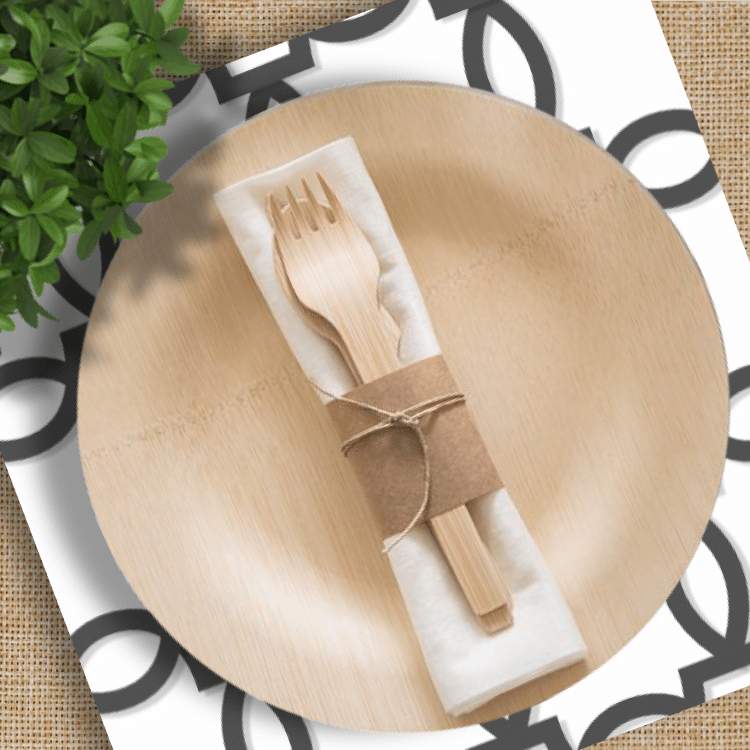 Here's the same Iron Links style in the charger size, this time paired with disposable wooden dishes and disposable wooden cutlery. Just love how the napkin ring is tied – perfect little touch.
See the entire selection of Altoona's Chargers and Placemats at the Altoona Store. For the newest Spring/Summer line, click here. To keep up to date on the latest styles, follow them on Instagram @altoonadesign.