If you're looking for a place to have fun with the kids over this Chanukah vacation, here are some ideas.
With the cold weather setting in but not cold enough for winter sports, I reached into my repertoire of indoor places to visit.  This time I decided to focus on a blend of 6 indoor places located in New Jersey (not far from most areas in New York) to help with ideas of what you can do as a family. 
For additional trip ideas please check: beentheredonethattrips.com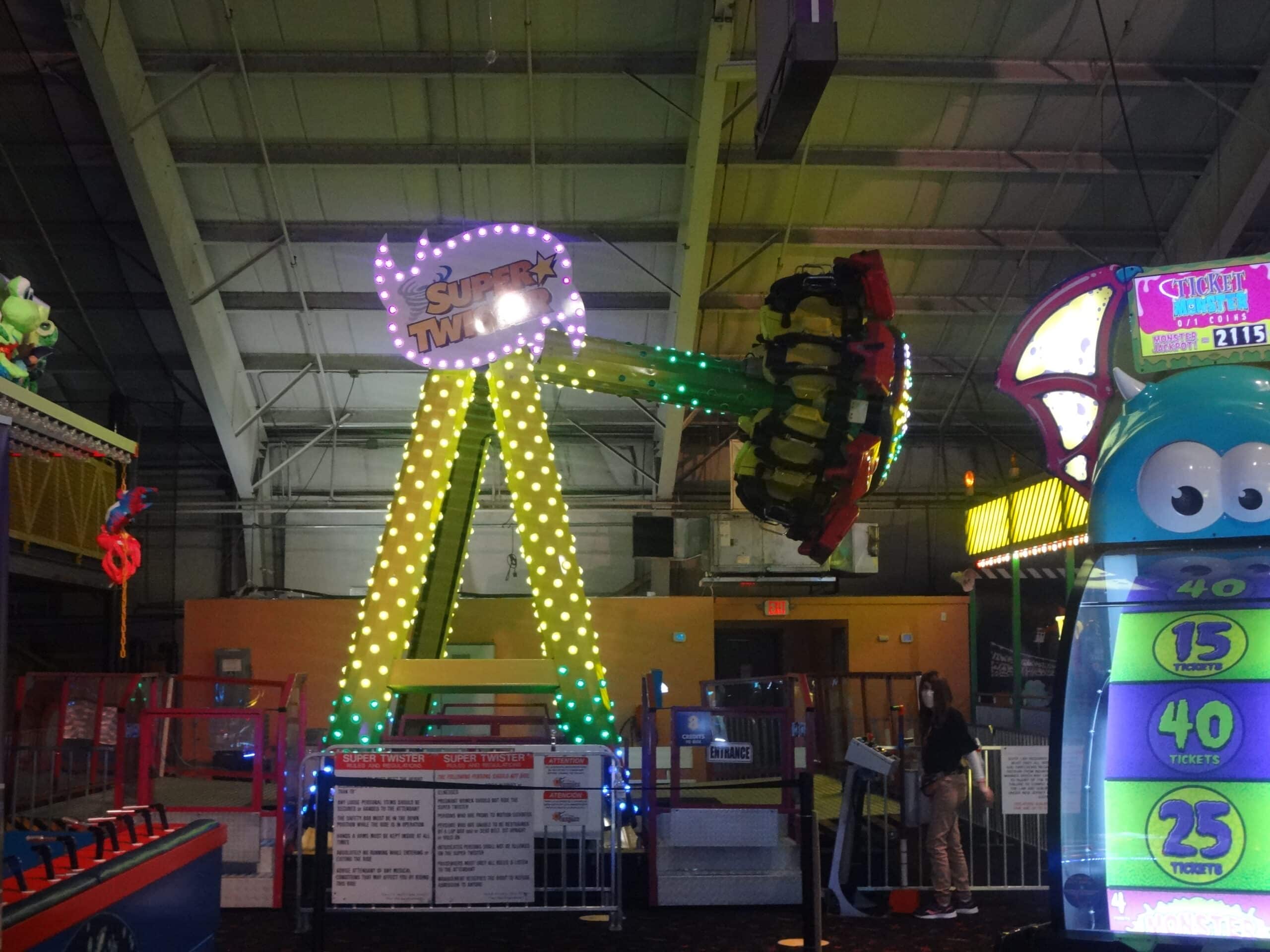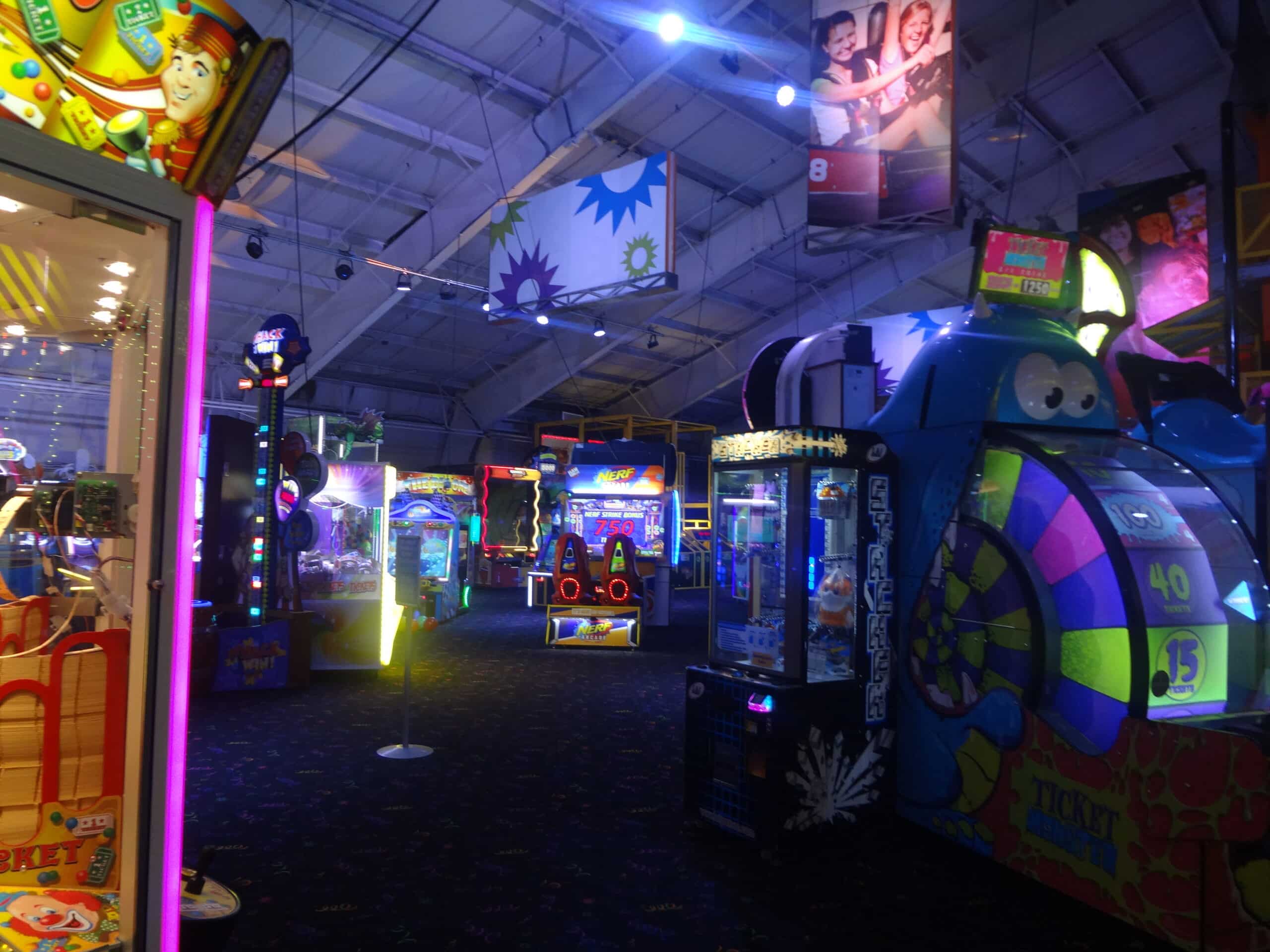 Funplex: East Hanover, NJ
I have very fond memories of visiting Funplex with my extended family over 20 years ago when I was a kid.  I still clearly remember the fun we had in the Foam Frenzy area, playing and shooting each other with the foam balls. I was extremely impressed back then with the design and fun elements of the Foam Frenzy area. During our recent trip, the Foam Frenzy area was temporarily closed due to COVID19 but we had such a great time on all the other rides and with the many arcade games spread all over the facility.
The first ride that we noticed upon entering Funplex was the bumper cars. Just behind that was the Super Twister, a giant pendulum-like ride with seats all around the end. It swung its riders from one end to the other while twisting them around and around. In that large entry room, we couldn't help but notice all the arcade games beckoning us to give them a try. There were plenty of the standard games and many original games as well. The Skyscraper ride took the riders up, up, and then around; a calmer ride, but still fun.
The XD Dark Ride is a 4D interactive ride where we could compete in shooting with other riders or with ourselves. There is also laser tag, a Hologate virtual reality game, and a party room for celebrating special occasions.
The obstacle course, known as the Warrior Course, intrigued us, but we were unable to try it, as it is only open at designated times, which did not include that of our visit.
The second room, the Boardwalk, was home to the go kart track. The speed could be set according to the rider's ability. There is nothing like racing during rain or shine in the indoor track. There were two thrilling rides right near the go karts: Drop n Twist and Reverse Time, a ride that took riders high up to the ceiling and then let them down with a drop. The other ride spun the riders on an angle both backwards and forwards – definitely not for the faint of heart.
The bowling alley at the Boardwalk rounded off the wholesome fun experience with state-of-the-art bowling alleys and choices of which type of game to play. One thing we really enjoyed was that the bumpers lifted up just for the players that needed it.  We had an awesome time at Funplex even without Foam Frenzy; we couldn't imagine how much fun it would be when it reopens.
 Address:
182 NJ-10
East Hanover, NJ 07936
 Phone Number:
(973) 428-1166
 Hours:
Check online for the current hours and to purchase online tickets: https://thefunplex.com/hours/
Price:
Platinum BAND:
In Person: $49.00 + tax
Online:$45.00+ tax
Unlimited Select Indoor Attractions Plus One Hour of Bowling, Shoe Rental, a $5 Game Card and Select FREE Video.
Extreme BAND: 
In Person: $39.00+ tax
Online:$35.00+ tax
UNLIMITED Select Indoor Rides. Excludes Arcade, Bowling and Shoe Rental
$15 Fun Card = 30 Credits to be used on any arcade game, bowling, or on indoor attractions.
Online:$15.00+ tax 
Approximate Distance from:   
Brooklyn Bridge: 45 minutes
Lakewood: 1 hour, 15 minutes
Monsey: 45 minutes
 Website: https://thefunplex.com/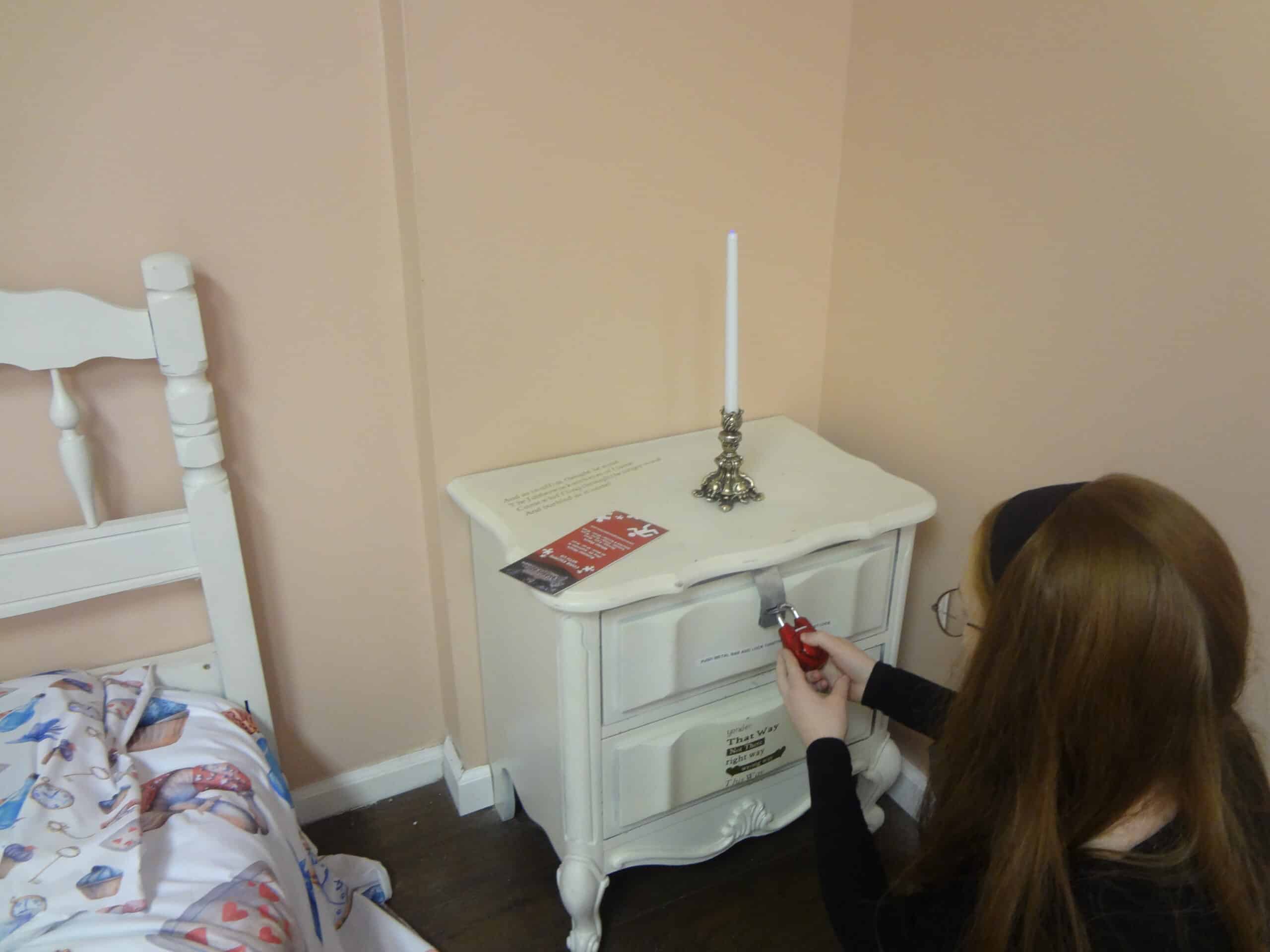 The Amazing Escape Room: Bloomfield, NJ (Multiple Additional Locations)
I'm hooked. The thrill of figuring out the clues and discovering the brilliance behind the design of the escape room had me want to try another room at The Amazing Escape Room. It indeed was an amazing experience as they promised. Don't get me wrong, we didn't ace it. It was only our second experience at an escape room. We needed every one of the free clues offered and then some but even so it was an exhilarating experience.
We did the challenge of the "Down the Hole" room at the Bloomfield, NJ location, which is an Alice in Wonderland theme. We had to find Alice who had gone missing and send her back home. The room was adorably set up with so many different cute props that were used to make the challenge more exciting. Once all the clues were found and solved a door opened to a second room where there were additional challenges to solve.
The Bloomfield location has some metered parking outside. Bloomfield was not my favorite town but The Amazing Escape Room has multiple locations in a variety of neighborhoods such as Staten Island, NY and six New Jersey locations including Freehold and Montclair. 
Each location has a few rooms specific to that place–the rooms aren't duplicated. There are very few rooms that are the same at more than one location. I won't give away the secrets of the room we worked on and how to solve the challenge since I'm sure you'd love to try it. One thing I can tell you is, it is definitely worth it!
Address:
281 Liberty Street
Bloomfield, NJ 07003
Phone Number:
(973) 866-5337
Hours:
Check online for location hours.
Price: $30 
Approximate Distance from:   
Brooklyn Bridge: 40 minutes
Lakewood: 1 hour, 10 minutes
Monsey: 40 minutes
 Website: amazingescaperoom.com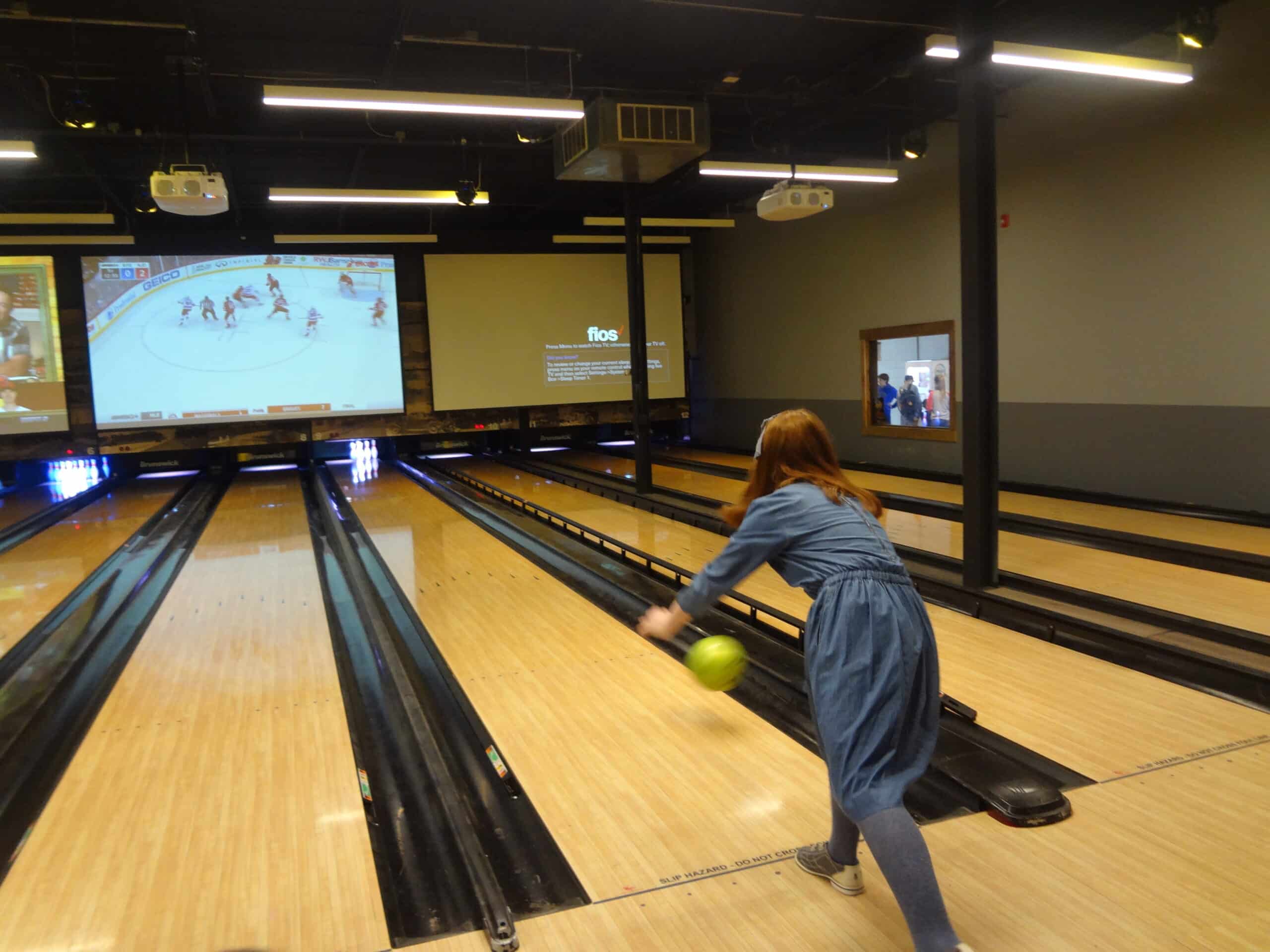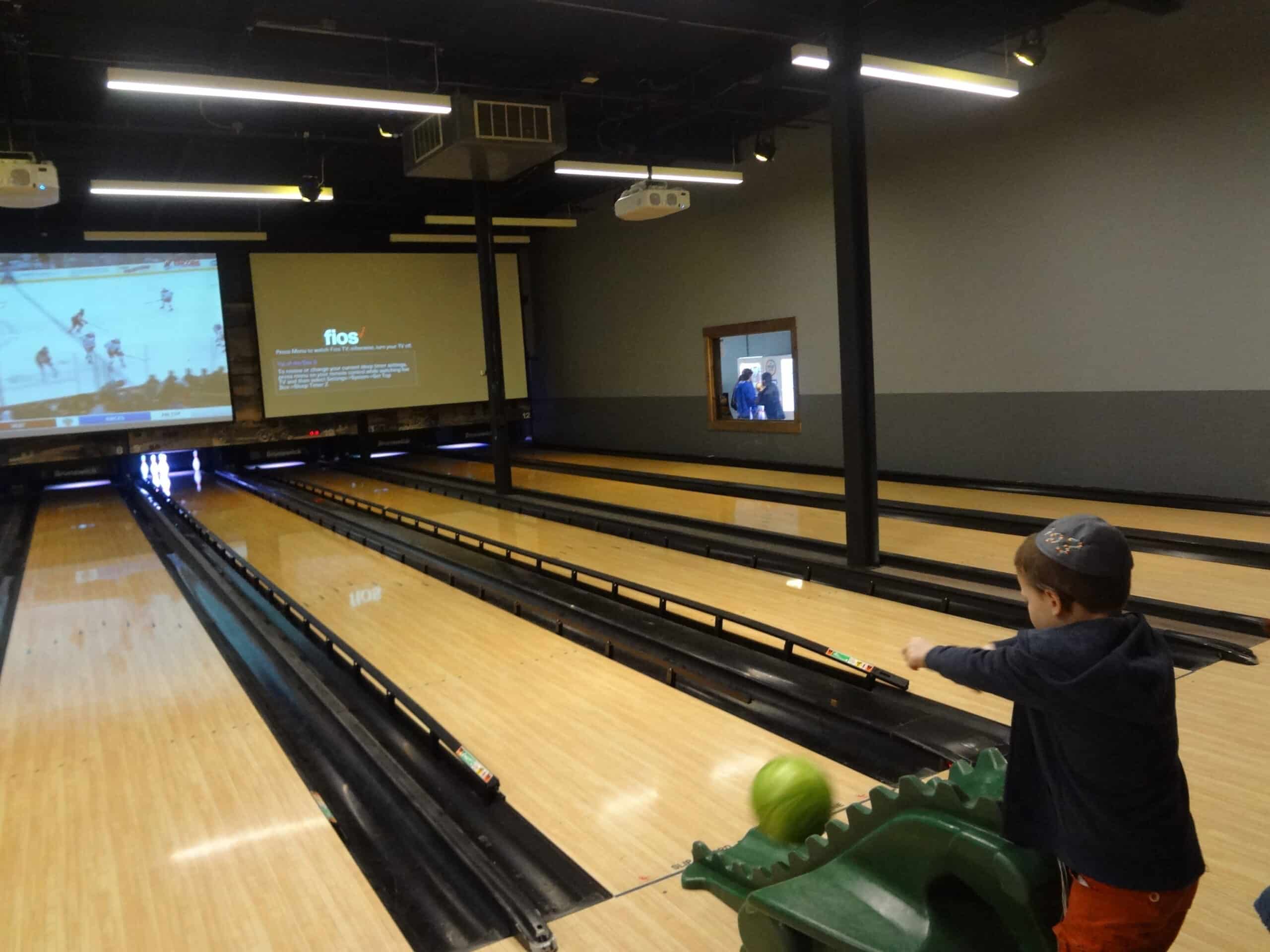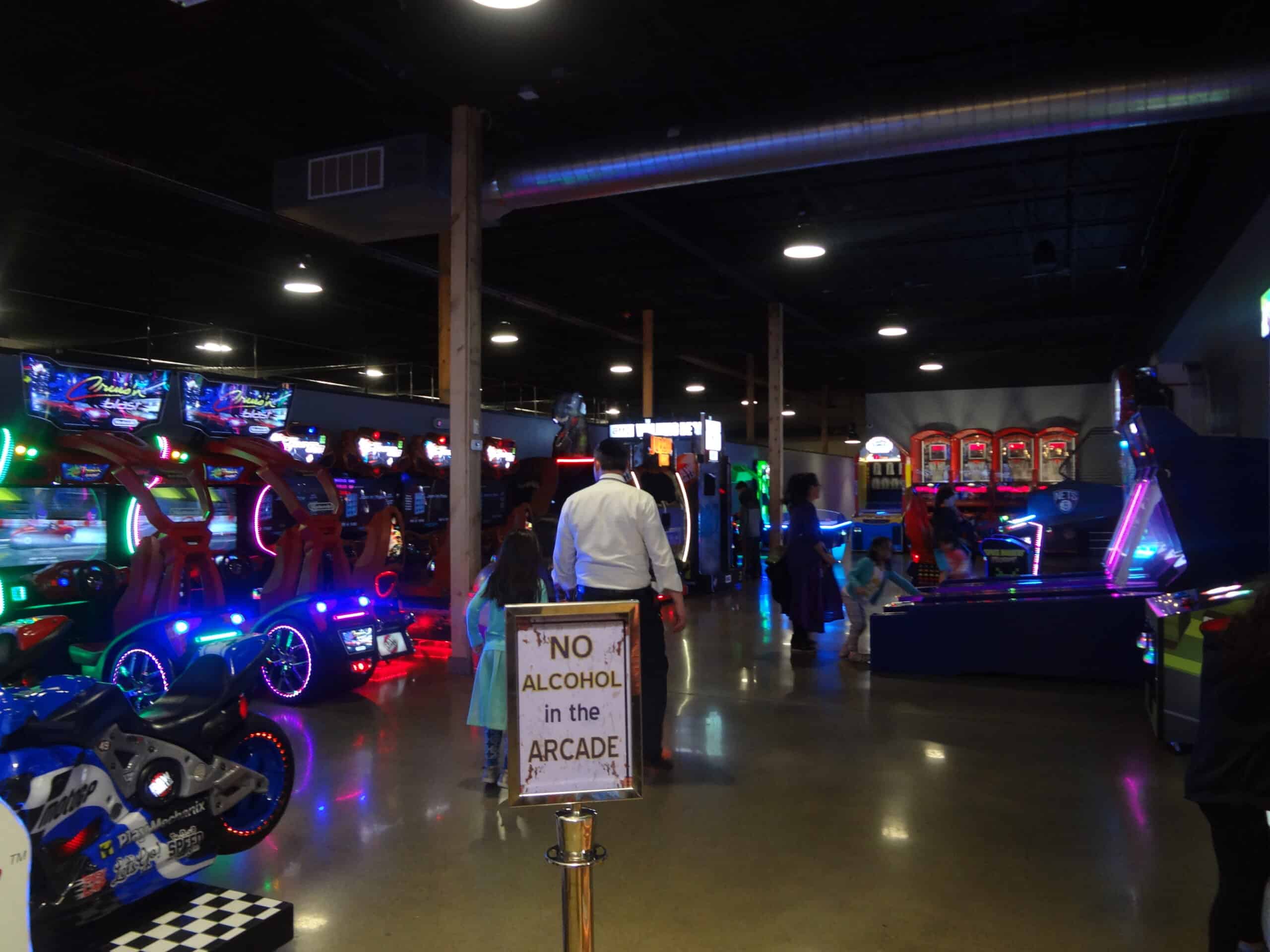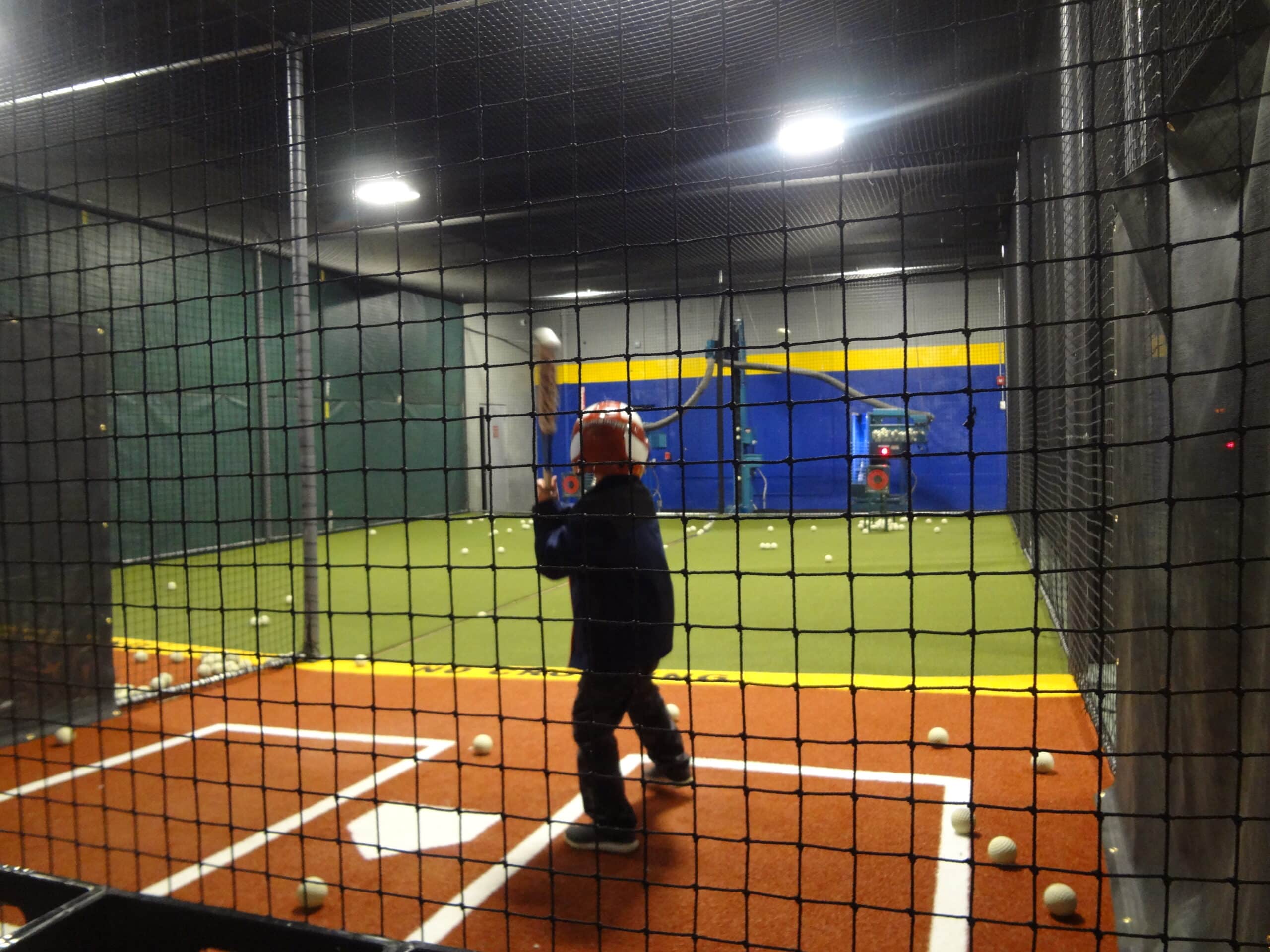 Humdingers: Paramus, NJ
I decided to visit Humdingers because of the locations and a great deal online. I thought it would be a regular bowling alley. When we entered, I was surprised to see so much more than that. Humdingers has an arcade area with more games spilling into the general areas. There are also batting cages and laser tag in addition to the 12 bowling lanes. There is a restaurant and bar on site and a party room which can be rented out. I found the staff to be extremely patient and courteous.
The bowling alley is family friendly. Bumpers can be set to go up and down according to who is bowling at the time, no need to split the game into those who want bumpers and those who do not. Humdingers also has adorable plastic slides that can be placed in front of the lane and the little ones can roll the ball down the slide which lends excitement and added power to the roll.
Address:
64 E Midland Ave
Paramus, NJ 07652
Phone Number:
201-701-1900

Price and Hours:
Check the website for prices and hours as they vary.
Approximate Distance from:   
Brooklyn Bridge: 30 minutes
Lakewood: 1 hour, 20 minutes
Monsey: 25 minutes
 Website:  https://humdingersnj.com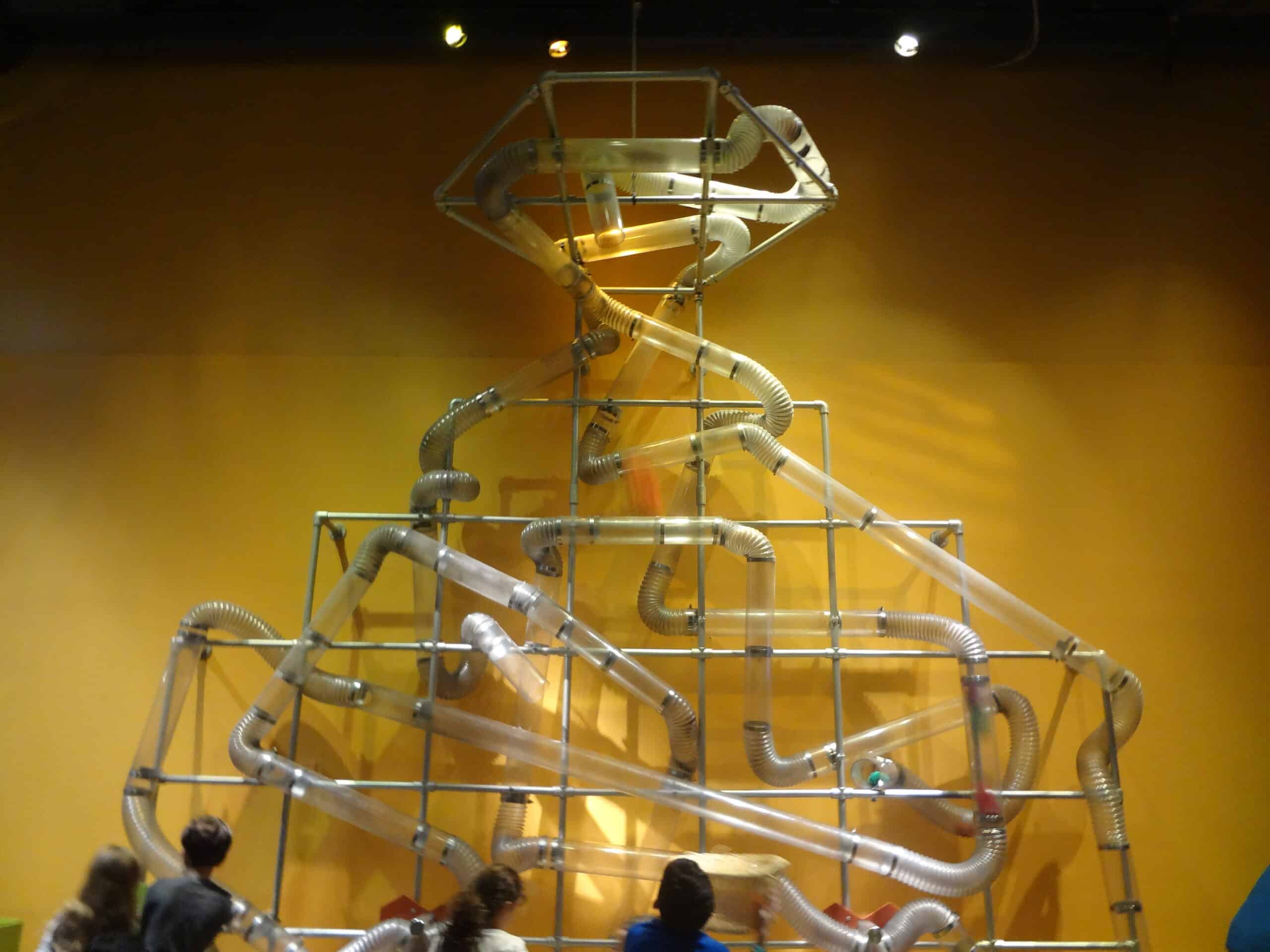 Liberty Science Center: Jersey City, NJ
 The Liberty Science Center is even more exciting than I remember from when I was a kid. With four floors of exciting hands-on exhibits, guests of all ages are kept busy and fascinated for hours on end.
The Museum is divided into sections with exhibits that are correlating to their themes. There is a section on energy, and another on the different species found within the Hudson River, including a touch tank where children learn about and can touch starfish, clams, and other species found locally. The Infection Connection area teaches all about infections and disease. The Touch Tunnel is both spooky and fun where you see if you can leave the pitch black tunnel just by feeling the way out.
The Infinity Climber is suspended 35 feet in the air and is lots of fun to climb through. The section showing real live animals in their habitat is a bonus. The Skyscraper section teaches all you need to know about planning and constructing skyscrapers. Visitors can also try walking across a beam 18 feet above the ground. There are so many more exhibits that are just simply too numerous to enumerate. Go visit and see for yourself.
 Address:
Liberty State Park
222 Jersey City Boulevard
Jersey City, NJ 07305
 Phone Number:
(201) 200-1000
Hours:
Check online for the current hours: https://lsc.org/visit/schedule-map
Price:
Admissions are times. Purchase tickets  https://lsc.org/buy-tickets
ADULT: $27.99
CHILD (age 2 – 12): $22.99
Senior: $24.99
 Approximate Distance from:   
Brooklyn Bridge: 25 minutes
Lakewood: 1 hour
Monsey: 50 minutes
 Website:  https://lsc.org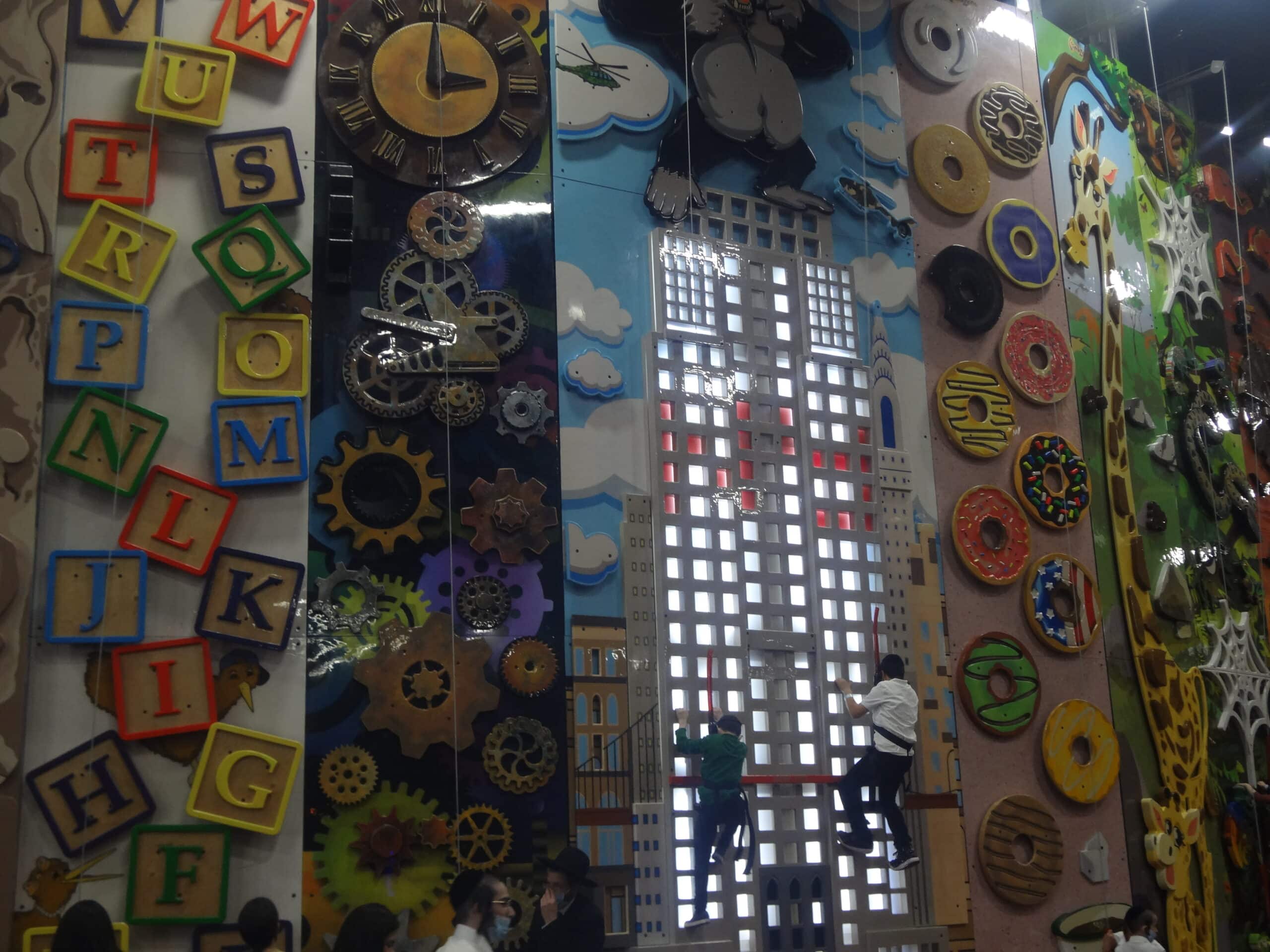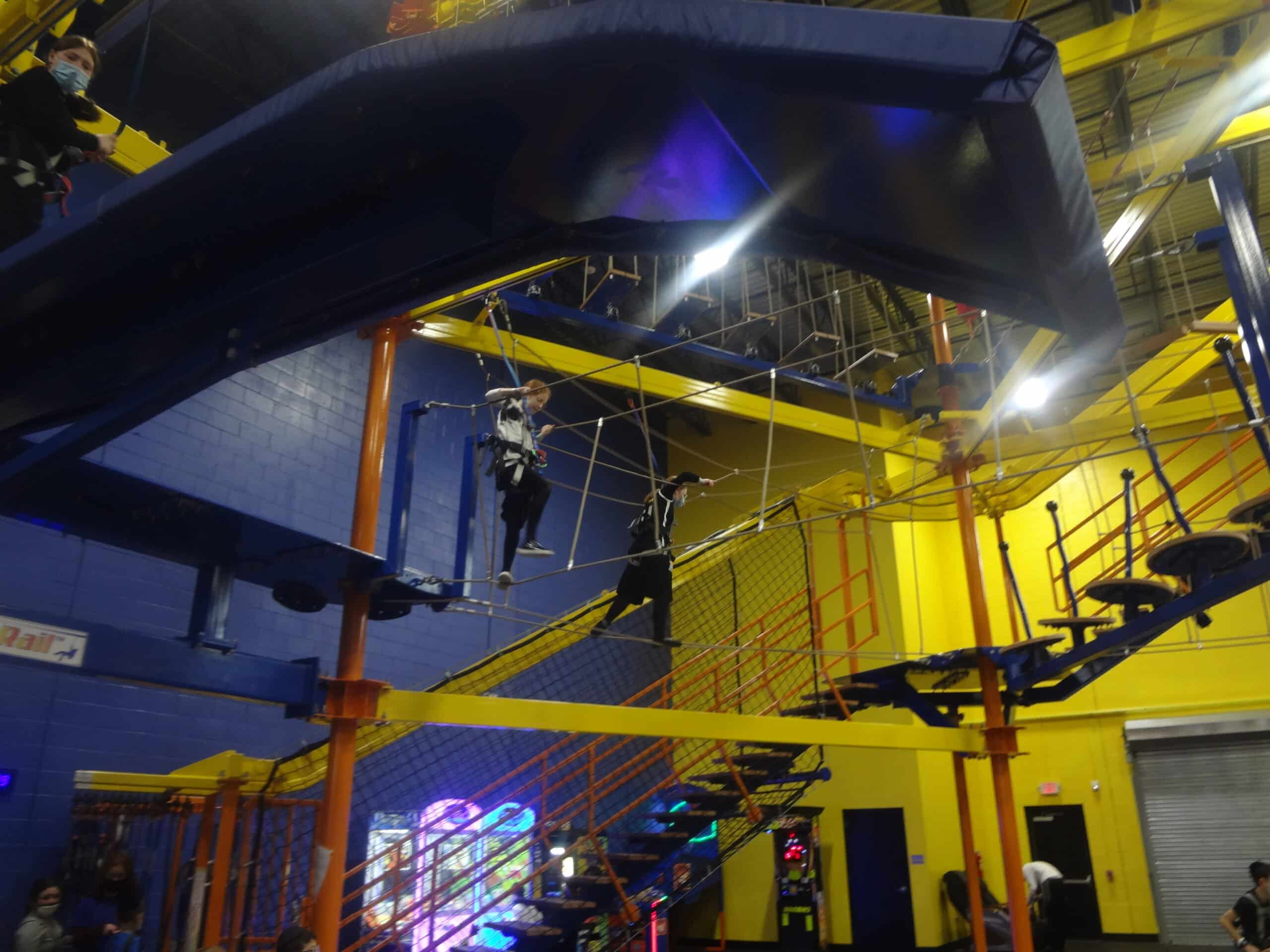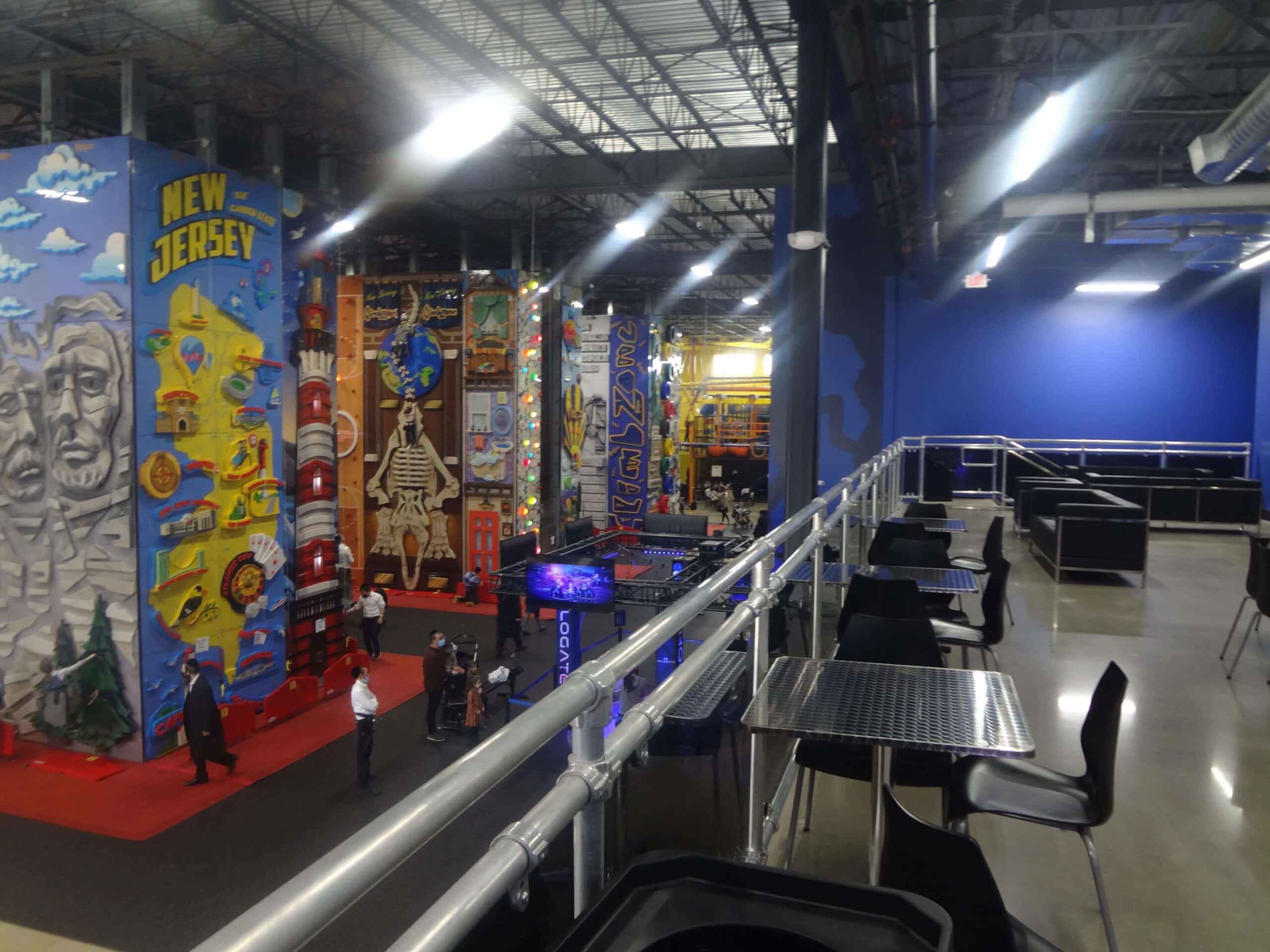 Climbzone: Howell Township, NJ
Think of a theme for a climbing wall and it is probably already on one of the 68 climbing walls at Climbzone. There is a wall that has a map of the U.S, The Statue of Liberty wall, A spaceship wall, one wall with a large giraffe, another wall of sharks swimming…you can even climb a game of snakes and ladders, a giant candle, dominos and a firefighters ladder at a fire; you can climb donuts with a variety of toppings, an emoji wall, piano keys, and a bookcase with random items. There is no way I can name them all, you have to see it to believe it.
The first step after checking in is to get harnessed. Once the harness is on you can climb any of the walls you prefer. There is a very simple system for hooking onto the rope and since everyone does it on their own there are no lines–you don't need to wait for a staff member to hook and unhook the harness. The walls vary in level and difficulty. Sometimes a wall is more easy or difficult than it seems at first glance.
In addition to the climbing walls, there is also the Skytrail ropes course. The ropes course reaches up to 30 feet high with a variety of elements and challenges to complete. There is also a zipline from one side of the ropes course to the other. There are tables and chairs set up just below the ropes course where you can sit and watch the climbers above.
There is also a soft play area for children ages 3-10 and a virtual reality arena with virtual reality games. There are some arcade games and massage chairs in different areas. Climbzone has 6 party rooms and tables and chairs for seating in an open are up a flight of stairs where you get a great view of the climbers below or maybe above?
Address:
5369 U.S. 9
Howell Township, NJ 07731
 Phone Number:
732-813-8300
 Hours:
Check online or call for current hours.
Price:
$17.99- For 90 minute climb 68 climbing walls ages 2-4
$25.99- For 90 minute climb 68 climbing walls, Multi Level Soft Play- ages 4-10
$34.99- For 90 minute climb 68 climbing walls, Multi Level Soft Play ages 4-10, SkyTrail
$11.99 plus tax- For 90 minutes Multi Level Soft Play for ages 3-10
 Approximate Distance from:   
Brooklyn Bridge: 1 hour, 10 minutes
Lakewood: 10 minutes
Monsey: 1 hour, 25 minutes
 Website: https://www.climbzone.us/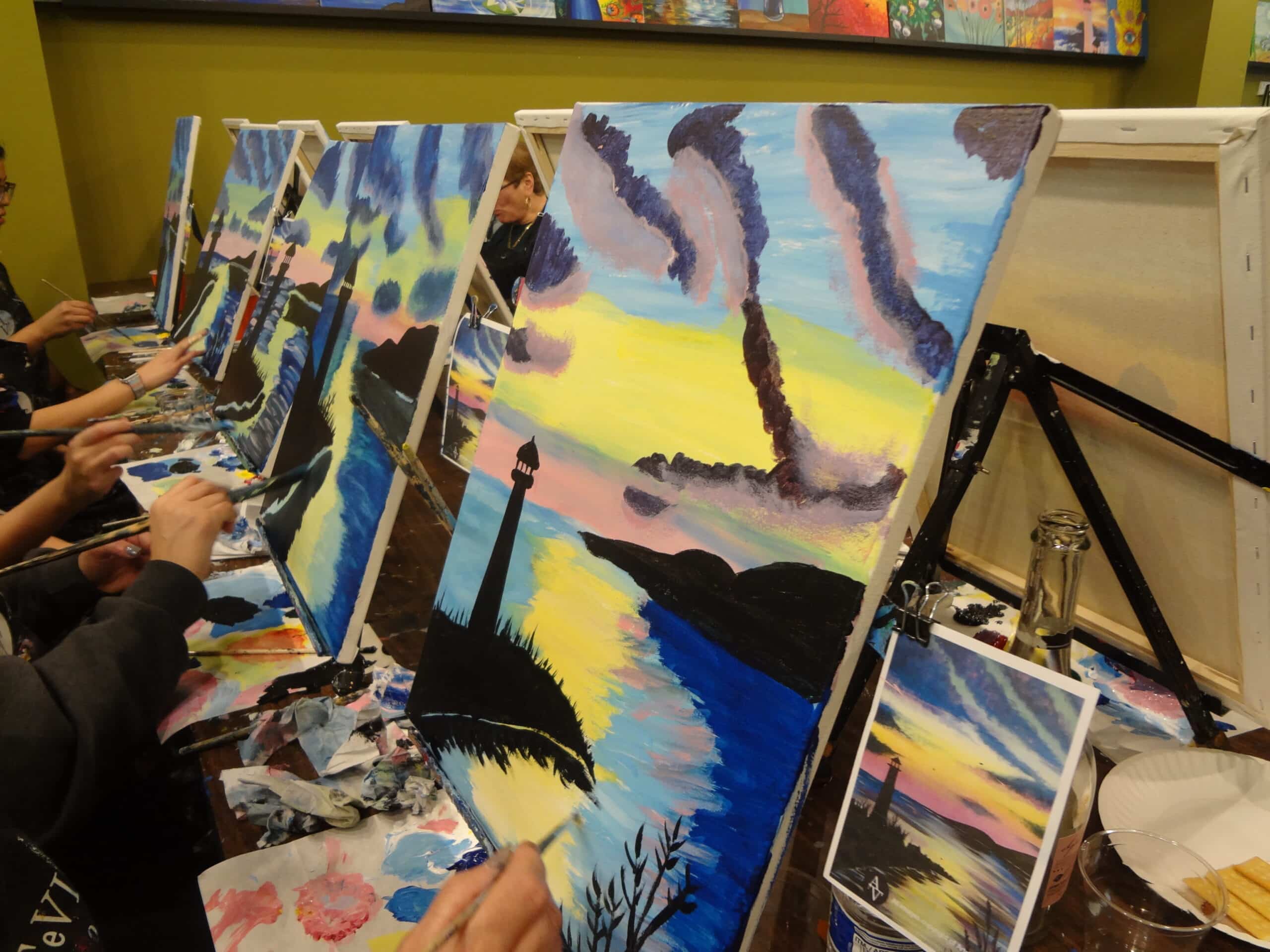 ArteVeno Studio: Cranford, NJ (Multiple Additional Locations)
We had a great time painting at ArteVeno Studio. None of us were experienced painters. We were a variety of ages, yet we all enjoyed it immensely.
It is amazing how newbies and experienced painters alike can take the same class and create a painting that looks remarkable. No prior painting experience is necessary to join a painting class and it is surprising to see what you are capable of creating with step-by-step instructions. Although at times it seems that the picture is not coming out great when you take a step back it looks excellent.
Classes are pre-booked online and you get to see which picture will be painted during the class. Evening classes have a minimum age requirement of 14 years old so we joined a 2 ½ hour class on a Sunday afternoon in Cranford, NJ because not everyone was above that age. We were 4 people and we were seated next to each other so that we can enjoy each other's company while painting.
We painted a scenic picture with a lighthouse and water. Everyone registered for the class had an easel waiting for them with the paint and brushes needed to create that specific picture. Our instructor, Heather, a professional artist, and her assistant gave extremely clear instructions each step of the way and then came around to see if anyone needed help. There was upbeat music playing whenever Heather wasn't talking and many people were enjoying drinks they had brought along while they painted.
ArteVeno Studio also hosts birthday parties, fundraisers and corporate events. There is also an option to purchase an All Access pass for $39 a month which allows you to come as many times as you want to as many classes as you'd like to paint your own masterpieces.
The interesting part is that we all painted the same picture, yet each one was different; everyone's personality came through in their own creation, giving it their own unique stamp.
Address:
102 N Union Avenue
Cranford, NJ 07016
Phone Number:
(908) 967-6270
Hours:
Check online for classes and availability.
Price:
Prices vary per class and start at $34
Approximate Distance from:   
Brooklyn Bridge: 1 hour
Lakewood: 50 minutes
Monsey: 1 hour
Website: cranford.artevinostudio.com