They offer comfort, a smooth ride–and they can greatly range in price. Which full-size strollers are at the top of the pack?
The summer season is finally upon us (or is at least getting there…) and we are excited to spend more time outside with our tiny tots in tow. With longer days and warmer weather, we want baby to feel as comfortable as possible while we get around town. Whether you're taking a leisurely walk around the block, or going on a day trip, full size strollers are the ultimate in comfort and convenience. But which one should we choose? And are some of these strollers worth the price?
These are the most popular strollers for 2022, priced from lowest to highest: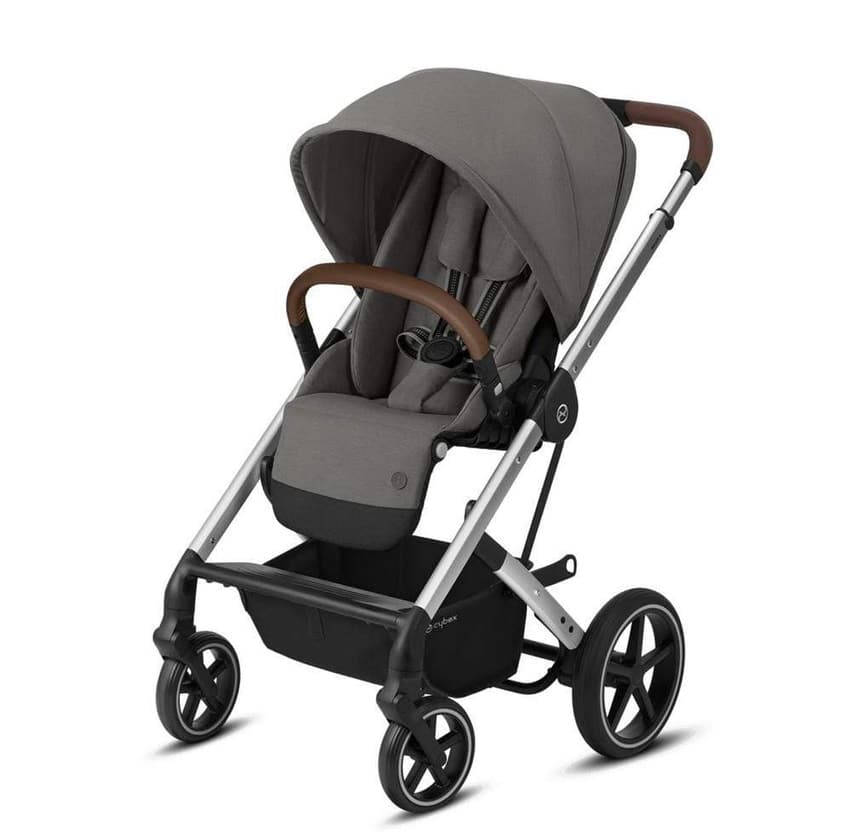 Cybex Balios S Lux $549.95 – 24.5 lbs
You can view and purchase here.
The Cybex Balios is a lighter weight full size stroller with reversible seats, sleek matte frame, smooth push with all wheel suspension. This stroller can be used on all terrains; smooth, rocky, and uneven surfaces.  The Balios has some cool features that include memory buttons, one handed folded mechanism and full flat recline. A bassinet can be used on the frame as well (separate purchase).
Pros:
Best priced
Light weight

All terrain stroller

Large canopy

Aesthetically pleasing

Reversible seat
Cons:
Smaller front wheels
Harder fold
Narrow seat
Bassinet sold separately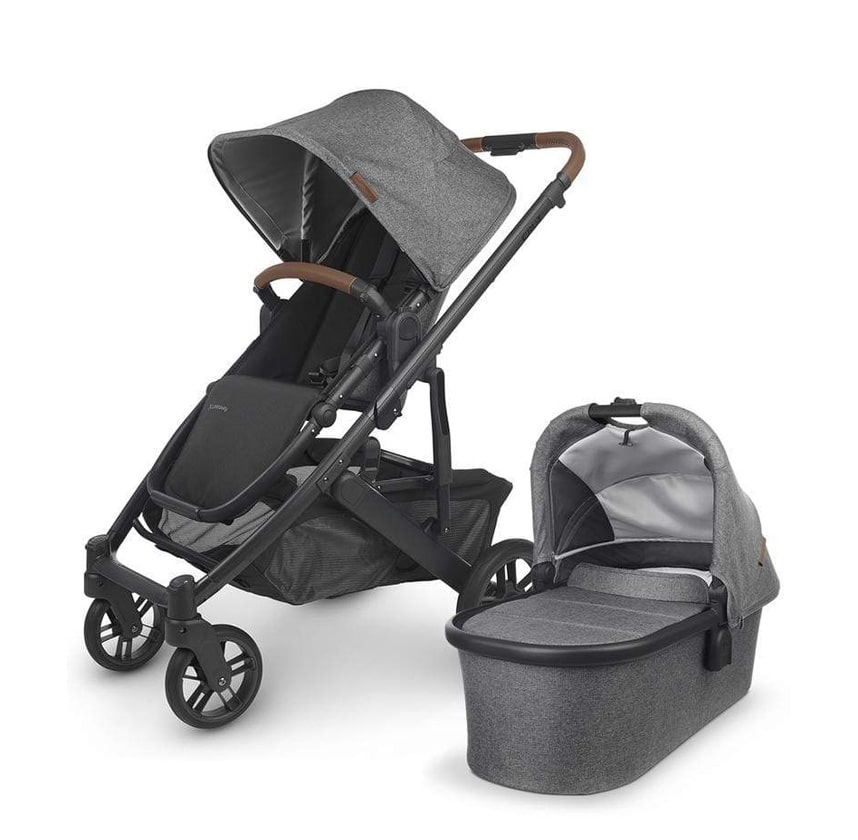 UPPAbaby CRUZ V2 $699.99 – 25.5 lbs
You can view and purchase here.
UPPAbaby has revamped their CRUZ V2 stroller with some newer features that include a higher seat back, no- rethread harness, awesome suspension, and a stronger frame. The Cruz falls in between a full size and midline stroller as it is no longer super lightweight like the older model.  It is 25.5 lbs., only 1.5 lbs. lighter than the Vista. The basket is huge and easily accessible.  The reversible stroller seat has a near flat recline and can be newborn ready with the use of a snug seat.
Pros:
Suspension
Large extended sunshade
Huge basket
Two-hand, one-step easy fold
Car seat compatible
Cons:
Heavy
Bassinet sold separately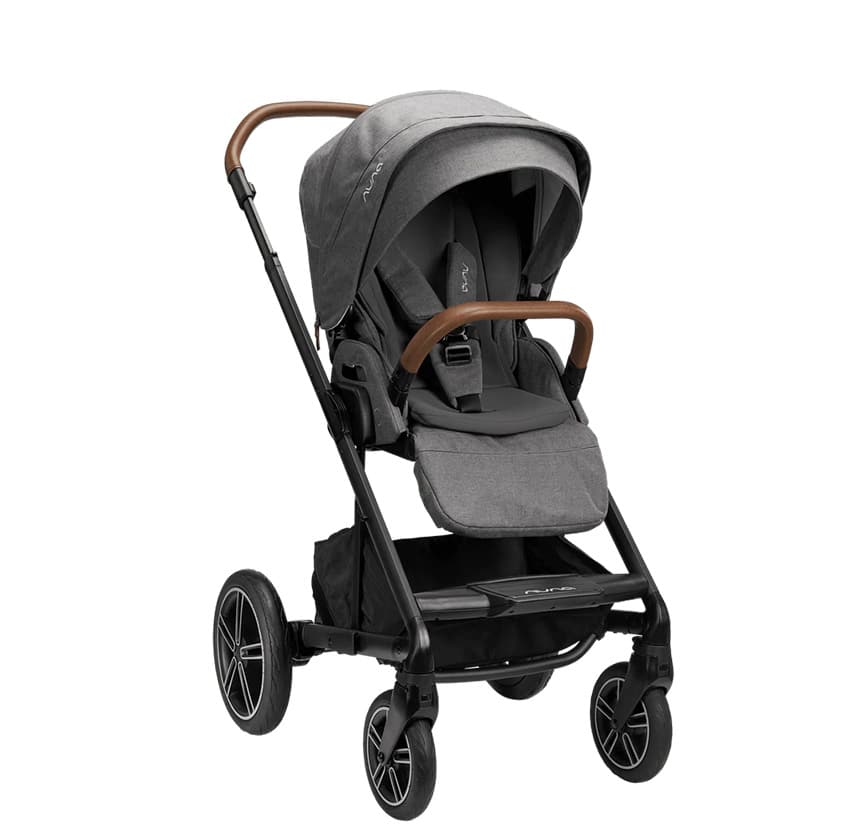 Nuna Mixx Next $799 – 27.5 lbs
You can view and purchase here.
This gorgeous smooth riding newborn ready stroller has loads of features that include lay flat recline, MagneTec secure buckle, all-wheel suspension and loads more! The Mixx Next can be used with an infant seat with included ring adapter as well as a bassinet (separate purchase).  It has a simple self-stand fold, a no re-thread harness and lux leatherette belly bar and handlebar.
Pros:
One hand seamless push

Two-hand, one-step easy fold

All wheel suspension

Newborn ready – lay flat seat

Large under seat basket 

Large extended canopy 

Breathable back seat panel 
Cons:
On the heavier side
Bassinet sold separately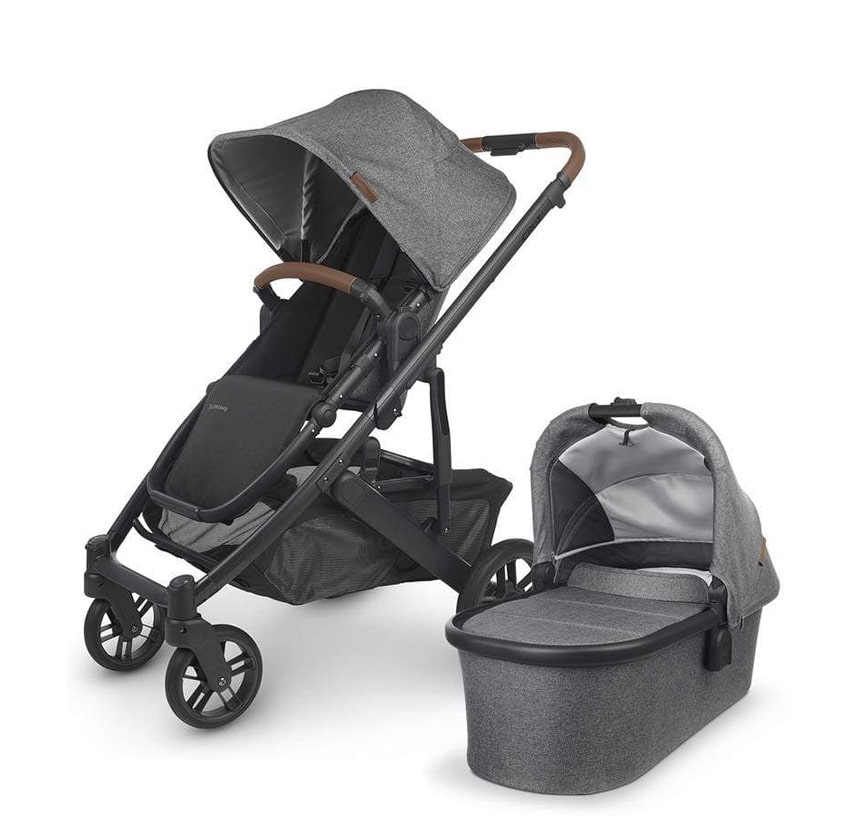 UPPAbaby VISTA V2 $1099.99 – 27 lbs
You can view and purchase here.
The UPPAbaby VISTA V2 is a super durable steady full-size stroller with loads of features including, large sturdy wheels, HUGE bassinet, adjustable handlebar, and loads more! Additionally, this stroller can be converted to a double stroller (tandem) with the added second seat. There are loads of seating configurations when used as a double stroller. The Vista is a great option for someone that does lots of walking on all types of terrain and is looking for a roomy, comfortable seamless riding stroller.
Pros:
Large roomy seat

Bassinet included
Can be converted into a double stroller (or triple with PiggyBack board)
No rethread harness
Cons:
Bulky
Big fold
Seat does not have lay flat recline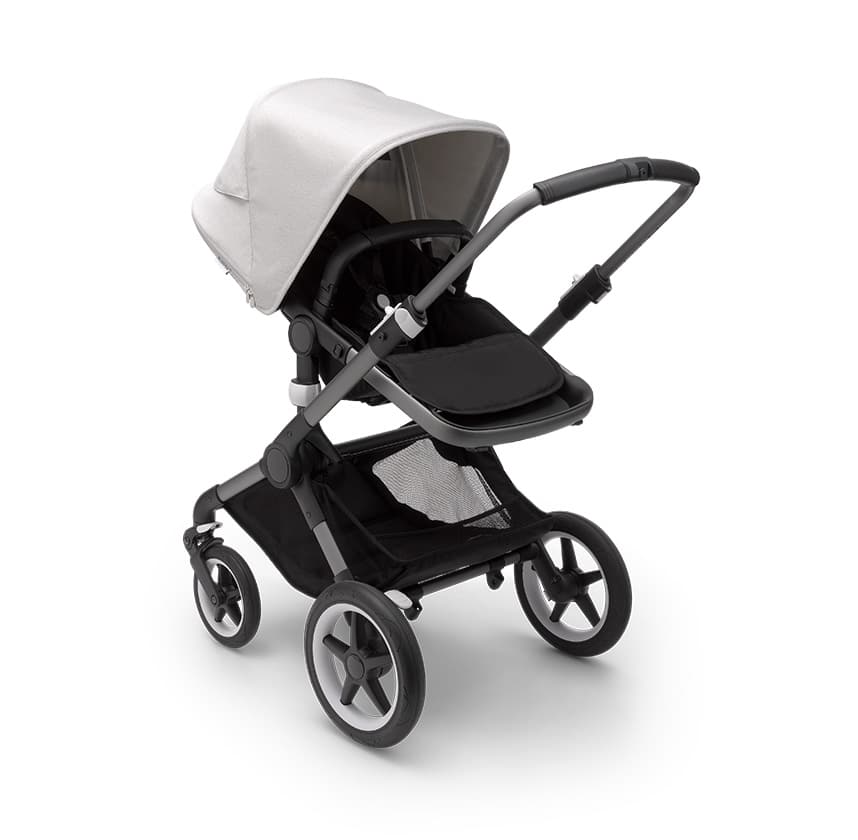 Bugaboo Fox3 $1249-$1349 – 26.9 lbs
You can view and purchase here.
If you are looking for functionality, class and design then this stroller is the way to go!  The Fox3 is a super intuitive stroller with seamless one-handed push.  The frame is made with top quality materials, designed to last for many years to come!  The Fox3 has the option to be used with an infant seat, bassinet or stroller seat. The handlebar is adjustable and designed to please both shorter or taller parents. The fabric is all removable and washable. Though it's a full size stroller it has a light feel to it and doesn't seem too bulky.
Pros:
Smooth effortless push
Sleek look
Comfortable seat
Bassinet included
Trending color options
Cons:
Hard to assemble
Heavy
Bulky
Read our post on the top 5 lightweight strollers here!
FOR EXCLUSIVE CONTENT AND A PEEK BEHIND THE SCENES, MAKE SURE TO JOIN OUR WHATSAPP STATUS HERE.