I know it can feel like more work and time to organize and write everything down, but I find that planning ahead always saves me so much time in the long run.
After camp ends, there's a bit of a mad rush to get all the back-to-school supplies and clothing in order.
Here is a great method that you can use to get your shopping lists organized so you can head off to wherever you get your school supplies feeling confident that you will leave with everything you need.
For the last two and half years, I've been using the bullet journal system for (almost) all my planning, and I absolutely love it. Bullet journaling is a way to record all of the things you want to keep track of in a way that combines mindfulness and productivity. It's a planner that you design for yourself in a blank notebook and customize as you go. This back-to-school spread is the perfect example, as it is something that I've never seen in a standard planner. Since the key here is customization, feel free to adapt this spread to fit your family's needs.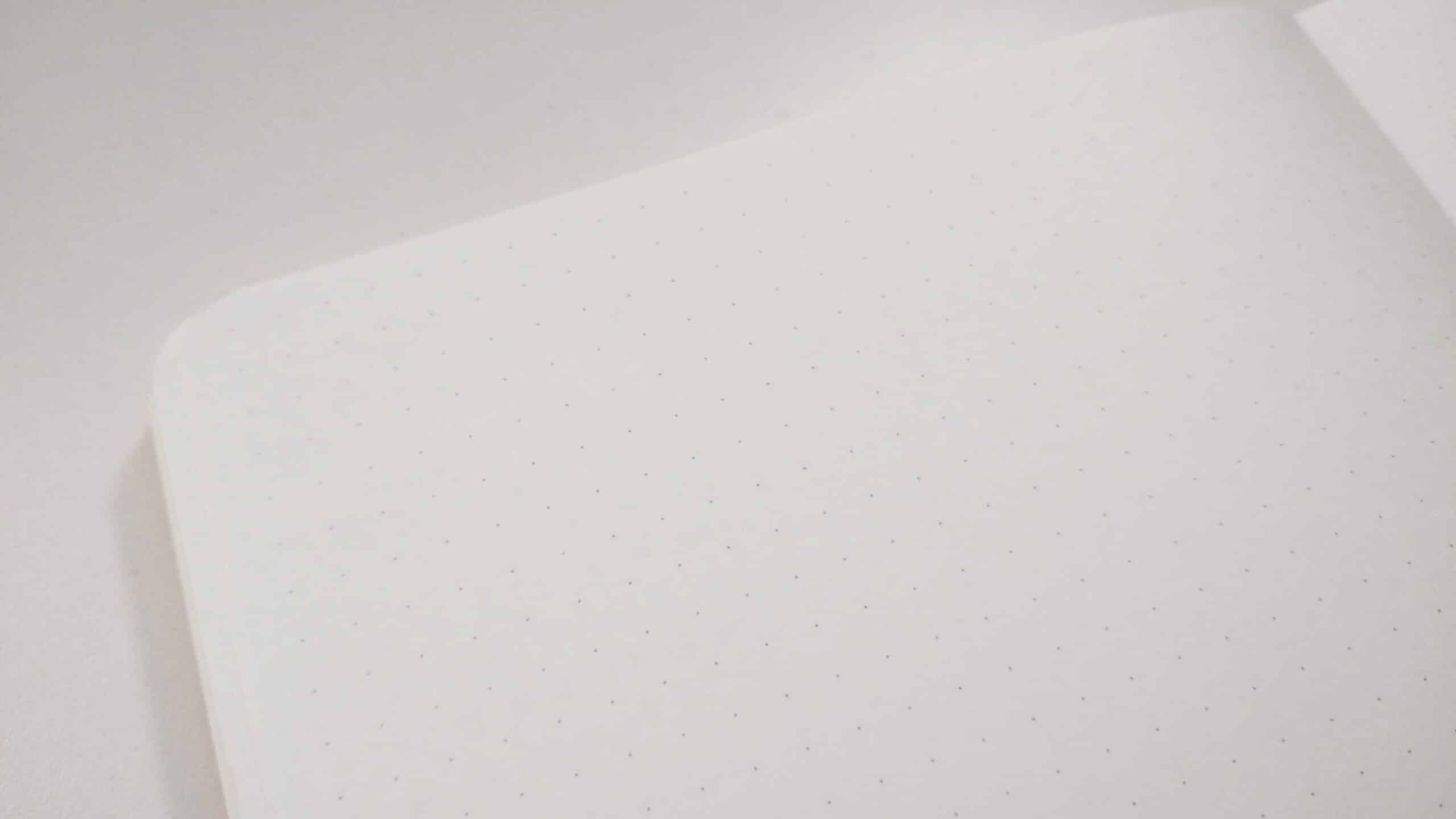 Like many bullet journalers, I use a notebook with a dotted grid on the pages, which makes it really easy to quickly make charts. (Dotted grid notebooks can be found in Staples, Target, Michaels, Amazon, etc.) But all you really need is a paper and a pen. You may want to use a highlighter, but it isn't necessary. I know some of you will immediately reach for your phone or a different digital tool, but I'm a firm believer in pen-and-paper. Typing and tapping and swiping just doesn't help me clear my thoughts and organize information the way analog tools do.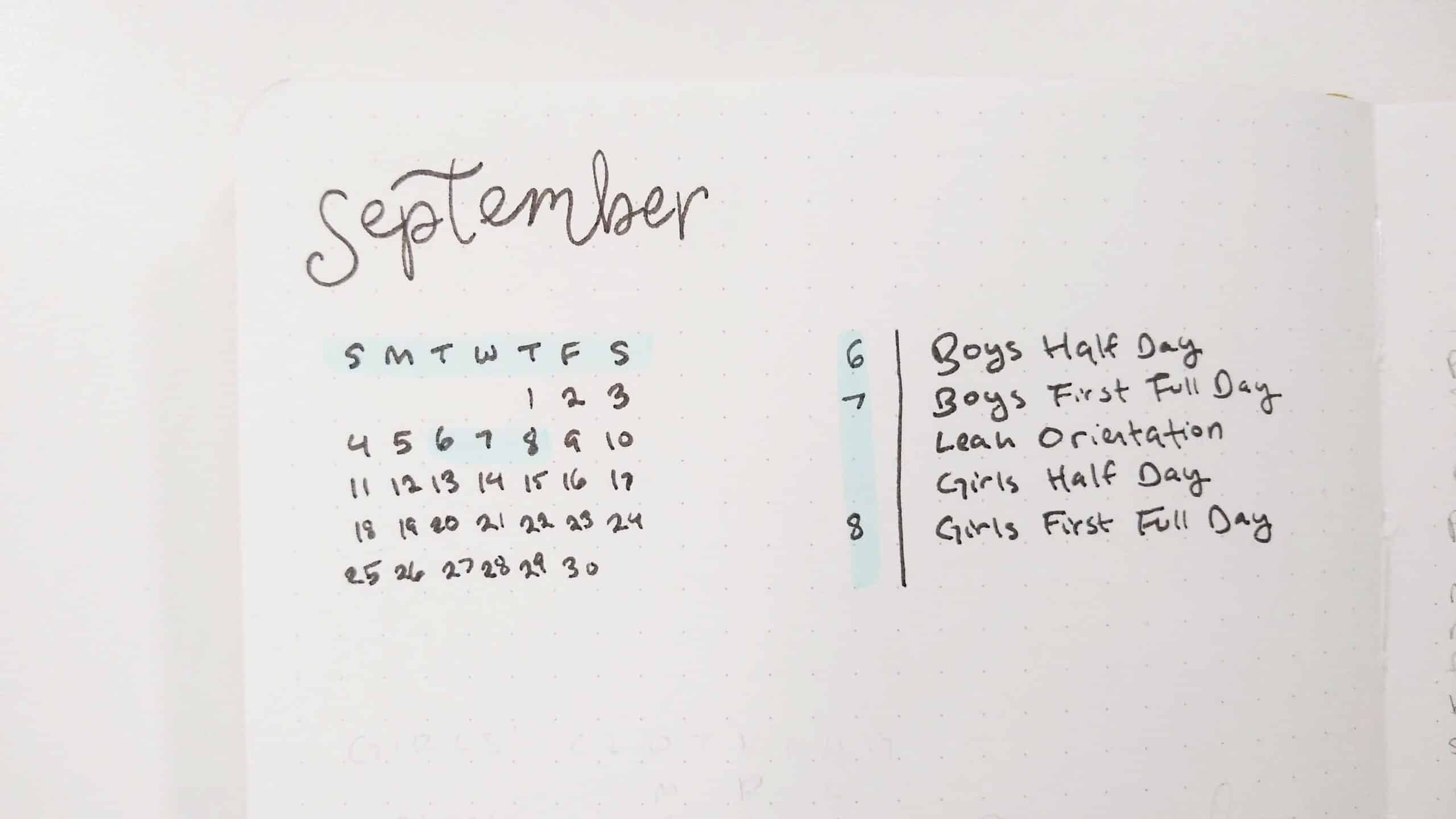 First, put down a small calendar. Right beside the calendar, mark down the dates of when everyone has orientation, their first half day, and their first full day. You can also highlight those dates on the calendar. This gives you a great visual of when you need to have all your shopping done.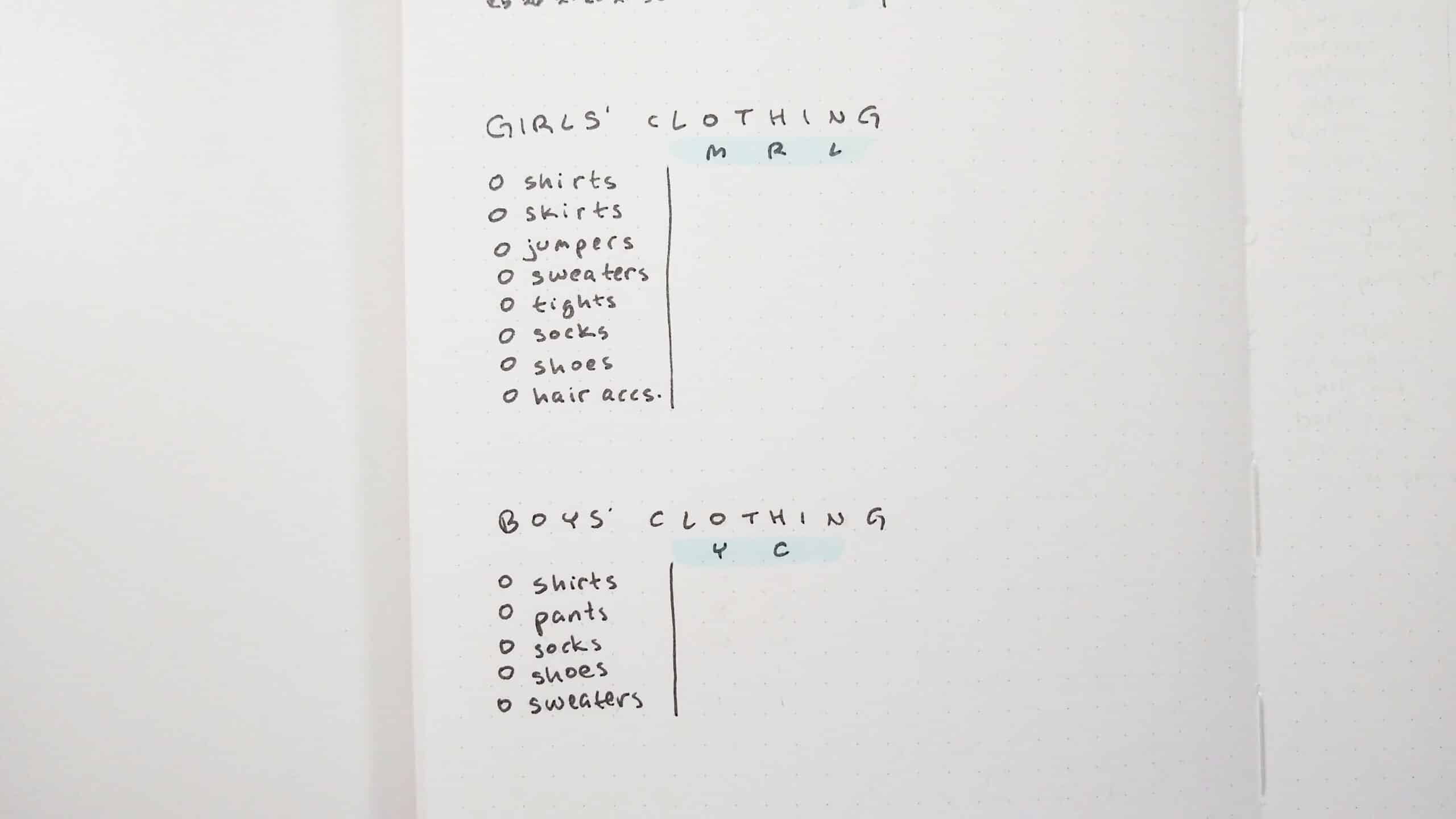 Beneath that, make two lists, one for girls' clothes and one for boys'. Next to the list, put down each child's initials. (For the sake of full exposure, these initials were made up for this example.)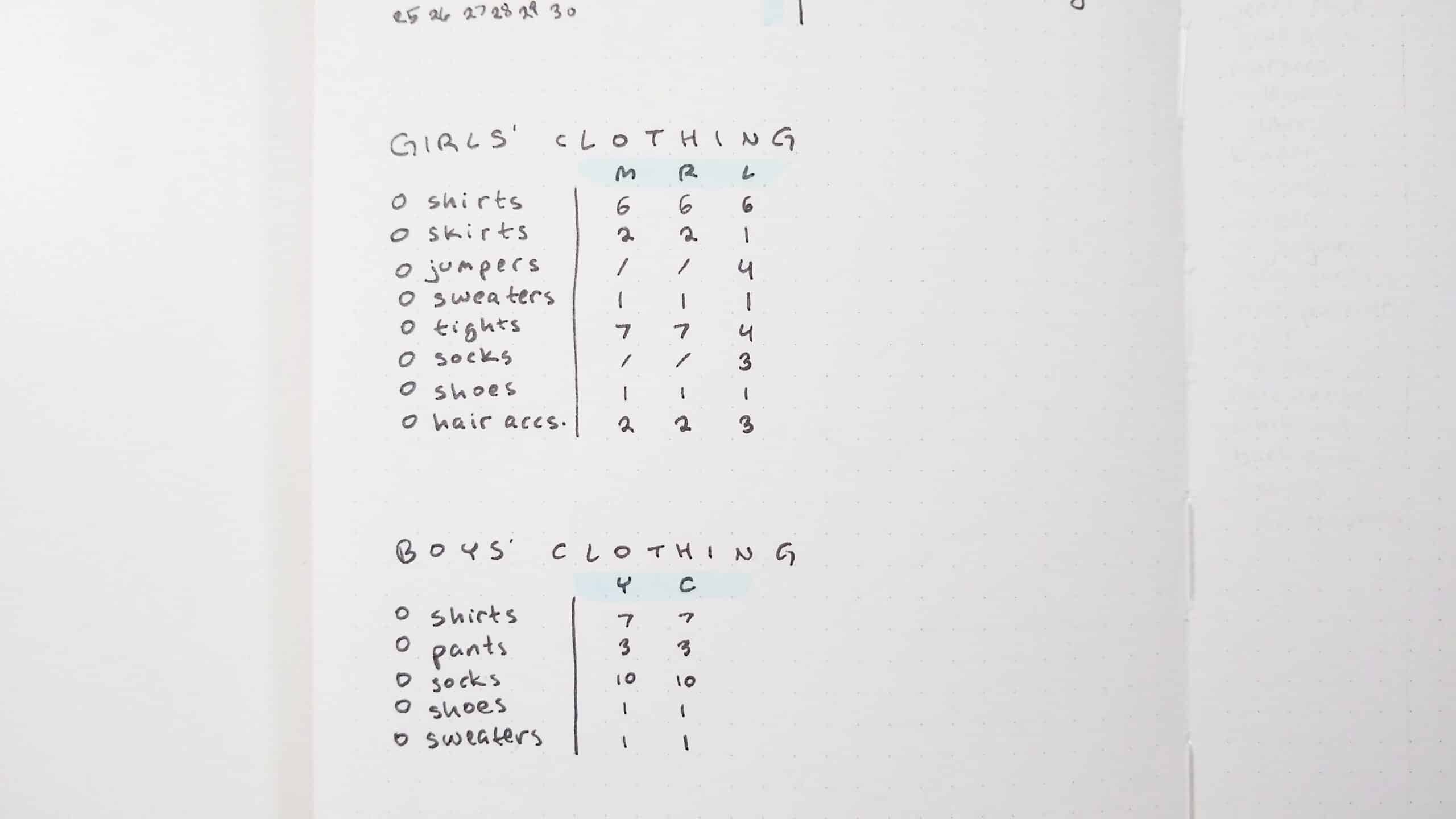 Below their initial, put down the number of how many of that item they need. Once you buy the items, or check that they have them in their closet, color in the circle. (I prefer coloring in circles to check marks and boxes because it looks so much neater.)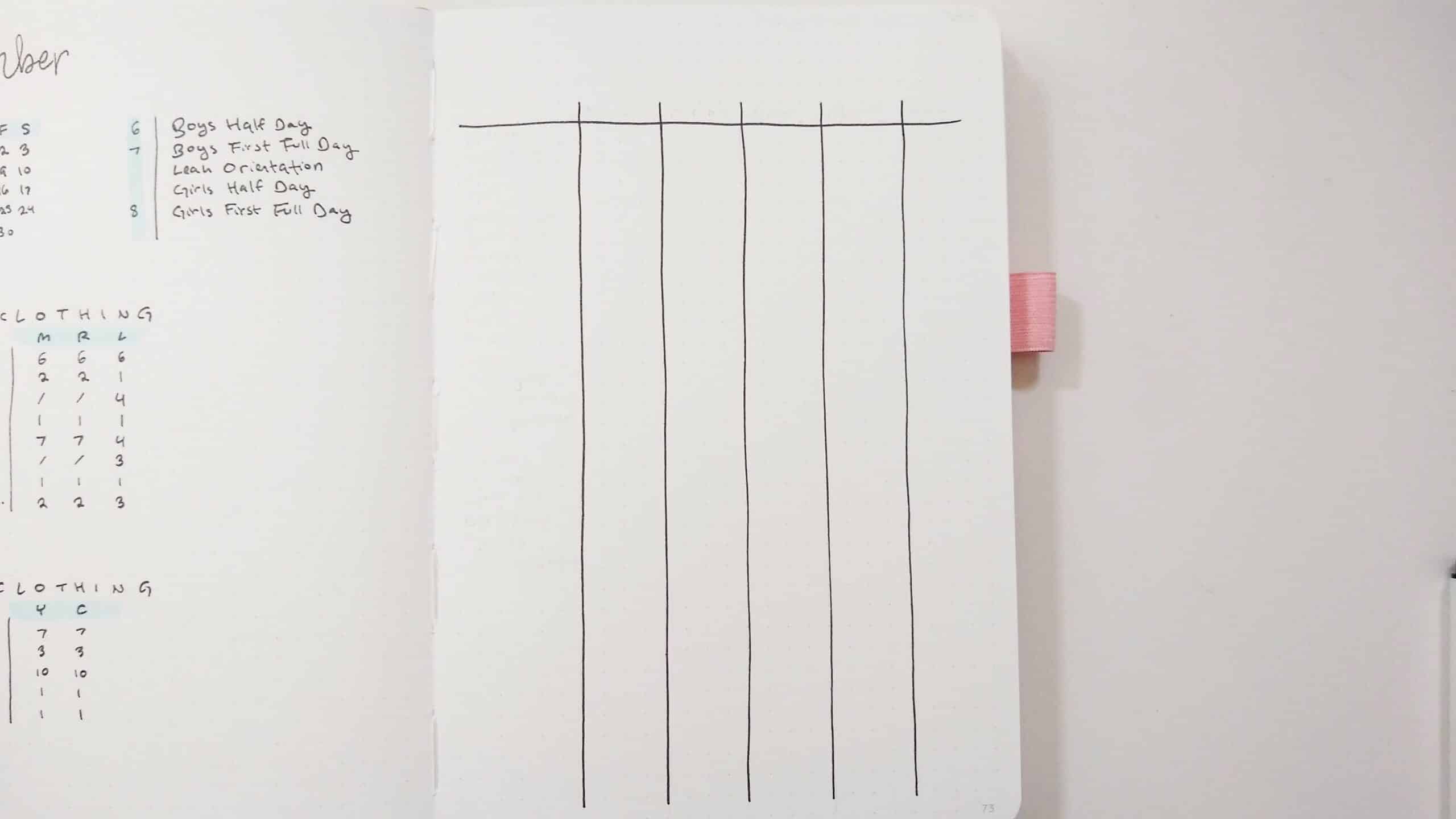 On the other side of the spread, we're going to make a school supplies checklist.
Most kids need a lot of the same things. It can get hard to keep track of the different lists and remember who needs a 1.5 inch binder and who needs college ruled paper, etc. I'm a fan of consolidating lists whenever I can, so that's what we're going to do here.
Make a chart with one column to write the school supplies, and a column for each child.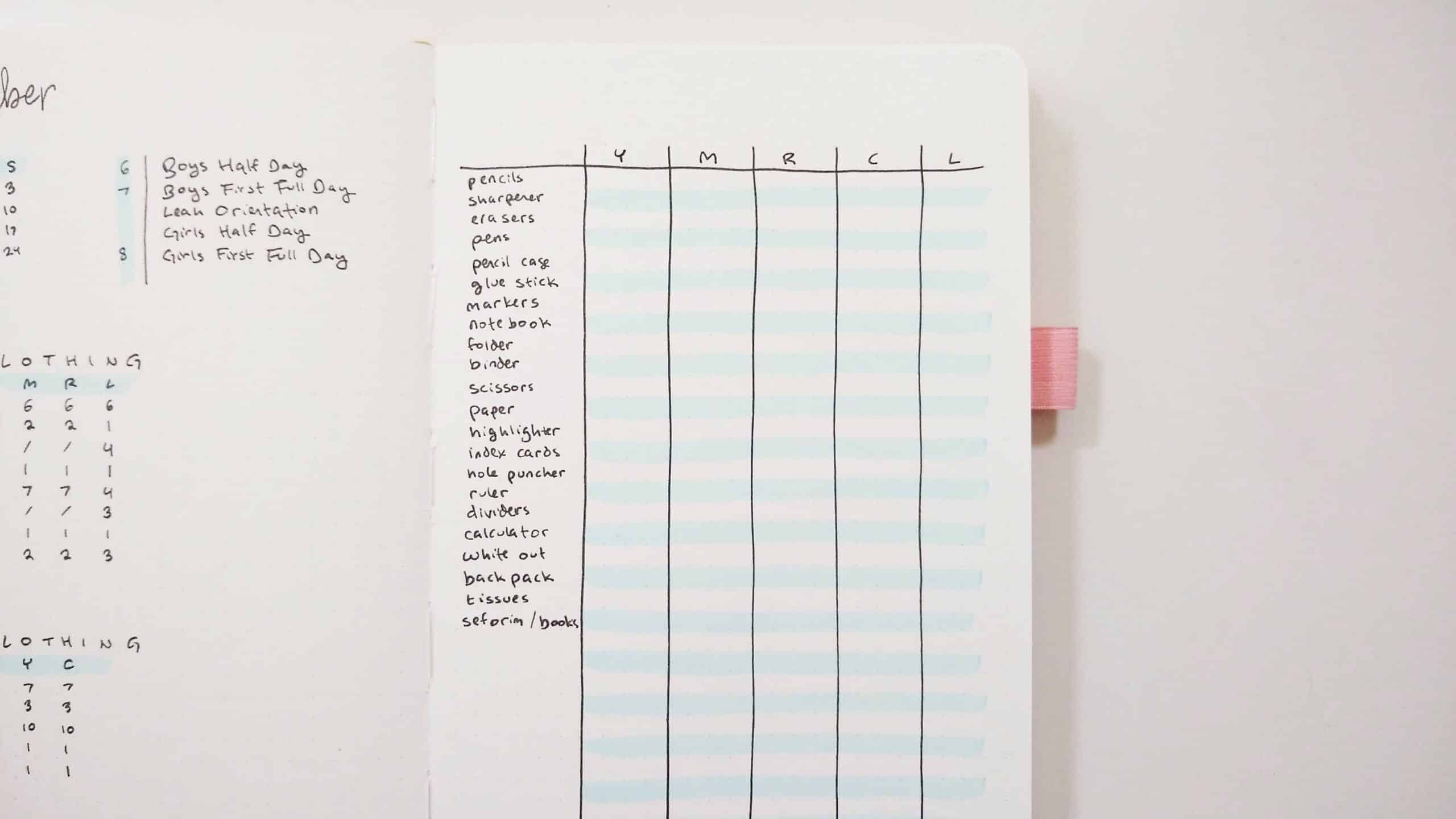 List the supplies in the main column. Label each remaining column with the initial of a child. Whenever making a big chart like this, I like to add a highlight on every other line, just to give a little more visual clarity. (Also, it looks really nice.)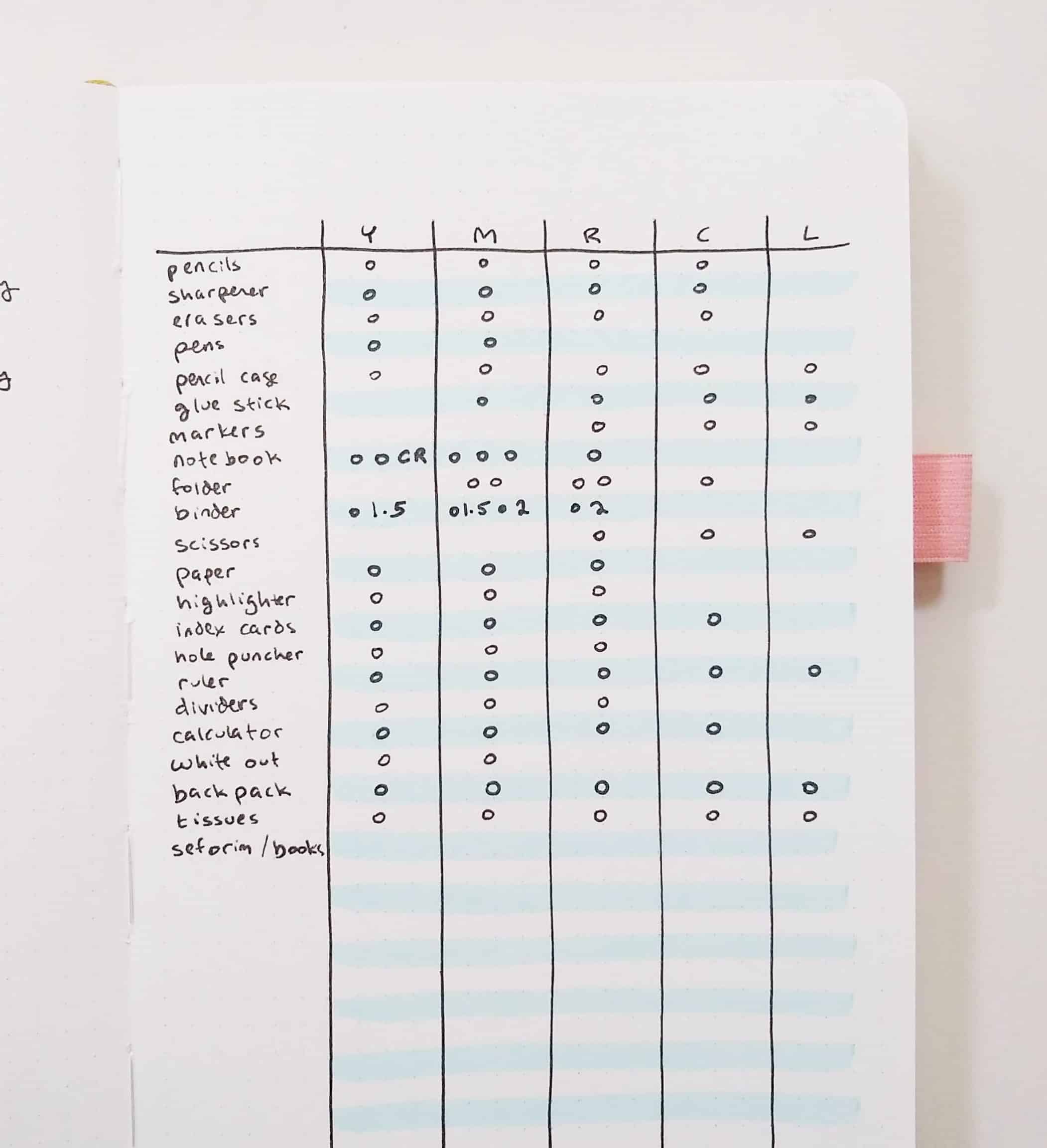 Put one circle in a box if the child needs one (or one package) of the item. (Bigger kids can help you fill their column.) Put two circles if that child needs two of that item.
Add little abbreviations to mark down any specifications, like: CR=college ruled or CN=composition notebook. Write down 1.5 or 2 (or whatever number) to make note of the size binder that they need.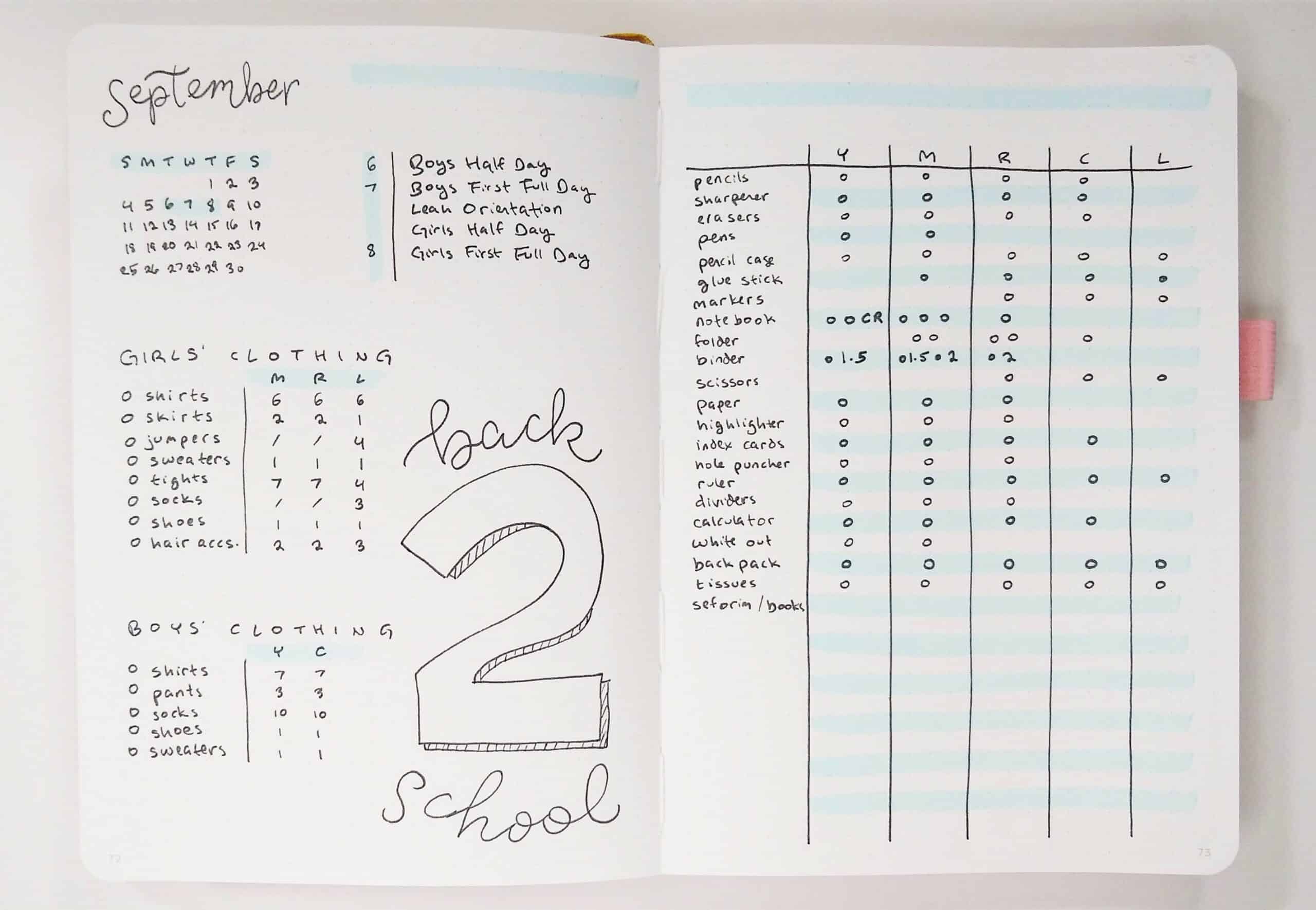 Now you have a clear visual of how many of each item you need. As you buy the supplies, color in the circle.
For the moms who are really busy and don't have a minute to draw charts, I've included a printable checklist for you to use. Many of the common school supplies are on there and there is plenty of room on the bottom to add more. I've also included the September calendar and the "Back 2 School" doodle. Feel free to give it to your kids to cut out and color!
Click to Download Your Printable
BCP – On the topic of bullet journal, we have this post!
FOR EXCLUSIVE CONTENT AND A PEEK BEHIND THE SCENES, MAKE SURE TO JOIN OUR WHATSAPP STATUS HERE. JOIN OUR WHATSAPP GROUP AND WE'LL LET YOU KNOW WHEN A NEW POST IS UP!