It's not just for photos. Use your camera and "album" feature in iPhoto to organize so many more aspects of life. You'll love every single one of these hacks!
School/Camp Info
Whenever I get correspondence from a school or camp that I'll need to refer to in the future, I snap a picture and add to my school/camp info album. These include school calendars, bus passes, mishloach manos teacher lists, school supplies lists, etc. Instead of papers floating around the house, I can throw them out and still have access to the information at a moment's notice.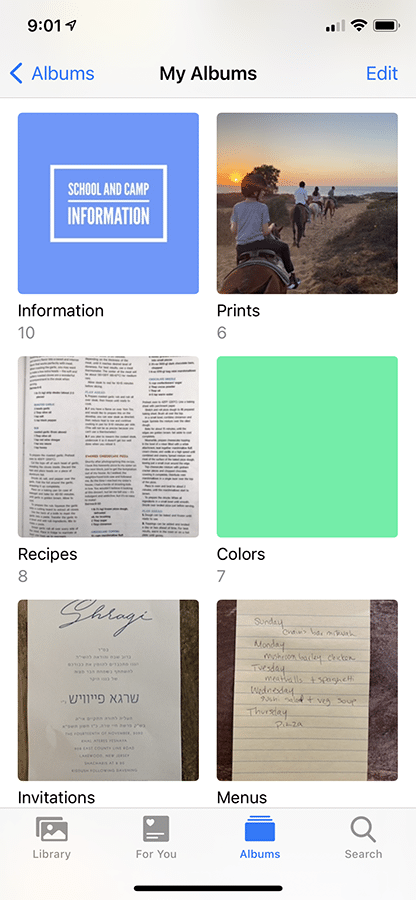 Supper Menus
Every Sunday I jot down a dinner menu for the week. I then hang it on the fridge for the kids to refer to. But I also take a picture of it and add it to my supper menus album. I can then look back at previous menus when I'm looking for menu inspiration.
Invitations
Those invitations that arrive that don't fit into an obvious category, such as neighbors or cousins, get a picture and saved in my Invitations album. When I was compiling our guest list for my eldest son's bar mitzvah, I referred to that album to see who hadn't automatically made it onto a list I had acquired from others. This way I didn't forget the neighbor who moved away 4 years ago or my husband's camp friend with whom he still keeps in touch. I was also able to get inspiration for wording and design from the many invitations I had saved.
Borrowed Books
Whenever we borrow books from the Jewish Library or a family member, I take a picture and save it to the Borrowed Books album. When it's time to return them, I can easily see what we are looking for and how they look. It makes finding the books and knowing where to return them much easier.
Returns
As I do more and more of my clothing shopping online, I also have more returns to process and mail. After losing track of several returns and not every checking if I got refunded, I knew I needed a better system. Now, when I am returning something, I take a picture of the return label and the list of the items I'm returning. I then have the tracking number so I can keep track of my package and I can make sure if my refund was received.
Want to organize your recipes on your phone? Check out this post!