We've got the tips and advice to get that resume ready for the world!
As a team, shidduch resumes have become part of our daily correspondence. Some are clear and helpful, some not as much. We put together some advice – and a template you can download – so that you can get this task done with minimal tweaking later on.
One page. This is a must. Use a smaller font if there is too much information, but stick to one page.
PDF. That's the ideal file type for reading on any device, and for printing. (Did you know that in the print menu on most computers you have the option to select "save to pdf" instead of a printer name?)
Grandparents. This information is important, especially if you have generic names.
Mechutanim. If you're not including this information, we're wondering why.
School Staff. There's no need to include 5+ names. We'd rather see just the ones who really know the girl.
Rebbeim. Provide the name of a rebbe who really knows the boy, rather than one who may be higher up in the yeshiva and more removed.
Friends. Make sure to choose friends not just because they are close, but also because they are articulate and know how to describe someone clearly. And if a friend is recently married, ask them if they want to be removed from the resume if they can't commit to answering the phone/returning calls. When you try three friends and don't hear back from them in over 24 hours, there's a good chance you're moving on.
Employer. This is a very valuable source of information.
If you live out of town, and don't have at least a couple of in-town mechutanim, consider adding the parents' siblings to the resume. This can help establish a connection and mutual references.
Cell phone numbers. Nobody picks up a landline these days. They're pretty much useless. And when referring to a couple, provide both numbers, if possible. If not, specify whose number it is.
While a shidduch resume is the starting point for researching a potential match, keep an open mind when reading it. Just because someone went to this high school, or didn't go to seminary, or is not pursuing a degree, don't assume you know all the reasons why. Don't allow that to define the person. Use the resume information to find out more. People can be a lot more interesting than the sum total of facts on paper!
Anything else you'd like to see on a resume? Let us know in the comments!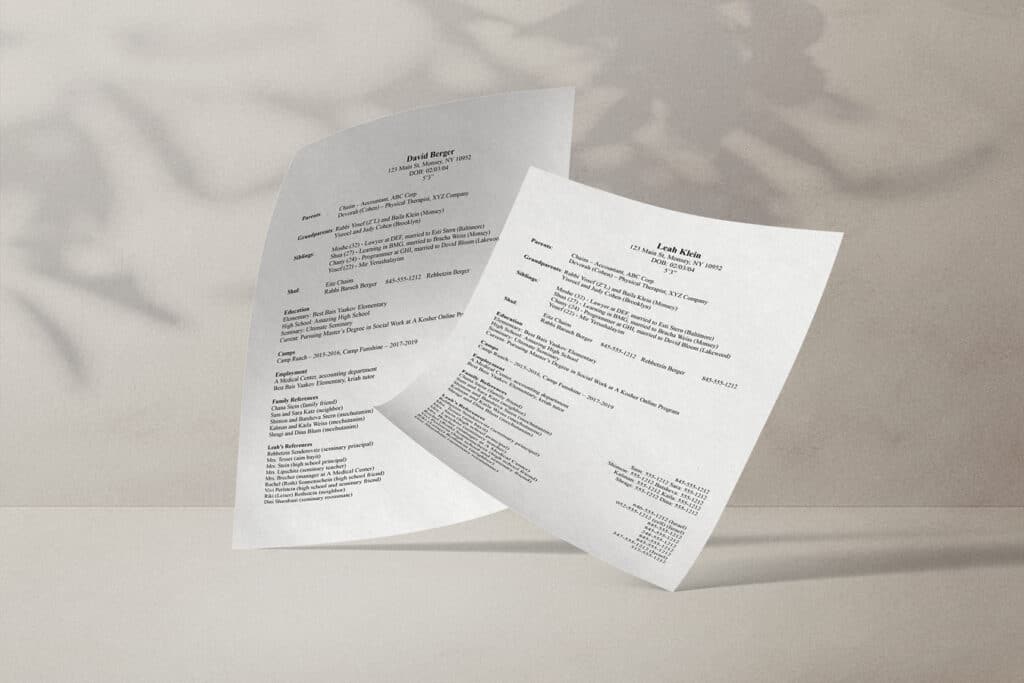 Download a Shidduch Resume Template that you can customize.
Th resume is a mock-up sample for you to get an idea. Once you open the link, click on download to customize and make it your own. Once you finished customizing it we reccomend saving it as a PDF before sending it out.
And for some tips from shadchanim, make sure to read this post.
FOR EXCLUSIVE CONTENT AND A PEEK BEHIND THE SCENES, MAKE SURE TO JOIN OUR WHATSAPP STATUS HERE. JOIN OUR WHATSAPP GROUP AND WE'LL LET YOU KNOW WHEN A NEW POST IS UP!