Making pretzels is a great rainy day activity.
This is one of my favorite recipes from Kids Cooking Made Easy. When I was younger, I didn't like school lunches. I used to walk to school, so on the way, I'd stop at a corner store and buy myself hot pretzels for 50 cents to eat for lunch instead.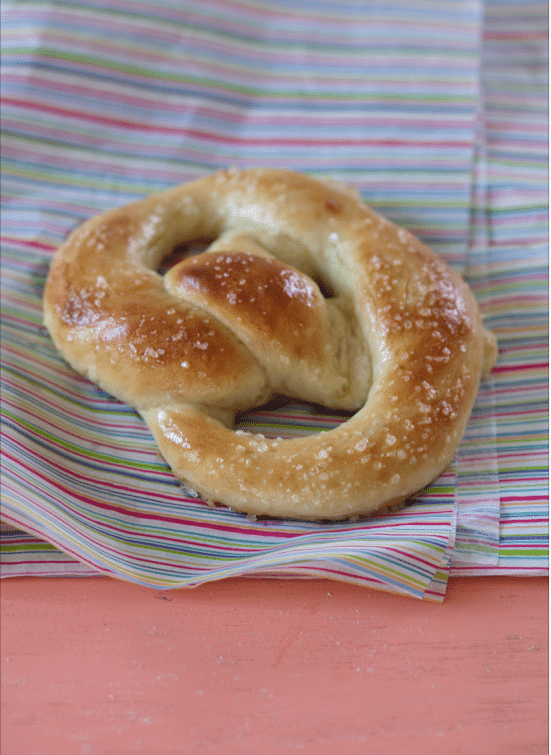 Some notes:
*If you want to take this for lunch, freeze the hot pretzel in individual bags when they're fresh. In the morning, remove from the freezer and put it in your briefcase. By the time lunch rolls around, the pretzel will be defrosted and ready to eat. 
*For easier shaping, you can make pretzel rods instead of pretzel knots.
*Coarse sea salt is the best type to use on top of a pretzel, but you can also use kosher salt. 
*The baking soda bath is what gives the pretzels their texture and shiny brown crust. 
How to twist a pretzel: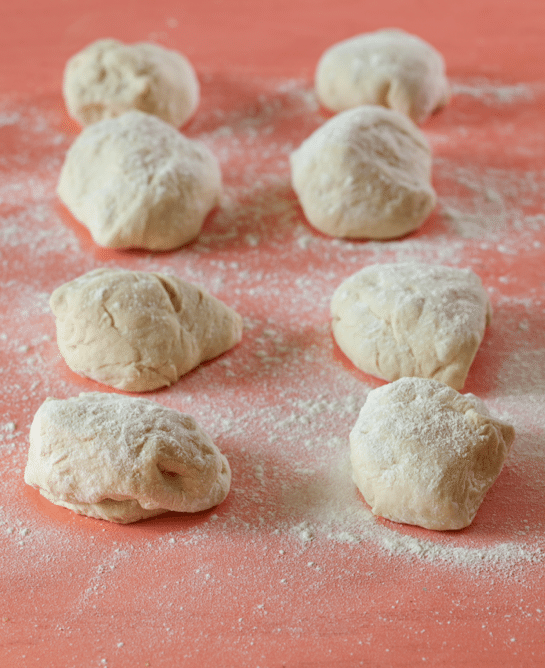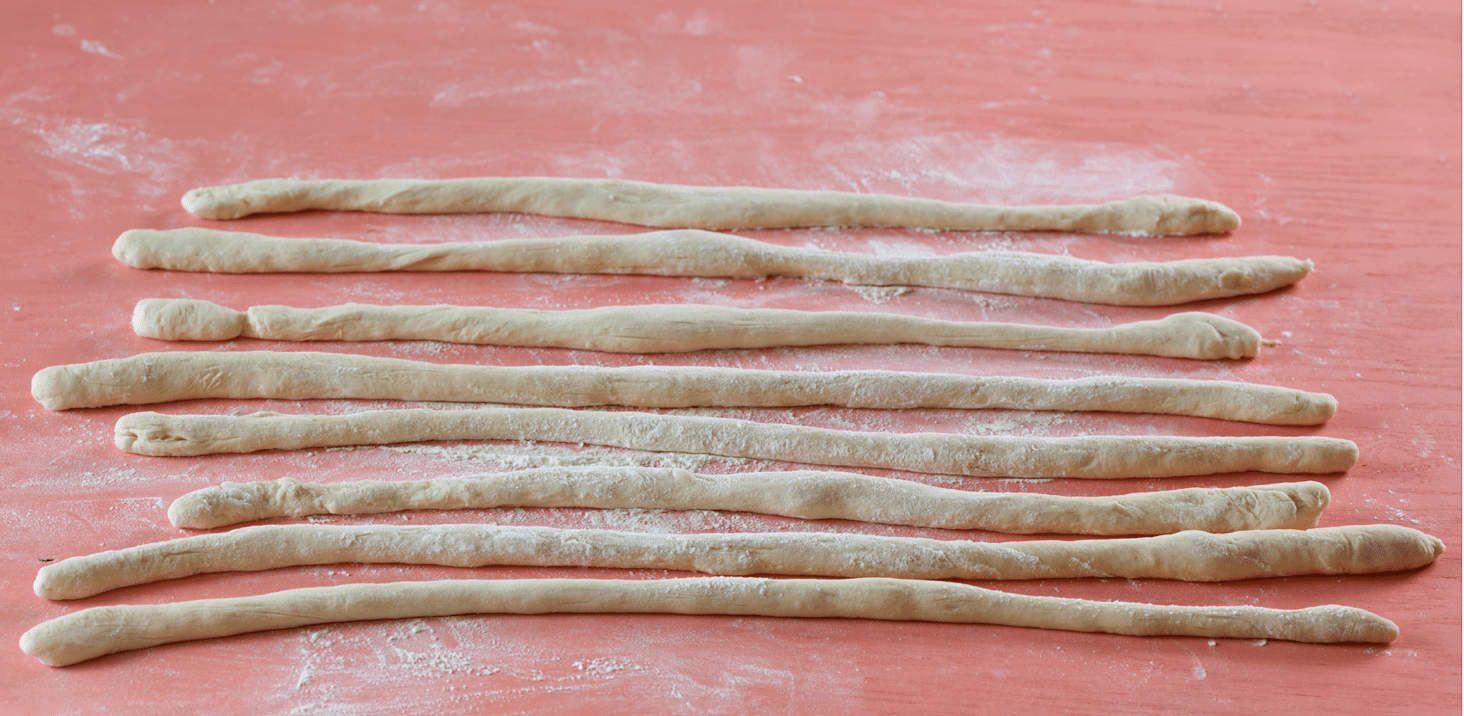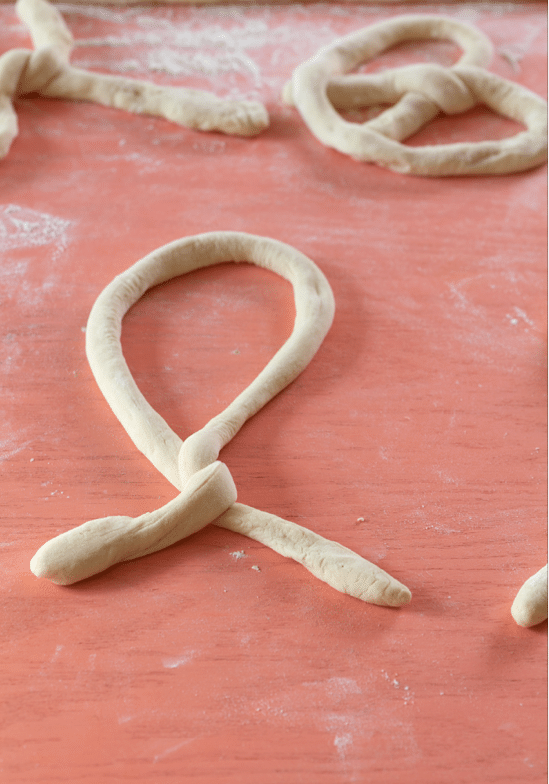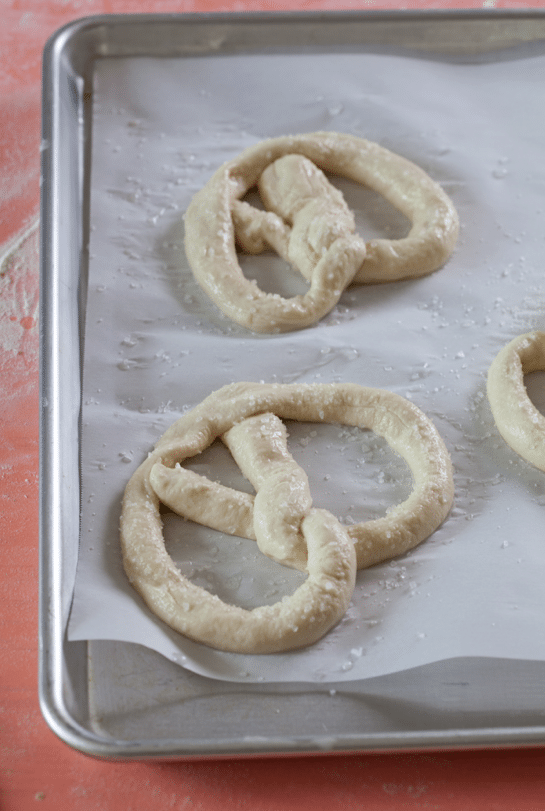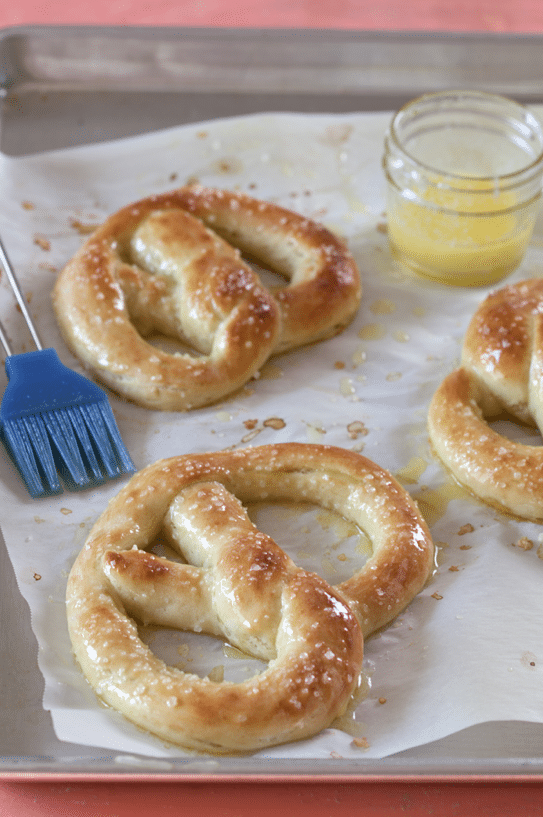 Hot Pretzels
Ingredients
Dough
3 teaspoons instant dry yeast
1 ½ cups warm water
2 tablespoons sugar
4 cups flour
1 teaspoon salt
Crust
1 cup water
2 teaspoons baking powder
¼ cup (1/2 stick) butter or margarine, melted
Coarse salt
Instructions
In a large bowl, combine yeast, warm water, and sugar. Add in flour and salt and knead until smooth. You can use your hands or knead the dough in an electric mixer.
Grease a second bowl with nonstick cooking spray and place dough in the bowl. Cover with plastic wrap or a clean dish towel and let rise for 30 minutes.
Preheat oven to 425ºF. Line 2 baking sheets with parchment paper.
Divide dough into 8 equal parts. Roll each part into a 26-28-inch long rope and form into a pretzel shape. Repeat with remaining dough.
In a shallow bowl, combine water and baking powder. Place pretzels, one at a time, into the water. Pretzel should be totally submerged. Remove from bowl and place on prepared baking sheets. Sprinkle with salt. Let pretzels rest for 5-10 minutes. Bake for 12-15 minutes.
Brush melted butter onto hot pretzels immediately after taking them out of the oven.