This Italian chicken stew means comfort food to me.
There's this dish that I dream of when I'm in the mood of something incredibly good and satisfying. Pollo Alla Cacciatora. It's this Italian stew of tender chicken and delicious vegetables. My Ima would typically serve it over some Israeli Couscous or small pasta (like mini bow ties or shells) or with good crusty bread. Basically, something that would sop up the amazing juices the chicken comes with.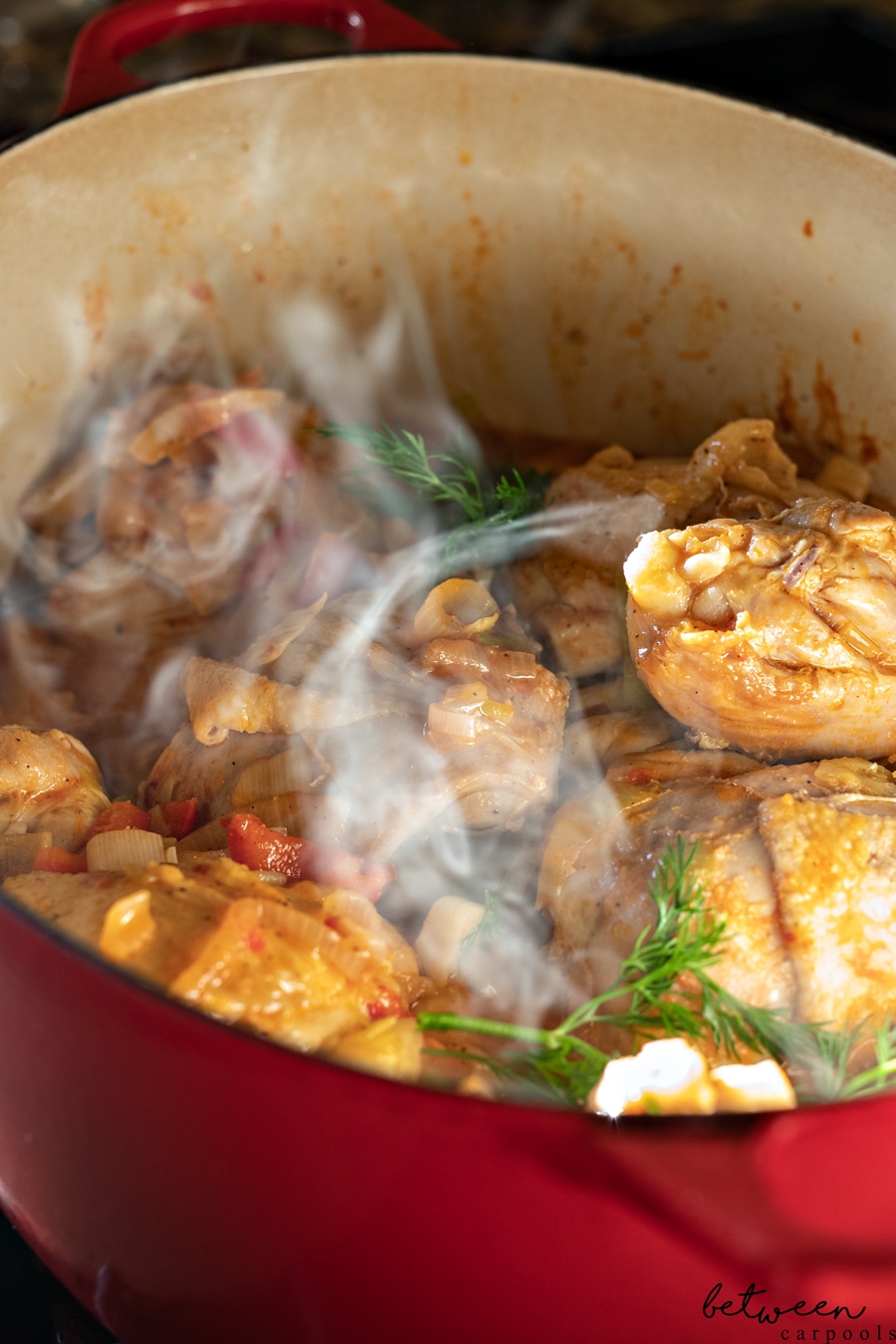 My childhood memories are filled with the aroma of this particular dish.
And I know what you are thinking. You want to know why A) This dish is not in my cookbook Our Table and B) What's the big deal Renee, why can't you just pull out a pot and cook it yourself if the craving is that strong?
So here is the thing. I have tried many times. It was just never the same.
Something was getting lost over the Atlantic, no matter how many times my mom explained to me how to prepare Pollo Alla Cacciatora. And, one day, this winter, I had an epiphany. Ima was in town. Why not invite her over and finally watch her prepare this dish in my kitchen? On a Between Carpools photoshoot day? Genius. I know. Not sure what took me so long, though.
So….it happened. And it was amazing. I even have the pictures to prove it, thanks to Esti Waldman. Also, I was pathetically overwhelmed and giddy, thankfully Leah jotted down the exact recipe as we were working.
So here goes:
Pollo Alla Cacciatora
What does it mean? Pollo Alla Cacciatora means hunter's chicken. We are not sure why it's called hunter's chicken. Google gave me a few different explanations: It cooks quickly, like a meal a hunter throws together after a long day out. It's cooked with seasonal vegetables, root vegetables mostly,  ingredients that hunters had in their yard.
Whatever the reason, this is the name of the dish. My kids can't pronounce it either, it's fine. Don't even try.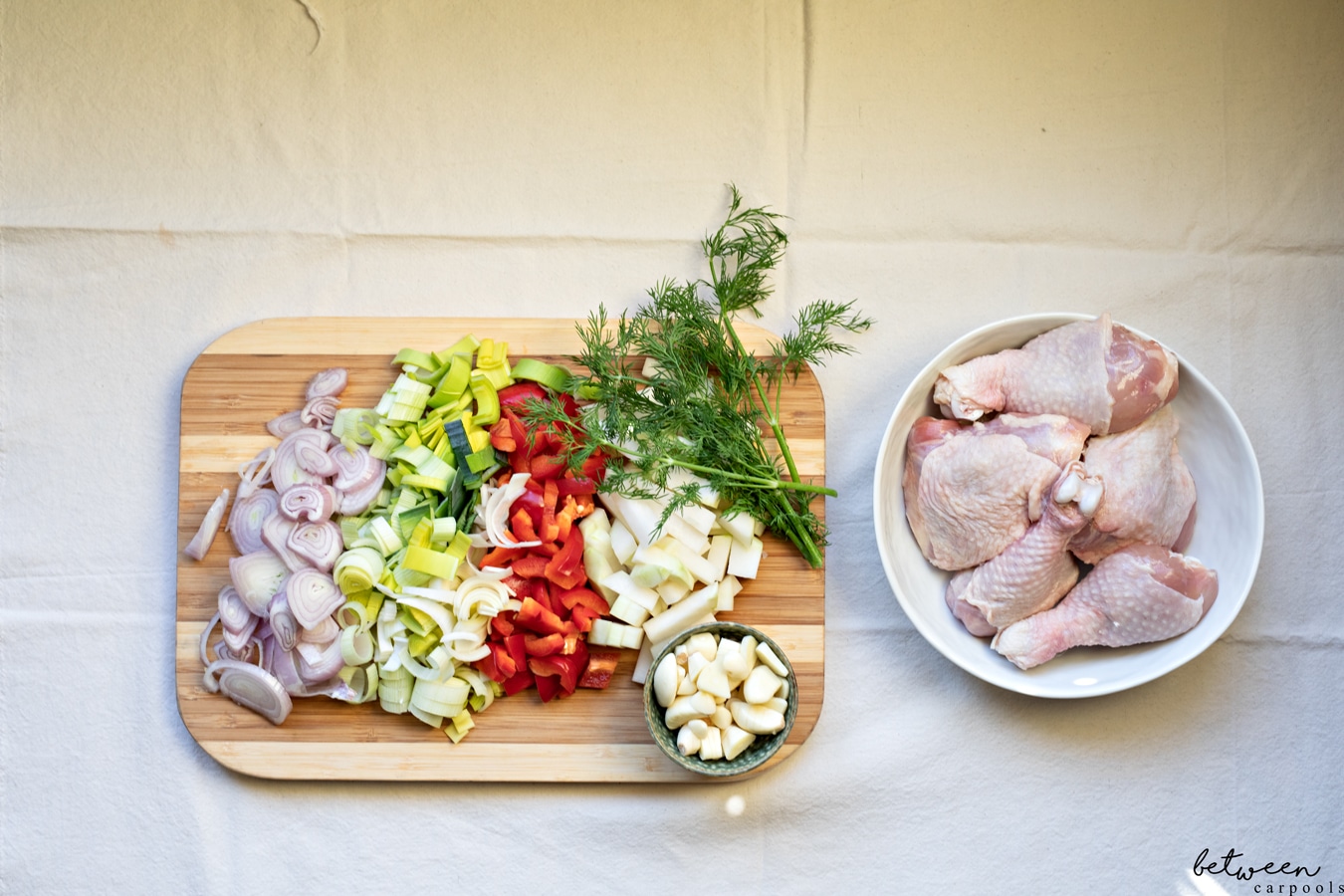 Pollo Alla Cacciatora
Ingredients
¼ cup oil
12 pieces of chicken (6 bottoms cut in half or 1 whole chicken cut in eights)
1 large kohlrabi, cut into ¼ inch sticks or cubed
1 red pepper, cubed
1-2 leeks, cleaned well and  sliced
1 large onion or 3 shallots, sliced
10 garlic cloves, sliced
3 tablespoons tomato paste
½ teaspoon black pepper
¼ teaspoon crushed red pepper or chili powder
1-2 teaspoons salt
½ teaspoon granulated garlic
3-4 sprigs of fresh dill
Instructions
Place oil in a heavy bottomed pot. Heat over high heat and wait for the pan to get really hot.
Meanwhile, wash and pat chicken dry very well. Place in pot and sear 3-4 minutes, turning over once browned well. Sear in batches. Remove chicken from the pot and set aside on a plate.
Lower heat and add chicken back to pot, skin side up. Add all vegetables on top.
Mix ½ cup water with the 3 tablespoons of tomato paste. Pour over the chicken and add the seasonings. Cover and cook over low heat for 1 ½ hours.
minutes before it's done, add the dill (optional but highly recommended)
Serve over Israeli couscous, rice or small pasta like little shells or mini bowties. Buon appetito!