My favorite aisle in the toy store is the game aisle. And though I'm always on the lookout for new, these are the games I'll always love.
In my house, games do not belong in the playroom. That's where they're bound to lose pieces. Games are way too fun and valuable to be left to chance like that. So, rather "Mommy's Game Library" occupies a drawer in my closet. Any child can borrow a game as long as it goes back when they're done. And, as you can see from the list below, I'm not such a fan of bulky board games with their million pieces.
I play competitively and I never let my kids win on purpose (if they win on their own, that's all well and good). And I'm a little selfish. I'll only play a game that I happen to really like (sorry, Top Trumps is not for me).
So when does mommy say, "Ok," when a child asks, "Mommy, can we play a game?"
Only when it's one of these.
Card Game Versions of Board Games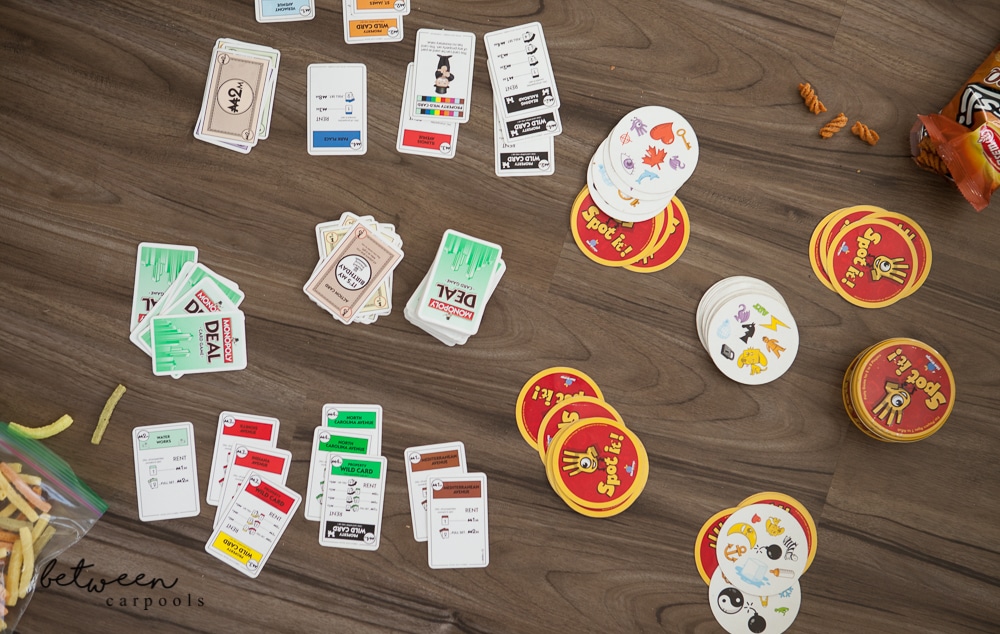 Yes, I like the card games way better! They're quicker to play and there are fewer pieces to lose. They're more compact to store…and often, all around just more fun. My all-time favorite "card game" version of a board game is Monopoly Deal.  I think it might frustrate my kids when Mom wants to play Monopoly Deal…yet again. Life is another one I love and a close runner-up to Monopoly Deal.
Games Kids of All Ages Can Play
There's two games that win "best of" in this category, Spot It and Left Center Right (nope, sorry, there's no Candy Land or Chutes and Ladders in this house). Spot It is completely picture-centered, so children don't need to read to play, they just need to match pictures (albeit quickly). And there's lots of different games-within-a-game to play so you don't get bored. Another find that's a hit, especially with the younger kids, is Left Center Right, where each player begins the game with tokens…and the last one with all their tokens wins. Tokens get passed to your left, right, or the center, depending on how you roll the dice. Even a four-year-old can be part of the game, but it's not babyish for adults either.
The Classics That Never Get Old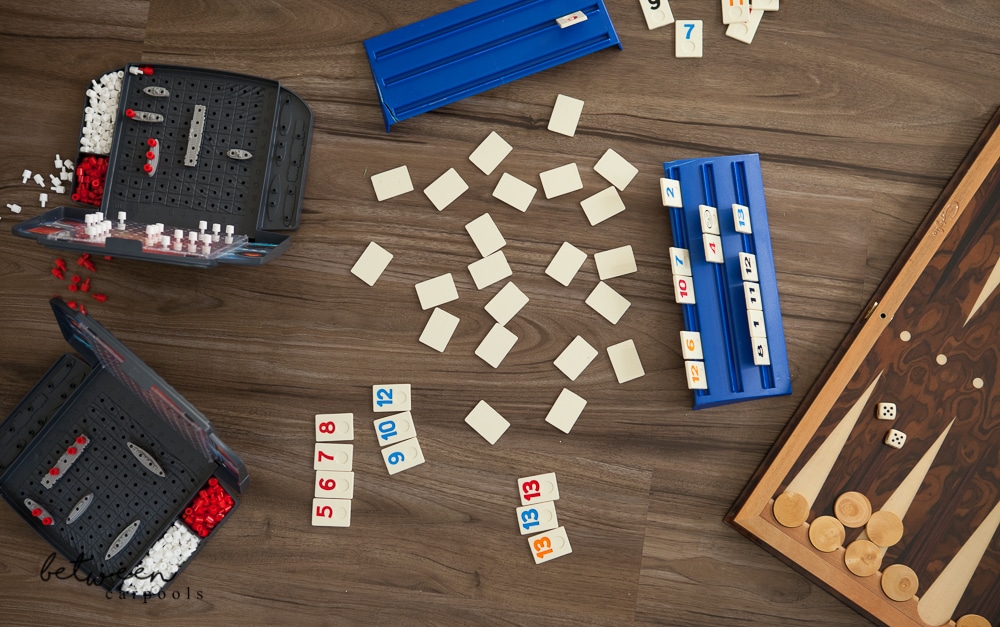 Rummikub…a friend recently reminded me that this was my personal childhood favorite…it's coming to Mommy's Game Library asap! We also love Battleship (unless someone gets upset and all the pegs go flying). And though we don't keep the game boards intact for too long, I also love a fun game of Guess Who!
In Syrian-Jewish households, backgammon, or tole, as it's called in Arabic, is also a game my children learn to play from when they're very young. Many households own beautiful, decorative backgammon sets (whether the kids are allowed to play with those is another story). There's usually a cheaper set also available for actual playing so no one has to mind too much if a piece goes missing.  
The Games We Must Find Time for During the Week
Although most of our game-playing time is over Shabbat, if homework is done, and mommy is calm and ready for gaming, I'm ready for a weekday game of Yahtzee, which involves filling in scores on a grid. I love the simplicity of the dice game…yet appreciate the skill and strategy required. My kids are good at Yahtzee and offer mom some stiff competition.
Don't want to play games? Print some coloring pages.