Don't feel guilty throwing out your children's projects and papers. But definitely keep some items. This is a system that might work for you.
I think that in the beginning, most moms feel a little guilty throwing out the items that their children bring home. When a mother sends her first child to a playgroup, she might begin by keeping everything!
Really, really, there is no need. I'm here to tell you to not feel guilty throwing out projects. Your child put in a lot of time and effort. Give them the attention. Show interest, both in their work and the lesson they learned while doing it. Then decide how long you will keep it, whether you clear out the Shabbos papers on Sunday or Monday morning, or another specified time (i.e. until the following Friday).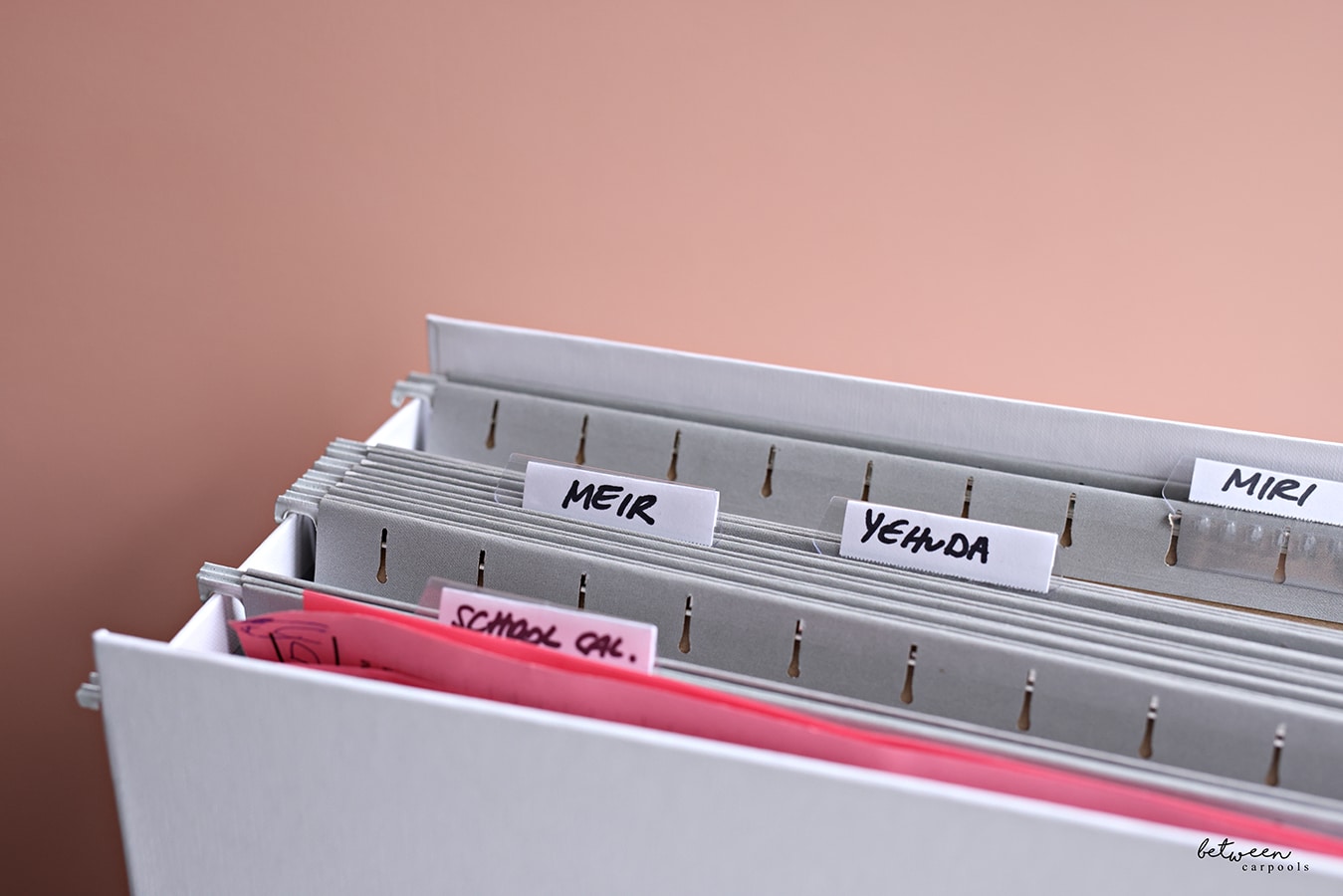 But that doesn't mean that all gets tossed. Some are really special. I have a simple file box where I keep a really curated selection of items that my children bring home. Each child gets their own file folder. When they're younger, it's mostly the projects that include a cute photo of them (if it's a photo where they look funny, don't feel guilty tossing!).  Once they get older, it might be a special award, test, report cards, or something that marks a milestone [i.e. graduation invitation]. It's anything that both you and them will enjoy looking at in the future!
Renee Muller keeps a box for each child on the top shelf of her closet (there's much more space than a file folder), and once they get a little older, she lets them decide what they want to keep, as long as it's contained within the box.
Knowing that you will keep some things makes you feel less guilty tossing other things. And having a file for each child from the beginning keeps everything contained, so you're not left with lots of clutter and papers down the road. If you already have a file cabinet, you can make a file for each child there. Otherwise, there are pretty file boxes (like this one) with these file folders. It looks nice and neat on the shelf or in the closet.
I also have a file for the items I want to keep that are meaningful to me. It's nice to have a place to put those special notes or letters that I do want to remember.
What's your system for tossing and saving?