These are the simple, yet important, decor basics to know when setting up your home.
As an interior designer, I aspire for everyone to have a beautiful space to call their own. Here are some simple ways to get the high-end designer look without breaking the bank.
1. Get the Right Size Rug. If you don't already have a rug in your living room, go run and buy one! Having a rug completely transforms a space with minimal effort and expense. When buying a rug, make sure you choose one that is the right size. One of the most common mistakes I see is a rug that is too small for the space. Ideally, all the furniture should be on the rug or at least the front legs of all the furniture should be on the rug. I usually end up going with either 8×10 or 9×12 rugs. There are lots of great rug deals out there. I personally have this one and it's held up great and doesn't show dirt.
2. Don't Do Matching. When buying new furniture, avoid the impulse to buy matching sets of everything (dining room sets, bedroom sets, etc.) A well-designed space will generally have furniture that is pulled together from different sources. Sets look too matchy-matchy and generally make your home appear cheap-looking. 
3. Reduce Clutter. Beautiful spaces and organized spaces go hand in hand. You can have the most stunning home but if it is always covered in stuff, it's hard to see the beauty. I find that the best way to cut clutter is to spend some time organizing and making sure everything has a place. Throw out things you haven't used in a while that are taking up valuable visual and physical space. 
4. Ditch Builder-Grade Light Fixtures. Never underestimate what a new light fixture can do for a space. This is so important in terms of function and beauty. Having a dark room looks bad and also makes it hard to see. Your new fixtures don't need to be expensive to get the job done. Even Ikea and Home Depot have great options.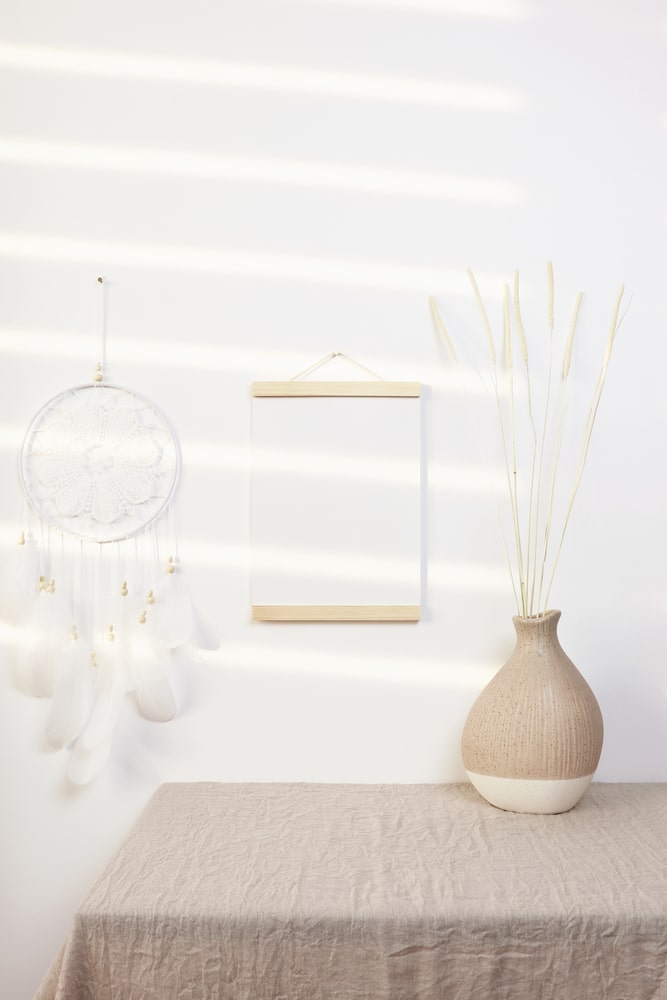 5. Put Stuff on the Walls. Blank walls are a major pet peeve of mine. There are so many low-cost options that can give your space that wow factor. Think mirrors, family photos, gallery walls, and clocks. A low-cost way to print large photos/art is to print them on vinyl signs (the website I use is bestofsigns.com) and hang them with wooden photo hangers such as these wooden poster hangers. Here's a wall clock that I absolutely adore.  
6. Minimize Furniture. This is another design mistake I see all the time. Do you really need that armoire, dresser, and chest to store your socks? Sometimes, less is more and a well-designed, expensive-looking room will generally have less furniture.
7. Upgrade Your Hardware. This is a great way to upgrade your home without breaking the bank. Updating your cabinet hardware in your kitchen or on furniture can make a huge statement. Also, updating doorknobs can make a monumental change in your home's aesthetic. Here, cylindrical knobs and modern pulls, are a couple of great options.
8. Hang Floor to Ceiling Curtains. Curtains are my absolute favorite when it comes to window treatments. To make them look even more amazing, hang them at ceiling height. This makes your ceilings look dramatically higher and takes a room from great to absolutely jaw-dropping. To get the look for an 8 foot ceiling, get 96" curtains.
Have any more low-cost yet high-impact ideas? Let us know in the comments below.
FOR EXCLUSIVE CONTENT AND A PEEK BEHIND THE SCENES, MAKE SURE TO JOIN OUR WHATSAPP STATUS HERE.