Dinner Done
is finally back in stock at your local bookshop! To mark the occasion, we're sharing our favorite "Dinner Done" stories, beginning with this heartwarming journey one woman shared with us. 
I think one of my biggest challenges of married life is the everyday task of making supper. I know some of you may be thinking it sounds crazy. But to me, having to put a meal on the table every solitary day of my life is torturous. As a girl I never stepped foot into my mother's kitchen. Between having no interest in cooking and my mother not appreciating a mess, I never came in contact with a pot unless I was asked to clean one. Yes, some of my friends had more experience than me in this field, but I never felt like I was missing out.
I got engaged shortly after returning from seminary. The weeks to follow were a whirlwind of endless errands and lists to tackle. Lots of days were spent shopping for all the fun stuff my new house would need. A full day was set aside for buying kitchen gear and utensils. After all, I would need the right equipment to whip up those gourmet meals every newlywed makes. I vividly recall standing in the aisle of Center of Town laughing with my mother that we were buying pots and pans and I don't even know how to cook! I was a bit nervous about that aspect but figured I would somehow manage to pick it up easily. 
Little did I know how much I would dread it. My wedding and sheva brochos flew by in a flash and soon I found myself in a bare apartment carrying a new role as a wife. Part of that role consisted of making food. So I tried my best. But everything I tried was a struggle. Frying a simple sunny side up left me feeling helpless and hopeless. Within a few days I found out that my husband actually knew a lot more about cooking than I did. It was helpful to hear his tips and suggestions but it also intimidated me that he knew so much. In the beginning, I did a pretty good job coming up with 2-3 decent meals a day. That lasted for maybe 2 weeks. By the 3rd week breakfast and lunch got cut out of the picture. Unfortunately, my life didn't get easier. Supper alone was beginning to consume me. Recipe searching, preparing, and cooking weighed down on me like a ton of bricks. 
At work my coworkers would chat about supper cheerfully, the way I would talk about shopping. Those conversations stressed me out. I listened with half a ear just in case there was something important I could learn but honestly all I wanted to yell was "stop!"  I felt like asking "Do any of you share in the misery talking about supper brings up for me?" Instead I had to sit there and pretend I too was enthusiastic about the topic. I would come home after an exhausting day of work with a pit in my stomach knowing that I need to give my last bits of energy to cooking. I would scramble for ideas and hope I had the right ingredients to support the plan. And then there were days where it just didn't happen. I just didn't have the energy. My husband was very understanding and graciously picked up takeout. But it didn't feel right. I would feel like a failure. Each time that I failed I would feel more and more insecure about my ability to get this duty done right. I would try to push those negative feelings away but more times than not they got the best of me. I would try telling myself that I will get the hang of it. I just need more time. More recipes. More support. But somehow the number of meals I was delivering were slowly dwindling. It was just too hard. 
As the days turned into weeks the hatred I acquired towards the stress of cooking was only growing. I was down to making supper once or twice a week. Don't ask me what we did for the rest of the week. I tried justifying myself with messages like "This is normal" or "It's just too big of a hassle" but the truth inside my heart always screamed louder. As the kids came along, the challenge only intensified. If I was barely staying afloat before, now I was completely drowning. The guilty feelings somewhat dissipated because I knew that being a good mother to my kids was more important than anything. BH my husband was always on my team and fully excused my inability to have homemade meals every night. He always knew how to put an emphasis on my strengths and make me feel like I'm more than enough despite my shortcomings. Of course that relieved some of the pressure, however, I still wished I would be able to cook with more ease. 
As time went on making supper just wasn't a thing anymore. It just wasn't in my daily routine. It barely even crossed my mind anymore. Frozen pizza, pasta, and an occasional homemade meal was the way we rolled. Of course the stress was still there. It never fully disappeared. Sometimes I wondered if the stress of not cooking was easier than the stress of cooking. Probably not. For sure not. But I didn't even know how to get into a routine of cooking anymore. I was so far removed.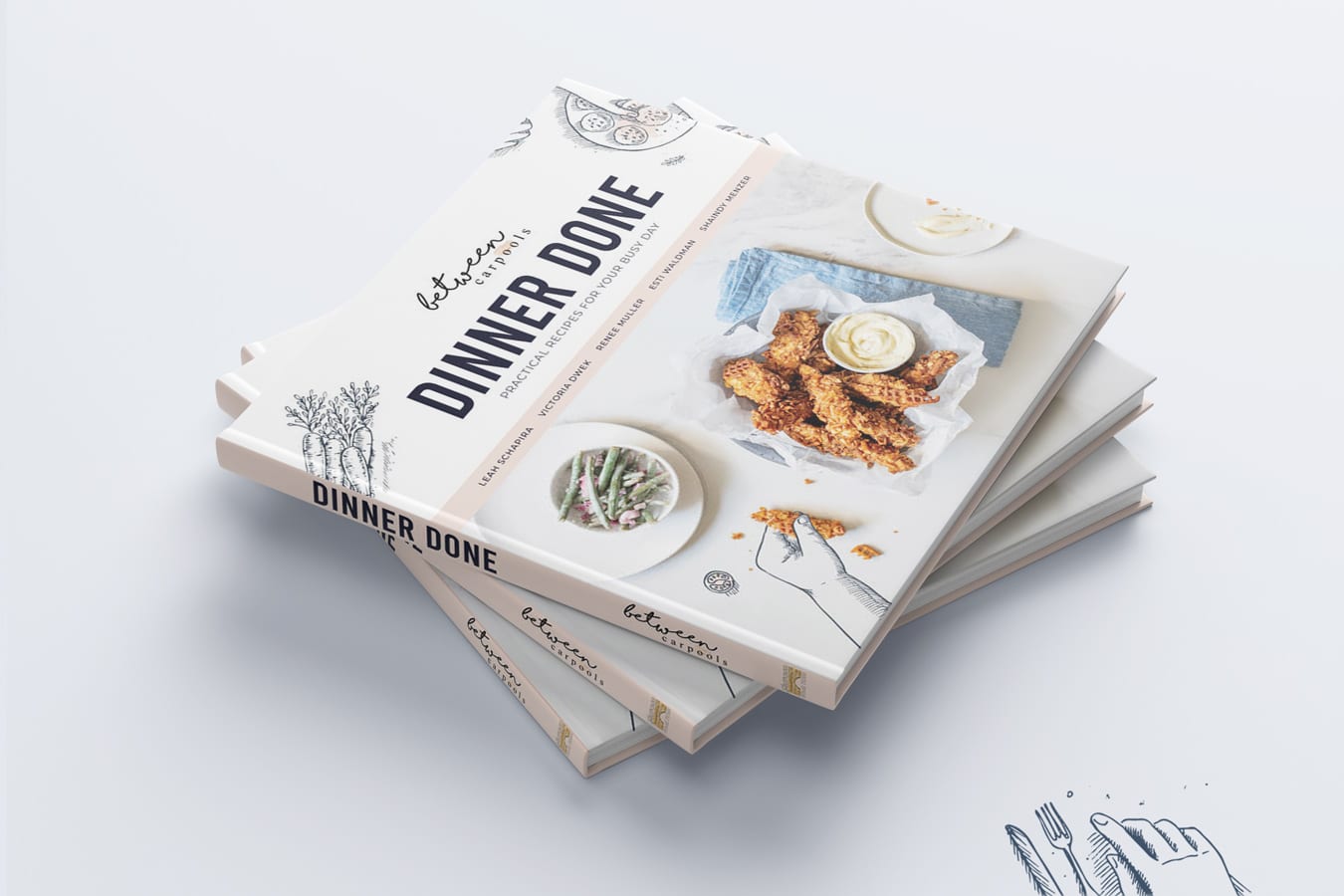 Until recently a new cookbook was released! Dinner Done. Easy recipes created for busy mothers. Bingo. Just what I need! I quickly ordered it and felt a sense of hope for a possible new beginning. Help was on its way! As soon as it arrived, I flipped through the pages and was inspired. I can do this! I still stand a chance at this. Step 1: I marked the recipes that sparked my interest. The mission had begun. Tomorrow would be my first attempt to make something from the cookbook. At 5 p.m. the next day, I was in the kitchen following the recipe, pouring, mixing, coating…. I even involved my kids! It felt amazing. So empowering and functional. I was able to relax on the couch when I was done feeling relaxed and proud that I had something wholesome and nutritious to feed my family later! Needless to say, everyone was thrilled to have a hearty meal at the end of a long day that was made with love. I did it for a week. I must say I've  never felt this happy. My days felt different. I was doing what mothers do and it just felt so right. No more guilt. No more takeout.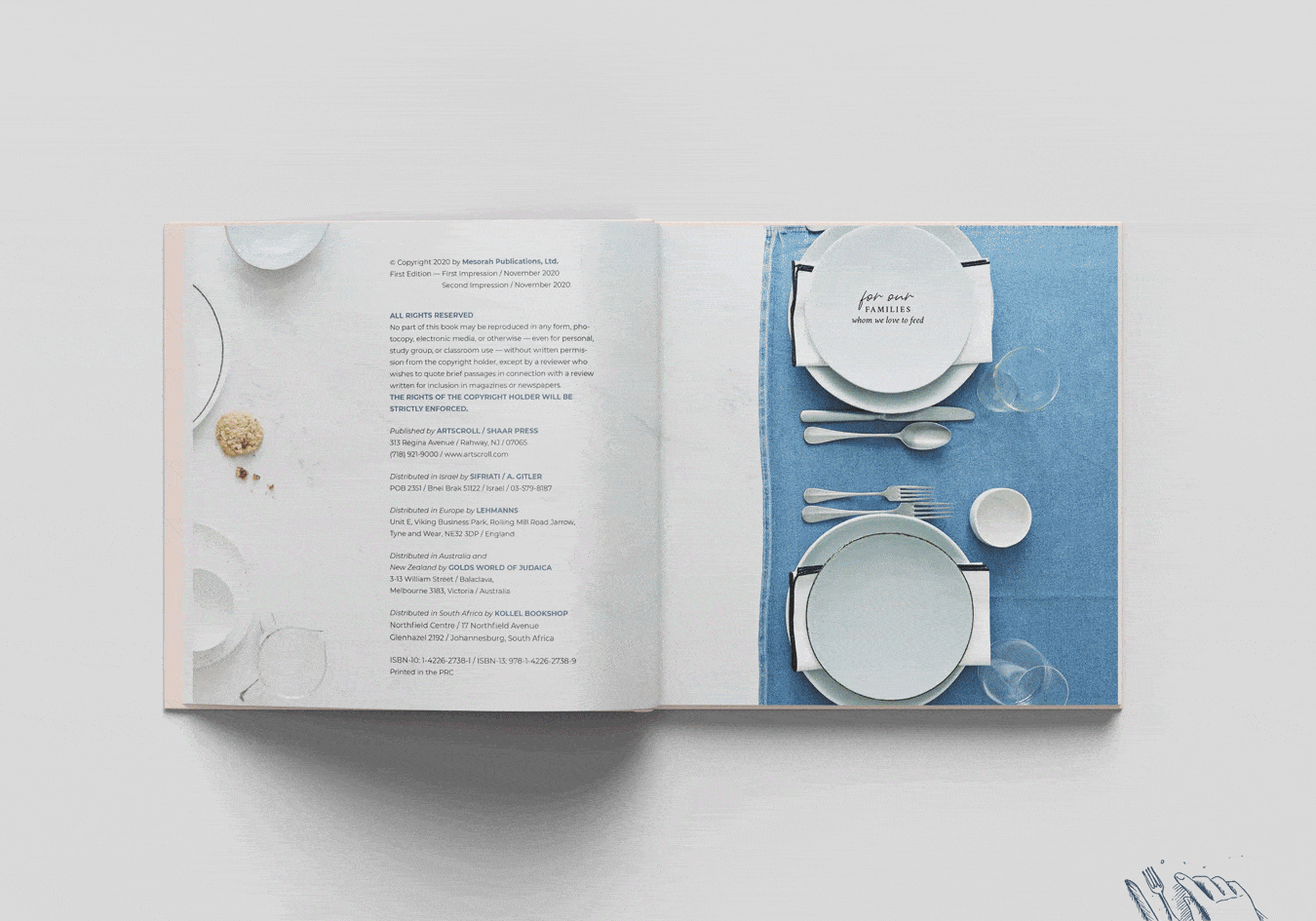 Last week, as I was shopping in the grocery, I spontaneously called my sister and invited her to come eat by us later that night.  She gladly took me up on my offer. I gave myself an invisible pat on the back for the long way I've come. I came home and immediately opened to the recipe in Dinner Done I would be following. I whispered a Thank you to Hashem for sending me a shaliach to overcome this challenge in the form of an excellent cookbook! Sitting around the  table later that evening watching everyone eat my food, I glowed with pride and felt a deep sense of peace.