Ocean City
, a peninsula jutting out of Maryland,
was the most awesome Overnight Chol Hamoed trip we took.
In relative close proximity of most big communities in the tri-state area, it offers an amazing beach experience without the issues of pritzus or the hordes of people crowding the place.
In general, I prefer beaches during off season when it is still warm enough but not crowded. I enjoy the beach as a place to relax, not for swimming, so that works.
During our visit in October, many of the regular Ocean City attractions such as the amusement parks, boating and water sports were closed for the season when we came but there was still plenty for us to do such as mini golf, go karting, and biking on the Boardwalk in addition to enjoying the actual beach. We were lucky to have sunny days in the low 70's (Back home most days were rainy.)
We stayed in one of the many hotels overlooking the ocean in a bedroom suite with a kitchenette. The price was amazingly affordable since it was off season.
The hotel was just a couple of minutes drive from the local Chabad Center. The Rabbi, Rabbi Cohen and his family, are extremely welcoming. They opened their home and very large sukkah to all the visitors and many families brought their food to eat at the Cohen's sukkah when they needed. (There was another small sukkah for visitors right outside the shul. ) Chol Hamoed is the busiest season for the Cohen's. They make all feel welcome and are delighted by all the visitors they have. 
Shul Address: 13719 Coastal Hwy, Ocean City, MD 21842
Phone Number: (410) 250-7770
Hours: Check online or call for minyan times
Approximate Distance from Brooklyn Bridge: 3 hours, 45 minutes
Approximate Distance from Lakewood: 3 hours, 20 minutes
Approximate Distance from Monsey: 4 hours, 10 minutes
Website: chabadoceancity.com
Ocean City Boardwalk
The Ocean City Boardwalk is a prominent area featuring ocean access and at the same time many shops and activities. The 3-mile boardwalk starts at the Inlet-the end of the Ocean City Peninsula, and ends at 27th Street. If you do not want to walk the whole length there are many exits on the side streets along the way.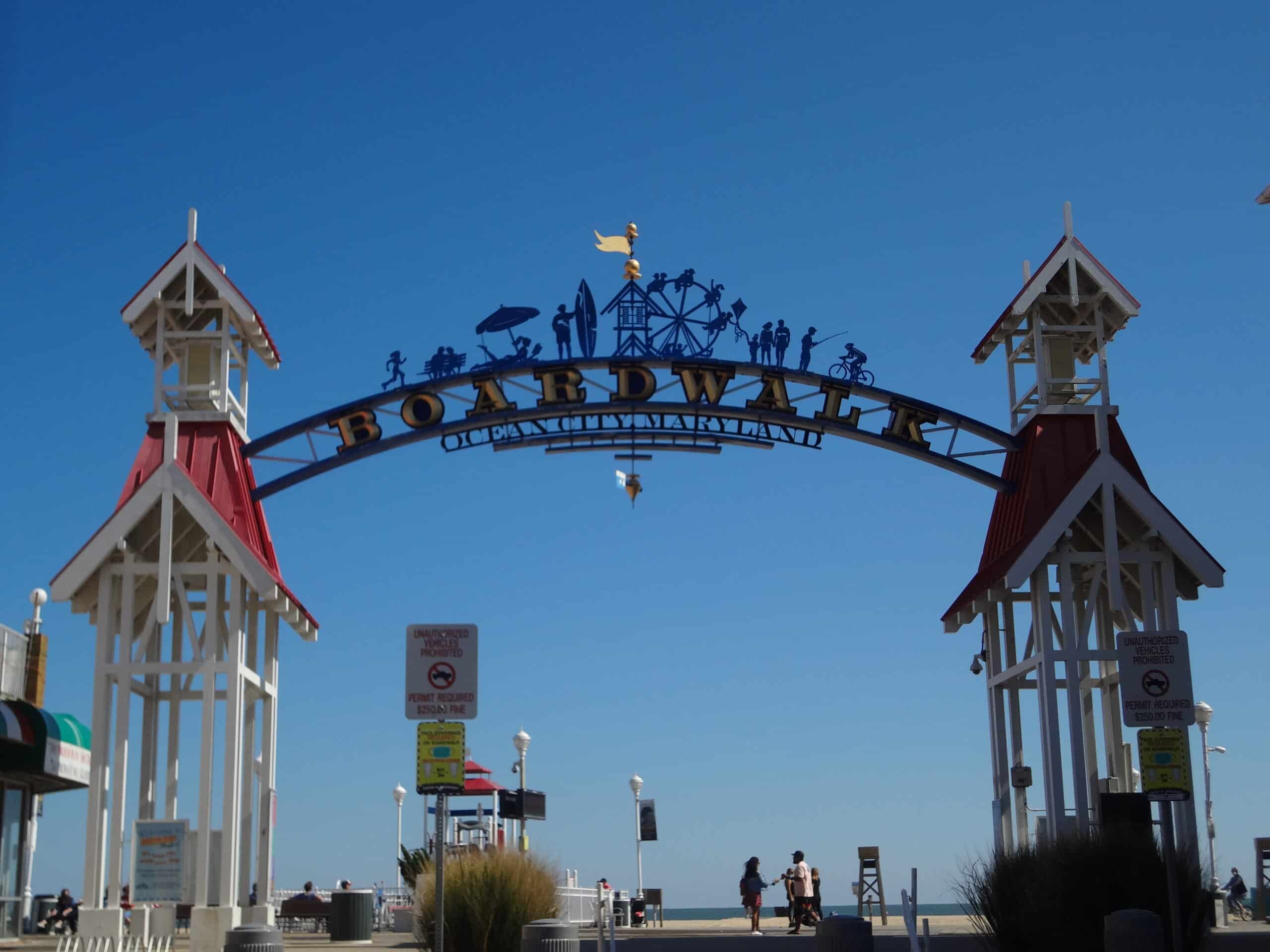 In the middle of the Boardwalk, actually nearer to the Inslet, at North Division Street is the famous Boardwalk Arch.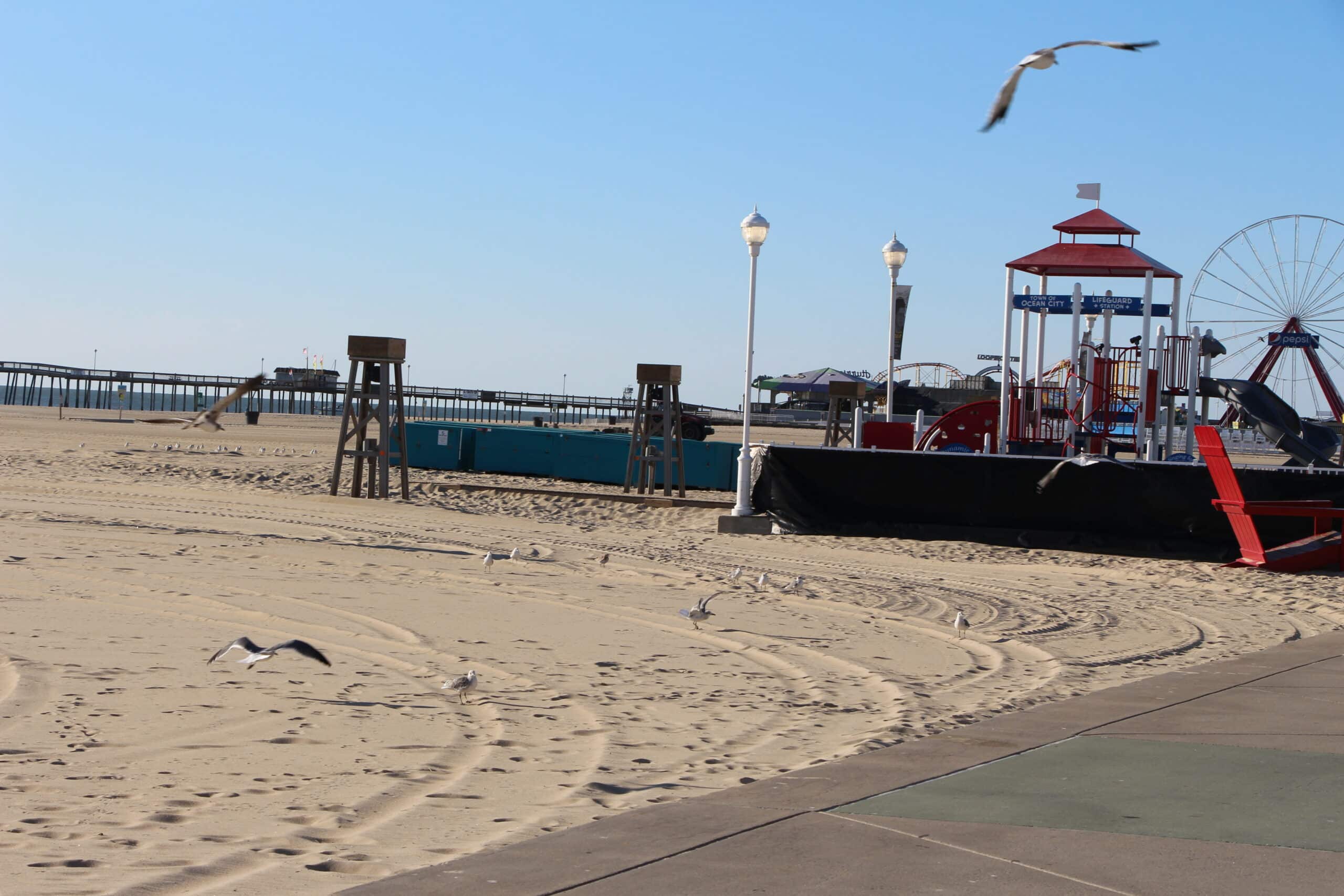 On the sand, a few feet from the arch, is a small fenced in playground. At one end near the Inlet is Trimpers Rides (closed when we visited in October) and Ripleys Believe It or Not. There are also many arcade places to choose from on the Boardwalk.
Some Hotels are located above the many stores on the Boardwalk and there are lots of food options and restaurants as well and there is always the glorious beach on the other side. There are a few bike rental stands and many souvenir shops on the Boardwalk. The Boardwalk is definitely a happening place both during the day and at night.
Address: From the Inlet to 27th Street
Hours: 24 hours a day
Price: Access to the Boardwalk is free. Some activities may cost money.
Website: ococean.com
Dandy Don's Bike Rentals
Although our visit to Ocean City, MD was at the beginning of October, we were blessed with glorious weather in the low 70's. It was the perfect weather to spend biking on the Boardwalk.
There are a few bike rentals in the area but we couldn't have been happier with the service and the bikes from Dandy Don's. Each person was fitted with a bike for their size and we also took a toddler seat in the back of a bike. They even offered helmets for those that required one. Dandy Don's is famous for their excellent service and we definitely experienced it.
In addition to their regular standard bikes, Dandy Don's offered tandem bikes, large and regular surreys and they even had a bike called the front rider with a seat in the front that can be used for a child or a handicapped person. Another original type of "bike" they had is the Boardwalk Car which resembled an antique car and was actually driven with two people pedaling.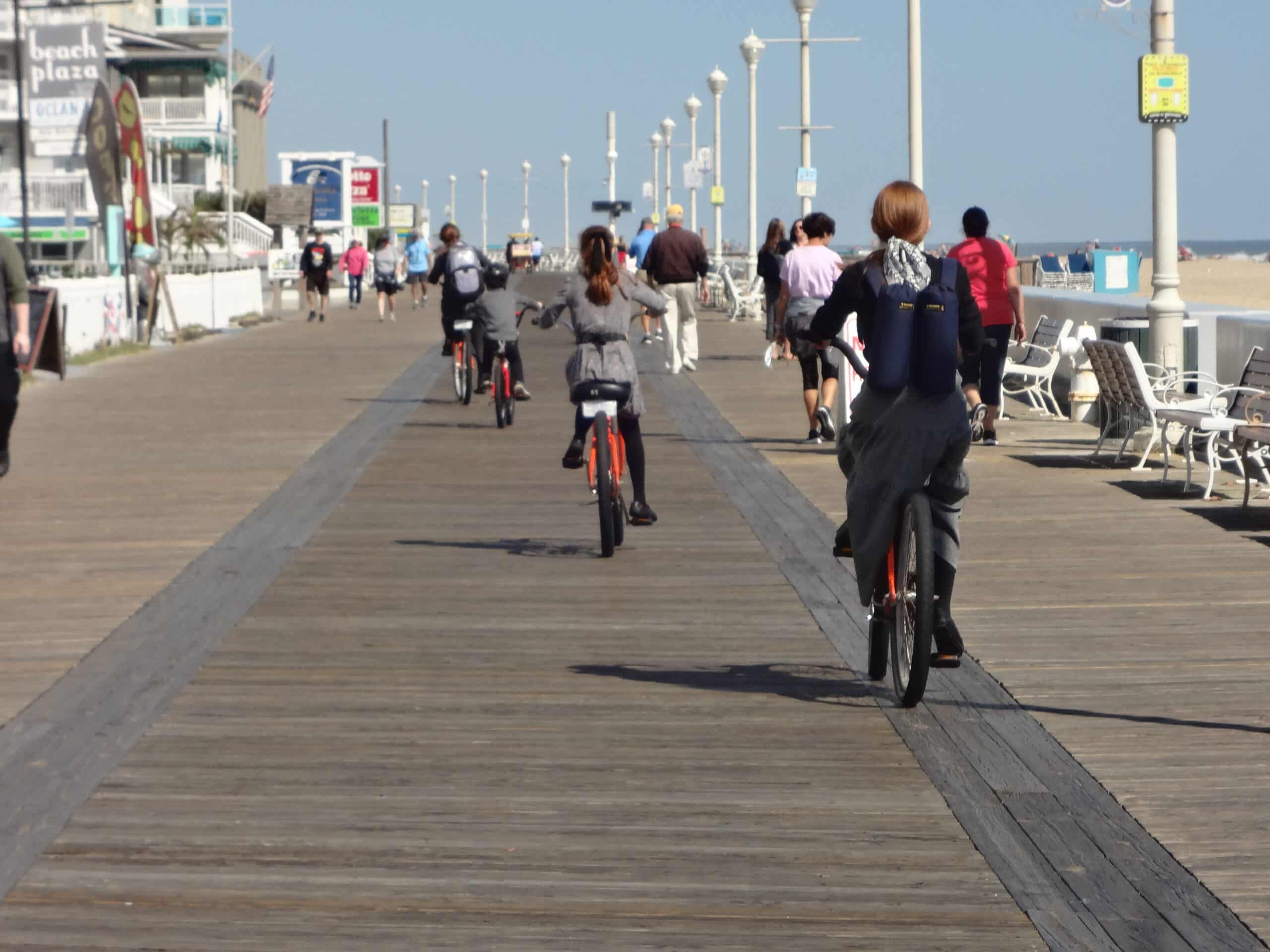 The boardwalk was a great place to enjoy the bikes. Dandy Don's is located in the middle of the Boardwalk at 12th street under the Howard Johnson Hotel. There was plenty of space to ride in both directions with views of the magnificent ocean all along.
Address: 1109 Atlantic Ave, Ocean City, MD 21842
Phone Number: (410) 289-2289
Price and Hours: Check online for the various options and prices
Website: ocmdbikerentals.com
Alley Oops Midtown
One evening while in Ocean City we wanted to go bowling but none of the local alleys were open. That's when we discovered Alley Oops. Alley Oops is a family friendly restaurant that also offers arcade games and mini bowling (like Dave & Busters).
When we walked in we were amazed to see near the tables the huge shark tank with big sharks and baby sharks swimming around, separating the restaurant from the games area.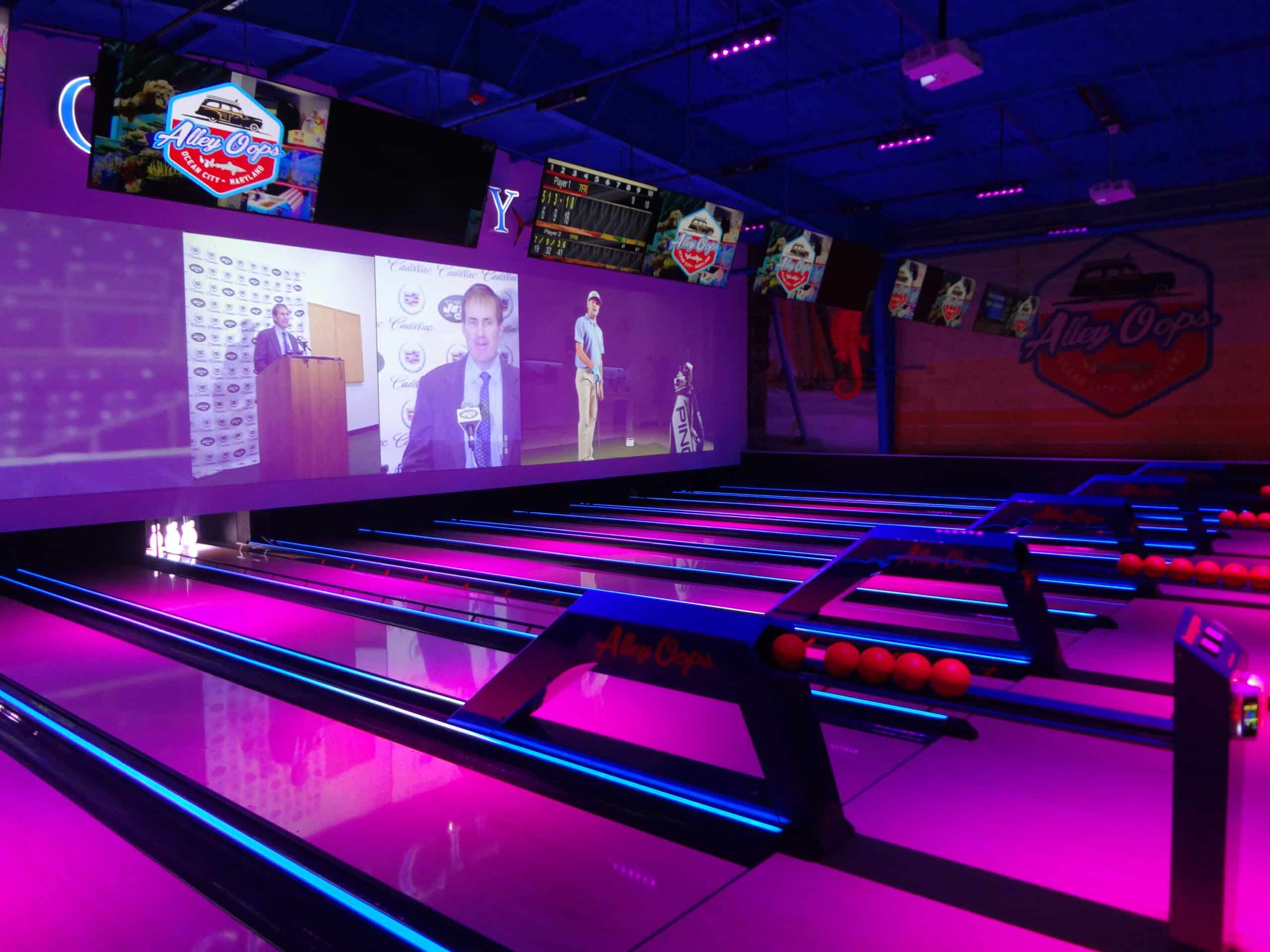 The staff was very helpful and showed us how to purchase game cards that are also used for the mini bowling. We first enjoyed a bowling game before heading to the many arcades. We also noticed the XD dark ride although we didn't try it. There's a lot of activities for all ages to enjoy.
Address: 5509 Coastal Hwy, Ocean City, MD 21842
Phone Number: (443) 664-7084
Hours and Price: Check online for current hours  and prices
Website: midtown.alleyoopsoc.com
Assateague Island National Seashore
Assateague Island was the place I was most excited to visit during our visit to Ocean City, MD. Assateague Island is 37 miles long and is just below Ocean City on the tip of Maryland. It is partially in the state of Virginia. Part of the Maryland portion is owned by the State and is a State Park while part is a National Park. It is most famous for the wild horses that roam on the beaches there.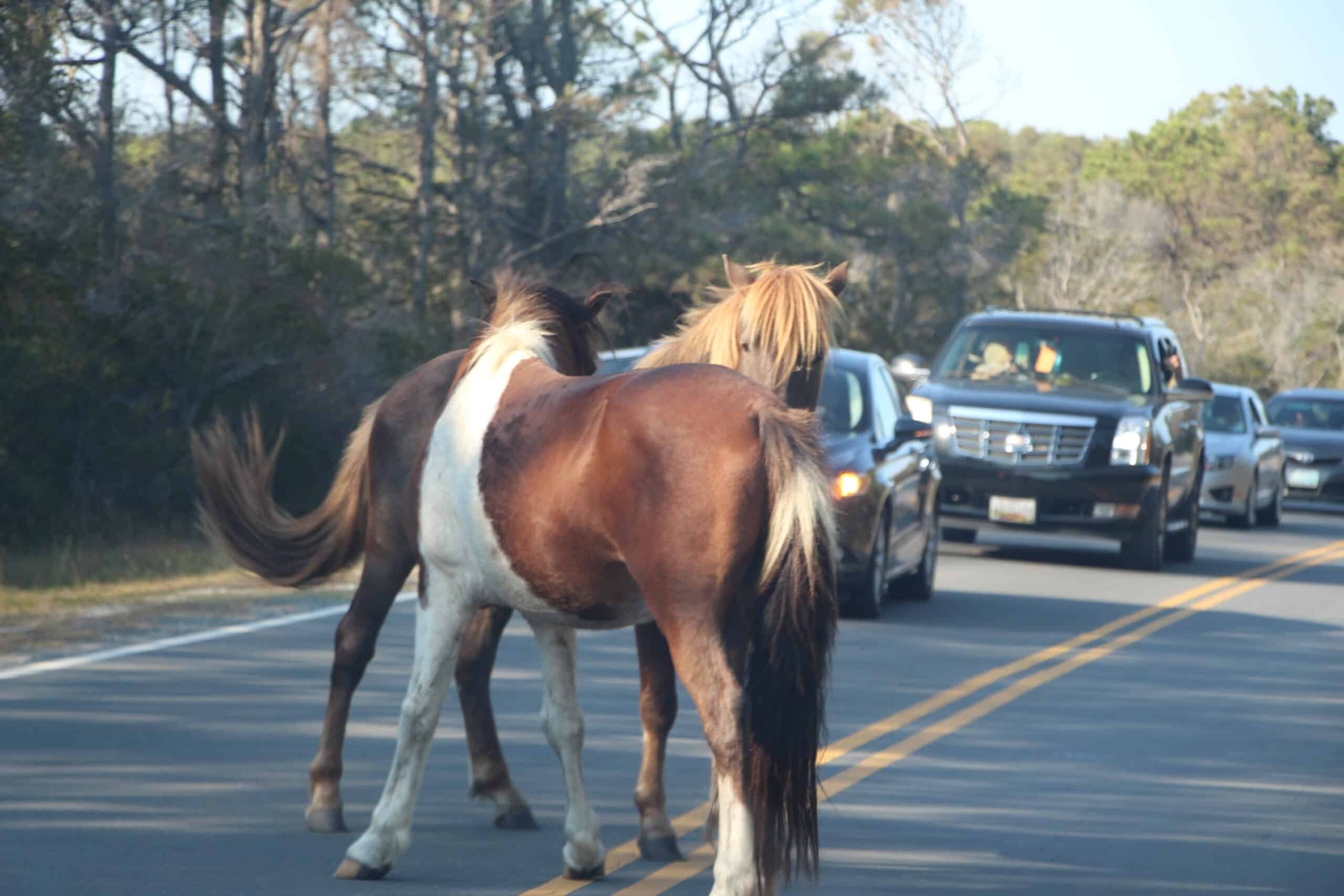 We found it fascinating to see the wild horses actually doing their own thing including fighting in the middle of the road just inches from cars.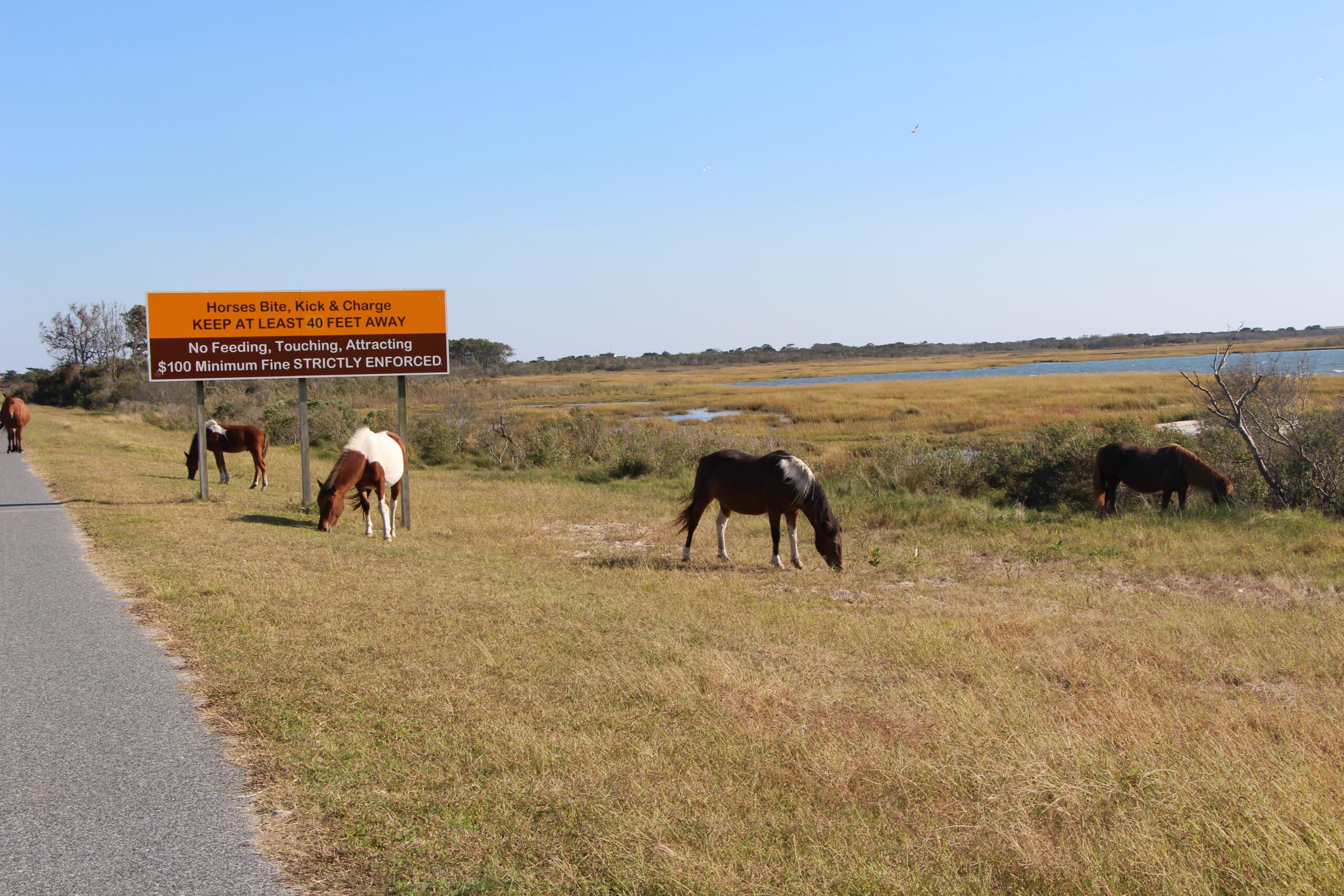 We did not get to see horses walking along the pristine beaches like the pictures I saw online, but we did get to see horses at the Bayside. They were playing and eating, it was an amazing site to see (there are signs posted to stay 40 feet away since they aren't trained after all).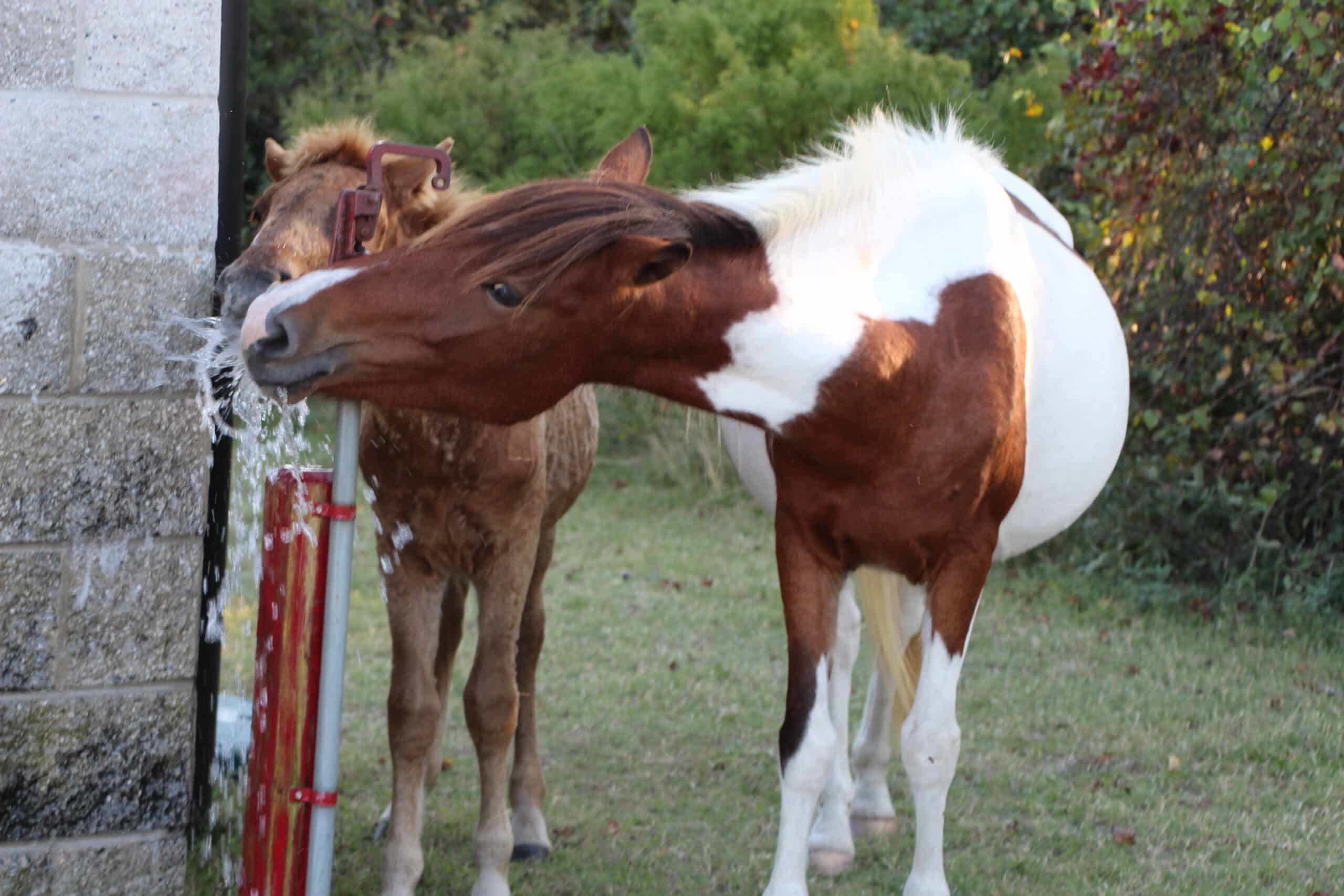 We watched an amusing scene when a horse blocked the door of the bathroom while someone was in there. Later while the horses were grazing behind the bathroom building someone turned on the outdoor water pump to wash his hands. The horse suddenly came galloping over as soon as the water was on. Everyone else quickly moved away while the horses drank and drank. I guess tap water is better than the salty ocean water.
The Island is not only about the horses. There are beautiful swimming beaches, bird watching areas, nature areas. There are even options of bringing a tent to stay overnight. The National Park area has regular National Park fees, the State Park has a minimal fee of about $5. When we visited we went to the National Park.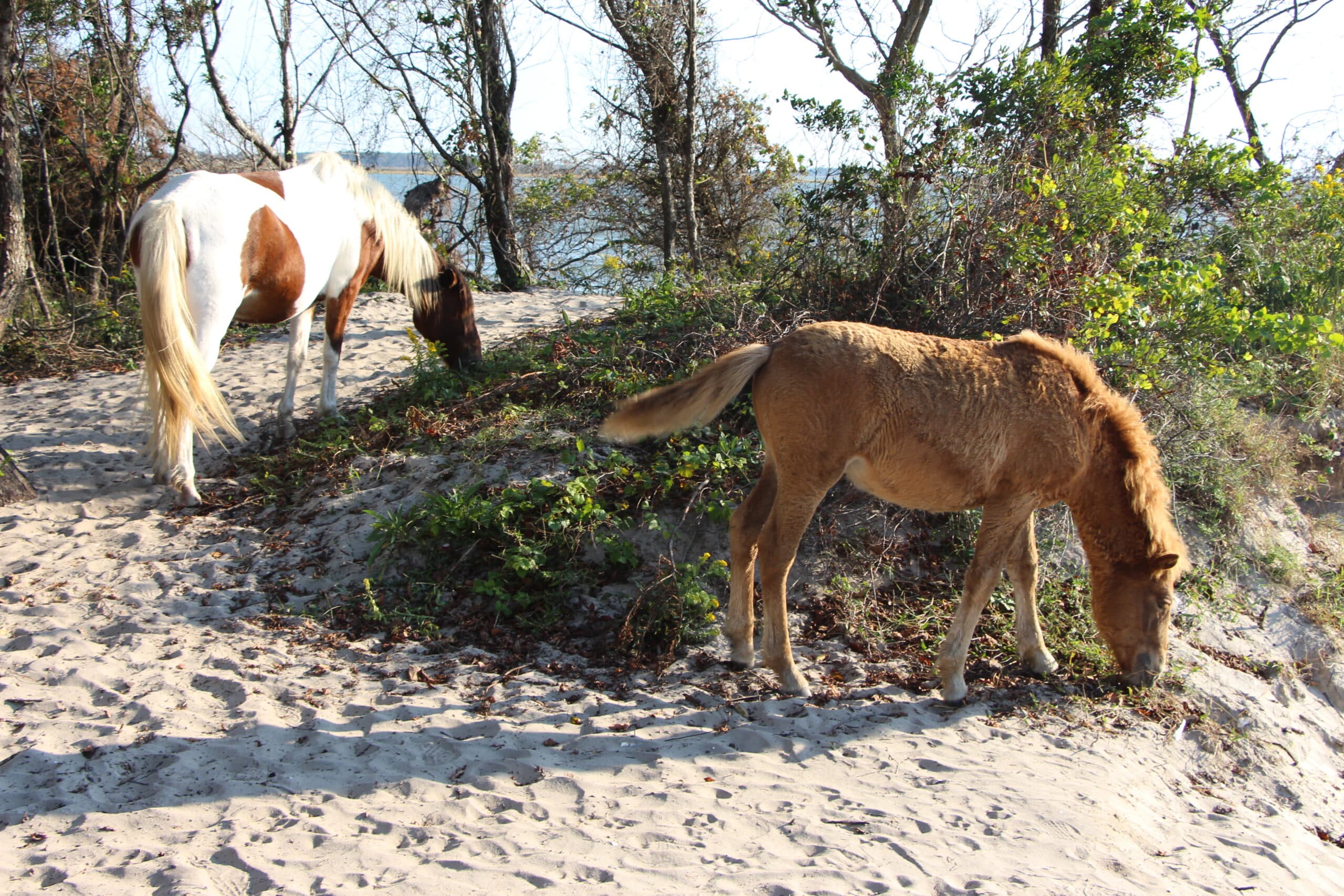 I do not know how each section of the Island compares to the other area since we only visited the National Park. I had difficulty leaving when it was time to go. I loved the natural beauty and the ponies were an added bonus.
Address: 7206 National Seashore Lane, Berlin, MD 21811
Phone Number: (443) 614-3547
Hours: Open 24 Hours
Price:
Foot/Bicycle: No Fee
Vehicle: $25.00
Vehicle: $45.00 – Park Annual Pass, valid 1 year from purchase
Motorcycle: $20.00
Individual: $15.00 – (per person 16 years of age or older when entering by means other than a private, non-commercial vehicle, such as taxis and limousines providing transportation only; buses carrying passengers not on a pre-packaged tour such as school groups visiting for recreational purposes; and buses or vans registered to non-profit organizations such as churches or schools. A family traveling together shall pay no more than the vehicle fee.)
Website: nps.gov
Carousel Ice Skating Rink
There aren't many year-round activities in Ocean City. Most activities there are outdoors and therefore seasonal. The Carousel Ice Rink, located within the Atrium of the Carousel Hotel offers skating and skate rental daily no matter the season.
We actually stayed in the Carousel Hotel when we visited Ocean City. We had the benefit of the ice rink being in the lobby and we also enjoyed a discounted skating rate since we were hotel guests.
The rink itself is quite small but enjoyable. When we were there, it was empty most of the time. The Carousel Ice Rink has skates for rent and walkers to aid beginners on the rink. While we were there, two girls were practicing figure skating. It was really enjoyable to watch.
Address: 11700 Coastal Hwy, Ocean City, MD 21842
Phone Number: (410) 524-1000
Hours: Check online for the current hours
Admission Rates:
Hotel Guests – $4.00
Non-Guests – $6.00
Ice Skates Rental:
Hotel Guests – $2.00
Non-Guests – $4.00
Website: carouselhotel.com
Game World Mini Golf and Arcades
There are mini golf courses at practically every second corner on the Coastal Highway in Ocean City, MD. Each more decorated and designed than the next. Most of the courses were closed when we visited in the fall but there were a couple to choose from. We chose to go to the Game World mini golf course. The mini golf course is an elaborately designed 18 hole course.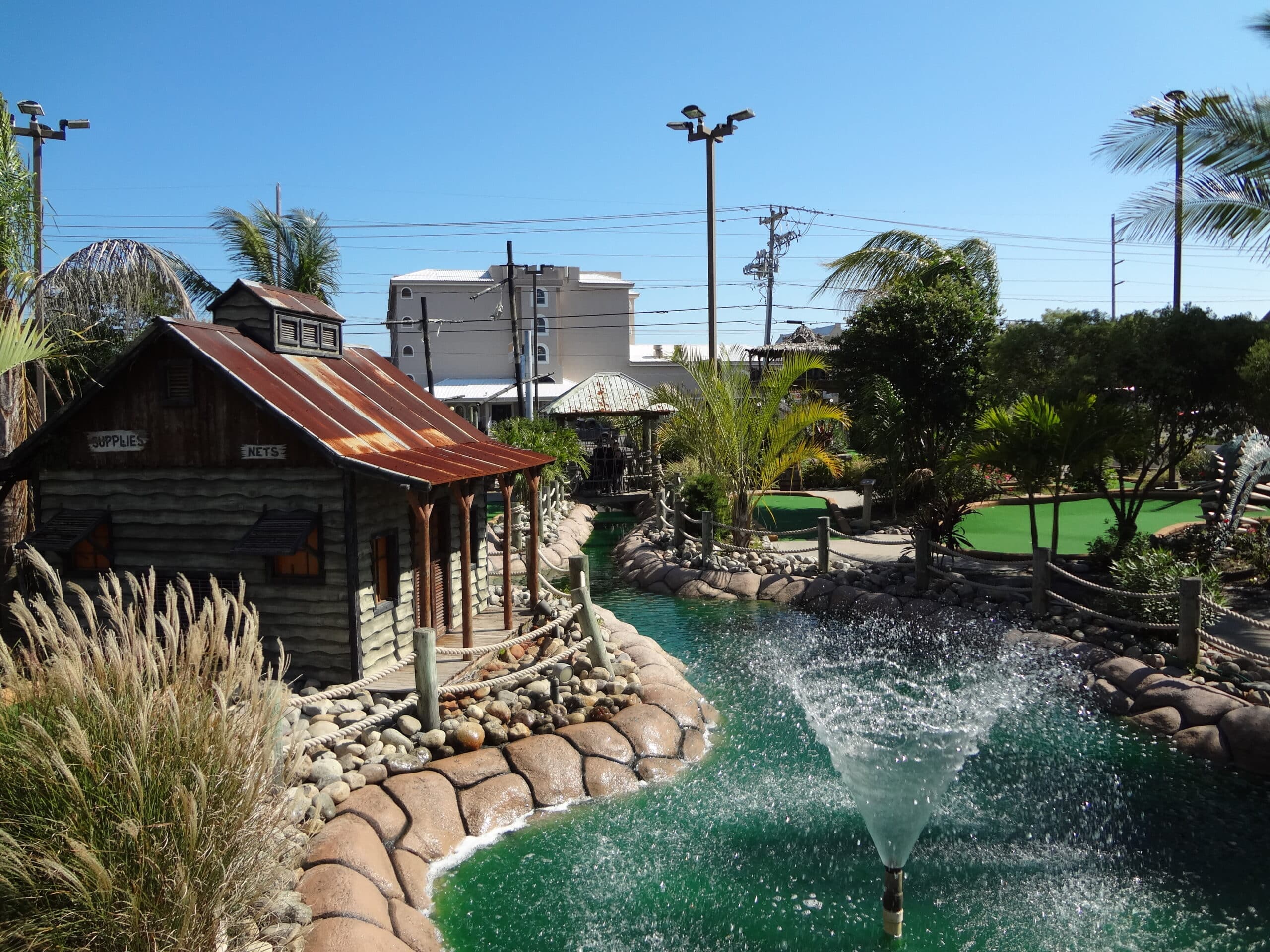 There are streams and fountains meandering throughout.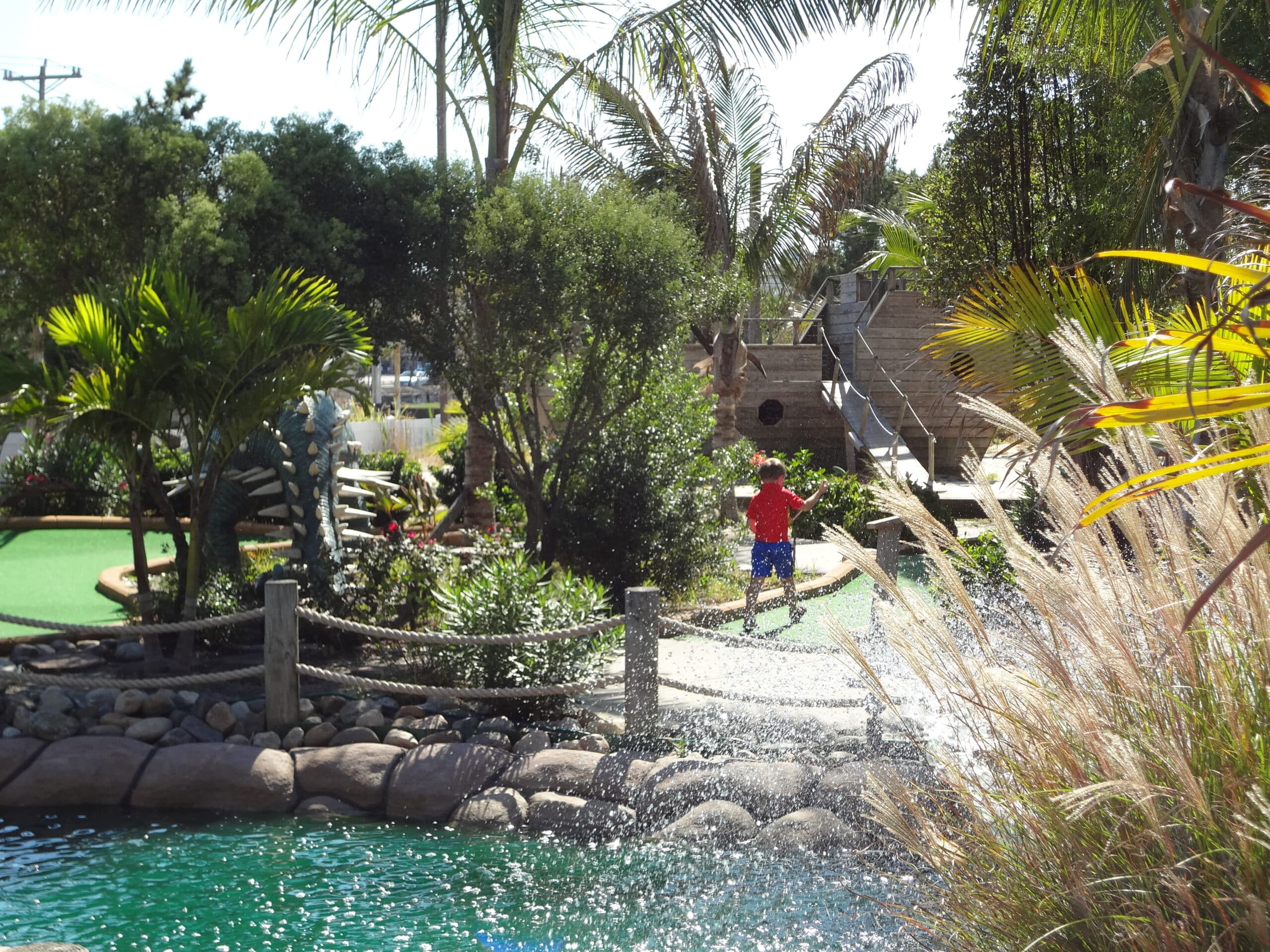 There are fountains, dinosaurs and greenery all around. We were happy to see a sign that they accept competitor's coupons so we were able to enjoy ourselves at the best price.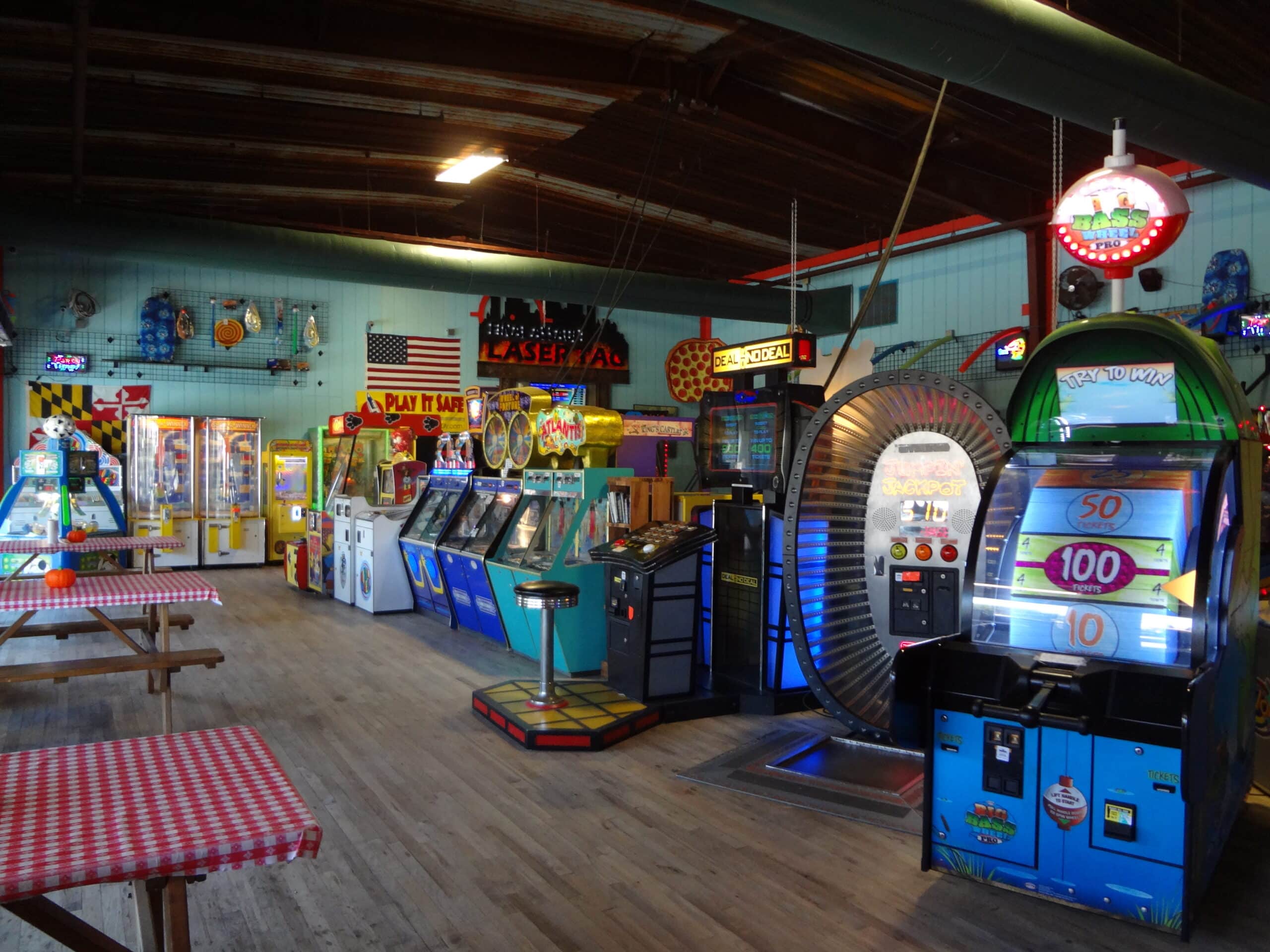 Once we were done with our game we went inside and enjoyed playing some arcade games. The kids were thrilled when they got extra prizes for their tickets from the kind owner. Game World also has a large laser tag arena which we did not try during our visit.
Address: 107 146th St A, Ocean City, MD 21842
Phone Number: (410) 250-3888
Hours: Call or check online for current hours
Price for Mini Golf:
Ages 7+: $10 per game
Under 7: $9 per game
Check online for Laser Tag and Arcade prices.
Website: gameworldoc.com
Grand Prix Go Karts
There are many amusement parks in Ocean City. Most close by Labor Day and some open during weekends after that. Grand Prix has amusements in the summer but when we visited in the fall, only the Go Karting was open. That was perfect for us because we were on our way to Assateague Island National Seashore and we just wanted to experience some of the fun go karting that Grand Prix is especially famous for.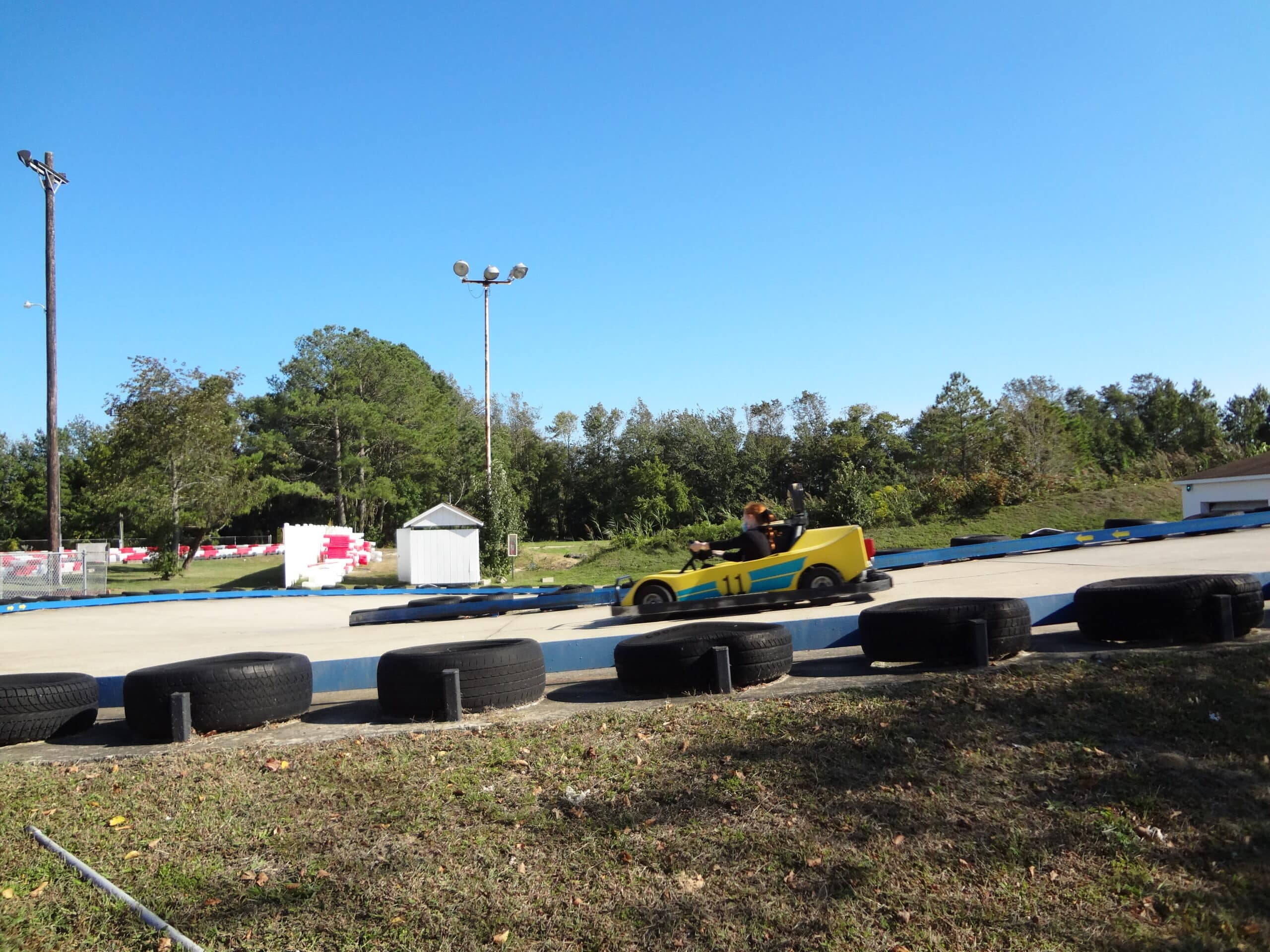 Grand Prix has 7 go karting tracks for all ages/heights and abilities including race karts that can go up to 30 MPH, the fastest in Ocean City. There is a Kiddie Track for children ages 5-7 years and 40″ tall. There is the Family Cyclone track and the Family Speedway track as well. People age 8 years & 52″ tall can drive themselves on both of the family tracks. Otherwise children can ride along with an adult in a double kart. (Driver of double-seat kart must be 12 years+ & 56″). The Super Cyclone and Grand Prix tracks are made just for those above age 12 and 56". There are so many tracks to choose from and each one is fun in its own right.
Address: 12424 Ocean Gateway, Ocean City, MD 21842
Phone Number: (410) 213-1278
Hours: Check online for the current hours and price options
Website: grandprixoc.com
Northside Park
We arrived at Northside Park perfect timing to see sunset over the Bay. We watched the sun set while walking along the water and from one of the piers at the park.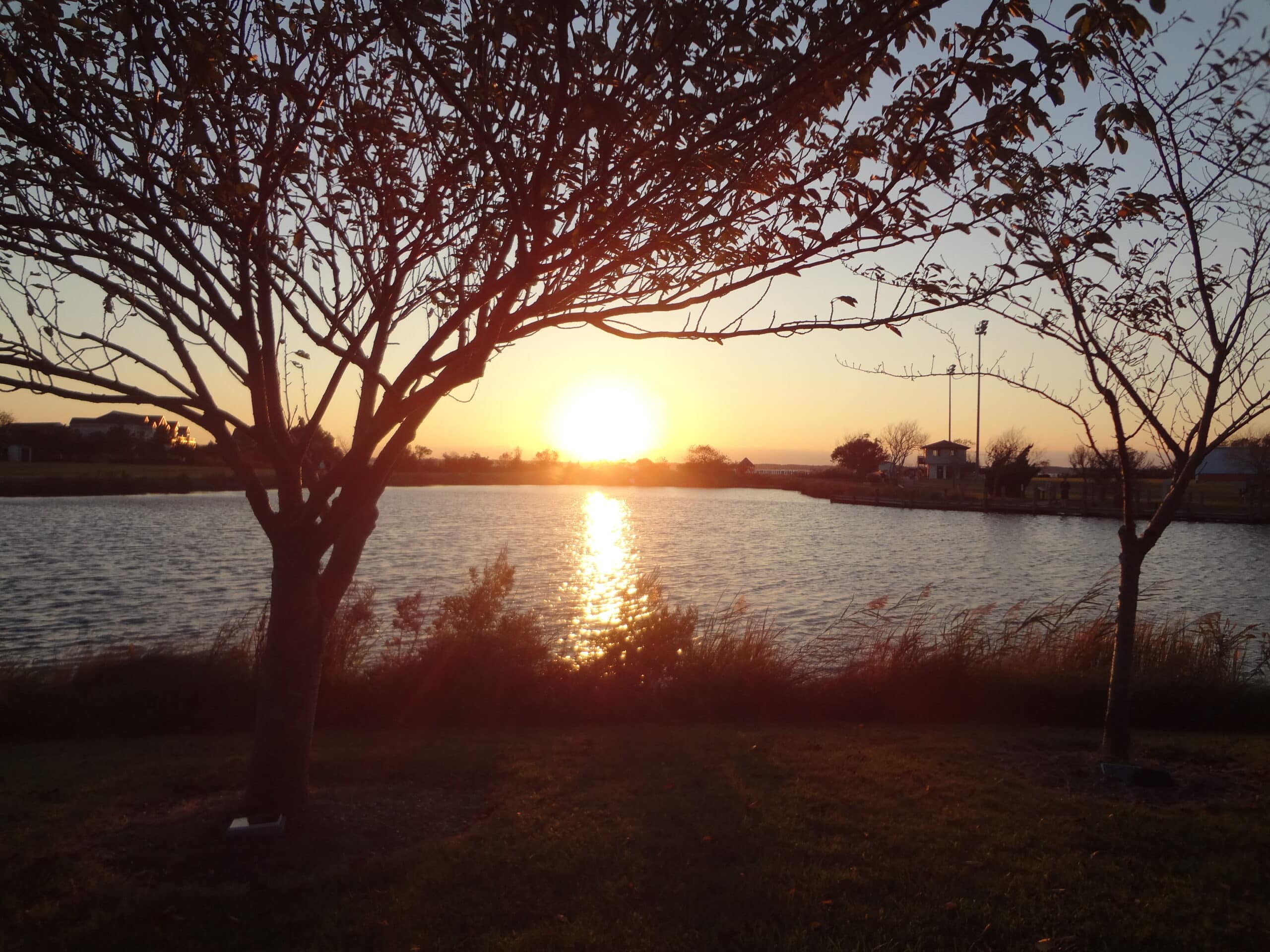 The 58 acre park, largest in Ocean City, has so much to do there. It is great for all ages. There are walking paths along the water and 2 piers. There is a variety of sports fields including three lighted softball/baseball fields, a lighted soccer field, multipurpose field, picnic tables and of course a large playground designed for all ages with a separate toddler area that has age appropriate activities. There is also an outdoor "gym" – a fenced in area near the playground that has lots of exercise equipment which operates manually. This area was so much fun and challenging. I've seen parks that have manual exercise equipment but Northside Park has a bigger variety of gear than most.
Northside Park has something for all ages and interests-it's definitely worth a visit.
Address: 200 125th Street, Ocean City, MD 21842
Phone Number: (410) 250-0125
Hours: Open 24 hours
Price: Free
Website: oceancitymd.gov
Assawoman Recreation Area-Fenwick Island State Park
The next evening we wanted to see the sunset unobstructed over the water.  The side of the ocean is where sunrise is so it is hard to find a pretty and clear spot for sunset. We decided to quickly drive over to Fenwick Island State Park just a few minutes up the road from where we were staying in Ocean City.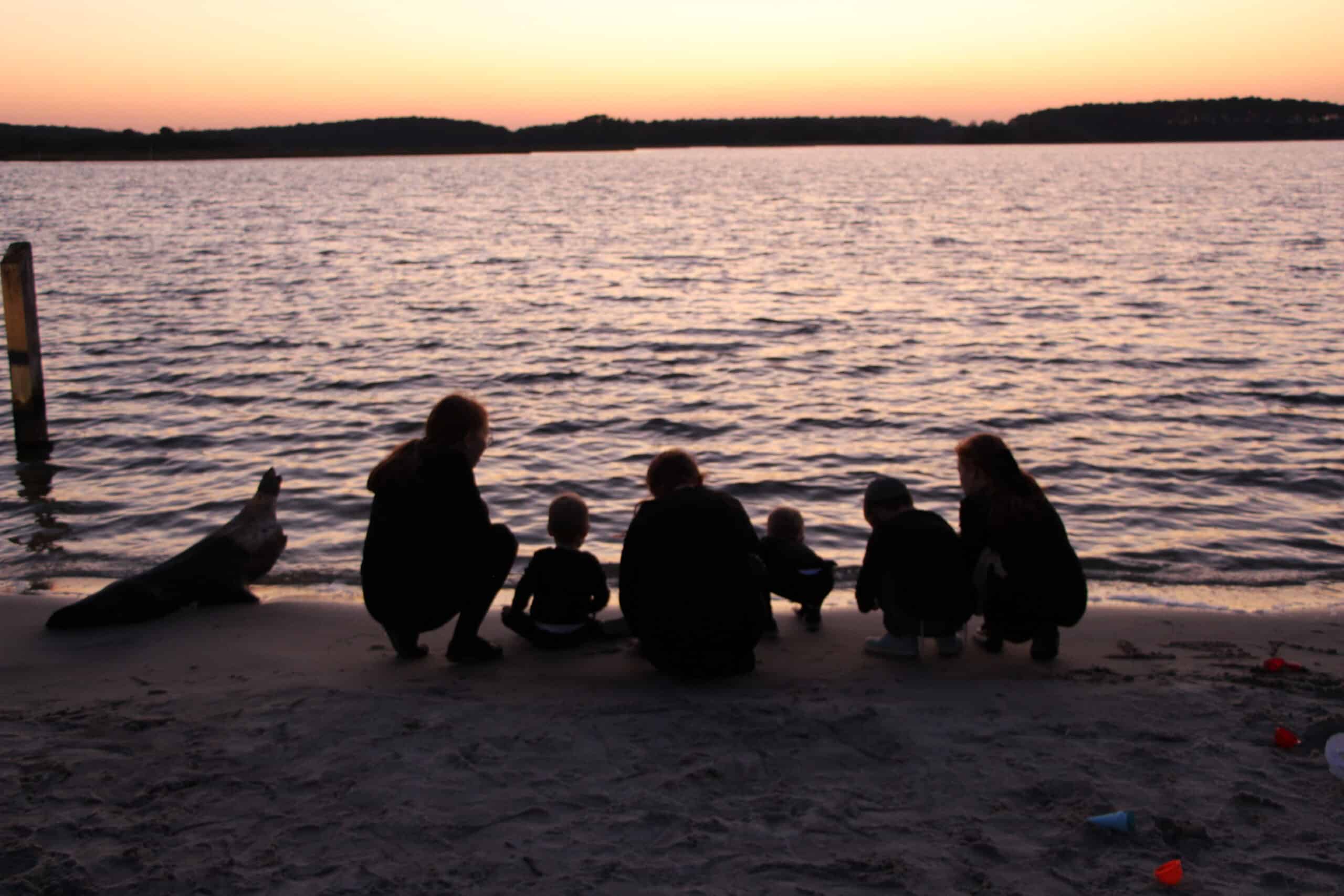 The park is on a strip of land between the ocean and Little Assawoman Bay. Most of the park consists of beach areas on the side of the ocean but we were lucky enough to spot a small park on the side of the bay, with a bench and picnic table, right by the parking lot. The parking lot goes right up to the beach sand.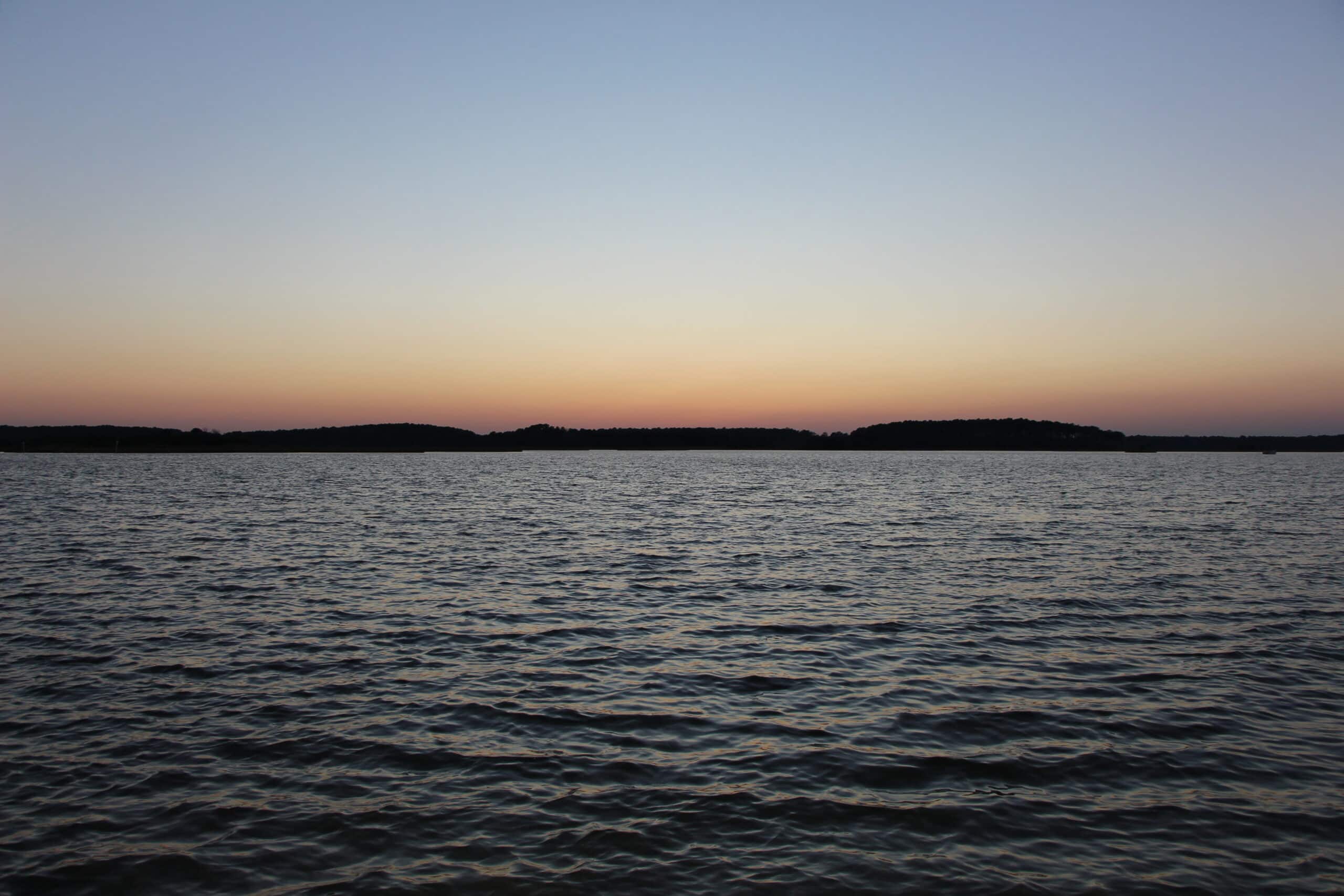 All it really is, is a tiny alcove of natural beauty with insane views of sunset. Some locals who were sitting there said that they often see cars barreling in at sunset for people to get the last glimpse of the magnificent colors as the sun sets. We were so glad we discovered this little area of beauty.
Address: 284 Coastal Highway, Fenwick Island, DE 19944
Price: Free
Website: stateparks.com
Cape May-Lewes Ferry
We decided to take the ferry from Cape Henlopen to Cape May to break up our drive back from Ocean City, MD to New York. The ferry terminal in Delaware is located within the Cape Henlopen State Park. I wanted to get to the ferry terminal early to spend some time at the park but we didn't make it. At least we made it in time for the boat.
Reservations must be made online in order to use the ferry. The ferry crosses each direction at specific times four times a day. We needed to coordinate our leaving Ocean City to arrive in time for the ferry. It is suggested to be there a half hour early.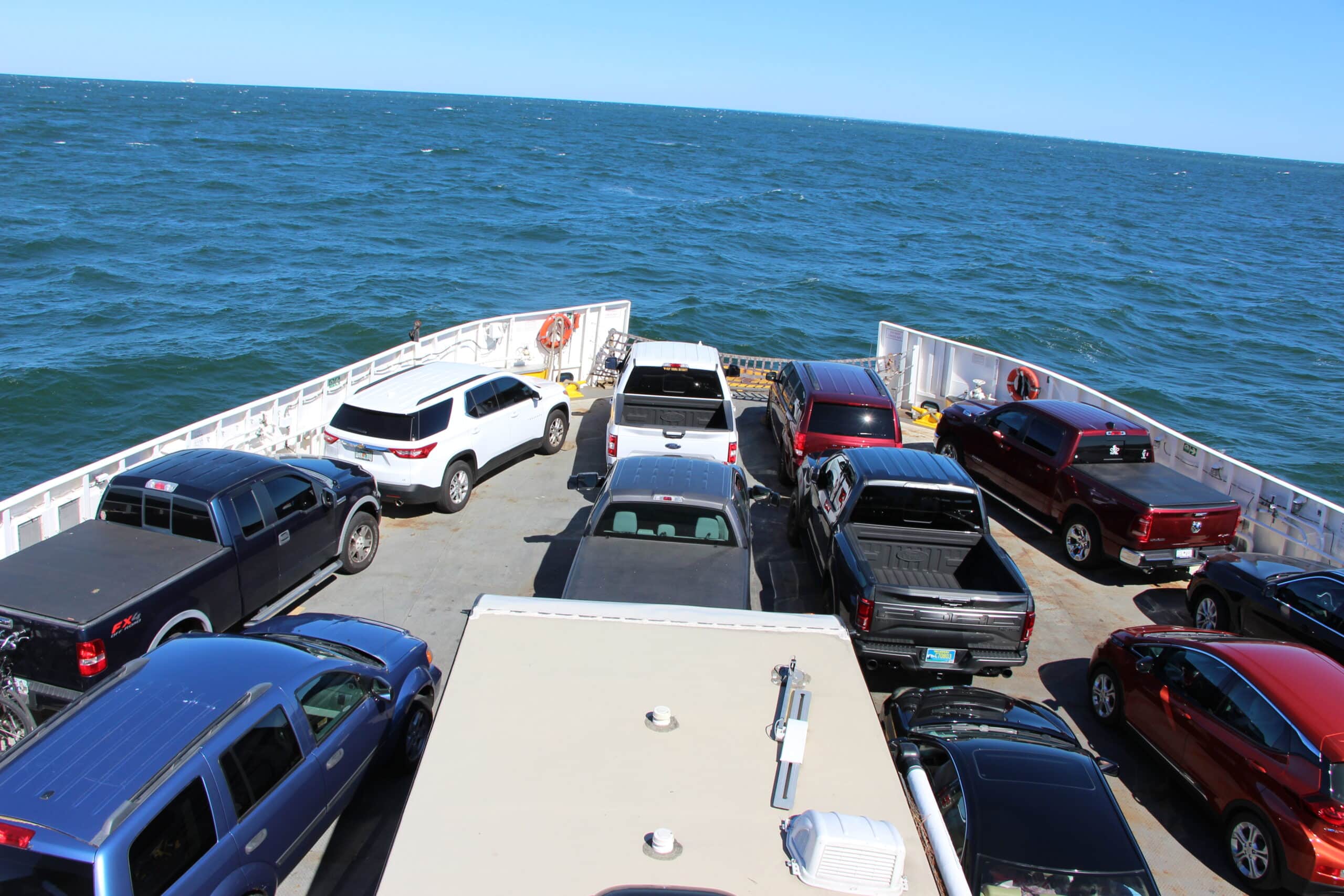 When we arrived at the terminal we were shown to the lane where we would wait until it was time for boarding. Each lane of cars was directed when to board and where to park on the ferry. Most passengers exit their car to enjoy the hour and fifteen minute ride. It is possible to access the car even during the ferry ride.
We exited our car and immediately went onto the deck to get views of the water. We passed a few lighthouses on the trip and enjoyed the fresh sea air.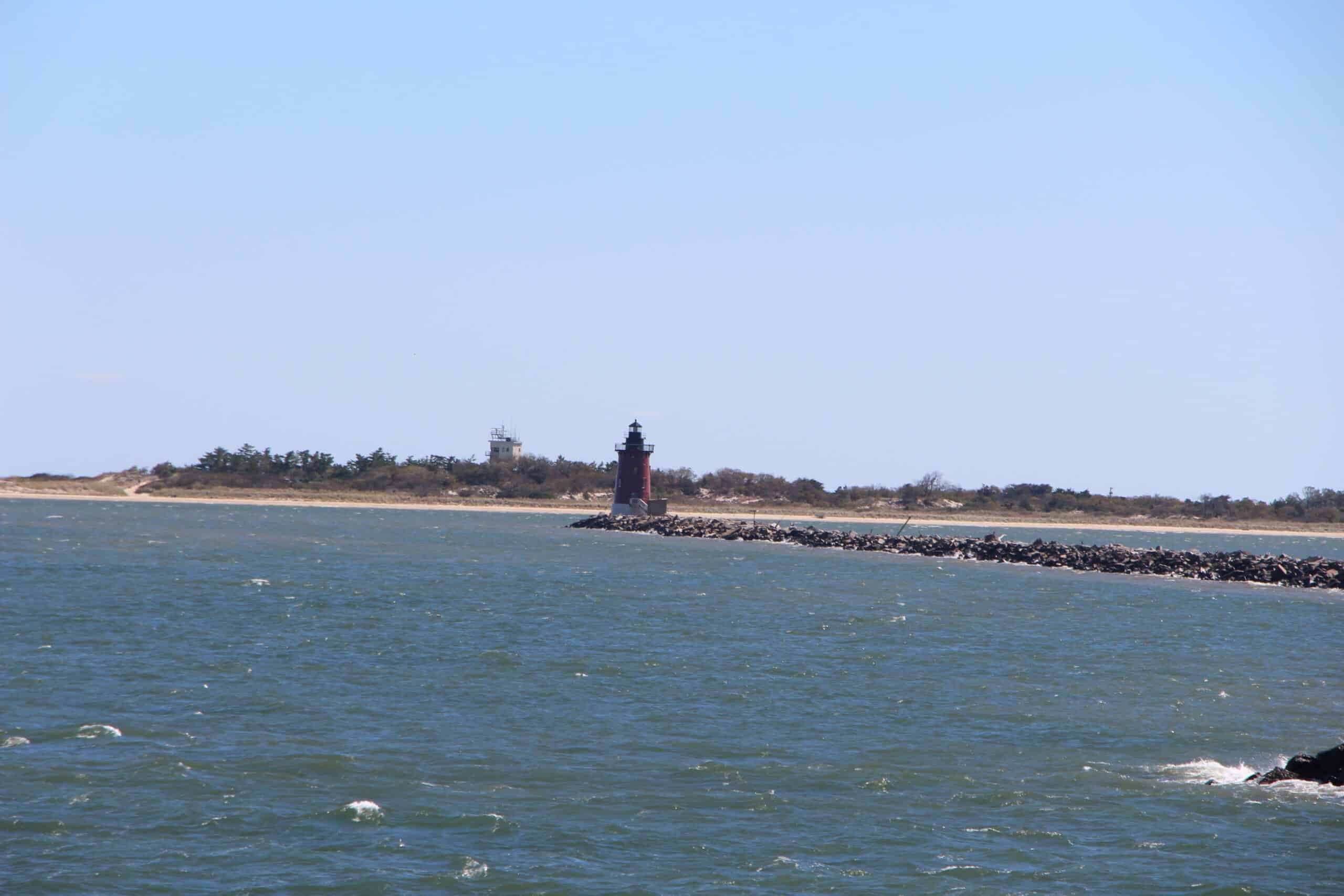 People told us that it is common to see dolphins when approaching Cape May but we weren't lucky enough to see them. When we exited the boat we noticed a playground at the Cape May Ferry Terminal. We really enjoyed the ferry ride and felt like we had a bonus trip while we were driving home.  
Address of Lewes Terminal: 43 Cape Henlopen Drive, Lewes, DE 19958
Address of Cape May Terminal: 1200 Lincoln Blvd, North Cape May, NJ 08204
Phone Number: (800) 643-3779
Hours: Check online for the schedule
These are the prices for Autumn Sept. 6 – Oct 31:
Adult (14 – 61 years): $10 for one way $18 round trip
Senior (62+ years): $8 for one way $14 round trip
Child (6 -13 years): $4 for one way $7 round trip
Child (under 6 years): Free
Military and First Responder (ID Required): $8 for one way $14 round trip
AAA (Adult; membership # required): $8 for one way $14 round trip
Vehicle Price:
Car, SUV, Pick-Up Truck (under 20′) (click here for long vehicle): $32 for one way $57 round trip
Motorcycle: $26 for one way $46 round trip
3-Wheel Motorcycle or Motorcycle w/trailer: $27 for one way $47 round trip
Scooter: $13 for one way $23 round trip
Bicycle: Free w/passenger fare
Website: cmlf.com
FOR EXCLUSIVE CONTENT AND A PEEK BEHIND THE SCENES, MAKE SURE TO JOIN OUR WHATSAPP STATUS HERE. JOIN OUR WHATSAPP GROUP AND WE'LL LET YOU KNOW WHEN A NEW POST IS UP!