These easy desserts are easy to make ahead (they're easy period) and look absolutely breathtaking.
People often call me randomly for help with recipe ideas. And I love to help…whether it's planning a menu (see all these menu ideas here and here!), sharing a new meat recipe, or coming up with an idea for a side dish. I've even recently received a request for a dessert recipe that will travel well on a 5-hour flight! Another called me for a dessert idea for a family that doesn't like chocolate, doesn't like fruit, and doesn't like anything served hot!
Some people have more simple requests. They just want a dessert that's easy and quick to prepare.
And I'm usually stumped. I don't really serve dessert often. Sometimes we have cut seasonal fruit. In the summer, we have ice pops, and in the winter I occasionally serve apple crumble. (Who needs dessert? No one is hungry after a Friday night meal, and no one needs the calories.)
That is, unless I have guests. When guests come I definitely can't skip dessert. Who says they are full after that meal? Perhaps they're the type that needs that something sweet.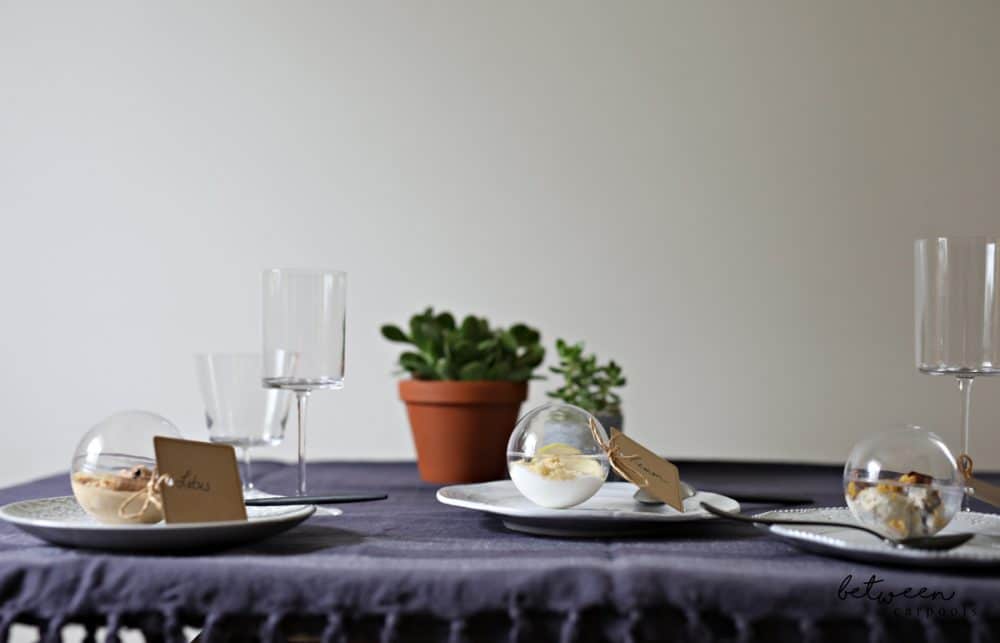 So I make dessert.
To me, the fun of dessert is all about the presentation. Even store-bought sorbet, place in a mini square mold (so it's a little different than that typical scoop), looks amazing. Here, I used plastic acrylic fillable balls to make really easy desserts look impressive. Add a kraft tag and the look is complete. 
The Lotus Ice Cream Ball = Lotus Biscoff Spread + Vanilla Ice Cream + Cookie Crumbs + Presidor Wafers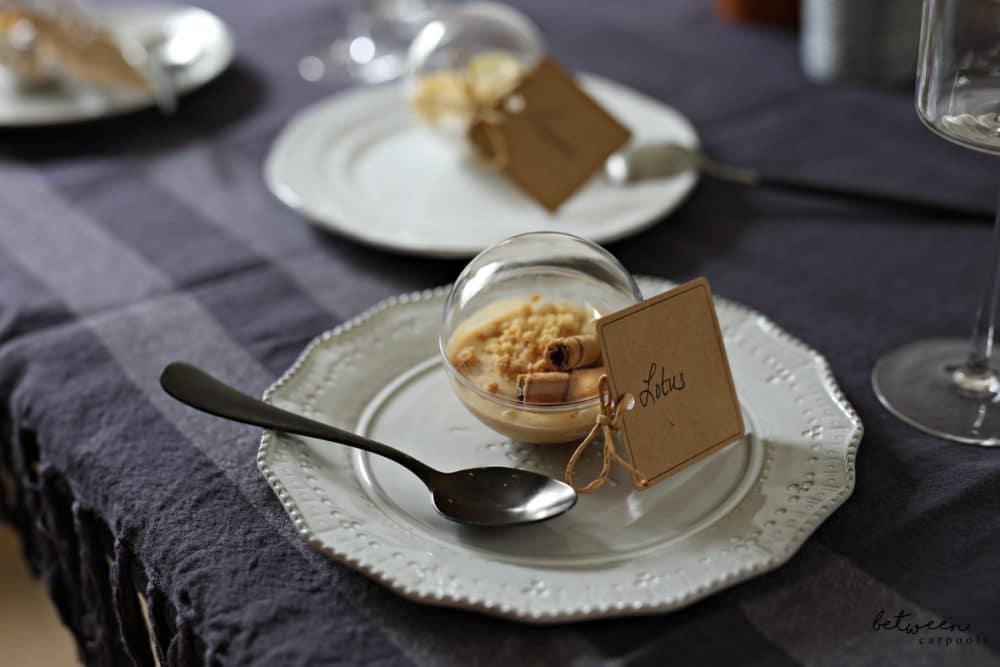 A few months back, Miriam Pascal of Overtime Cook made a quick Lotus Ice Cream Pie. She mixed some Lotus cookie butter with vanilla ice cream in a food processor and poured it into a graham pie shell. I adapted that idea but made a quicker version (with less cleanup) by not using a food processor.

Lotus Ice Cream Ball
Ingredients
1 (56-ounce) container vanilla ice cream
8 tablespoons Lotus biscoff spread
Garnish:
crushed Lotus cookies
Presidor wafers
Instructions
Melt the ice cream until it's easy to mix. Melt the biscoff spread in a microwave for 20-30 seconds, add to ice cream, and mix together by hand (though you can use a food processor if you like).
Place the ice cream into a Ziploc bag. Cut off the tip of one corner and "pipe" into half a sphere. Decorate with cookie crumbs and Presidor wafers.
Want to make your own cookie crumbs using Lotus Biscoff spread?
Combine:
4 tablespoons (½ stick) margarine
1 ½ tablespoons sugar
½ cup flour
2 tablespoons Lotus Biscoff spread
Shape into a flat 8 to 9-inch disk (like a giant cookie). Place on a parchment-lined baking sheet. Bake at 350ºF for 20 minutes. Let cool and crumble.
The Lemon Mousse Ball = Lemon Mousse + Streusel Crumbs + Lemon Wedge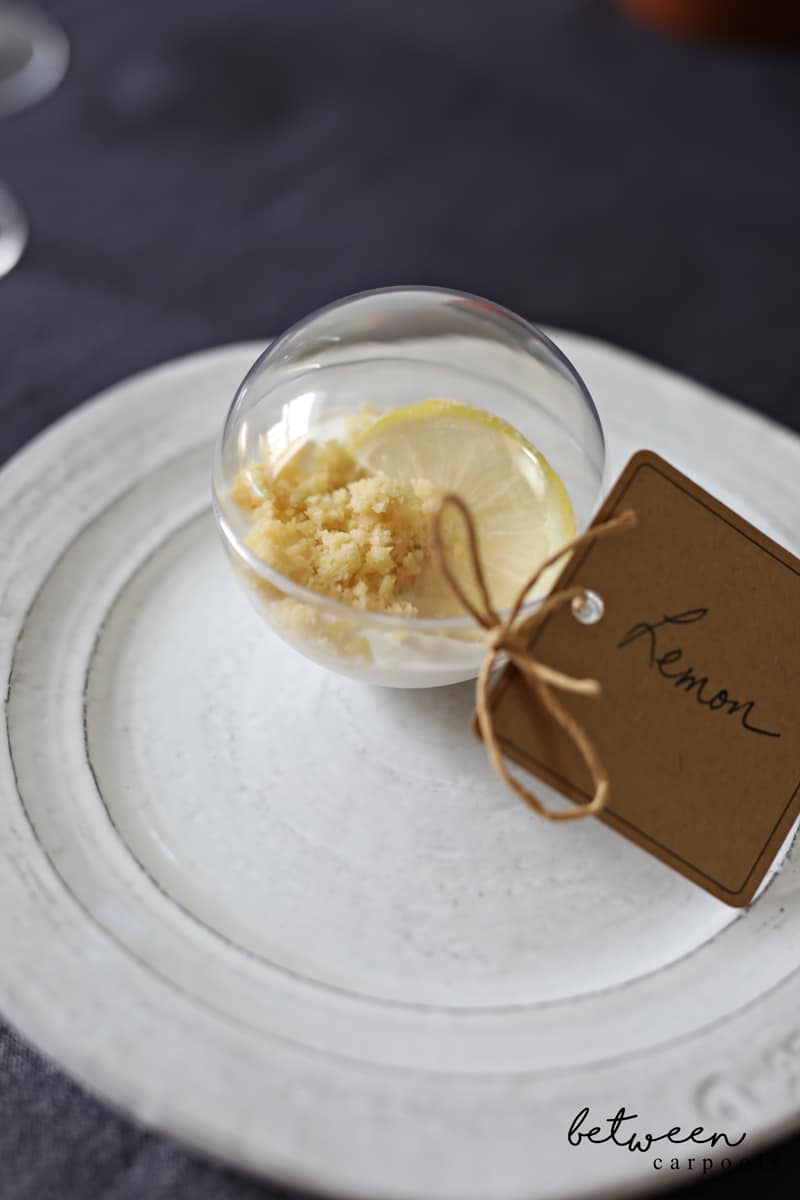 This is an old recipe I love that's light and refreshing. It was originally published in the Silver Spoon Cookbook.

The Lemon Mousse Ball
Ingredients
Crumbs:
½ cup (1 stick) margarine, at room temperature
3 tablespoons sugar
1 cup flour
Mousse:
3 egg whites
¾ cup sugar
2 tablespoons lemon zest
¼ cup lemon juice
1 (8-ounce) container nondairy whipped topping
Instructions
In a bowl, combine margarine, sugar, and flour by hand to form a dough. Divide into 2, and form 2 flat 8 to 9-inch disks on a parchment-lined baking sheet. Bake at 350ºF for 20 minutes. Let cool and crumble.
In the bowl of an electric mixer, beat egg whites until stiff. Slowly add sugar, lemon rind, and lemon juice. Remove from bowl and set aside. In the same bowl, beat whipped topping until stiff. Fold into egg white mixture.
Place mousse into a Ziploc bag. Cut off tip of one corner. Pipe into half spheres. Garnish with crumbs and optional lemon wedge.
The Chocolate Peanut Ice Cream Ball = Peanut Chocolate Chunk Ice Cream + Corn Flakes + Chocolate Shavings
Melt 6 ounces chocolate chips. Mix in 6 tablespoons peanut butter and 1 ½ cups corn flakes. Spread mixture on a baking sheet lined with parchment paper and let set.
Cut into small chunks and mix with slightly thawed vanilla ice cream. Place into balls and garnish with chocolate shavings. Add corn flakes before serving.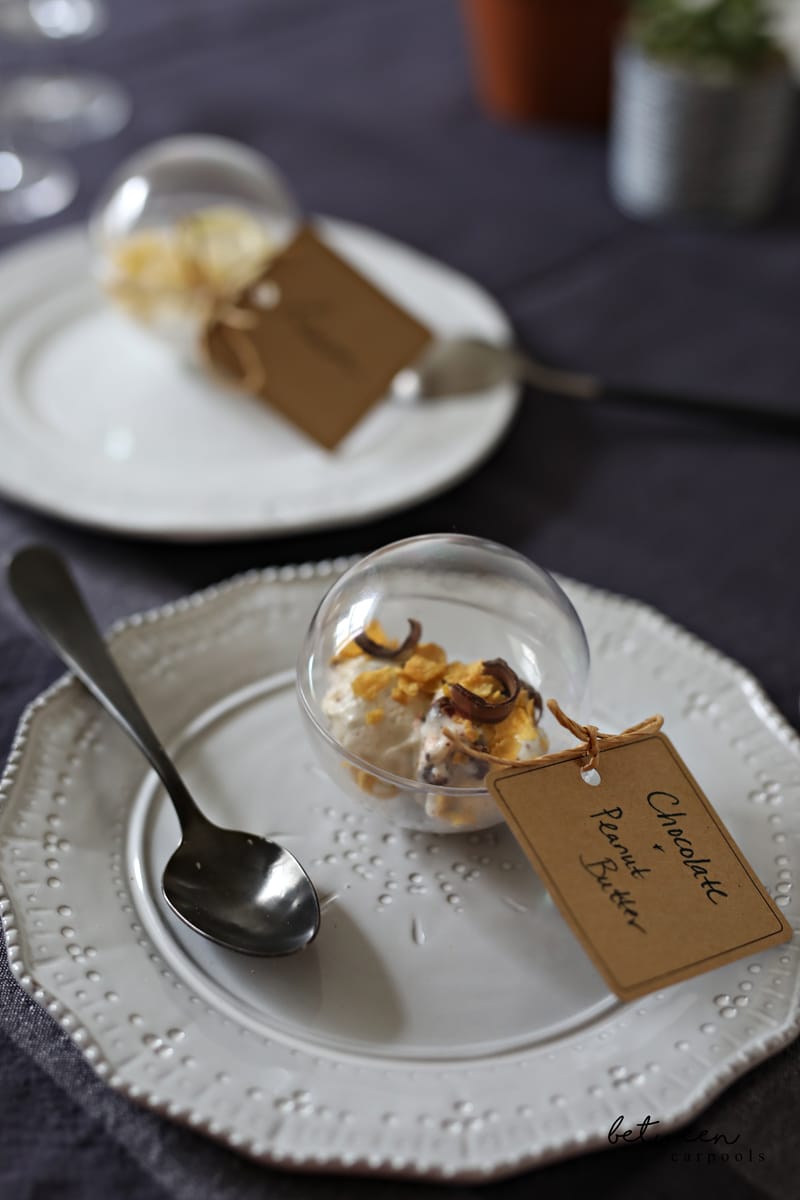 Enjoy!
You can find the acrylic plastic balls and tags online or at most craft stores.
You might also like the babka bun recipe that should be baking in your oven right now!