Make sure these pool essentials are in that bag!
What's better than having a pool in your backyard? Having a pool in your sister's backyard! But that requires packing up for every pool trip (about 4 times a week for us). Here are some of my essentials: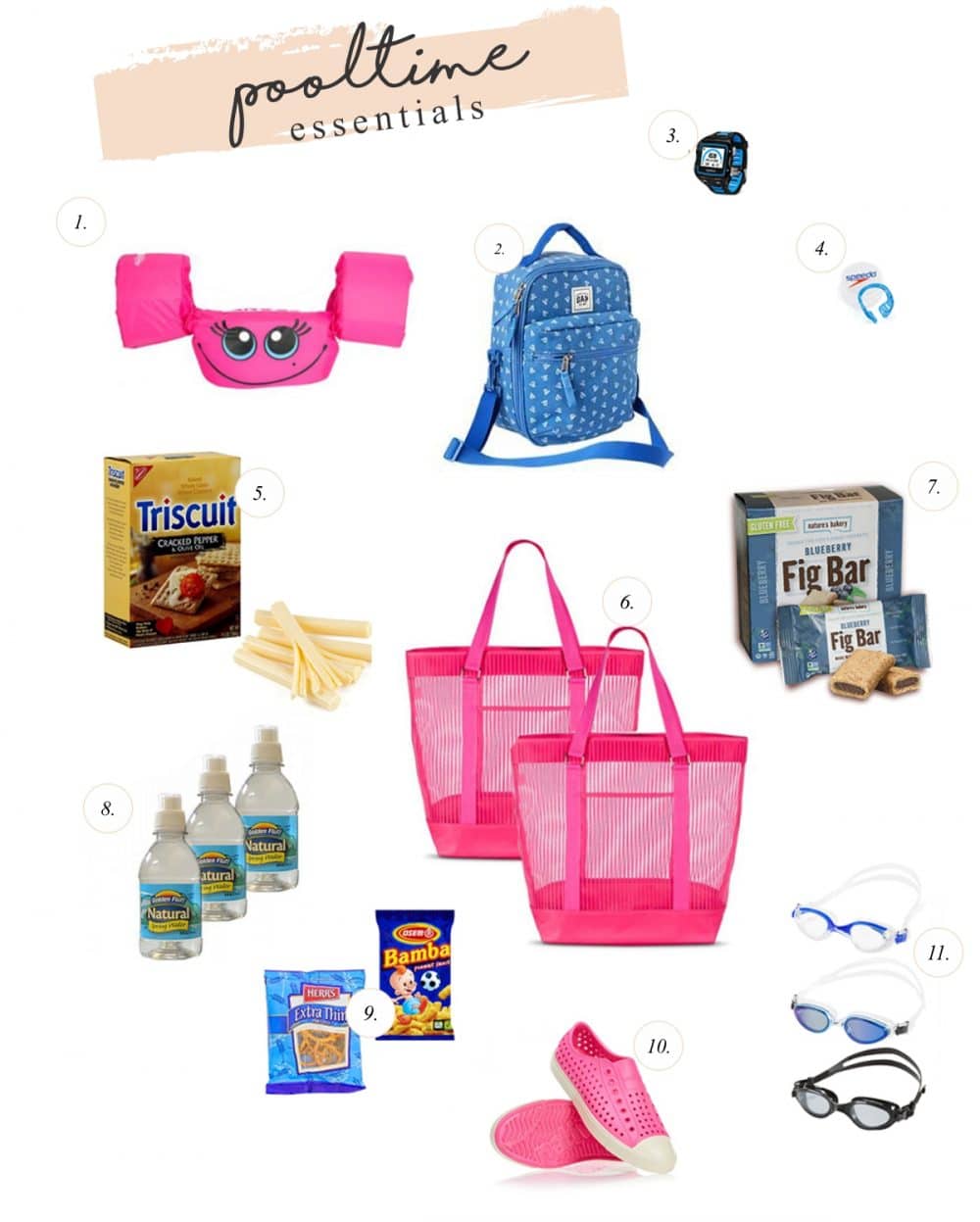 Puddle jumper. If you have a child between the ages of 2 and 5, you need this. Yes, need. Of course, no flotation device is a substitute for supervision, but this ridiculously effective one is definitely a substitute for your arms.

Available on Amazon.

Insulated lunch bag. See number 5.

We have a few

 from

Lands' End

or use a large one from Amazon.
Apple watch. Waterproof. Tracks laps. Displays texts from your phone while you're under the water. And helps you along with the countdown from "10 more minutes, guys!"

Available on Amazon.

Nose clip. Yeah, I'm a baby who doesn't like to get water in my nose.

Available on Amazon.

Crackers and cheese. It's a meal. It's a snack. Somewhat nutritious and a crowd favorite.
Giant beach bags from

Target

. I can easily fit 4 towels and all other essentials in one of them. And I always bring a second empty one for the wet stuff.  (These work great for library books, too.)

Goggles. Lots and lots of goggles. I buy a couple of multi-packs for kids and adults at the beginning of the summer because bickering over who gets the one pair of goggles is not what I want to hear. See our tip to avoid lost goggles here.
Snacks. Not nosh. Just filling snacks like pretzels, granola bars and Bamba, which the kids will eat when they're hungry, not just for fun. And these don't spoil so they can sit in the bag until they're needed.
Golden Fluff 8-ounce water bottles. They're not too heavy to carry a few.
Natives. Move over Crocs—these shoes are so much better! They fit like a sneaker, so kids can really run around in these without tripping. Available on Zappos.com
Fig Bars. These are mama's snack. I stock up

and keep a couple in my car, purse, camera bag, etc.