Making a menu and crossing dishes off can even be fun and satisfying. 
No matter how digital we've become in 2019, I still need paper and pen to write a menu. The first time I made a menu (when I was a single girl), I used a pencil and ruler to make my grid (I didn't even have access to a computer then). Now, I use this template, and I print several copies.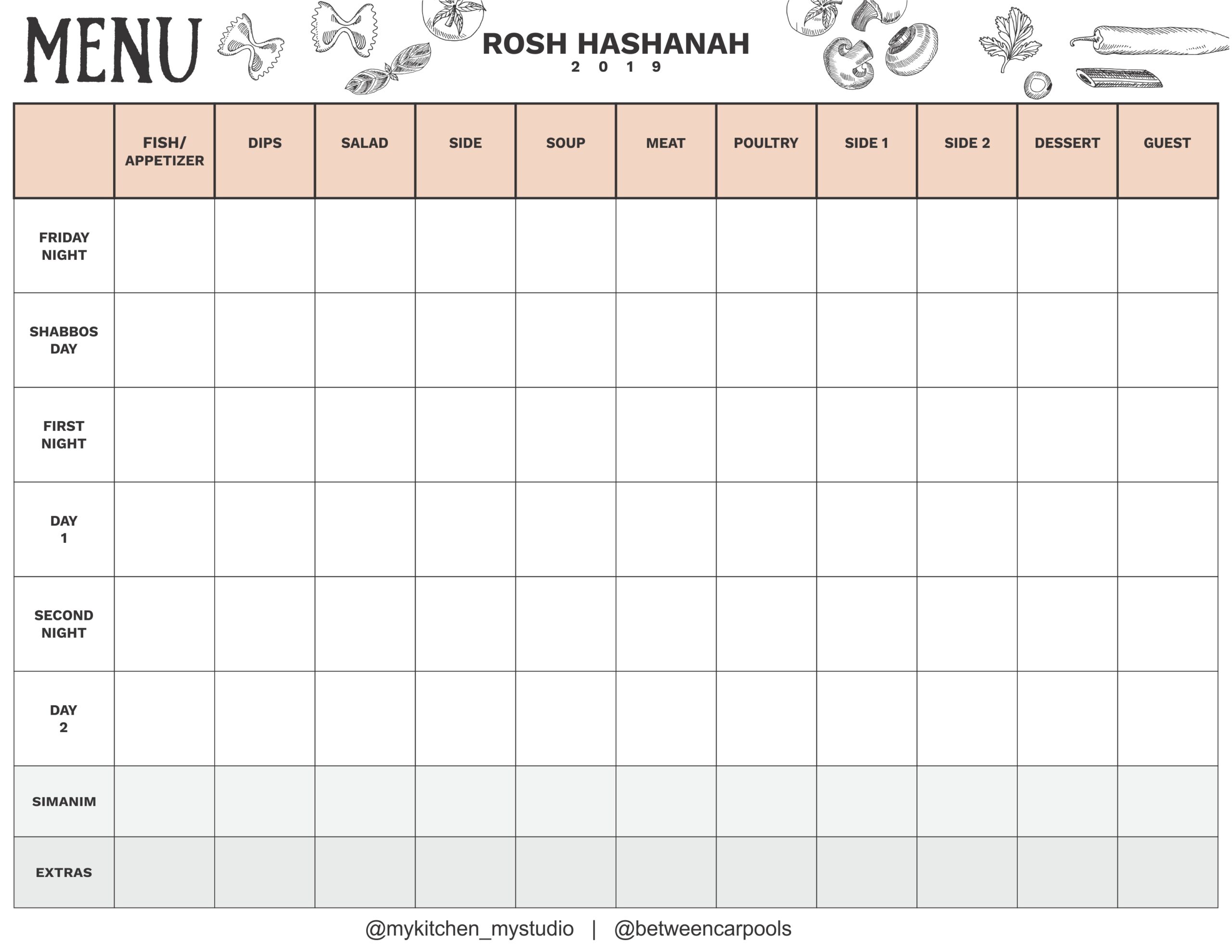 DOWNLOAD YOUR FREE COPY HERE.  (LEFT COLUMN, EMPTY VERSION HERE)
Copy 1: This is a scratchpad to throw ideas around
Copy 2: This is a kitchen copy, where I make notes next to each dish and highlight as dishes get cooked and done.
Copy 3: A final copy with no notes or scribbes. This one is hung up in the kitchen over Yom Tov so I know what to serve when (Ask your LOR. My Rav told me to laminate or keep the menu in a sheet protector so as not by mistake to come to change it over Yom Tov, otherwise it can be muktzeh).  
Making the Menu
Before I get to my actual menu making, I refer to my master list of recipes that I've tried and liked. For example, under the fish category, I have a list of all my fish dishes with a reference of where it came from (for example, Salmon Tartare KBD30 means it came from Kosher by Design page 30). 
Now, I can start plugging dishes into my template. If I'm having a lot of guests by a meal, I will choose bigger and heavier dishes. If it's just my immediate family, I'll serve a small cut of meat or skip the sides.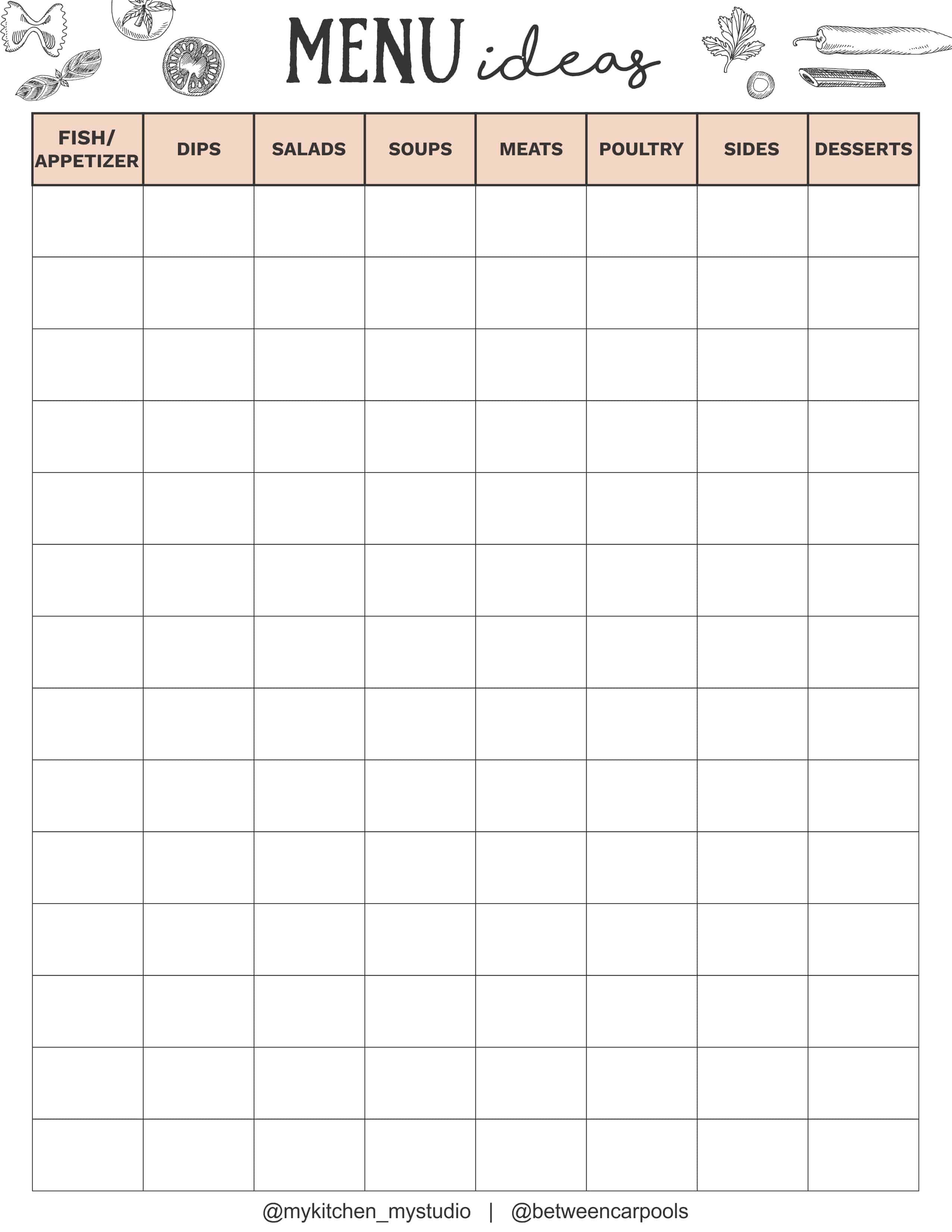 DOWNLOAD THE TEMPLATE HERE.
When using this template, don't be pressured to fill in all the boxes! I will grey or "X" out a box that I'm not using. 
Once my menu is filled in, I list extras on the bottom of items that I don't necessarily have on my menu, but I would like to make anyway. For example, I always make extra shnitzel for the kids, or extra gefilte fish…things that are just good to have around. On my very first Rosh Hashanah at home, I made the mistake of not having extra food. My kids were starving. I didn't take into account the very long morning while the men are in shul and the fact that the little ones would be eating supper earlier than the actual seudah. I had made exactly enough for the meals. Lesson learned. In a Yiddishe home, always have kugel and schnitzel on hand. 
Grocery Shopping
Now comes the fun part! The shopping list. I break it up into the departments of my grocery. (Each grocery is divided differently and some of you go to multiple places so this is different for everyone).
My categories are as follows
Produce
Meat/poultry
Frozen/dairy
Paper goods
Grocery
I also have my categories in order of my store aisles. I go down my menu plugging in the ingredients I need from each section. This will help you avoid bouncing back-and-forth around the store. Cross items off your list as they go into your cart. 
Keep a separate list of items you will purchase at the last minute, such as fresh lettuce. 
Once you get home, divide your groceries up between what you're using right now and what you won't need until later on.
Now, It's Time to Cook!
At that point, I start cooking. And I don't stop.
After I have cooked something, I highlight my kitchen copy (Starting with my baking. I find it's the most time consuming and messiest).
Happy cooking!!