There's no need for total deprivation, nor do you need to throw your health goals out the window come Chanukah. This is what to keep in mind while having your treats and enjoying them too.
Despite all the excitement and magical feelings come Chanukah, there are many people who feel stress and anxiety when thinking about all of the fried food that is associated with the holiday.  
From my experience, there is often a feeling of two extremes: either totally deprive yourself of any foods that are fried, starchy, or decadent, or don't even bother with trying to make healthy choices because it is a "lost cause" and the diet will start after Chanukah.
There is a lot of noise in the world of nutrition. Many people have their opinions and will share them, whether credible or not. It can be confusing, contradictory, and overwhelming. As a Registered Dietitian Nutritionist and fellow frum woman, I want to dispel some nutrition myths and encourage some healthy suggestions to keep in mind this Chanukah.
As for some myths:
Foods are not "good" or "bad."

You are not "good" or "bad" because of the food choices that you make.

Carbohydrates should not be avoided.

Sugar is not poison.
Now for some healthy suggestions to keep in mind this Chanukah: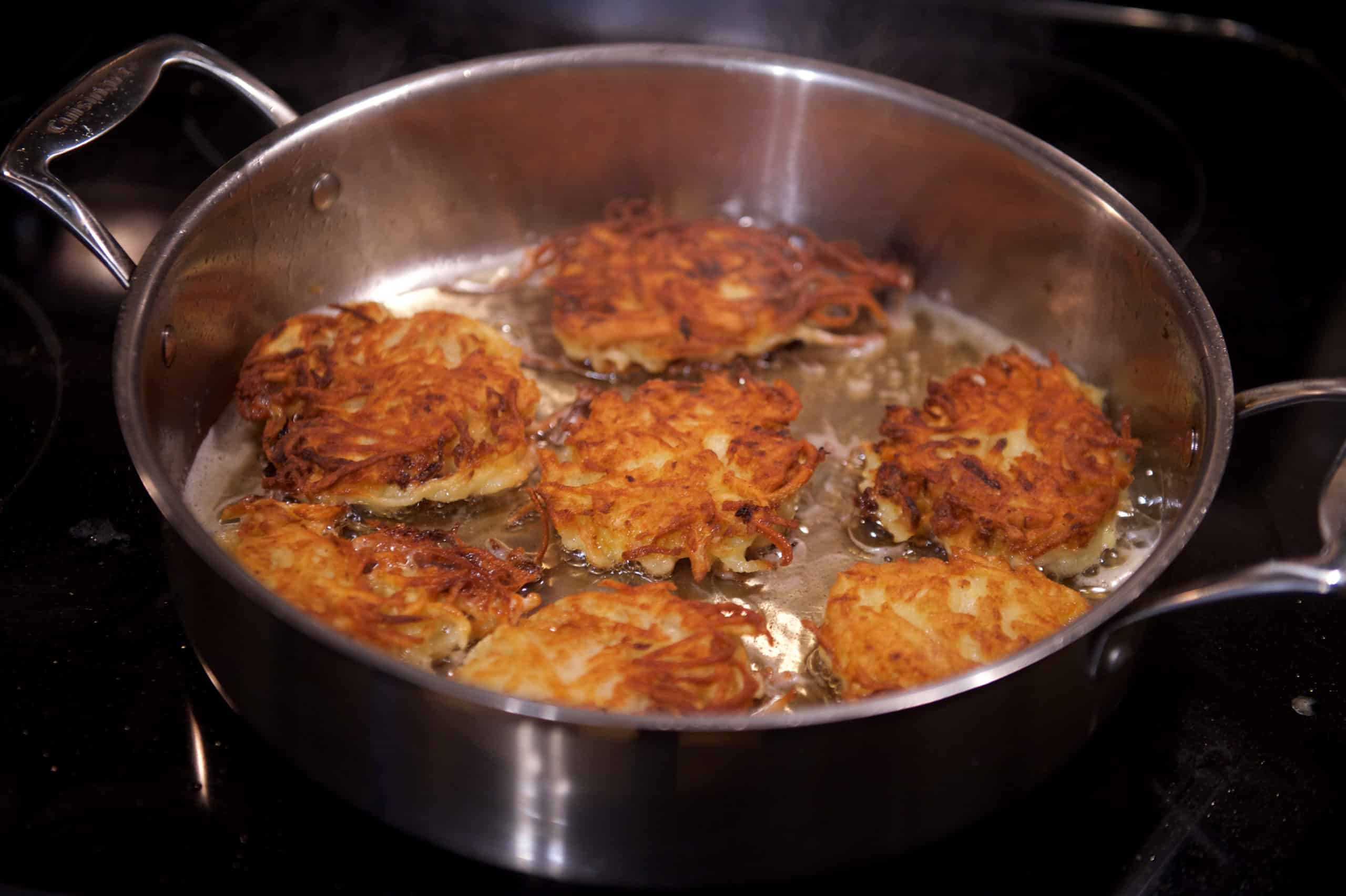 Savor instead of swap.

Think about the big picture and what your health goals are. Do you want to eat latkes and donuts? Would you prefer to skip them this year? Be thoughtful and honest with yourself – you know yourself best! While you can adjust your Chanukah menu by only making latkes with non-starchy shredded vegetables or baking whole wheat donuts, I generally recommend sticking with the traditional Chanukah food basics in moderation.

Be picky.

While foods aren't "good" or "bad," the food choices that we make may have an impact on our health. With moderation in mind, be picky! Make sure that you choose indulgences wisely; focus on what you truly crave and will enjoy, rather than what is available in your immediate environment or what "everyone at the party" is eating. 

Be mindful.

Tune into your body's hunger and satiety cues. (Making sure that you are properly hydrated will help with this, by the way!) Once you choose a treat (not "cheat" – let's keep it positive) to indulge in, take your time to focus on savoring each bite. Notice the presentation, aroma, texture, and taste of your food. Eat, enjoy, feel satisfied, and move on happily.

Think outside the frying pan. Think about creative and delicious ways to incorporate healthy foods into your Chanukah themed meals. Some ideas include a Greek salad, a Greek yogurt parfait bar, and a vegetable platter with an accompanying olive dip.

Be flexible.

While it is a good idea to anticipate what menu items will be available to you, and subsequently plan what you would like to eat, it is healthy and I encourage you to give yourself the freedom to deviate from that plan. While exercising this flexibility, make sure to also consider how your food choices will make you feel and how they align with your health goals.

Shift your focus.

Focus less on the food and more on the amazing memories that you can create for yourself and your family.  
Take a walk after candle-lighting and admire the Chanukkah candles on display in your neighborhood

Plan a fun arts and crafts activity (or two!) that you can focus on and enjoy in the moment, and then put on display in your home.

With the theme of miracles in mind, each day take the time to notice a small miracle or "kiss from Hashem" moment.  Write it down in a journal, on a poster, or share it verbally with others at the time of your choice.
Be kind to yourself.

Engage in positive self-talk. You are not defined by the food choices that you make. If you splurged more than what you had initially planned, that is okay! Use it as a learning experience and move on.
Disclaimer: The information relayed is not meant to be used as Medical Nutrition Therapy. Please consult with your physician if you have specific questions regarding your specific health.