There's nothing easier. And your guests will go nuts. Everyone will rave about how great the meat is. And you'll laugh inside. Because all you did was put corned beef in the Crock-Pot. This is the perfect solution for Shabbos lunch or even on a busy day like Purim when you need an effortless main course.
I first got the idea to cook corned beef in the Crock-Pot three years ago after reading this post, where Leah wrote that a pastrami roast can be cooked in a Crock-Pot filled with water for 6 hours on low.
Well, if it works for pastrami, I realized, then it would work just as well with corned beef. They're both pickled meats. They're both already seasoned, and they're both sold in vacuum-sealed bags.
Since then, I began throwing either vacuum-sealed pastrami or corned beef into a second Crock-Pot with water whenever I'd be having some extra company for Shabbat lunch and I knew I'd need more meat than would fit in the cholent. Or just more meat for more mouths in general.
At the Shabbat lunch for my son's bar mitzvah, there would be 80 people eating over, so I had three Crock-Pots on. One huge one for the cholent (with I don't know how many kolichals inside). Two regular-sized Crock-Pots each held two roasts, one with two pastrami roasts, and one with two corned beef roasts. There were more than 20 pounds of meat altogether. And it was so effortless on my part. Since then, whenever there's company, there's a second Crock-Pot with one of these meats or the other.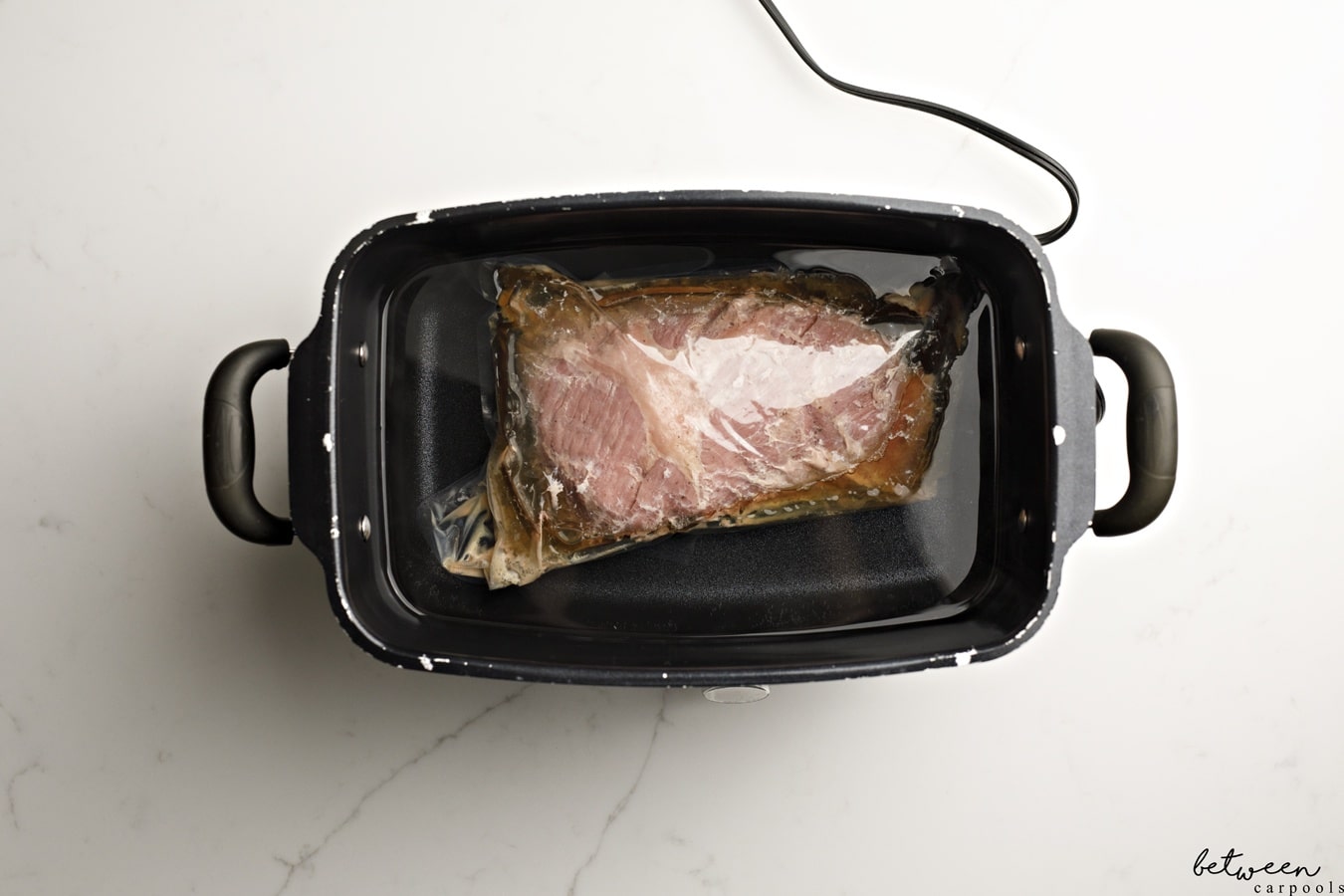 Simply fill the Crock-Pot about one-third of the way with water and add the meat in the bag. Cook on low from when Shabbos or Yom Tov starts until the next day. That's it.
If you want to serve this for a Yom Tov lunch on the second day (so you can have a break from the cooking!) just plug your Crock-Pot in before Yom Tov (with the water is fine) and add the meat the night before your meal.
I think this is also an amazing main dish for the Purim seudah too! You're so busy that day, who doesn't need an effortless, yet important, main dish? Add the meat to the Crock-Pot early in the morning and you're free to go deliver mishloach manot until it's time to enjoy the Seudah!
Crock-Pot corned beef (and pastrami) has to be the dish with the biggest "least work" to "most rave reviews" ratio. It's actually amazing how crazy people go for this meat when all I did was drop some vacuum-sealed meat into a Crock-Pot filled with some water.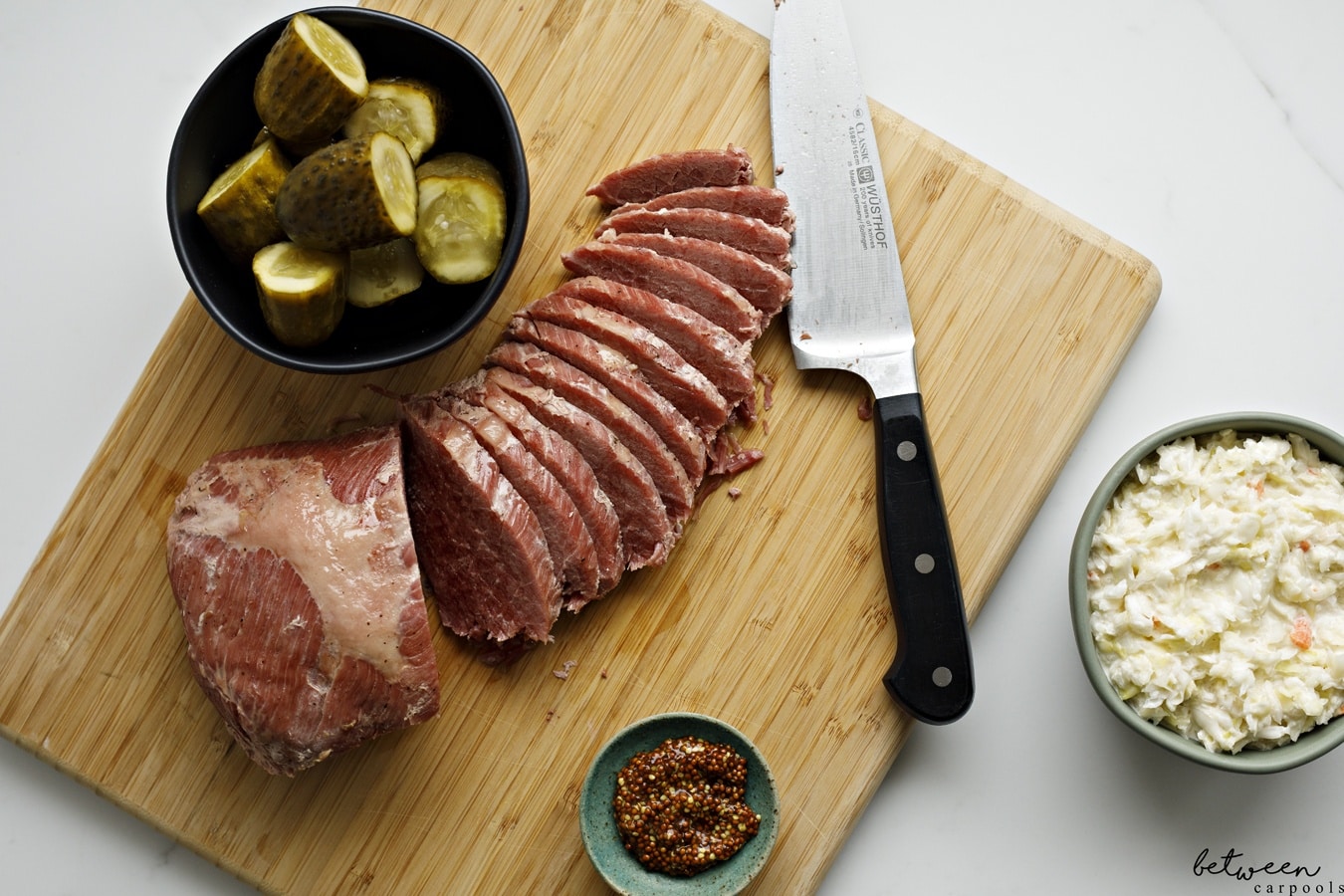 The only hard part about preparing this dish is when you need to take it out of the bag after removing it from the Crock-Pot. All the liquids that the meat released are in the bag, plus it's super hot, so it can be a little challenging. I find it's easiest if you put an aluminum pan in the sink. Put the bag in it, cut it open, and release the liquid into the pan. Then you can open up the bag a little more and transfer the meat to your serving platter. And then it's easy to drain the water from the pan. It's much harder to try to hold the hot bag of meat in the air while trying to drain the water without any meat trying to get out with it.
It's important to note that not all corned beef or pastrami roasts are the same. Butchers pickle different cuts of meat of differing qualities (there's first cut, second cut, top of the rib, brisket…every butcher labels theirs differently). At the butcher shops where I buy meat, the best cuts are labeled "brick." An easy way to tell which corned beef is the best in your butcher's showcase, of course, is simply by looking at the price per pound! Choose the cut that works for your family.