I don't like rolling cookies into balls. With this hack, it's not really necessary.
When my oldest daughter was three years old, she had one of her first playdates, and I decided to bake cookies with the kids. After we had made the dough, each one taking turns adding ingredients, one of the moms arrived to pick up their child. I suppose I was schmoozing by the door for a few minutes, because when I returned to the kitchen, my daughter had rolled all the dough on her own into balls, and they were neatly lined up on the parchment-lined tray.
I was incredulous. It was the first time any of my children had done something like that on their own at such a young age (there are only boys on top of her). I was also relieved. I really don't like the tedious task of rolling cookie balls. I much rather make the type of sweet item I can pipe.
My daughter isn't always around when I make cookies, but even when she is, this square cookie hack makes the cutest perfect little mini cookies…and there's no rolling required.
Use this hack for any cookie recipe, whether it's a drop cookie or a cutout cookie.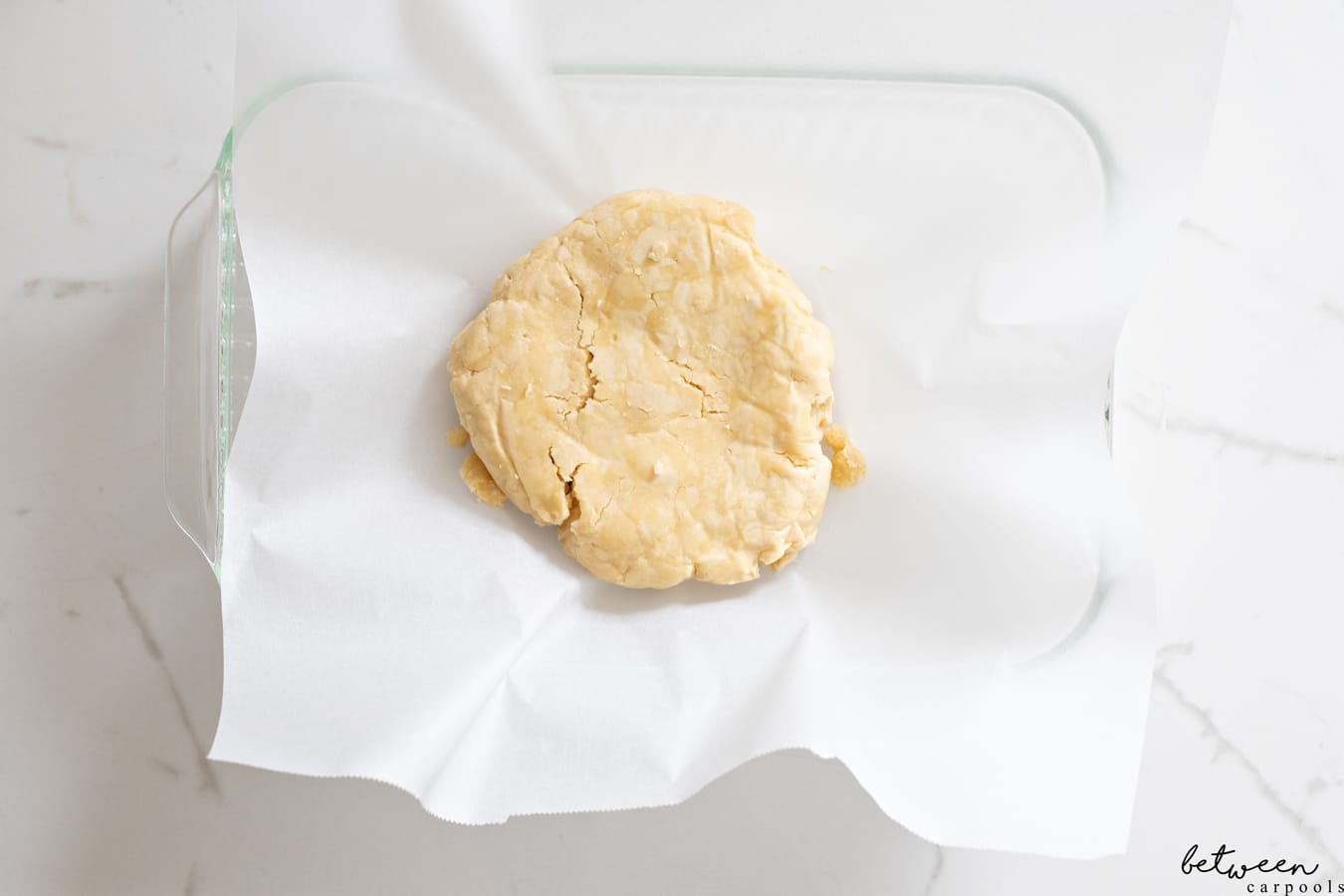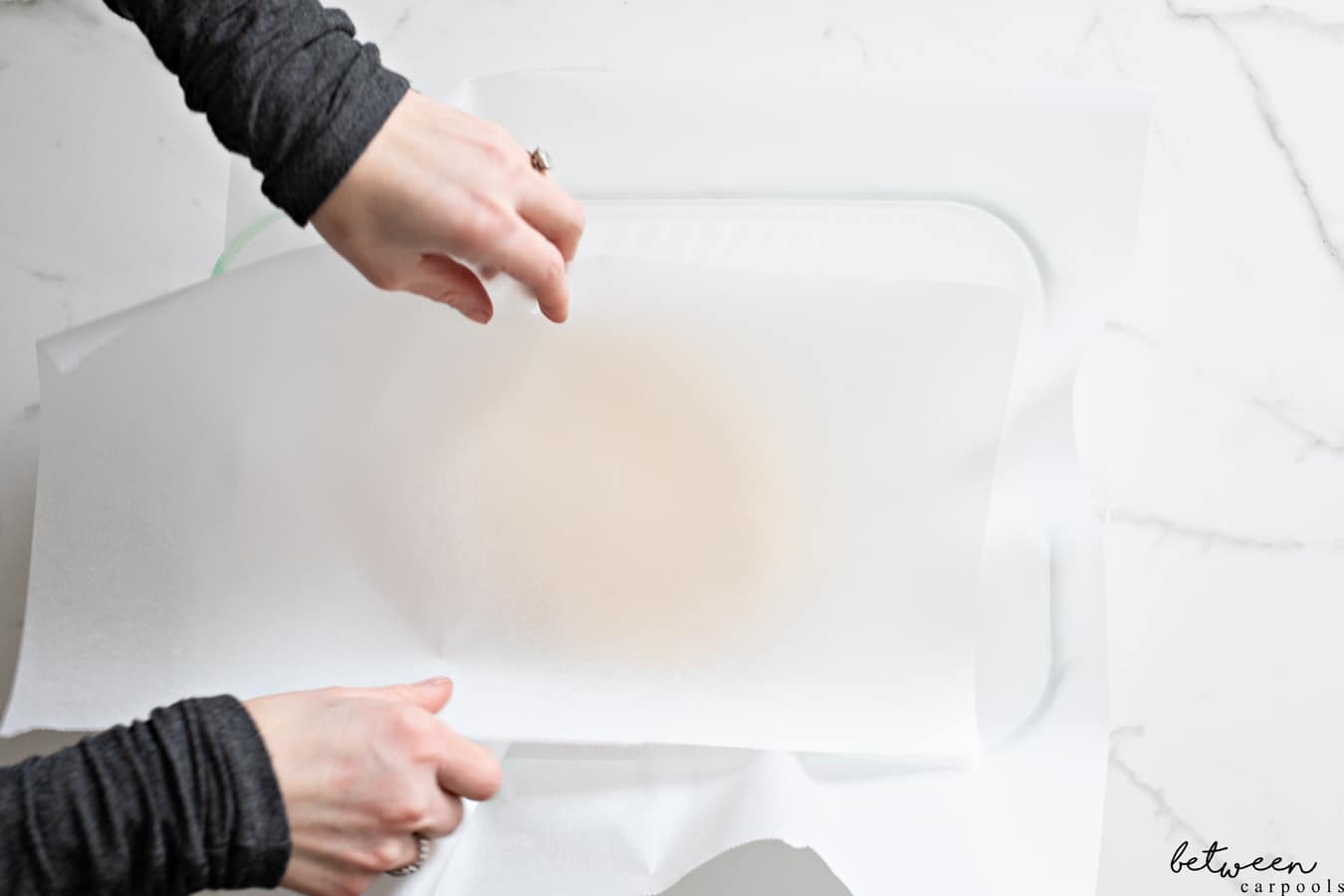 First, just press the dough into a parchment-lined Pyrex. You can first roll the dough out a little with a rolling pin to give it a headstart. And while you can technically use a 9×13, a Pyrex or any stiff baking pan will work better because of its stiff sides.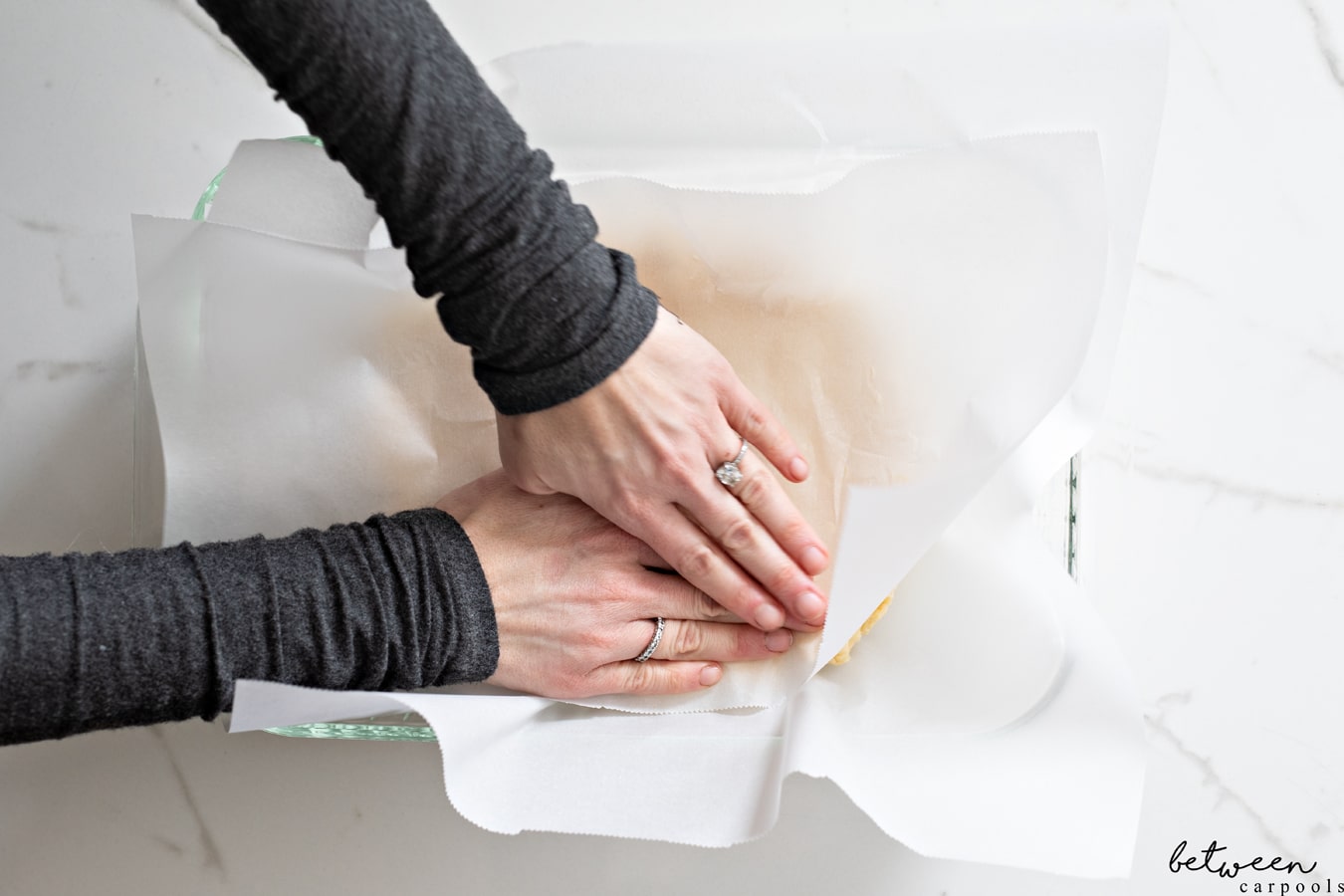 Make sure to press the dough all the way to the edge. You want to have straight sides.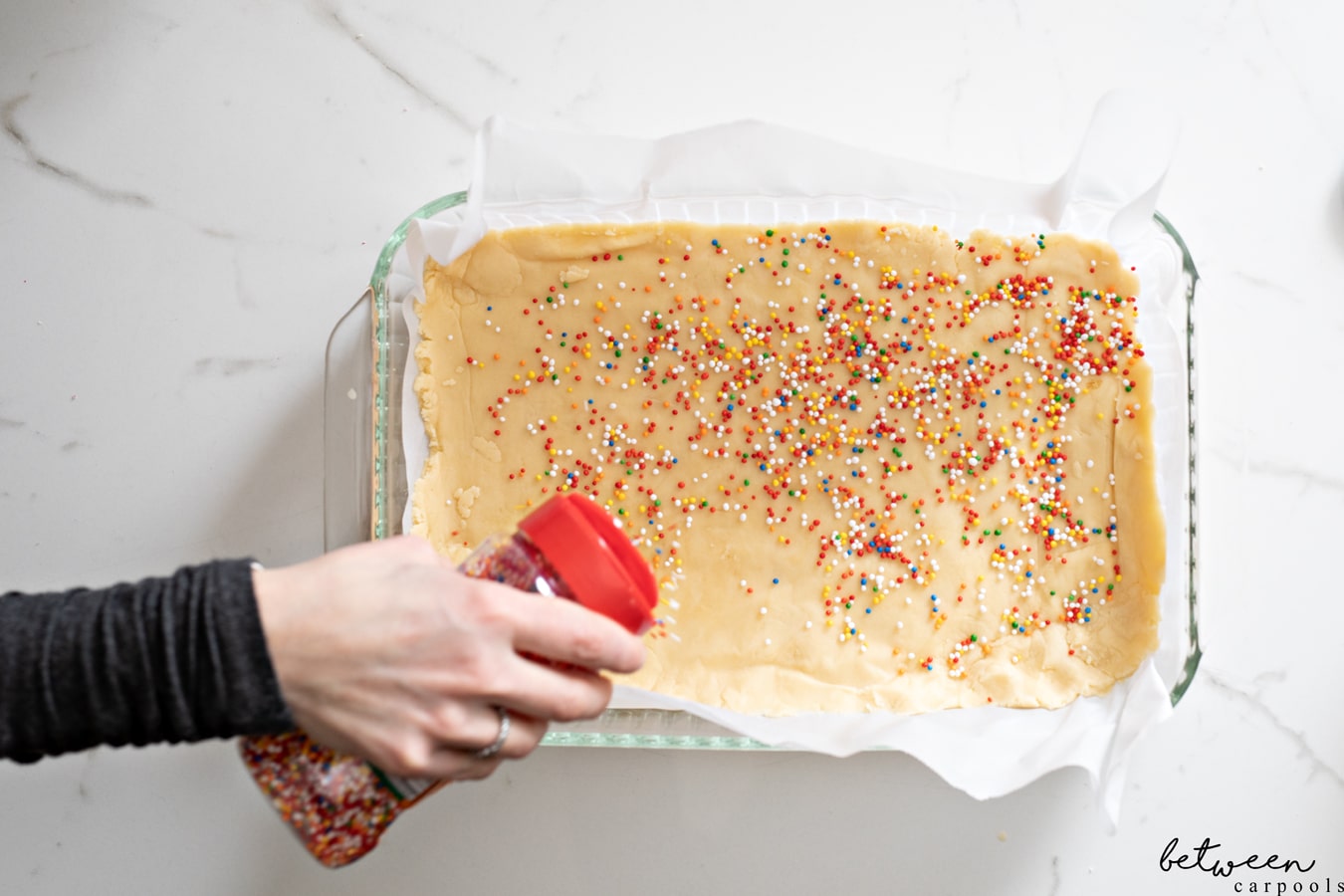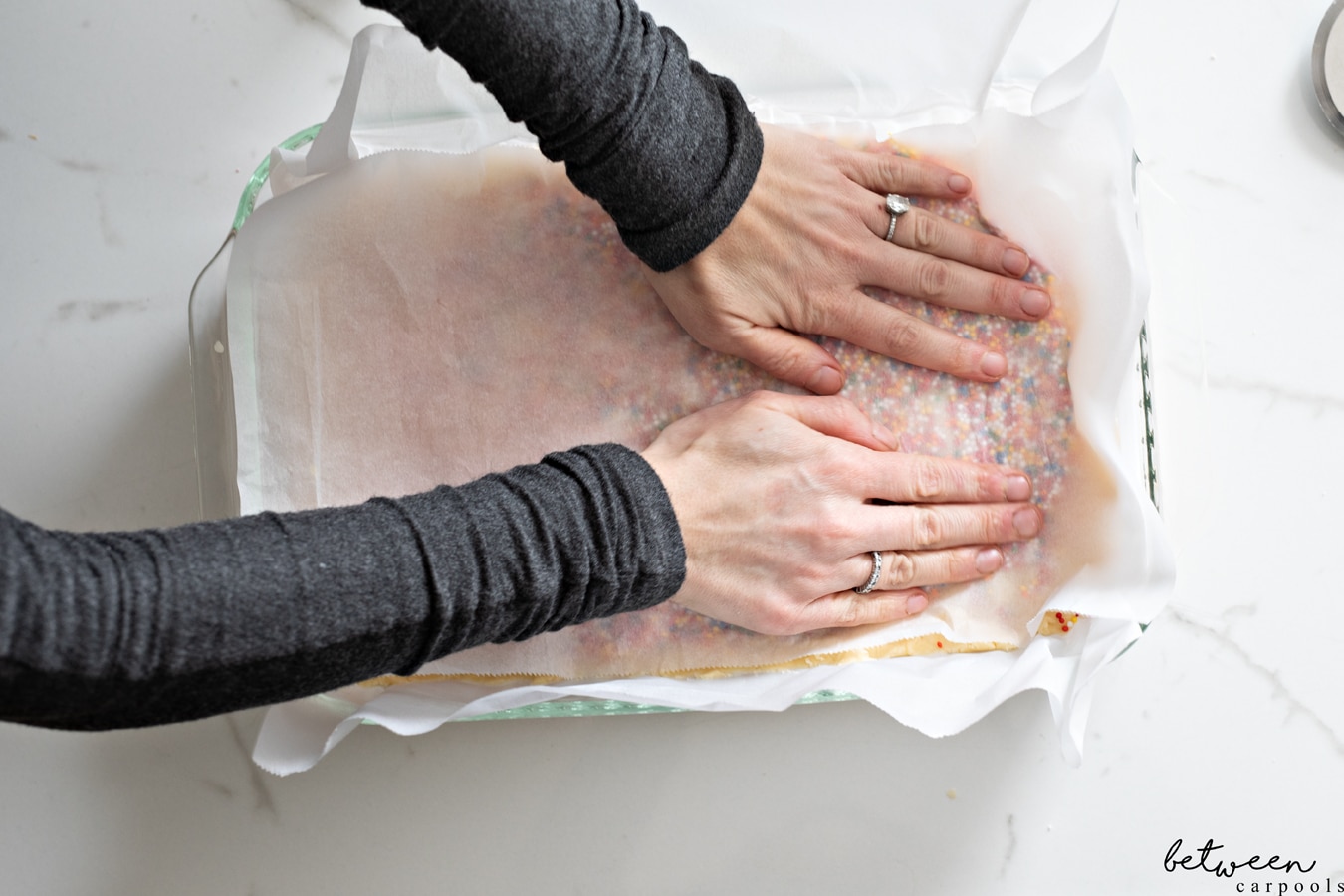 If your cookie has sprinkles or a topping, sprinkle the topping on now and press it into the dough using a piece of parchment.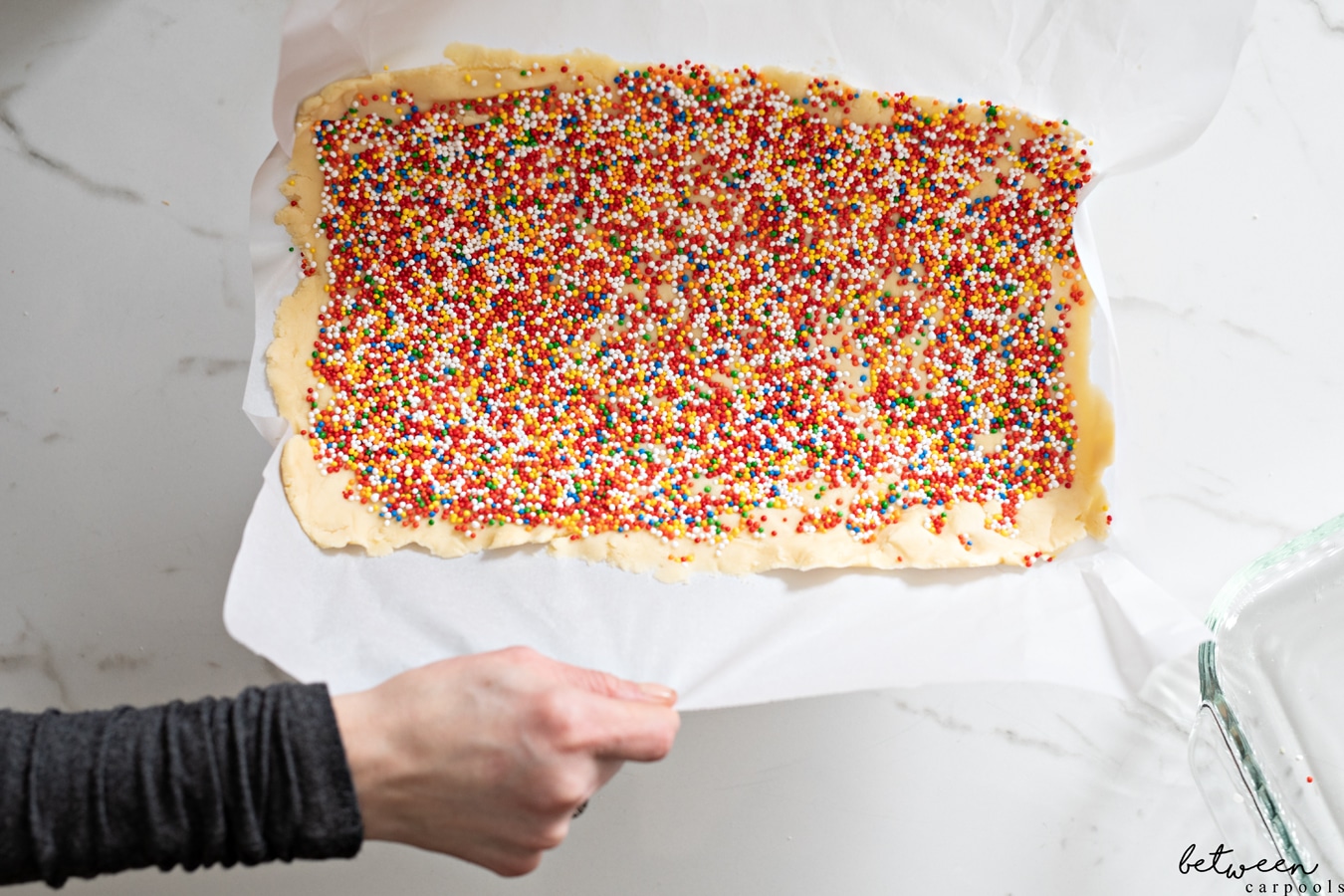 Lift the dough out of the Pyrex using the parchment paper.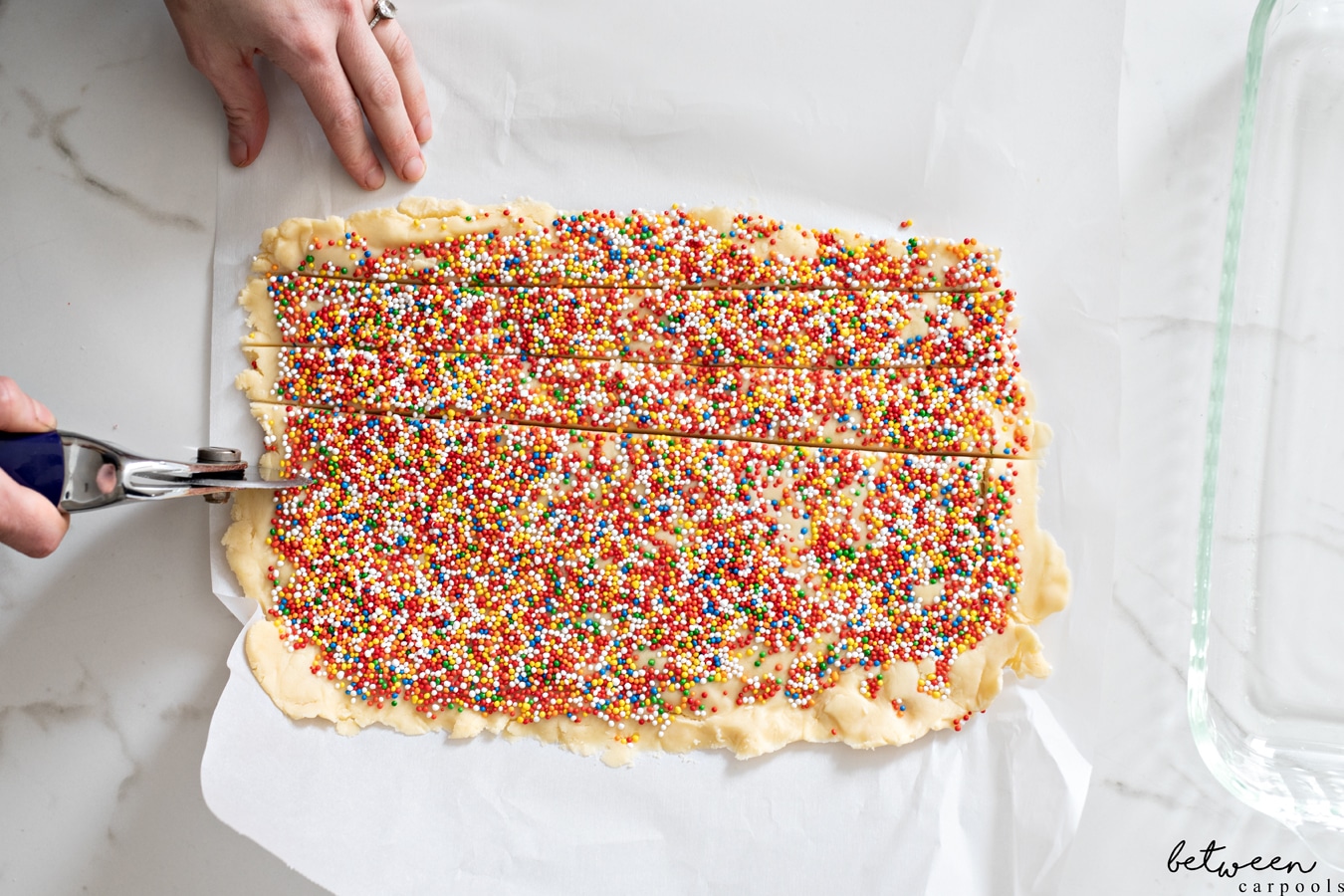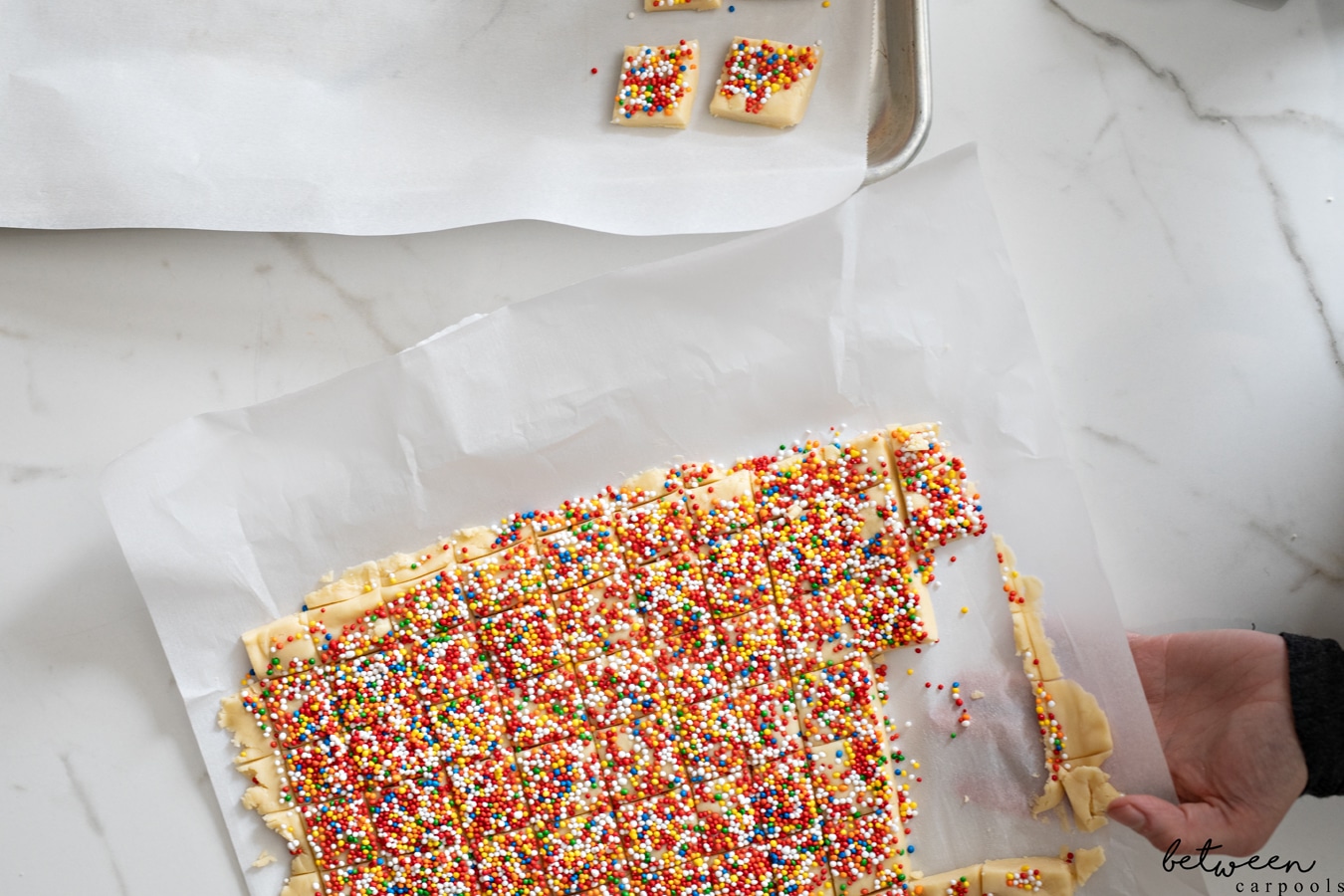 Using a pizza slicer, neatly slice the dough into little squares.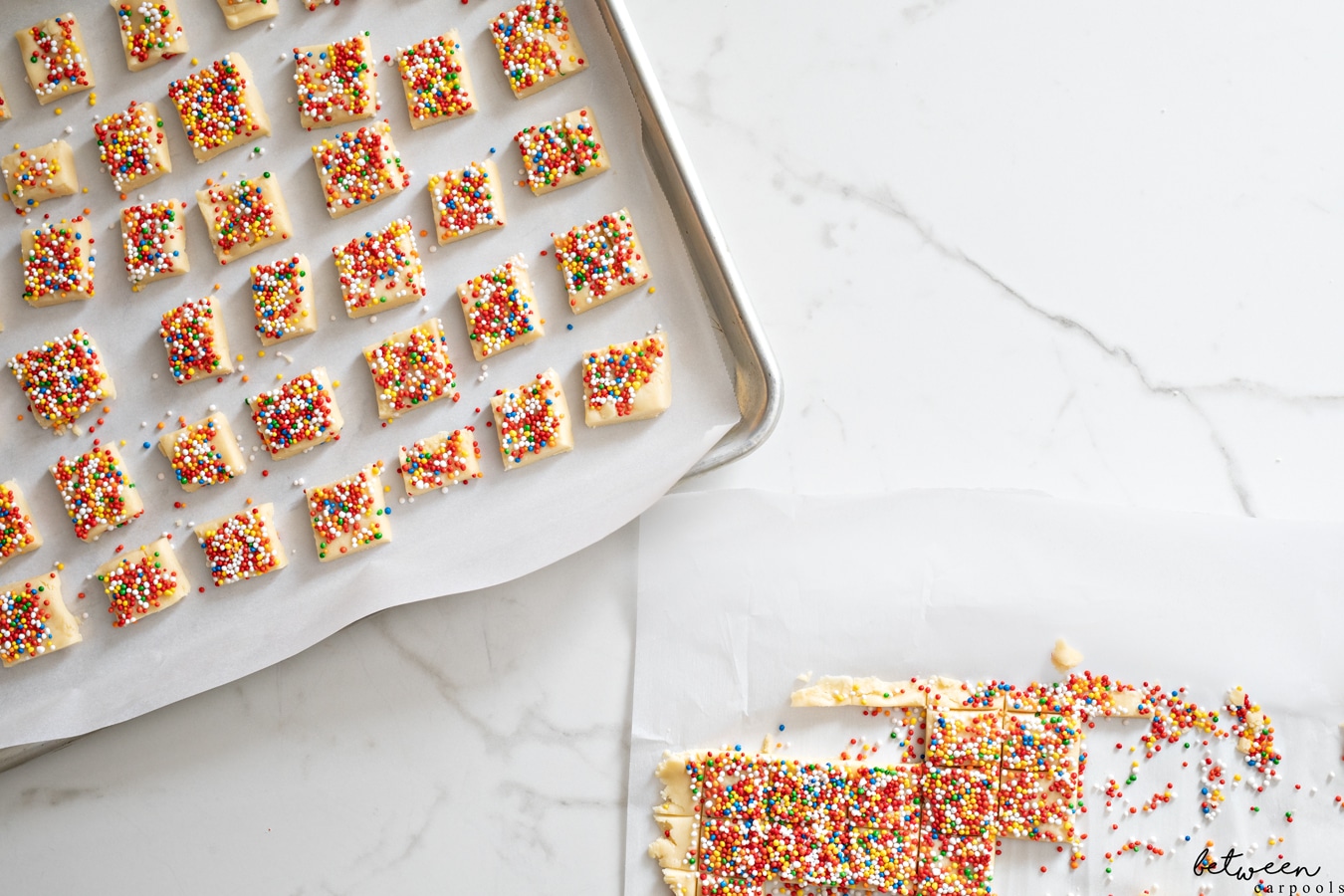 Transfer each square to the parchment-lined baking sheet. How much room you leave between them depends on the cookie dough you're using. These cookies don't have eggs or leaveners, so I can place them fairly close together.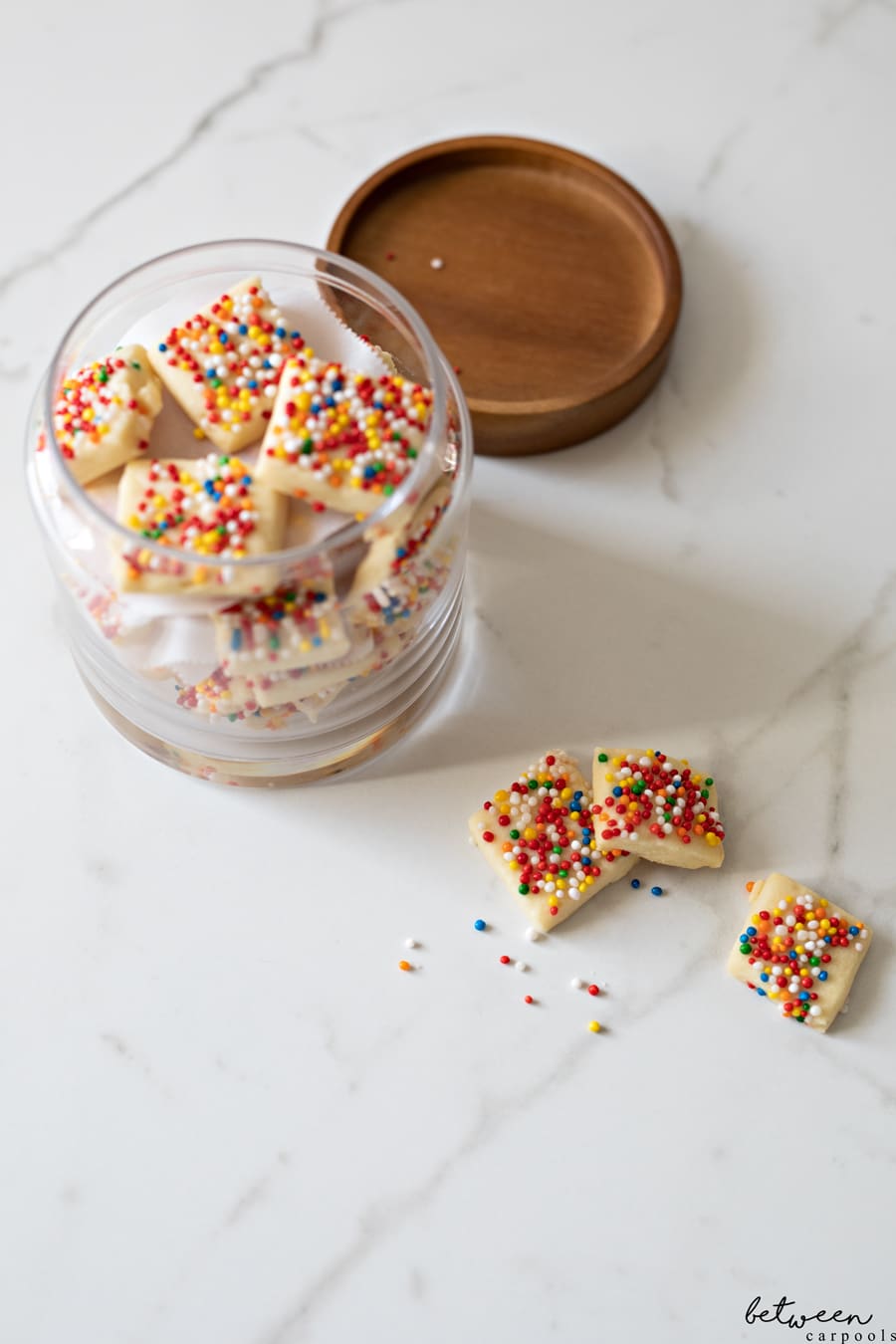 Tada! Adorable little perfect square cookies.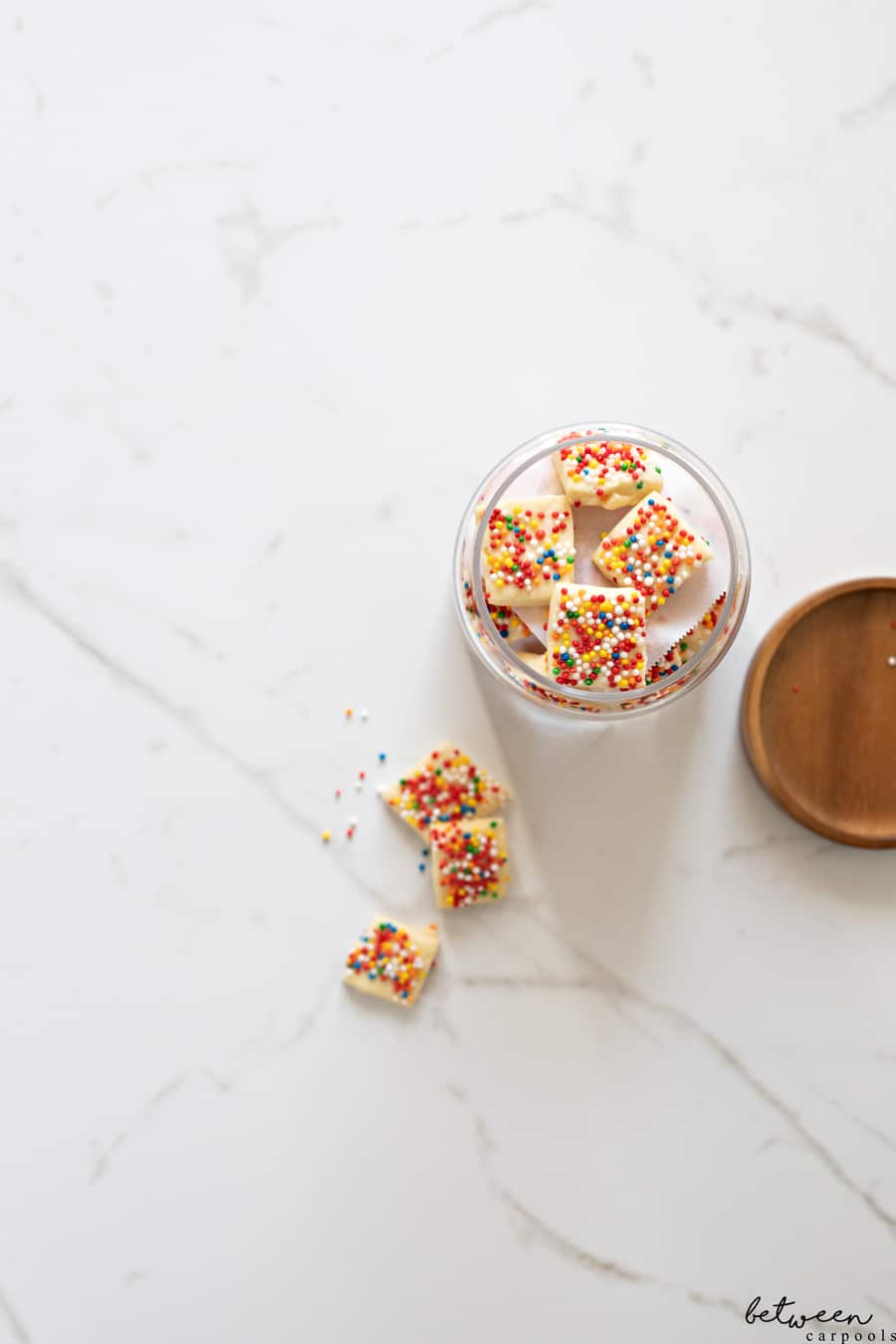 This is an easy, basic egg-free sprinkle cookie. Since there's no leavener either, the cookies come out as perfect and even as they are when they're sliced.

Square Sprinkle Cookies
Ingredients
2¼ cups flour
¾ cup confectioners sugar
2 sticks butter or margarine, chopped
1 teaspoon vanilla extract
Lots of nonpareils
Instructions
Preheat oven to 350ºF.
In the bowl of an electric mixer, combine flour and sugar. Add butter and vanilla and mix until a dough forms, scraping the sides to incorporate all the flour into the dough. The dough will seem dry at this point, but keep mixing until it comes together nicely (you can add 1 Tbsp oil if you need).
Using a rolling pin, roll out the dough on a piece of parchment into a rectangle (to roughly a 9x13 size), then transfer the parchment paper to 9 x 13-inch Pyrex. Press the dough until it evenly fills the entire pan.
Add nonpareils and press with a piece of parchment so they stick to the dough.
Lift parchment out of the Pyrex. Using a pizza slicer, slice into small squares.
Transfer squares to a parchment lined baking sheet. You don't have to place them far apart because they won't rise significantly. Bake for 10-12 minutes. They won't turn golden, so you can remove from oven when they're slightly firm to the touch. They'll continue to firm up as they cool.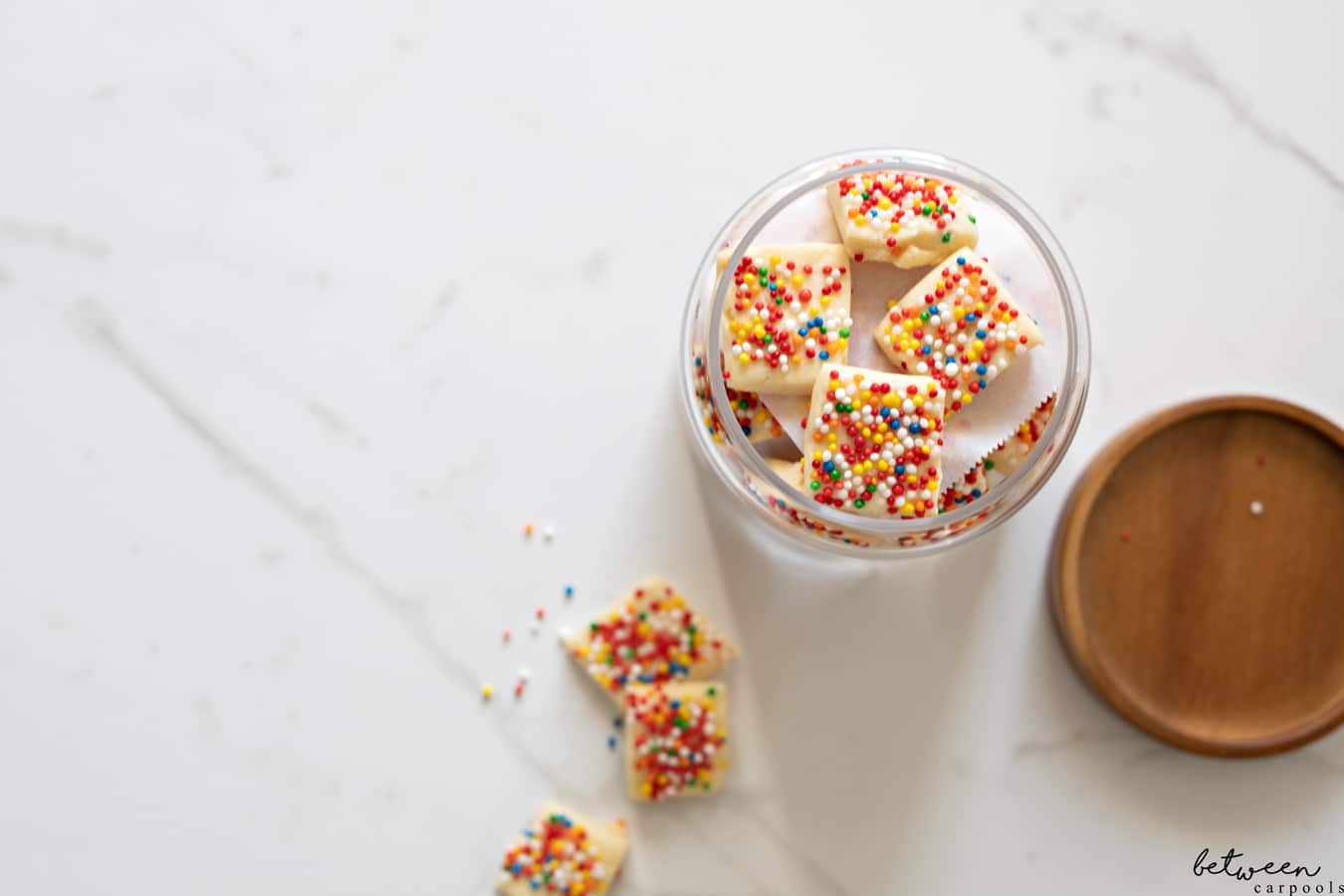 Want to make these more grown-up?
*You can use any topping you like in lieu of rainbow sprinkles.
*Esti Waldman made a lemon version for a dairy sheva brachos and they were a hit! She swapped the margarine for butter and added a bit of lemon juice and lemon zest to the batter.