Is it always a mess to find just what you need in your carry-on? Do you climb up to try to reach things in the overhead bin? Avoid all that with these tips on how to pack. 
Do you pack your carry-on luggage in a hurry? I need this, maybe I'll need this, better take another of that – and just stuff it all in? And then when you need that gum or Advil or battery, you're fishing deep in your bag and getting frustrated when things start falling out?

There is a better way!

This advice is intended more for a long flight than a short hop from NY to Florida, but can be scaled down, too.

We'll start with the assumption that you are allowed one carry-on bag and one personal item. That personal item can be a handbag or backpack. Use whichever works better for you. But before you put in a single thing, collect whatever you need to carry on. There will be two piles. The first is for things you need at the beginning or end of the flight, or not at all. For me this would be a change of clothes, a sweatshirt, my computer if I'm not planning to use it on the flight, my third book, etc. The second pile is for the things you need to have at hand on the flight. These are electronics including all chargers and portable power banks, any medicine you might need (don't forget nausea meds and I always take allergy meds because allergy seasons are different in different locations), basic makeup if you want to touch up, snacks, a book or two, a hairbrush, etc.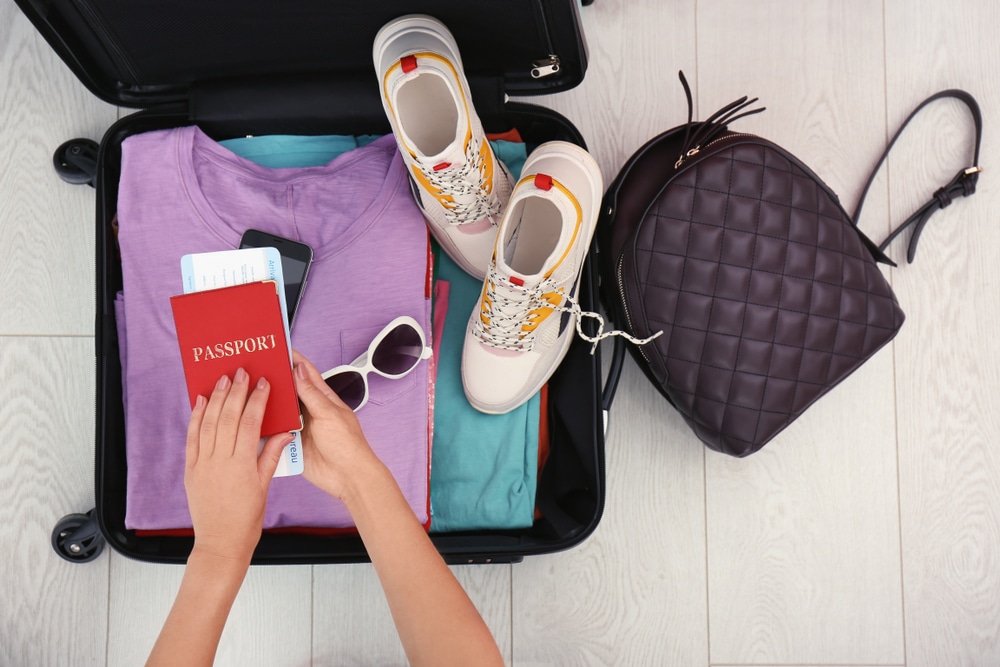 Now don't just dump things in your bag. You need to keep things organized from the beginning. Group like items together and containerize them. A Ziploc bag works, but if you are a frequent-ish traveler, something durable and more structured is better. Use the pockets in your purse as containers, too.
The first group of items – the ones you will only need at the beginning or end of the flight – goes into your carry-on. This bag will be stowed overhead for the whole flight. Before you put it up, take out what you need like your sweatshirt or travel pillow. And after you take it down at the end of the flight, open it up and quickly put back those items. 
The second group of items is the one you want to have with you at your seat. You should have at least three small containers within your personal item (purse or backpack). One container has any medications you might need on the flight. The second has all the electronics that you'll need for the flight – charger, battery pack (we love this small one or this heavier one for more power), earbuds, etc. The third has your personal items like a toothbrush, chapstick, lipstick, and any makeup you like to have on hand. (Remember this post about mini-makeup?) Consider a small mirror as well. Larger items like a hairbrush, books, tablets, and snacks will go in your purse, as well. And hand sanitizer, because you don't want to know the statistics on airplane germs.
And here's another small tip: When you're packing gum, don't pack the ones that come in a box. That box will always spill. Either get sticks or the gum that comes in plastic containers with a lid (Mentos or Must containers). I've learned this lesson too many times.
And let's talk about earplugs. For years I struggled with the standard Mack earplugs that work for many people I know. I could never wear them for more than 10 minutes without my ears starting to hurt. But then I discovered these pink girl sized ones and the game changed! Besides working very well on the flight, they're also great for hotels where you can hear everything going on in the hallways and the rooms next to yours. Stock up, ladies!
And once you get home from your trip, immediately clean out any trash (receipts, boarding passes, agorot coins) and replace/refill anything you used up. That will make packing for your next trip so much easier!
So, what did I miss? Share your tips in the comments below!