And not because it's a job. But because it makes me so sad to know Pesach is coming to an end.
I remember hearing, years back, women declare how Pesach is their favorite Yom Tov. I also remember thinking these women were delusional or a bit high on oven spray fumes. Seriously? You scrubbed until your hands were sore, shopped and braved the erev Yom Tov crowds, shlepped boxes and crates, peeled mountains of potatoes, separated dozens and dozens of eggs, stood and cooked for days…and despite all that you claim Pesach is your favorite chag? I found that puzzling.
It only took me one Pesach at home to finally understand. And then, to join the club.
The joy you achieve after all that hard work is insurmountable. It's a literal high.
But, it all flies by too fast. And now it is time to start thinking about packing our Pesach away.
As you pack away, you might think that you will remember exactly everything about your current Pesach arrangement, like for example, which whisk is pareve and which one became fleishigs, but no. A year is a long time.
Here is a list of tips that will help you with the transition next year. Spend a few extra minutes this season with labeling etc. and you will see what a huge help this will be, come next year.
---
1) Labeling pots: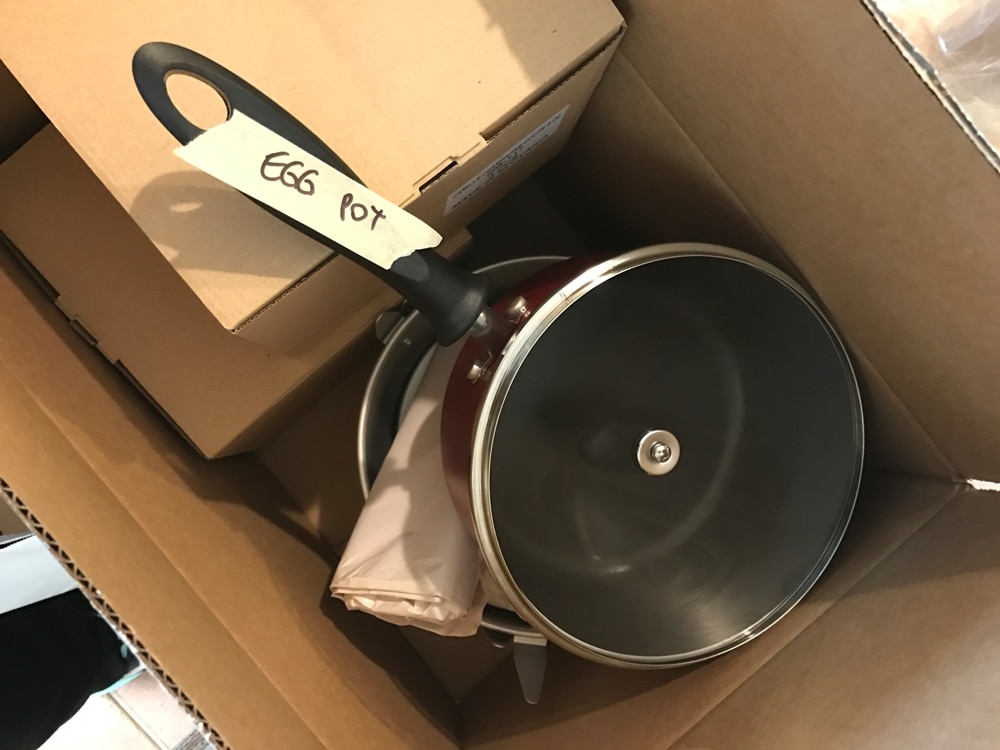 I am sure that right now you remember exactly which pot is fleishigs and which frying pan is milchigs. But don't take a chance. Before packing away said pots, take a minute to write what they are and what they were used for. For example, I wrote things like "great for fries" or "used for eggs." Use masking tape for easy removal.
---
2) Storing tablecloths and linens: Wash everything but DO NOT WASTE TIME IRONING. Chances are that stains will emerge throughout the year and you will need to rewash them regardless. So wash well and treat stains, fold and store away. Pull tablecloths out a few weeks before Yom Tov and inspect well before ironing.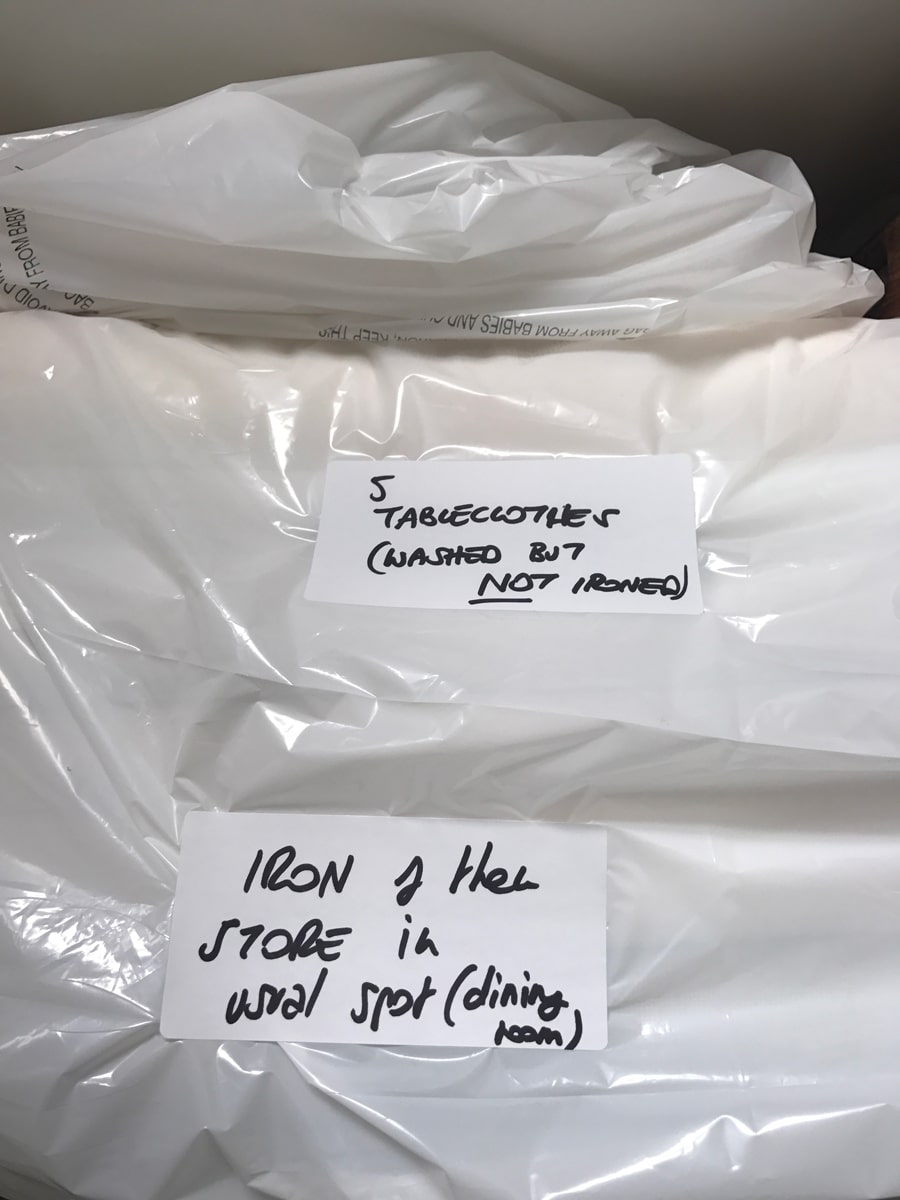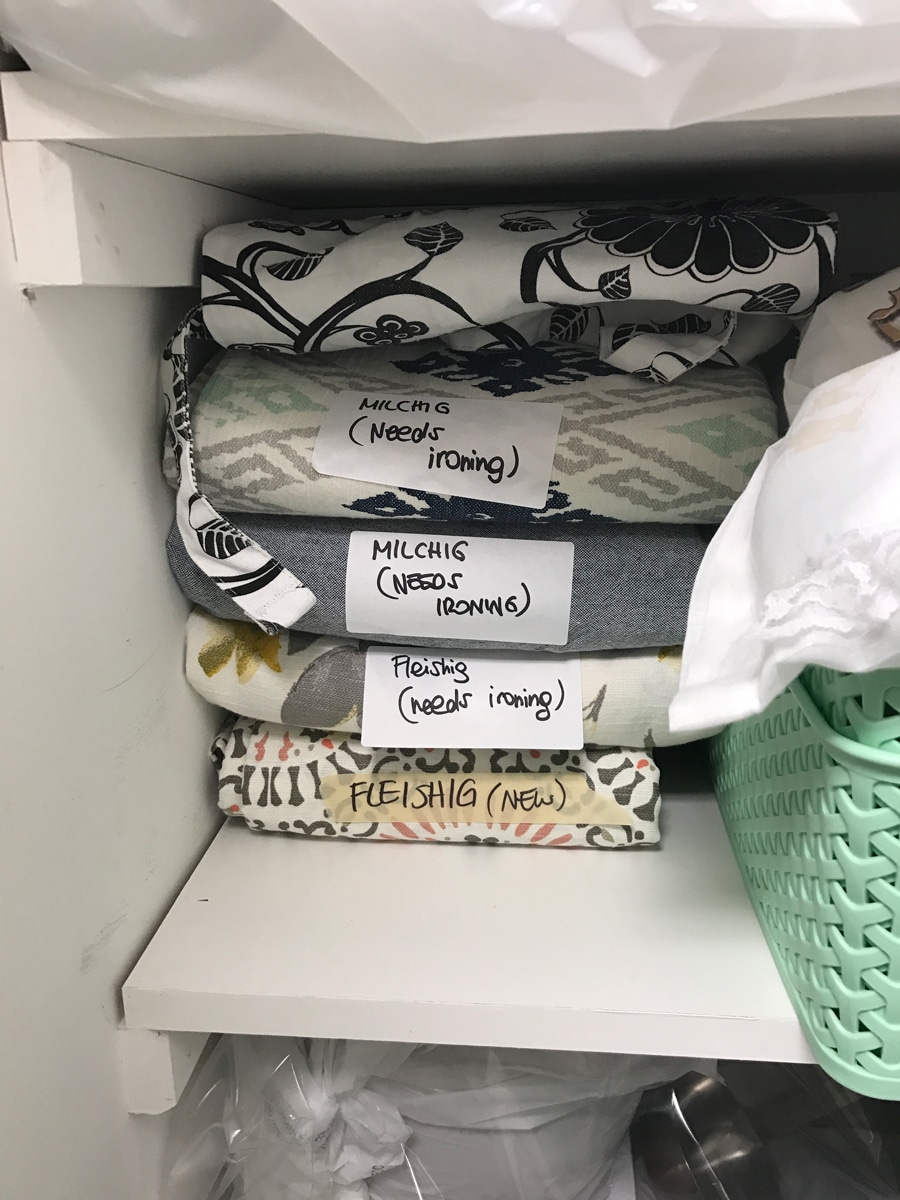 ---
3) Lists: lists are key.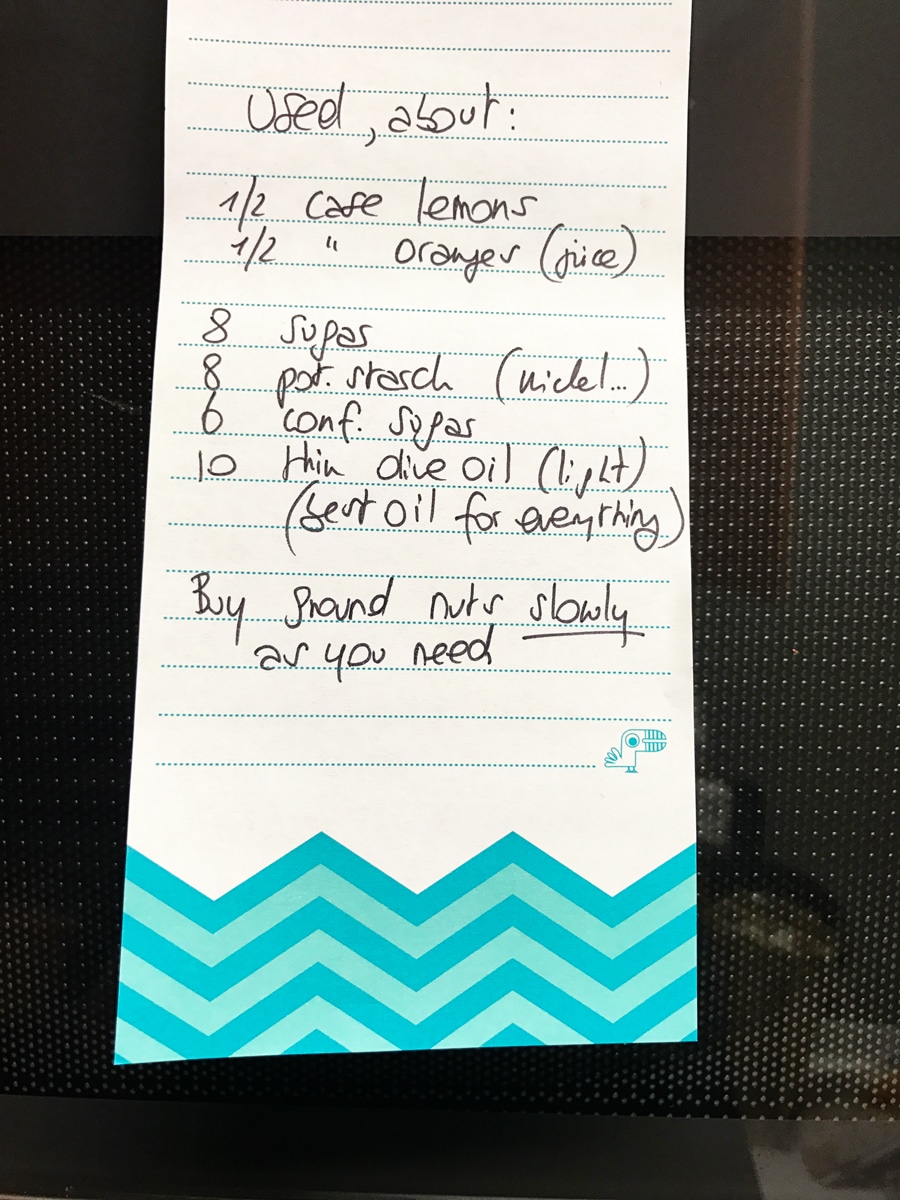 Keep a master list of what you used and how much you should buy. Keep all the lists of what needed to get cleaned and when; it will help you plan your schedule next year ("oh, the playroom needed more than one day"). Keep your menu and mark what the family enjoyed and what wasn't a hit. Add notes like "kids liked but skip sauce" or "doubled well."
4) What's Missing List: I like to keep a paper in the kitchen throughout Yom Tov that says "What's Missing." I list things that I notice I should have for next year. For example, this year I felt I needed more ramekins for individual apple kugels. It wasn't that important that I would go and buy on erev Yom Tov but it would be nice to have it next year. Last year I wrote on the list "more baking sheets" and this year I am enjoying them.
---
5) Plastic bags and Saran Wrap are your BFF's: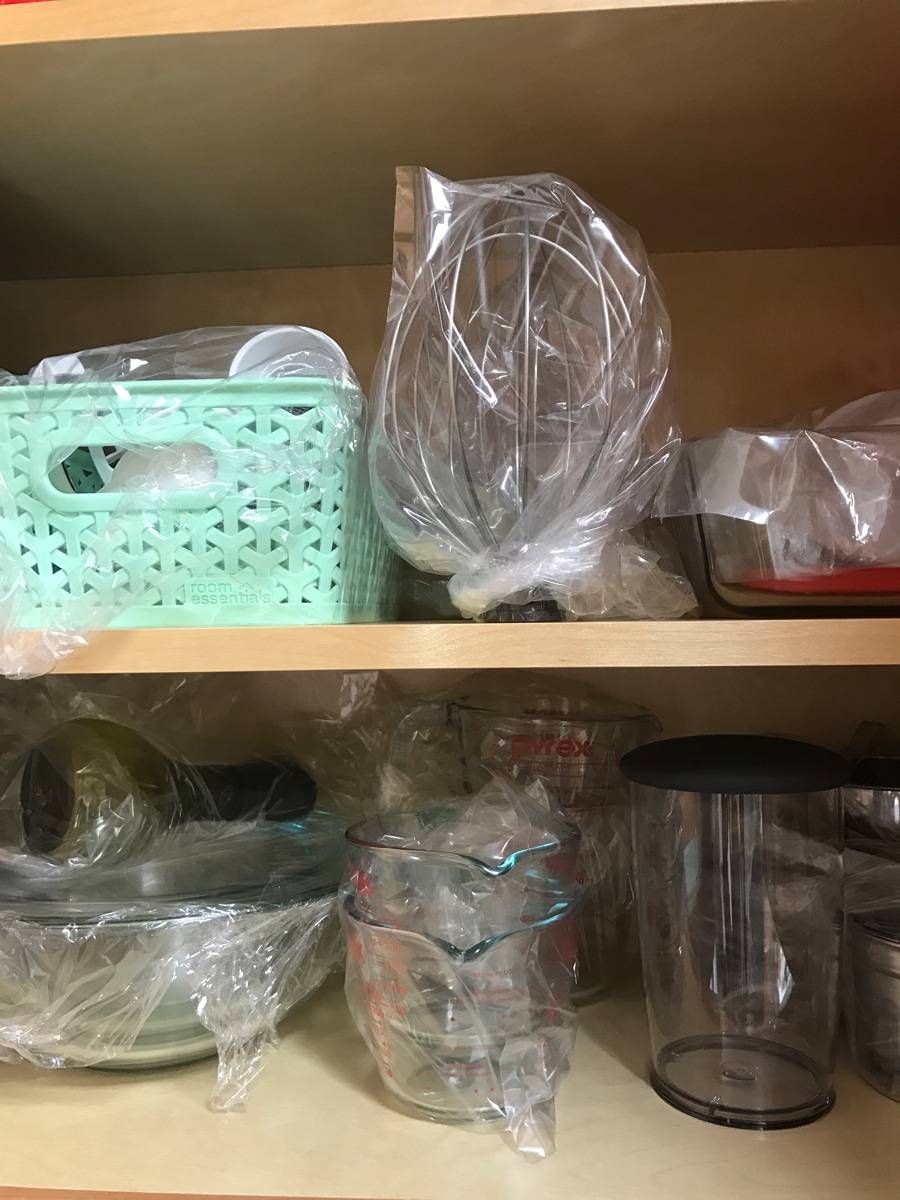 Save yourself the hassle of washing everything next year by wrapping as much as you can. Yes it is a job, but you will be so grateful you did it come next year. No dust, no problems.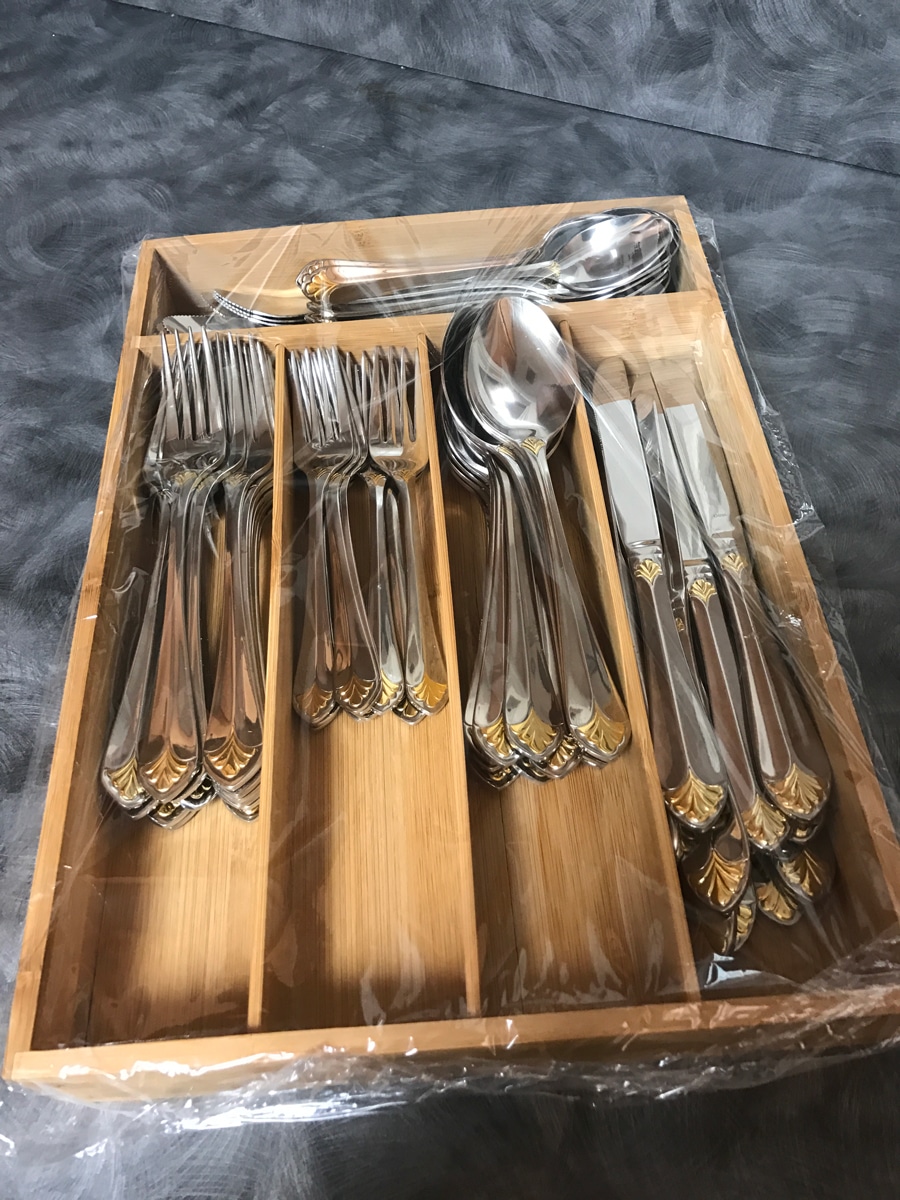 Store cutlery in these containers which slide right into a drawer. Cover with Saran Wrap as well.
6) Keep all the hand soaps and products you bought for Pesach. No need to scramble again while in Target next year with Rabbi Blumenkranz's book in your hand.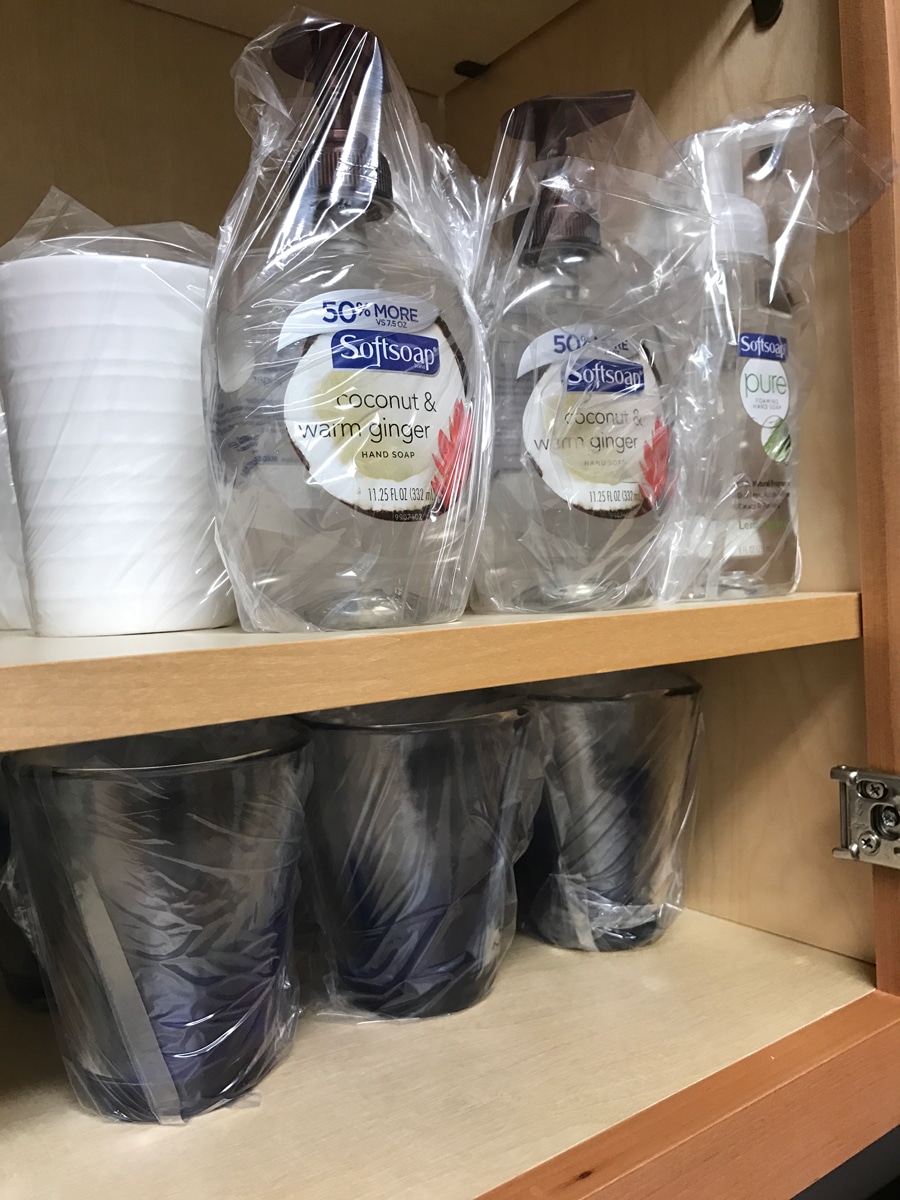 7) This one is my favorite: it is a family tradition which my mother began before I was born. In the last box that is being packed away, we put a "Memories Page." It's a paper that goes on and on from year to year, and as the years go by it becomes more and more interesting. My list is short, but I look forwards to it growing iy"h. What do we write? Things like:
"Pesach 2016: We hosted our grandparents for the Sedarim… (write some memories about that). Baby Z. loved falshe fish and smelled like it the entire Yom Tov because he insisted on eating it himself. We went to Six Flags with So and So. We spent second days by …. with….."
As a kid, opening the box with "The Memories Page" was so exciting, the entire family looked forwards to it. Cleaning the kitchen and turning over was done willingly as long as we got to see The Memories Page already. We loved going back to 15 years prior and reading about ourselves as babies and toddlers, and all the mischief we got into…
Start this family tradition this Pesach too!
Have any great tips you'd like to share? Leave us a comment below.