With so many to choose from, it can get confusing.
We get asked this question by our readers, and so it's finally time to explore the popular models to help you decide which one is right for you. 
Note that Kitchen Aid availability is very limited right now (maybe due to Corona, like everything else)? But you can still get them directly from Kitchen Aid or limited colors are available at BedBathandBeyond.com. For discounts, Kitchen Aid offers a 10% off coupon when you sign up for emails. BBB offers their 20% off coupons (which turns out to be significant on an item like this).
The main difference between the different Kitchen Aid models is:
Bowl capacity

Power level

The method that the bowl is accessed
Since Victoria has the Tilt-Head version, and Renee has a Bowl-Lift version, we'll be turning the post now over to them to describe their own respective mixers: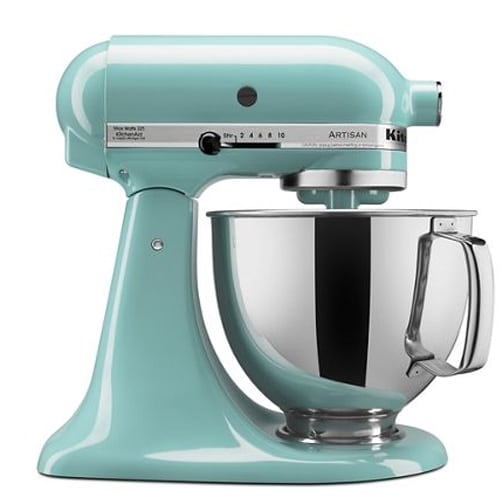 Kitchen Aid Tilt-Head Mixers
I first received my white Kitchen Aid Artisan Mixer as a wedding gift 16 years ago, and I've been using it frequently ever since. Although I keep it in my pantry, I don't find that it's too heavy or cumbersome to bring out to my counter every week or so (or way more often during entertaining seasons). It's seen a lot of usage over the years and it's still good as new. 
What I use it for: Any cakes (although lately most are 9×13 versions!), cookies, meringues (this is the best machine for whipping egg whites!), mousses/creamy desserts. I have a 5 quart bowl, which is really ample for every recipe, although if you frequently double or triple recipes, it could be that you'd prefer something larger. I make homemade pizza dough in the Kitchen Aid (about 6-7 cups of flour) and it does a great job (using the dough hook), but I DO NOT recommend it for making challah. Even if you halve your challah recipe and mix in two batches, I do not think it does a good job (I've experienced denser doughs when I tried). 
Did I ever have a problem: There was one time a few years ago when the motor died and needed to be replaced. The repair has cost somewhere around $70-$80, but the machine was otherwise fine so it was worthwhile to repair rather than replace. 
About the different types of Kitchen Aid tilt head mixers: If you look around, you'll see that there are a few models of Kitchen Aid mixers that are cheaper than the Artisan. With 39 colors, the Artisan is the most popular, both for being the most powerful of all the tilt-heads, along with the biggest bowl capacity, at 5 quarts. The handle on the bowl is also great. The Classic/Classic Plus only comes in white (or sometimes black) and has a smaller bowl and less power (the more power, the better the mixer will do with denser recipes). It would be totally ample for most of your mixing needs if you wanted to save a few dollars. Note: The Artisan comes with a pouring shield, while the Classic does not. The Kitchen Aid "mini" Artisan mixer is cute and all but it's NOT cheaper than the full-sized version. I imagine it was created for those who have limited storage space (i.e. Manhattan apartments) and only need to mix small batches of things. There's also a version of the Artisan that comes with a glass bowl. It's super cool, although pricier. 
Our pick:
Kitchen Aid Artisan 5 Quart Stand Mixer at KitchenAid.com
Kitchen Aid Artisan  5 Quart Stand Mixer at BedBathandBeyond.com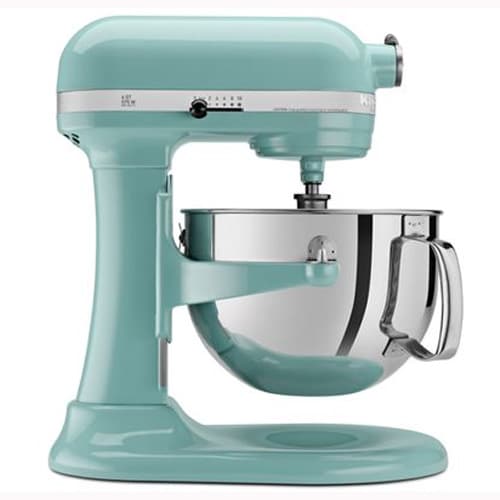 Kitchen Aid Bowl-Lift Mixers
Renee here. Hi! First off, completely off topic, I'm intrigued to discover that I am married longer than Victoria. Who knew? You can work with the same people day in and day out and still not know everything about them. 
But, I digress. Kitchen Aid, yes. My most favorite small appliance of all times. I kid you not. So much so that I own two of them (one for year-round, one for Pesach) and I have gifted two already (you know how you love to gift something that you like? There you go.) (One more parenthesis and I'm done, pinky promise. One of the two gifts was a red Kitchen Aid for Leah Schapira. I kept telling her she needed one after watching her mix cakes in a Bosch…well, the occasion presented itself and I had the opportunity to give the one thing I knew she would love to own but would not go out to buy so fast. And of course, she loves it.) 
What I use it for: I use it for everything. I own pareve bowls and whisks (think meringues, mousses, desserts) and dairy ones (cheese cake, kaas potjes, scones, bundt cakes, cookie batters…the list goes on) 
Of course you don't need to have dairy and pareve but I like to keep them separate. I own a 6 quart for year round and it's great for doubling recipes, like baking two bundt cakes at a time. Also, I don't mind that the head doesn't tilt back, I'm used to it and I like it this way. 
Nothing beats up a snow like a Kitchen Aid. I can promise you that. Also, it's so much simpler to wash the bowl and all the parts. No grooves whatsoever, just rinse out. Or, pop into the dishwasher. 
I agree with Victoria tho that I would not attempt challah dough in it. Simply not a good idea. 
The Pro 600 vs. the Artisan: The Professional is bigger (with a 6 quart bowl) and more powerful than the Artisan, so it could definitely handle more dough and denser doughs. It's also sturdier than the Artisan because there's no hinges on the head (and unlike the Bosch, this machine will STAY in place). The extra power and size is also reflected in the size. The downside is that it's heavier (about three pounds more). When you want to add ingredients, you need to use the lever to bring the bowl back down (some people consider this more difficult but it's not a big deal once you get used to it). There's basically one version of the Pro 600 which comes in about 20 colors. Like the Artisan, there's also an upgraded version with a glass bowl. 
Our Pick:
Kitchen Aid Pro 600 Mixer at KitchenAid.com
Kitchen Aid Pro 600 Mixer at BedBathandBeyond.com
Something we learnt: a Pro series 5qt Mixer can also take a 6qt bowl!