Here are more ideas for some winter fun
Two years ago, I shared some ideas for great outdoor winter sports activities on this site. Last winter, I visited additional ski slopes and ice rinks to share with you here. I love trips that are in the spirit of winter, and I always try to find new winter sport ideas that aren't too far from home.
Looking for indoor ideas?
* Great indoor activities
* Activities you'll enjoy at American Dream
* Indoor things in and around Lakewood
* Family Friendly Indoor things in Long Island and NY NJ.
For more trip ideas visit beentheredonethatrips.com.
Bryant Park Ice Skating and Winter Village: Manhattan, NY
I have a soft spot for outdoor ice skating. There is nothing like skating in the fresh air. When the rink is an oasis in Manhattan, with tall buildings all around, it is an incredible experience. While we were skating, we even spotted the Empire State Building. The rink is understandably a popular spot for outdoor enjoyment. 
The rink was quite full when we visited one Sunday, but skating tickets are timed to make sure it is not too overcrowded (I'm not sure if it is always that way or if it is a Covid regulation). Each skating session has 3-4 groups of skaters, and entry and exit to the rink will be staggered to avoid crowding at doors and gates. Only ticketed skaters are allowed into the rink area. Family members must wait outside the rink area. 
At the rink, there are skates available for rent, as well as, for an additional fee, adorable skate assistants in the shape of penguins or snowmen.
Face masks were mandatory during our visit. Lockers are not available due to Covid19 but a shoe bag with drawstrings is provided with each skate rental so that skaters can wear the shoes in the backpack style bag. Bags and strollers can be checked in for an additional charge.
The whole Bryant Park Winter Village has a festive feel with shops and restaurants set up throughout the park. Igloos, clear heated domes with comfortable seating, are available for rent at the park.
 COVID RULES
* Face coverings are required to enter some areas of the Winter Village, including the Rink.
* Per NYC guidelines, proof of vaccination is required to enter certain enclosed spaces.
* The skating experience is fully outdoors.
* For everyone's health and safety, please stay home if you are feeling sick. We have options to rebook your skate tickets if you cannot attend due to illness.
* Holiday Shops and the Rink will regularly sanitize high-contact surfaces, including rental skates, and will offer contactless payment where possible.
* Shops may enforce capacity or face covering requirements; please abide with all staff requests.
Address: 5th Avenue between W. 40th and W. 42nd Street, New York, NY 10018
Phone Number: (917) 438-5166
Hours: Reserve online at bryantpark.org
Price: Skate Rental Prices start at $15-$45
(see pricing calendar on ticket site linked above for off peak and peak dates)
10% discount on eligible Skate Rentals when you use any Bank of America® card to pay
Approximate Distance from Brooklyn Bridge: 20 minutes
Approximate Distance from Lakewood: 1 hour, 15 minutes
Approximate Distance from Monsey: 1 hour
Website: bryantpark.org
Montclair State Ice Arena: Little Falls, NJ
Montclair State Ice Arena, located right near the Montclair State University in Little Falls, NJ has lots to offer. They accommodate parties, hockey, skating lessons and open skating sessions.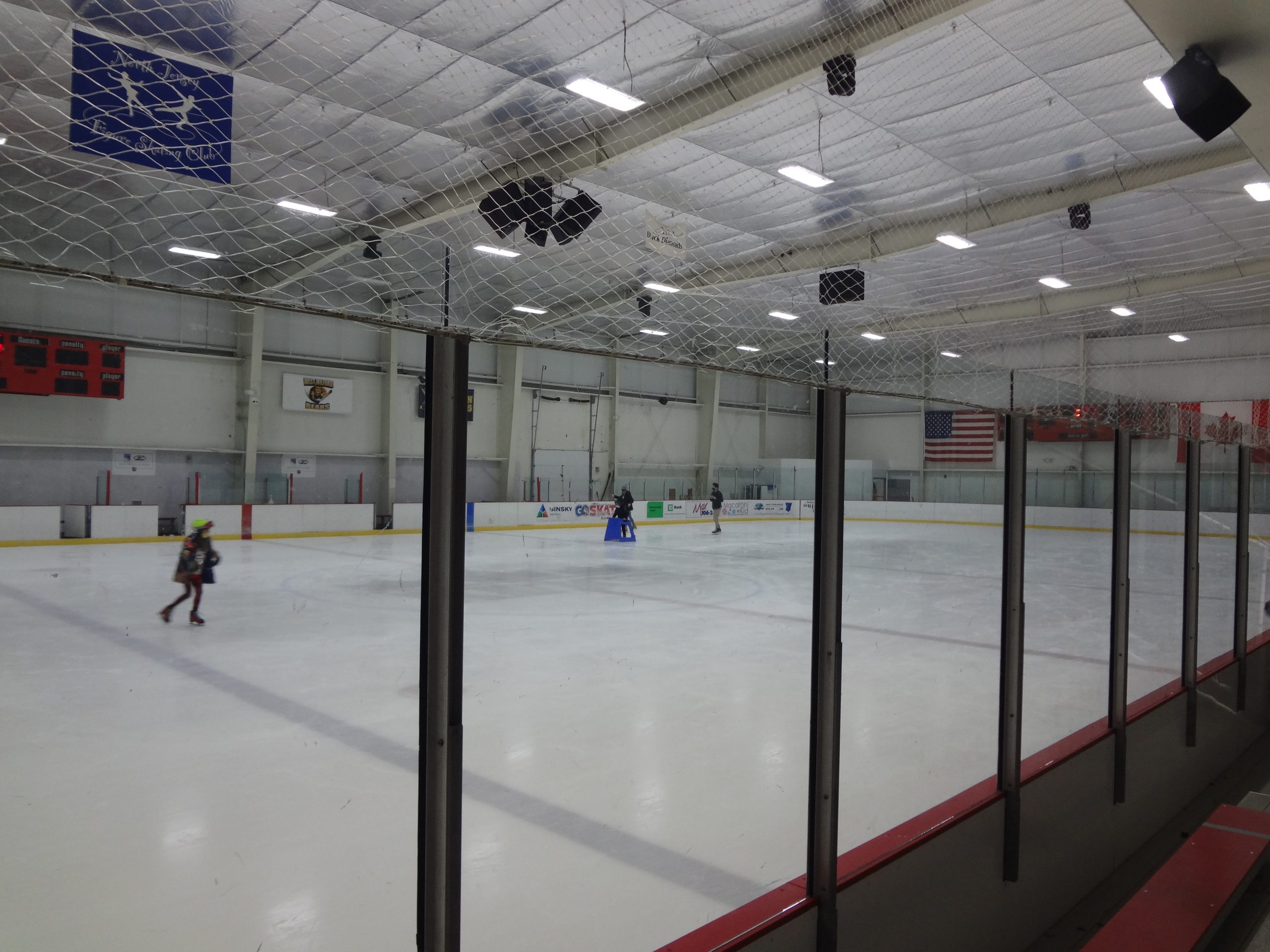 The rink is well kept, with a separate enclosed area within the rink for kids who don't know how to skate yet. There are skating-walkers in that area to aid the children.
There is a warm sitting area with benches and tables outside the rink where family members often sit and skaters come to warm up or for a snack.
Open skate times are limited so check their website for times before heading out.
COVID RULES
* Participants will be required to wear face coverings until they take the ice. Spectators will be required to wear face coverings at all times in the facility.
Address: 1 Hall Drive, Little Falls, NJ 07424
Phone Number: (973) 746-7744
Hours: Check online here for public skating hours
Price: $20.00 and skate rental is included
Approximate Distance from Brooklyn Bridge: 35 minutes
Approximate Distance from Lakewood: 1 hour, 15 minutes
Approximate Distance from Monsey: 35 minutes
Website: montclairstatearena.com
Thunder Ridge Ski Area: Patterson, NY
We were so excited to squeeze in a visit to Thunder Ridge Ski Area at the end of the winter, before they closed for the season. Thunder Ridge is very well located, in Patterson, NY; near the Connecticut border. It is only an hour away from New York City.
We had both beginner and intermediate level skiers in our group.  Everyone benefited greatly from the ski school on site. The instructor was professional and gave many practical tips for each person on their level.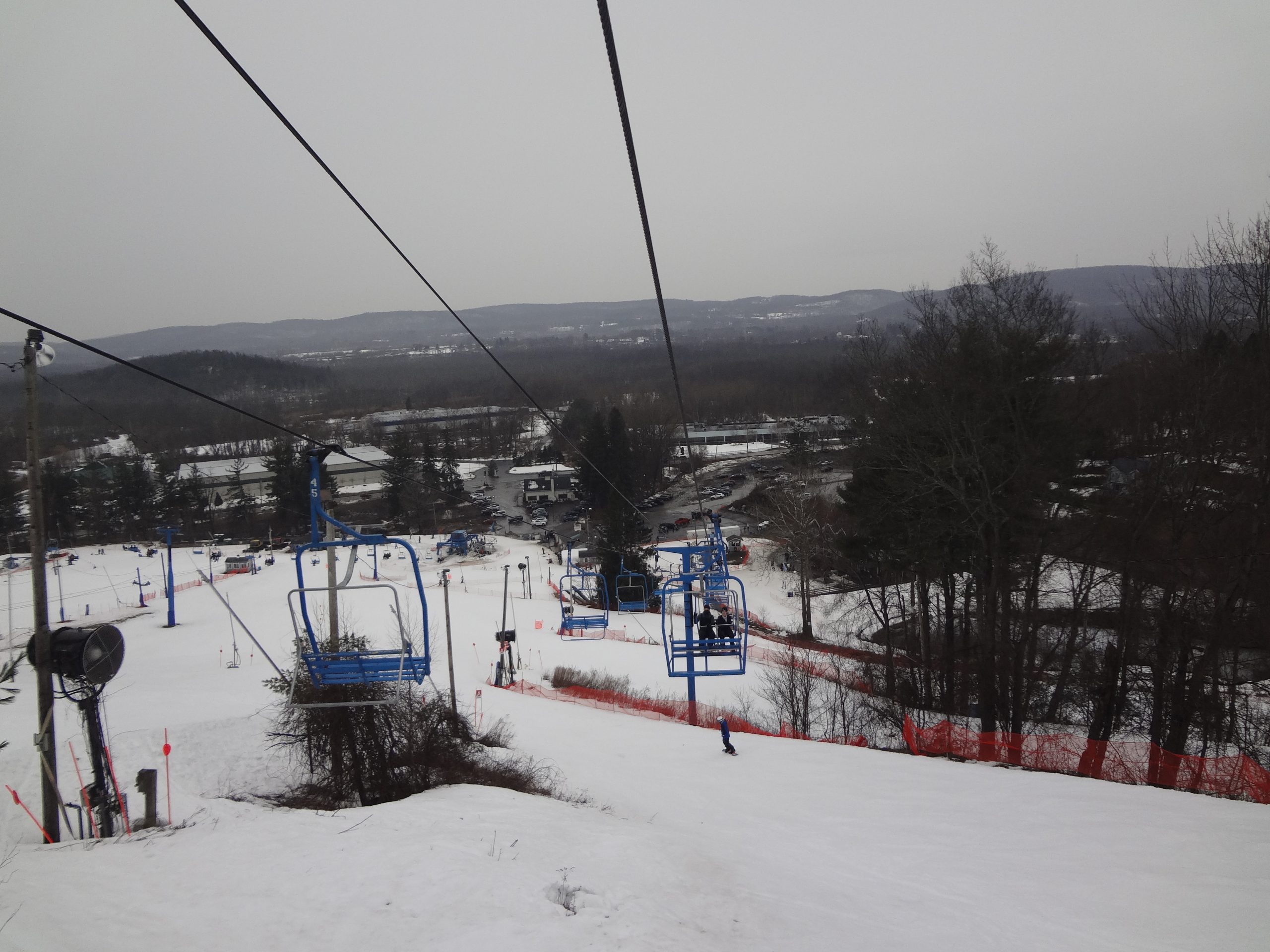 With 22 trails, 3 chairlifts, and 4 magic carpets, Thunder Ridge is an excellent place for all ages and levels. Since we have no real ski pros in our group, I can't weigh in on the advanced trails but the intermediate one which we did were phenomenal. It had just enough challenge but not too much to make it daunting or land us in a heap on the snow. We watched the advanced skiers zoom down the mountain, enjoying themselves immensely.
The chairlifts are located right by the lodge. Just walk out and hop right onto the lift and enjoy a fun ride down.
COVID RULES
* All guests will need to wear an acceptable face covering when indoors
* The car is your lodge; there will be no storage or changing area in the lodge
* Lift tickets and rentals will need to be purchased online and in advance
* Online sales will be redeemed at the new outside ticket booths and no entry into the lodge will be available with the exception of a reservation in the dining area and to use the restrooms
* Seasonal Lockers will not be available this winter
* Increased cleaning and sanitizing in common areas and restrooms
* Portable restrooms will be utilized throughout the base area
* We will be utilizing tents to help with lodge capacity
Address: 137 Birch Hill Road, Patterson, NY 12563
Phone Number: (845) 878-4100
Hours: Check online for the current hours of operation
Price: Prices vary. Check here
Approximate Distance from Brooklyn Bridge: 1 hour, 15 minutes
Approximate Distance from Lakewood: 2 hours, 15 minutes
Approximate Distance from Monsey: 1 hour, 5 minutes
Website: thunderridgeski.com
Click here; a great what-to-wear checklist for your winter sports outings!
FOR EXCLUSIVE CONTENT AND A PEEK BEHIND THE SCENES, MAKE SURE TO JOIN OUR WHATSAPP STATUS HERE.