"Mommy's Traditional Stuffed Cabbage" from
Our Table
is the recipe that gets Renee the most "thank you" emails after every Simchas Torah. 
"I don't 'do' hulupchas." That's what I told my father-in-law during the first Simchas Torah at my in-laws.
"No such thing. Nobody doesn't 'do' these." 
Convinced, I agreed to taste one. He was so right. And I've been a huge hulupchas  (stuffed cabbage) fan ever since.
So many people I know claim they don't like hulupchas. I convince them to try my mother-in-law's recipe and I have successfully converted many.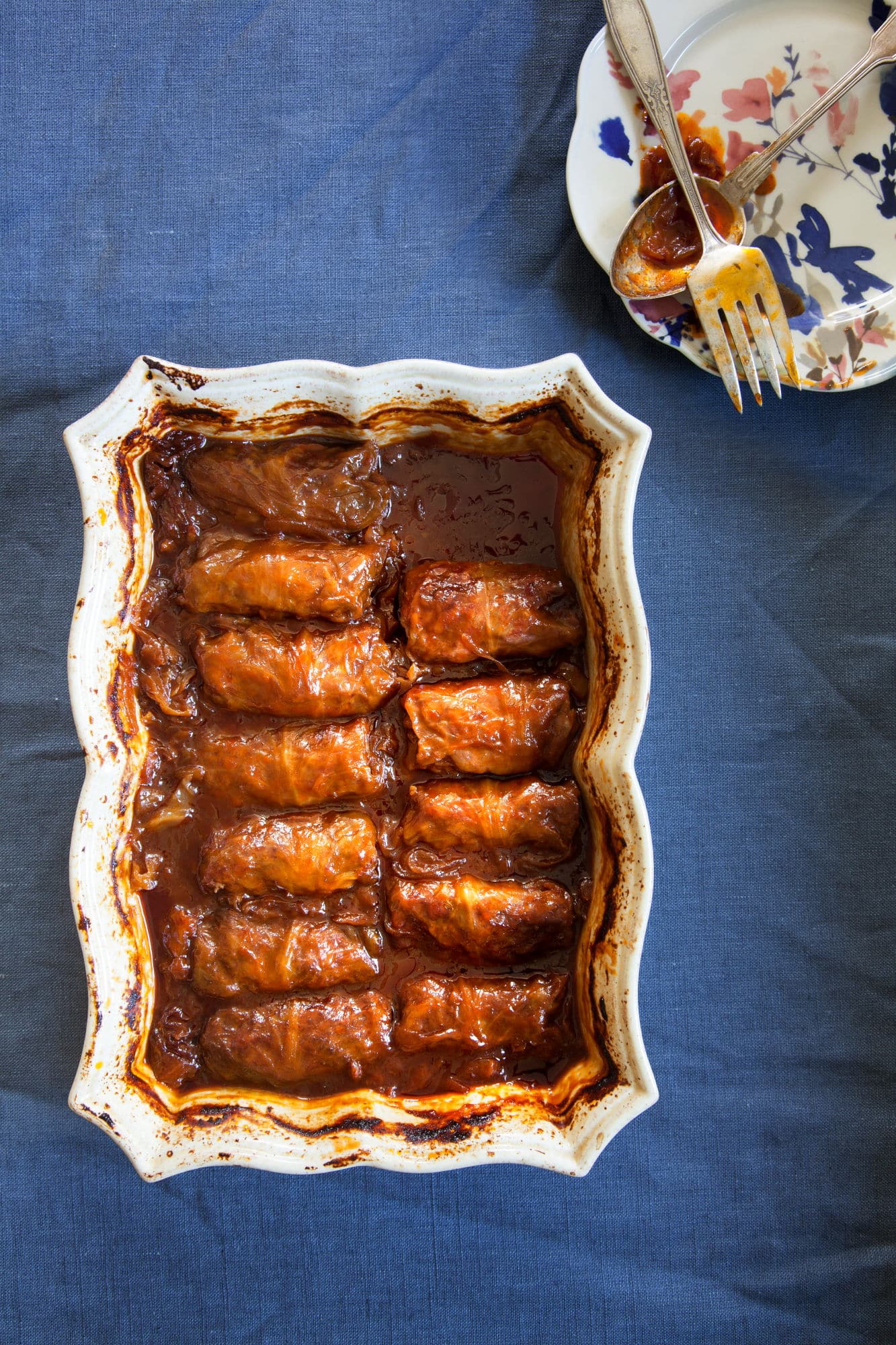 Mommy is famous for her stuffed cabbage. But she doesn't have an exact recipe…it's more like a little bit of this and a little bit of that. One blissful summer afternoon, Mommy showed up at my house with three frozen heads of cabbage and six pounds of chopped meat. 
"Do you have some onions?" she inquired. I was overjoyed! Not only was I finally going to learn the secret to these beauties, but there was the promise of a succulent dinner on the horizon.
Word spread fast. Requests for leftovers by hungry siblings instantly poured in. Everyone wanted a piece of the loot. Mommy patiently separated, mixed, diced, and rolled, all the while sharing tips and techniques that told of time and experience. I, in turn, watched and took notes, measured to the best of my ability while Mommy sprinkled, seasoned, and adjusted. The results were, as usual, delightful. Thank you, Mommy, for taking the time to come down to Lakewood and patiently show me how this traditional Yom Tov "must-have" is done. And most of all, thank you for giving us all a recipe we can cherish and follow.
This recipe is, like all stuffed cabbage recipes, a result of generations of Bubbies passing the recipe down, mother to daughter. My own mother-in-law received it from her mother-in-law. She recalls waking up at dawn to watch and learn the secrets behind mixing and rolling these beauties. You, my dear readers, won't need to do any of that. You will be able to watch the video tutorial in the comfort of your home and gain knowledge that speaks of generations in minutes.
Ever since Our Table was published in 2016, the Stuffed Cabbage recipe is one that gets raving reviews come every erev Simchas Torah. I will, without fail, get compliments and regards in Shul while watching my children dance around the Torah. It gives me such joy knowing that this traditional dish now lives in so many homes, and the tradition lives on.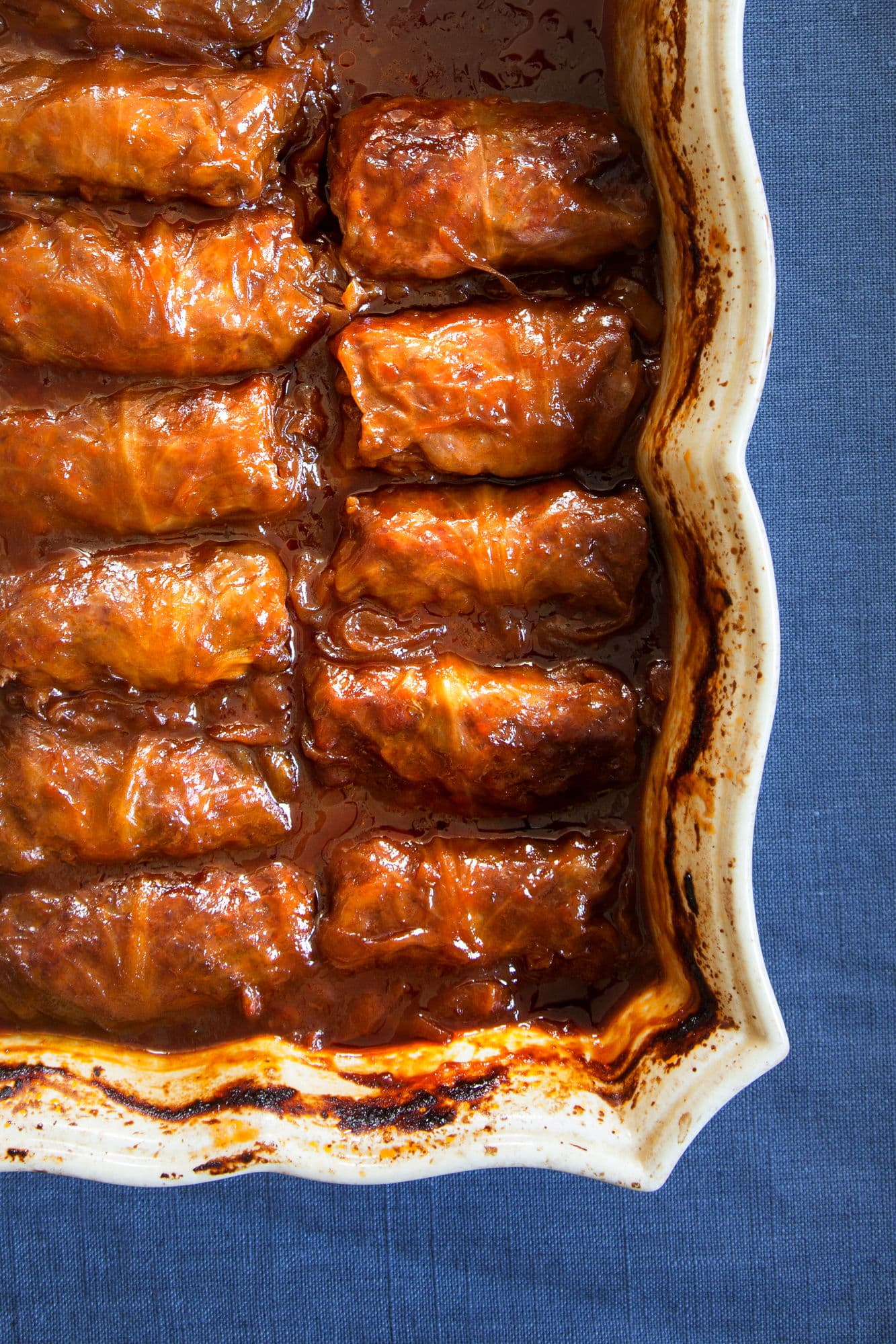 Stuffed Cabbage
Ingredients
3 small cabbages, plus additional shredded cabbage, optional
6 onions, diced small, divided
4 garlic cloves, minced
1½ cups uncooked rice
½ cup oil, plus oil for frying
2 Tablespoons paprika
¾ cup sugar
3 teaspoons chicken soup mix
1 teaspoon black pepper
6 pounds chopped meat
3 eggs
For the sauce:
21 ounces tomato paste (1 [15-ounce] can plus 1 [6-ounce] can)*
1 cup duck sauce
3 cups brown sugar
4 Tablespoons chicken soup mix
2 – 3 Tablespoons lemon juice
Instructions
As soon as you decide you might want to cook some stuffed cabbage, stick those cabbages into the freezer. The longer they sit in there the better. Ideally, they should freeze for at least a week. This is the preferred method for peeling those leaves without breaking them. The freezing process softens the leaves, almost like cooking them, without the mess of the hot water and pot.
Remove cabbages from freezer and let defrost in large bowls or in a colander in the sink, as they will emit lots of liquid. This might take a good few hours. Don't rush this.
Prepare the filling: Heat oil in a large saucepan over low heat. Add 3 onions and garlic. Cook over low heat until soft and translucent, stirring from time to time. Add rice, ½ cup oil, paprika, sugar, chicken soup mix, and pepper. Mix to combine. Remove from heat and let cool.
Add meat and eggs to cooled mixture. Your filling is now ready.
Preheat oven to 350. Set out 3 (9 x 13-inch) roasting pans. Carefully and patiently, so that the softened leaves don't rip, peel the cabbage leaves from the heads one by one. The bigger ones will have thicker membranes, or ribs, down the middle. Cut them down a bit with a knife to facilitate rolling. Add any broken pieces of cabbage or stems to the roasting pans. Add remaining 3 onions to the pans. You can also add some shredded cabbage to the pans, if your family, like mine, likes the cabbage pieces.
Place one heaping tablespoon of meat onto the center of each cabbage leaf. Roll the leaf around the meat, tucking in the sides to secure. One by one, place filled rolls into the roasting pan over the diced onions. Place cabbage rolls snugly into the pans.
Prepare the sauce: Combine tomato paste, duck sauce, brown sugar, and chicken soup mix. Spread over the cabbage rolls. The sauce will not be runny; rather, it will have the consistency of a rub. While cooking, the cabbage will release liquid and the rub will become gravy. Cover pans; bake for 2½ hours. Remove from oven; add lemon juice to the sauce (taste and add more lemon juice if you prefer it more tangy). Return to oven for additional 1½ hours. Stuffed cabbage freezes very well, raw, baked, or half-baked.
Yield: 3 (9- x 13-inch) containers of stuffed cabbage
Note: You can substitute the tomato paste with tomato sauce if you prefer a runnier sauce.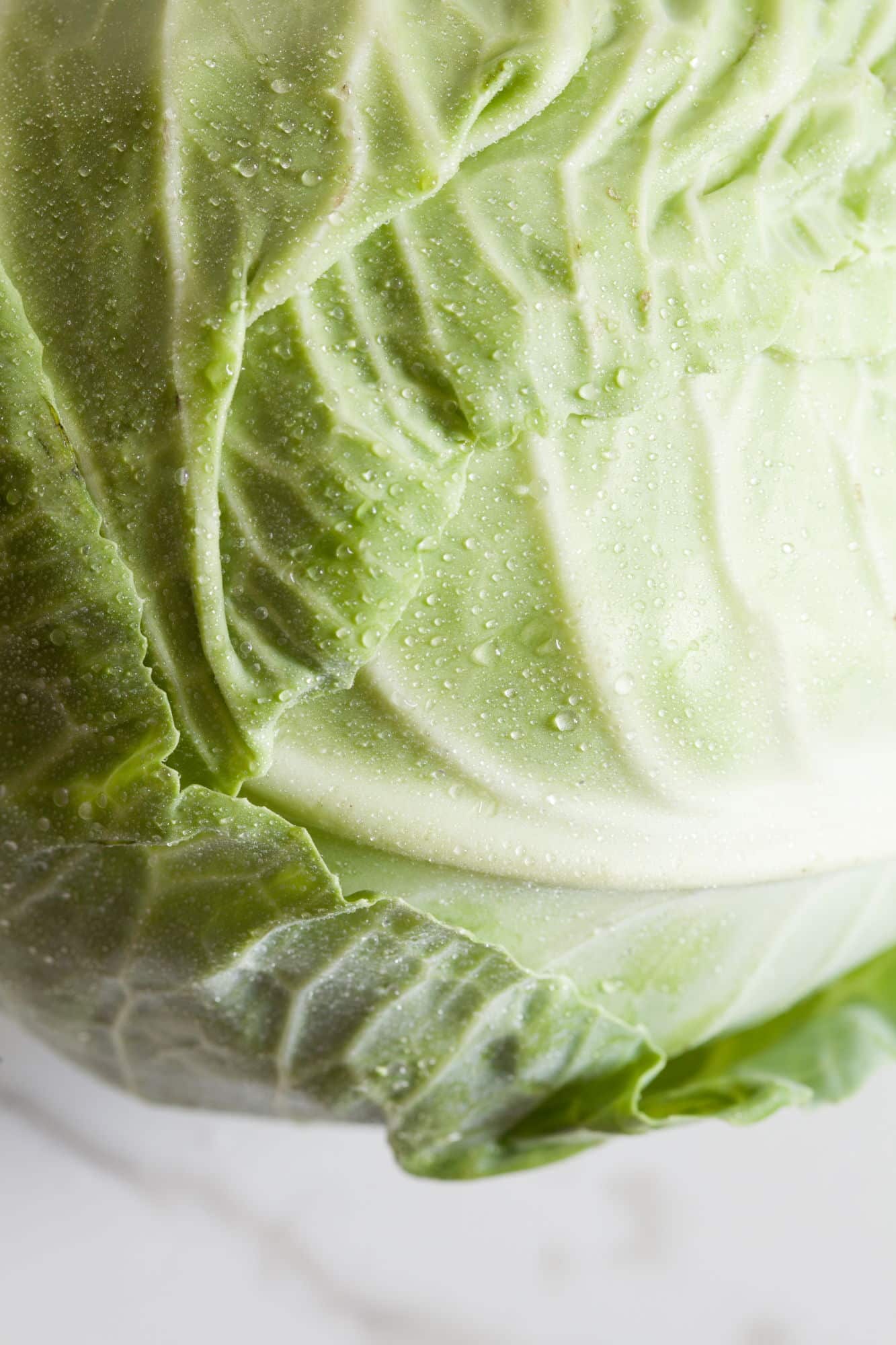 Note: The smaller leaves yield the prettiest cabbage rolls. What to do with the larger leaves? You can rip them apart at the center by the membrane and use them for two rolls. Use the membrane as one edge and roll into a mini triangle, tucking in one side only.