Stay hydrated in the summer and make it easier to drink more water by infusing it with fruits and herbs. Here's how to make infused water!
With the hot summer months upon us, the struggle of staying hydrated becomes real.
A good chunk of our time is spent in the great outdoors which tends to take a toll on our bodies midday. The heat strips us of all energy, leaves us lethargic, irritable, and not so quick to admit sometimes, snappy.
Our bodies are made up of 60 percent water, and to function properly they need to maintain their water level. With increased summer temperatures and outdoor activities comes increased water loss. We constantly need to replenish what was lost, it's like staying on top of your "A" game.
We know that staying hydrated is important but drinking the necessary water can be a challenge on its own.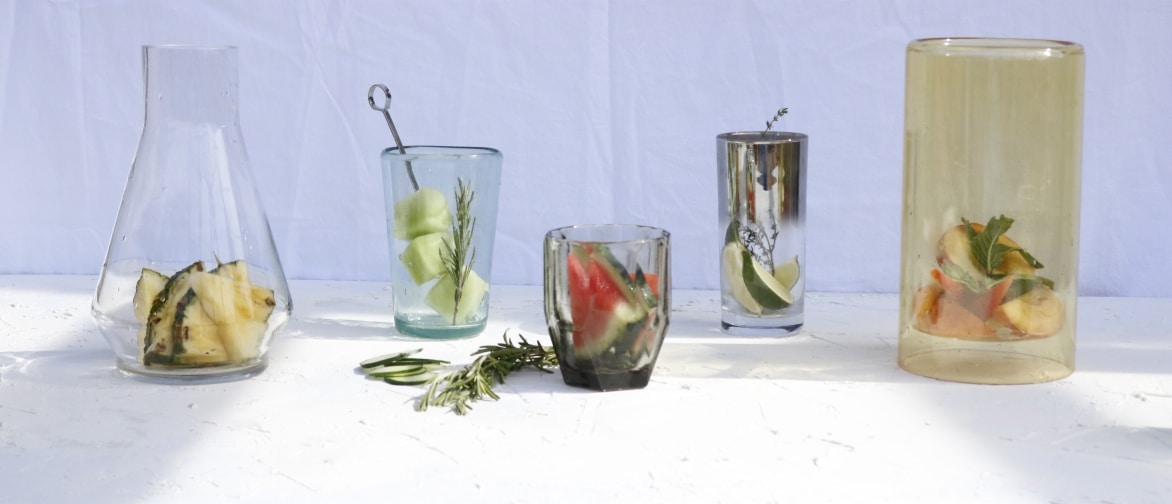 The Answer: Fruit Infused Water! Skip high-calorie artificially flavored drinks and opt for hydrating and refreshing options that are good for you. Try infusing your own water or carbonated water/seltzer with a variety of fresh fruit such as: pineapple, watermelon, honeydew, strawberries, blueberries, wedges of oranges, lemons, limes and peaches, sliced cucumber and green apple.

Here's How: Add sliced fruit or herbs the night before. Infusing water/carbonated water with fruits and herbs overnight will really permeate wonderful flavors, while the actual fruit will be sapped out of all flavor and look like it survived a battle (which is a good thing in this case! all the wonderful flavor is now in the liquid leaving us with a flavorful refreshing drink!) it may not have its original charm to show off.  Discard lifeless fruit and replace it with new to bring its charm back. Cause who doesn't like drinking pretty drinks?!
Add Some Herbs: Mix in some fresh herbs like basil, thyme, or rosemary for adventurous flavors. For herbs to offer their flavor they must be bruised to release oils (which is flavor). The way to do that is by "muddling herbs."

How to Muddle Herbs: Choose a sturdy glass or pitcher. Place herbs (mint or basil 3-4 leaves, thyme or rosemary 1-2 sprigs) on the bottom of the glass, using a muddler (if you have one) or the back of a wooden spoon press down gently and twist on the leaves. If the herbs release a wonderful smell you know you did yourself a good job!
Infused water will last well up to a week in the fridge.
For an additional refreshing treat, try cucumber mint water. I learned that cucumbers have a sweet earthy flavor that I absolutely fell in love with. No added sugar, just nature's sweetness.