Move over chicken. Steak Milanese (breaded rib steaks) with some beauty sides is the way to go.
All my Brazilian cousins like their beef steak Milanese, which means breaded. When I first saw this dish, I couldn't get over the idea that they treated steaks like I treat chicken cutlets. Not only that, after it was breaded, it was fried!
When my cousin Rivky told me about this version, where the steaks are baked, I was tempted to try. I followed her instructions and made them right away. Then I made it again, and they didn't come out good as the first time…perhaps I forgot something?
So I called her up and asked her to come over, "I'll watch you make it. I can't remember what I was supposed to do."
Quicker than you can count to 100, she was in my kitchen preparing the steaks (while I measured). I'm sure you are thinking to yourselves, "Now that's kind of nice."
Here is the backstory.  She owes me. When my first cookbook came out she called me up and asked me, "What is good in the cookbook?"
"Everything," I answered. "Why would I put in a recipe I don't like?"
"No really, what do you really make again and again?" She made me come over and with a pen, I marked each recipe that I thought she would like, how she might change some to suit her taste buds, as well as which recipes weren't for her. That's what cousins are for.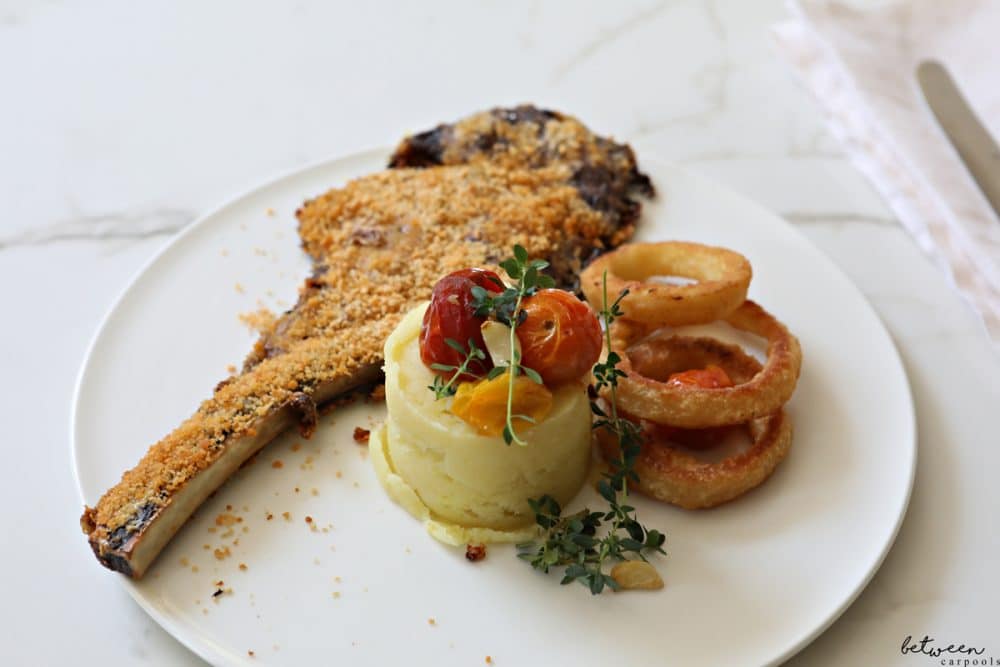 Steaks Milanese
Ingredients
4 bone-in ribs steaks
½ teaspoon paprika
1 teaspoon garlic powder
½ teaspoon salt
⅛ teaspoon black pepper
1 to 2 tablespoons oil
6 tablespoons mayonnaise
1 tablespoon onion soup mix (or substitute garlic and onion powder)
1 tablespoon Worcestershire Sauce (fish-free, such as Gefen's)
Breadcrumbs (preferably homestyle golden breadcrumbs, such as Osem's)
Instructions
Preheat oven to 350ºF. Line a baking pan with parchment paper.
In a small bowl, combine spices and oil. Rub into steaks on both sides.
In a small bowl, combine mayonnaise, onion soup mix, and Worcestershire sauce. Coat steaks in mixture.
Place breadcrumbs in a shallow dish and dredge steaks, coating well on both sides. Place in prepared baking pan.
Cover pan and bake for 1 ½-2 hours. Uncover and bake 30 to 40 minutes, until golden and crispy. If preparing the steaks for Yom Tov, bake covered ahead of time and bake uncovered on Yom Tov, before serving.
How We Plated This Dish: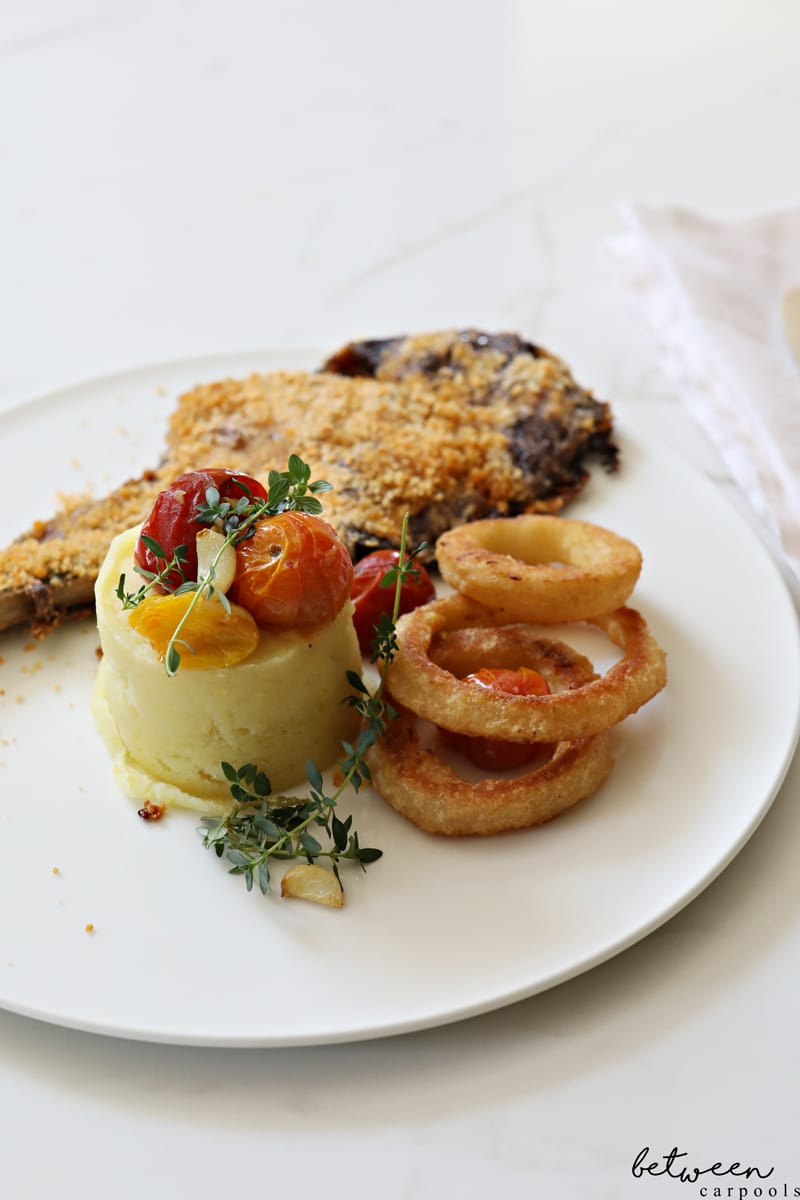 Place tri-colored tomatoes and whole garlic cloves on a baking sheet. Drizzle generously with good quality olive oil, coarse salt, and black pepper. Roast on 425ºF until soft.
Place steak on plate. Scoop mashed potatoes in a ring mold on the side. Top with roasted tomatoes and garlic and garnish with fresh herbs. Serve with onion rings on the side.