Chicken, rice, and vegetables, cooked in one pot. It's time for us to try Spain's favorite dish.
While traveling through Barcelona, Spain, almost every dish we ate was served paella-style. We ate chicken paella, salmon paella, and lamb paella. On the flight home, I opened the flight magazine, and there was a recipe for chicken paella. I cut out the recipe and adapted it to our likings.
Now, you'd think that when I make a one-pot dinner like this there's only one pot to clean. But as much as we love this dish, some of my kids won't try it (because the rice is touching the chicken!). So, those kids get leftovers, or if they're lucky, hot dogs or burgers (and that entails another pan!)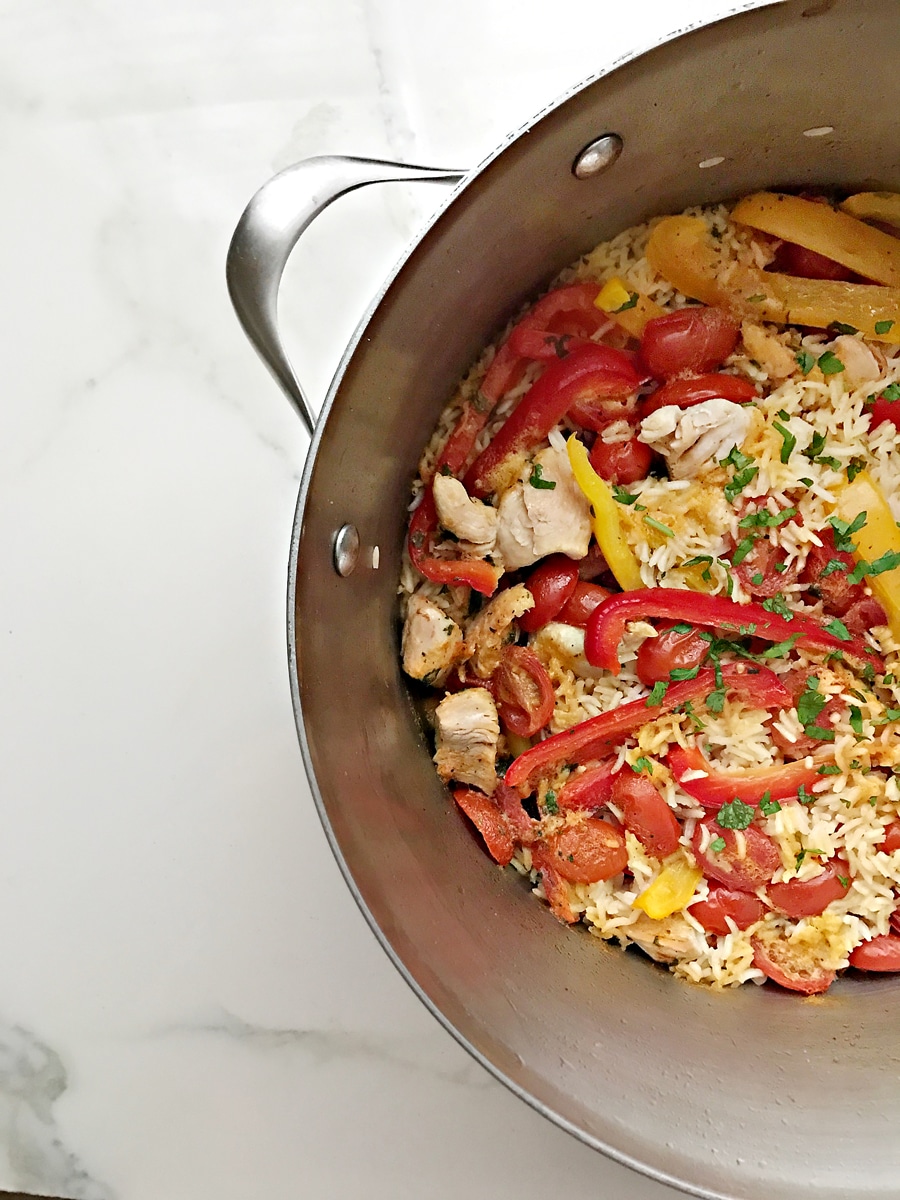 Chicken Paella: The Dinner (Most of) Your Family Will Love
Ingredients
2 tablespoons olive oil, divided
2 boneless skinless chicken thighs or chicken breasts, cut into nuggets
Salt and pepper, to taste
1 red bell pepper, cut into thin strips
1 yellow bell pepper, cut into thin strips
1 pint cherry tomatoes
1 garlic clove minced
2 tablespoons chopped parsley
1 cup basmati rice
2 ½ cups chicken stock (or 2 ½ cups water with 2 teaspoons consomme mix)
½ lemon, sliced into wedges
Instructions
Heat 1 tablespoon olive oil over high heat. Season chicken well with salt and pepper. Add chicken to the pan and cook until browned on all sides. Set aside.
Add remaining tablespoon olive oil to the pan. Add peppers and tomatoes and saute for a few minutes, until softened. Add garlic. Cook for 3 additional minutes. Add half the parsley and the rice. Cook for a few minutes, until it has absorbed the oil.
Add chicken stock and return chicken to the pan. Stir all ingredients together. Reduce heat to medium-low and cook for 15-20 minutes. Don't stir! A good paella is always crusty on the bottom.
Once the liquid is absorbed, remove from heat. Cover with a clean tea towel and let sit for 5 minutes. Serve with the remaining parsley and lemon.