Because, some days, you need to leave your house knowing that dinner will be waiting for you when you walk through that door.
Coming home, after being out working all day, to a cooked dinner, sounds like the solution to all problems. Right? If we could just nail dinner, we would be fine. And true, we do have an entire book aptly called "Dinner Done" and yes, it solves many many dinner problems. But, what about those days when you need the dinner dilemma solved at 8 a.m. and you just want to walk into the delicious smell of food cooking…?
So yes, we do have some of those ideas, or solutions, in Dinner Done (the Pulled Beef Sandwich on page 136 for one, or the Mommy's Chicken on page 24 for another) but, when my 8 year old son came home and asked for the dinner that Eitan's mom makes, my ears perked up.
Eitan's mom works hard and walks through the door the same time that Eitan does – so, was it take-out he had eaten?
Nope, he said. To be exact, he said "chicken and potatoes in that pot that we make cholent in on Shabbos and also the potatoes were so, so good and also, I ate two plates."
Two plates? This 8 year old never ate two plates of anything, not even birthday cake.
"Yes, he had two plates" confirmed Eitan's mom "but I am not giving you a recipe, I'm just not."
"Why not?" I inquired.
"Because, how shall I say it… there is no recipe. It's something I made up years ago and I just throw it together so that I have dinner ready when I get home after a long day. It's nothing."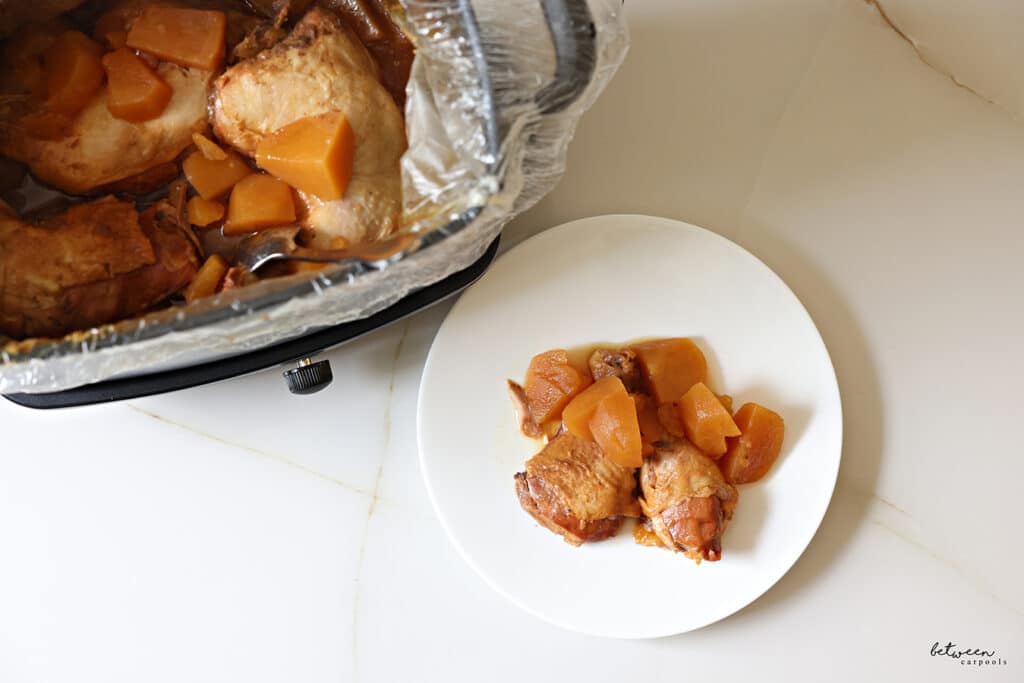 This is where I explained very nicely that 90% of our readers only want these types of recipes, and yes, the whole world wants dinner ready when they walk through the door. She was not alone there. And I know you are all nodding with me right now. And two plates did not sound like "nothing."
So, after much nudging, Eitan's mom agreed to share her method (it's not a recipe she says!) and you can all try it and report what you think.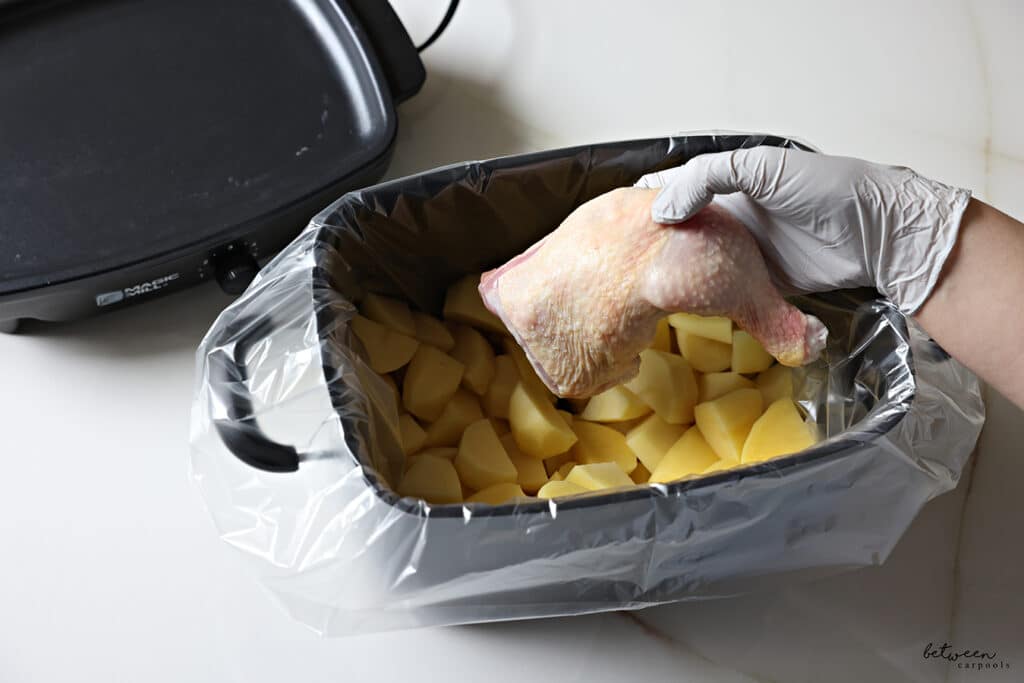 Simply put your chicken pieces over those cubed potatoes.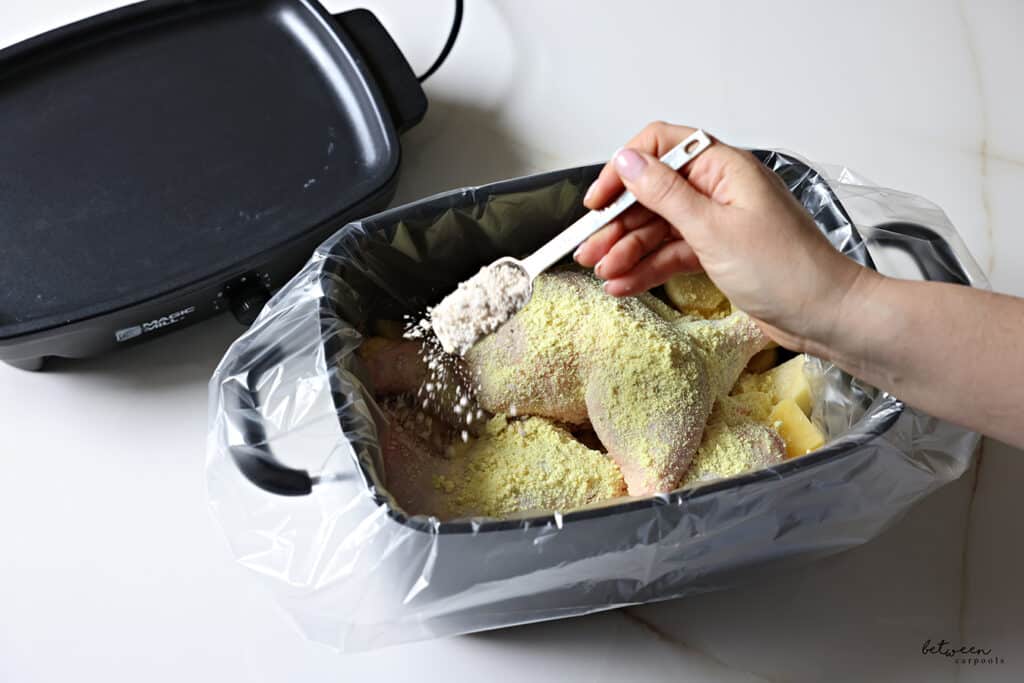 Add spices…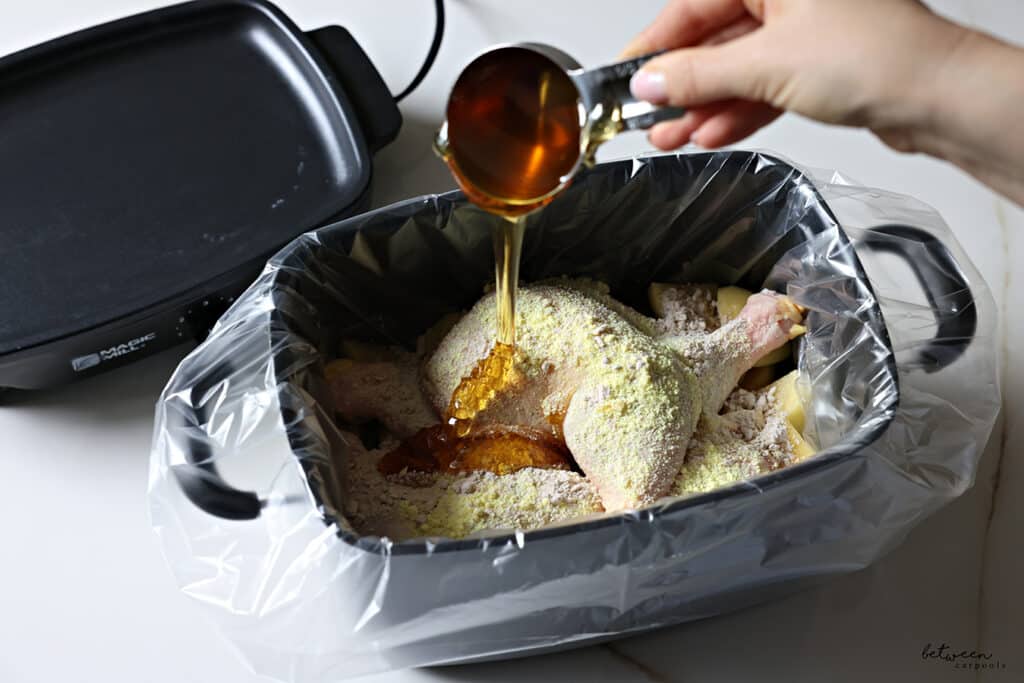 and drizzle the honey.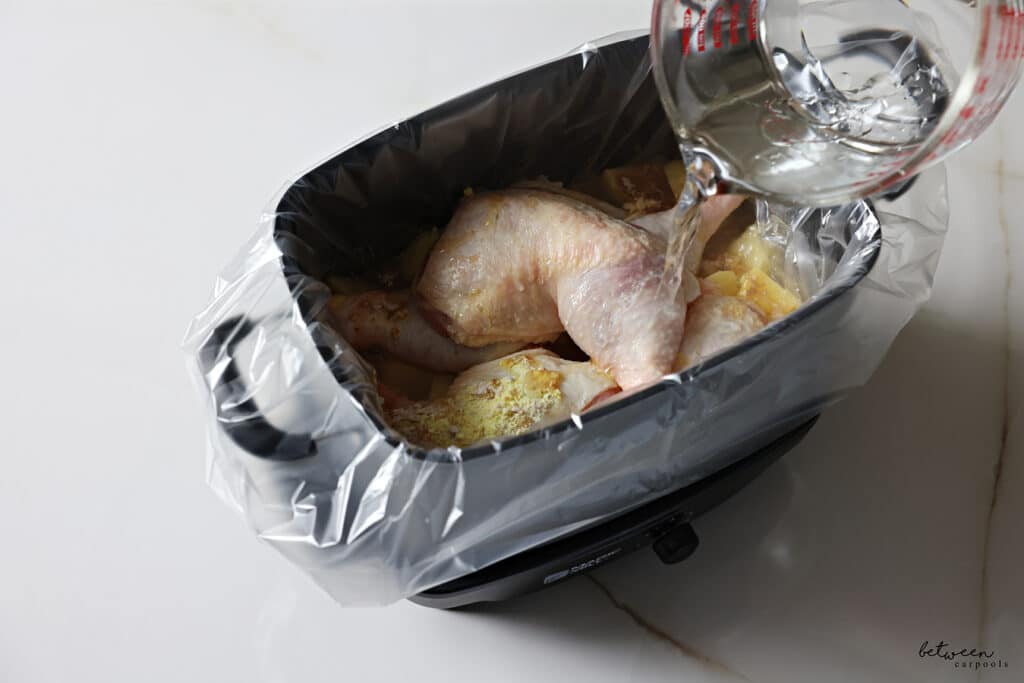 Next comes the water.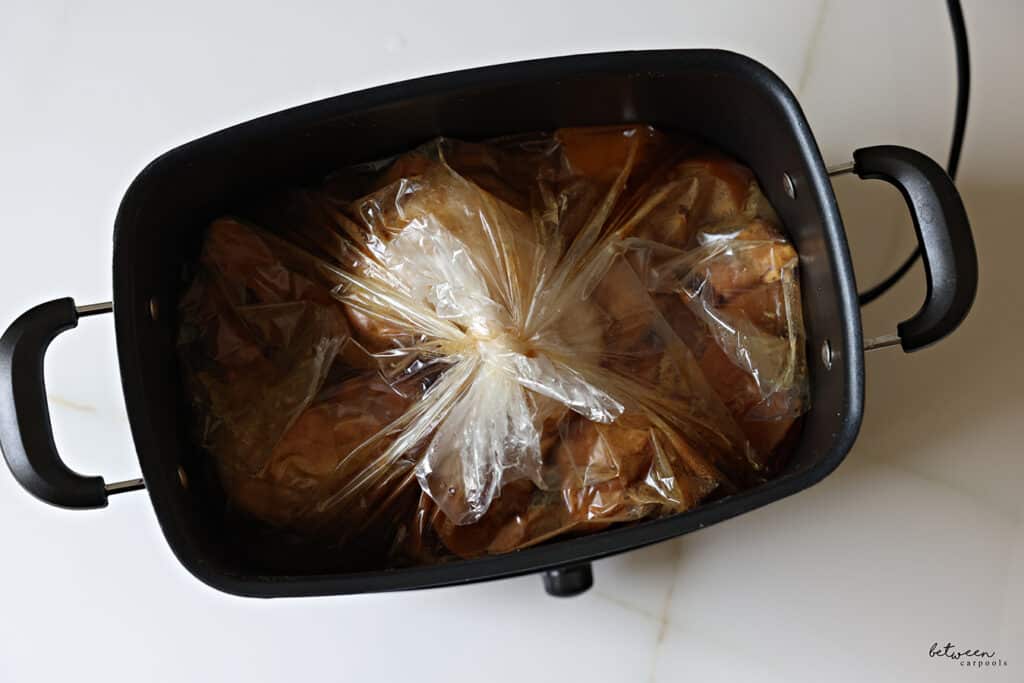 A closed Crock-Pot liner keeps it all super, super moist.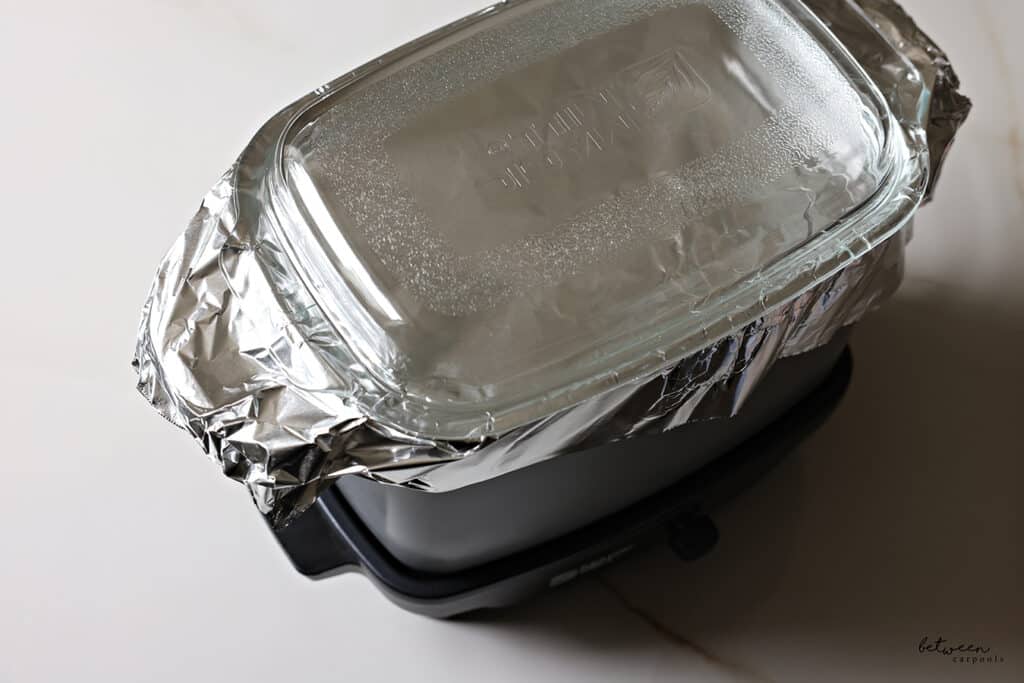 Cover with a piece of foil, then the lid, and let cook all day.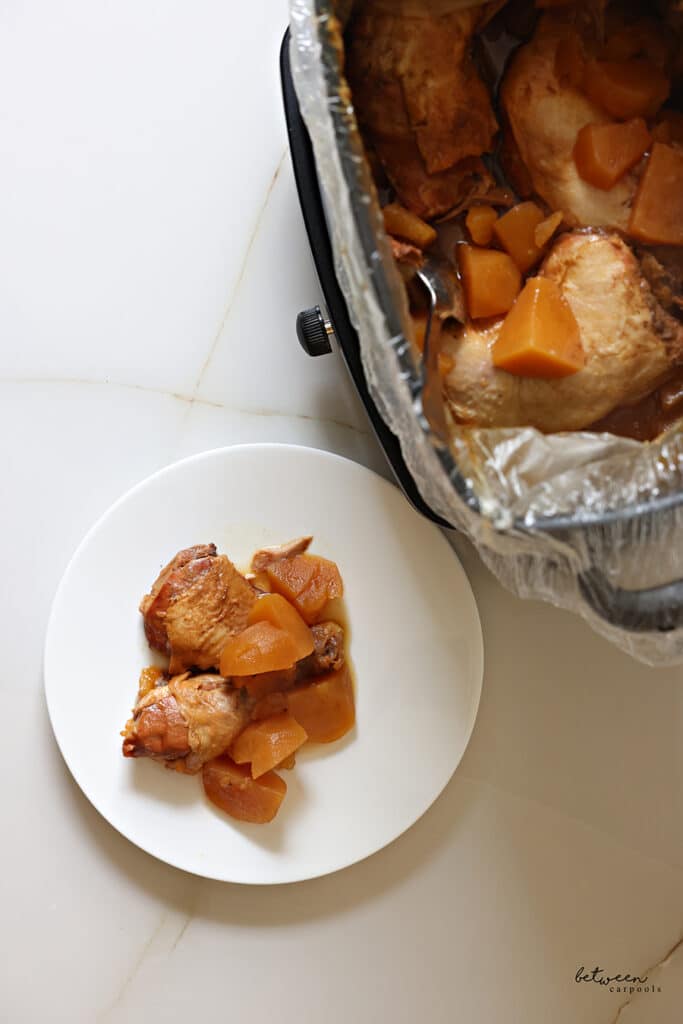 Your chicken and potatoes dinner will be waiting for you when you get home!
… and I just know that my son wants seconds.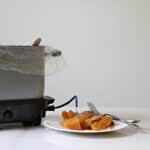 Print Recipe
Crock-Pot Chicken and Potatoes
Ingredients
4-5

yellow potatoes, 

peeled and cubed

4

chicken bottoms  

(quarters)

2

tbsp

onion soup mix 

2

tbsp

consommé 

⅓

cup

honey

1

tsp

salt 

water  

(boiling)
Instructions
Line your Crock-Pot with a Crock-Pot liner. Place the cubed potatoes inside.

Top with the chicken pieces. Sprinkle spices over the chicken, then add honey. Cover the chicken with water to just cover.

If you want to give yourself a head start, pour boiling water over it all, or, you can simply use regular water.

Tie the bag into a double knot, then cover with a piece of foil. Cover and let cook all day, until ready to eat, about 6-8 hours on medium-low. Your chicken and potatoes dinner will be waiting for you when you get home!
FOR EXCLUSIVE CONTENT AND A PEEK BEHIND THE SCENES, MAKE SURE TO JOIN OUR WHATSAPP STATUS HERE. JOIN OUR WHATSAPP GROUP AND WE'LL LET YOU KNOW WHEN A NEW POST IS UP!