I'm warning you from now. You will want to prepare a second batch of these perfect, crispy hash browns potatoes. 
When it comes to making Pesach sides (aside from hot vegetables), all you might be left with is potatoes. As a chef, my creativity has had to go into overdrive to come up with various ways to serve those potatoes over Pesach…and these hash browns are one of my favorite versions. 
Crispy shredded hash browns come together in minutes and are insanely addictive (say the Between Carpools staff who polished off the pan minutes after it was shot!). It's all you ever want from a potato: comforting and crispy all over. You won't want it any other way!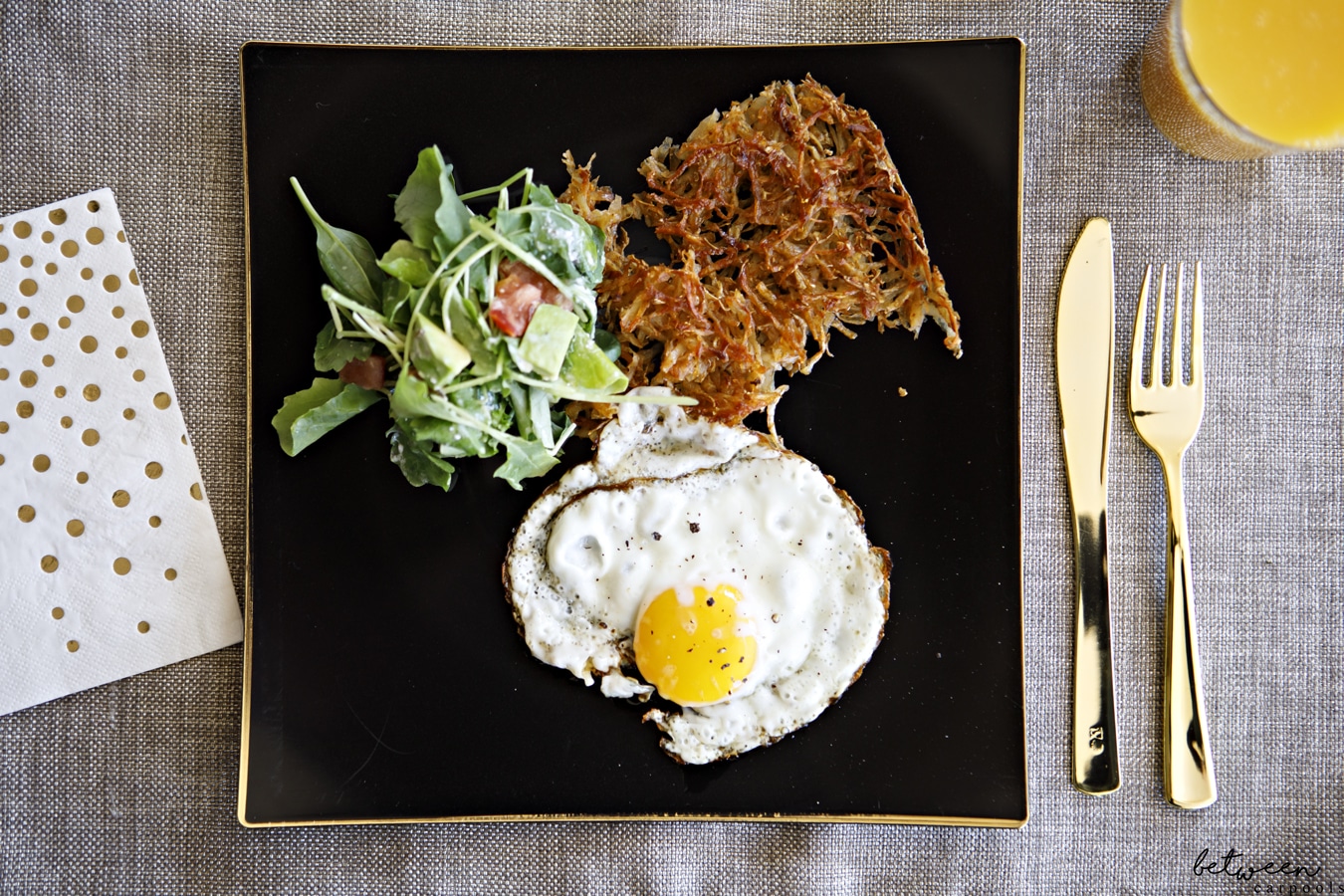 Sheet pan hash browns make a great side addition for breakfast, brunch or dinner- it's always a winner! 

Sheet Pan Hash Browns
Author:
Sarah Chana Gruskin
Ingredients
6-8 potatoes (6 large or 8 medium), russet or red potatoes
3 tablespoons unsalted butter or oil
1 teaspoon kosher salt
1 teaspoon paprika or smoked paprika
½ teaspoon freshly cracked black pepper
½ teaspoon chili powder
½ teaspoon garlic powder
½ teaspoon onion powder
½ cup grated Parmesan, optional
Instructions
Scrub potatoes clean, under cold, running water using dish soap to get rid of any sand or dirt that may be on the potatoes (Russet potatoes need more attention than red potatoes since they attract more sand). You can also peel the potatoes but I love the rustic charm the peel adds.
Mix oil and spices to create mixture, set aside.
Position oven rack to the top shelf and preheat oven to 425ºF.
In a food processor, using the large shred blade, or using a box grater, shred the potatoes. Transfer potatoes to a large bowl. Rinse shredded potatoes under cold running water. This will rinse off the starch (that may have turned brown by now, rinsing the potatoes will now rinse away the brown starch) which will keep the potatoes from becoming gummy.
Squeeze the liquid out of the potatoes with your hands or with the help of a kitchen towel, wringing out as much liquid as possible until they are nice and dry. This helps to avoid soggy or gummy potatoes or that awkwardly raw center between crispy outer layers and will make your potatoes extra crispy!
Pour the spice mixture over the potatoes and toss. Transfer spiced potatoes to a parchment-lined sheet pan and spread potatoes in a single layer (Piling the potatoes too high will prevent the potatoes from getting crispy). Transfer to the oven and bake for 45 minutes, till crispy and golden. Serve fresh out of the oven on the sheet pan family-style.
Notes
Prep ahead:
Feel free to wash and scrub/peel potatoes and shred on the large whole of a box grater or large shred attachment in a food processor. Transfer shredded potatoes to a large bowl and cover with an inch of cold water. Store in the fridge up to 24 hours. When ready to finish, rinse potatoes under cold running water and squeeze out all the liquid out. It's necessary to do two rounds of squeezing since the potatoes absorbed extra water while sitting for 24 hours. Continue with the remaining directions.