I despise chips. My kids don't want snack bags from the health food aisle. Can we find common ground?
In some ways, my kids are lucky. I love ice cream, so they get to go to the ice cream store often because mom is much more likely to take them there if she wants it herself. It works the other way around, too. Mom hates potato chips. They used to enter my house on Pesach only.
Until my kids grew old enough to revolt.
• They wanted chips like their friends have. Krunchers, specifically.
• And they wanted snack bags. Nothing homemade.
Luckily, we've been able to find some common ground. Here are the items that make it into our snack bin (which I restock monthly).
The Fruity Snacks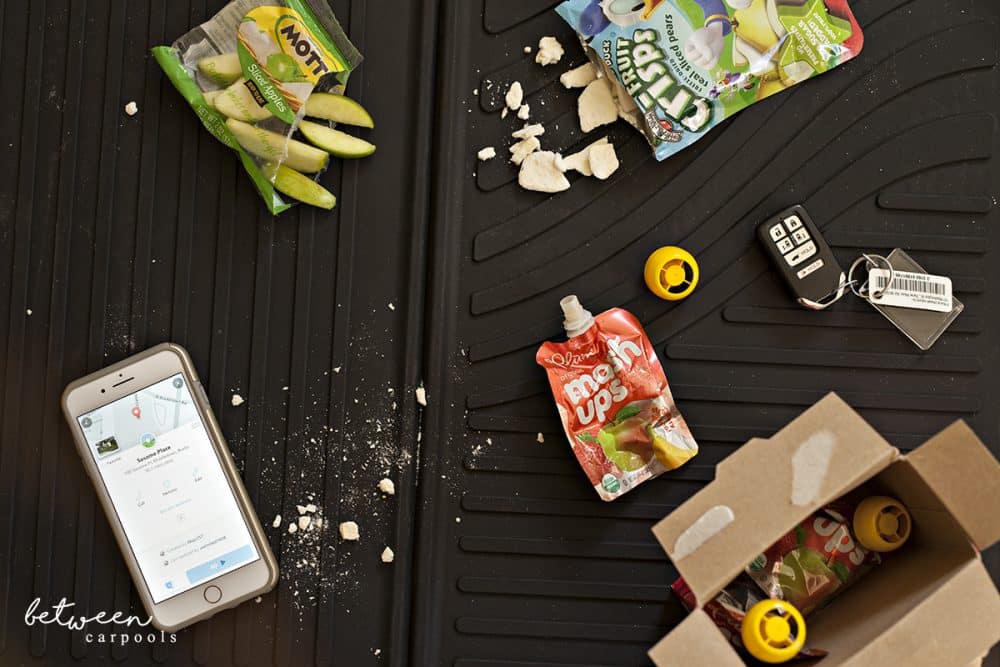 These are the ones moms automatically love and thank G-d when their kids love them too.
Brother's Fruit Crisps. My oldest likes the strawberry and banana flavor. There's also apple, pear, and pineapple (I don't really like the orange flavor). I find them at Seasons, Wegmans, and in greater bulk at price clubs.
Mash-Ups (fruit and vegetable purees in a fun-to-eat pouch). I find these in Wegmans in lots of different flavors.
Fruit Twists and Leathers. There are lots of versions available today, in kosher and mainstream supermarkets, that are made purely from fruit juice and have no added sugar.
Matt's Munchies and You Love Fruit. My kids wish I'd pack these in their lunch bag, but I won't spring for the $2.00 per snack. These are mostly my personal treat. But if a grocery budget isn't a concern, then go for 'em.
Pre-Sliced Apple Pouches. Super-win for everyone.
The Potato Chip Alternatives
I'll buy a limited supply of Krunchers (or their requested chips) so the boys can have their "junky" snack one or two times per week, but I won't buy those huge price club boxes of chips (despite the snacks being super cheap). For the other days, we're all happy with these.
100-Calorie Pack Pringles. This is by no means healthy, but I'm happy that it's in a controlled portion. And the kids are happy they have Pringles. Now the question is…which bracha do you say?
"Popped" Potato Chips. There are lots of different versions of "baked" or not fried potato chips on the market. My kids always change their mind as far as which they like and which they deem "too healthy tasting." (I know I don't dare fill a snack bin with too many of these "alternative" chips…it's a careful balance). Right now, they're liking Golden Fluff's Popped Potato Crisps.  
Popcorners! One of the best snacks to hit the market in recent years. Totally mom and kid-approved. Kettle flavor rocks.
The Standards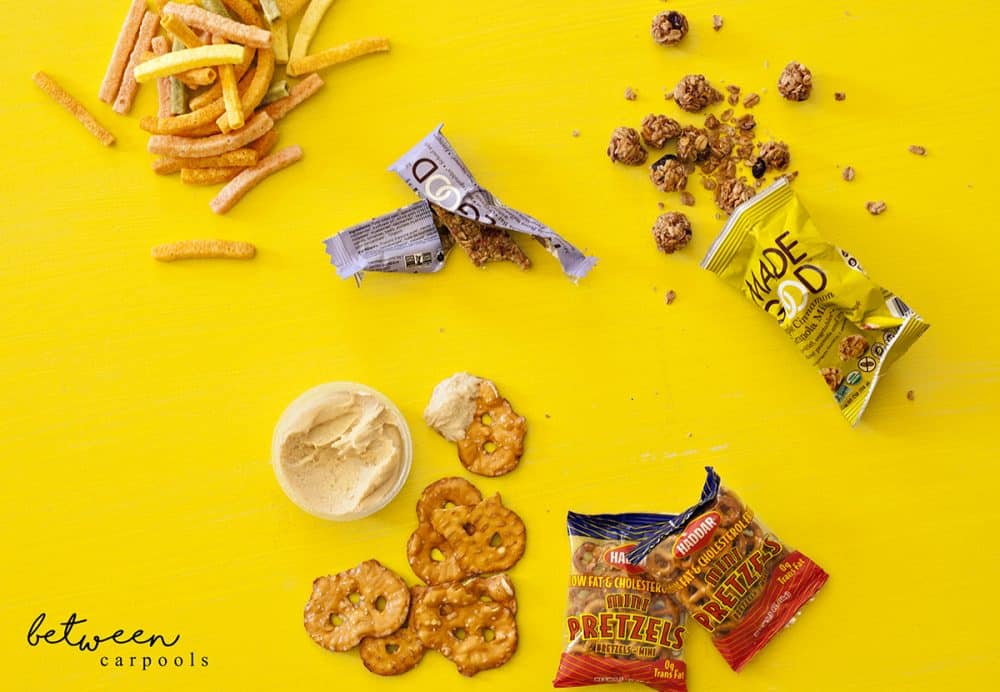 Pretzels are always great, but every family has their favorite variety. We love those flat pretzels and the mini bags of Haddar pretzels are always a staple. We also love those little yellow boxes of Bachman pretzel sticks; for me, they're nostalgic. Add a little container of chummus to make this a more exciting snack.
Granola bars often contain nuts or "may contain traces of nuts" which make them a school snack no-no. I found these Made Good Granola Bites and Bars at Wegmans. They're allergen-free and hence school-friendly.
Veggie Sticks. Sure, they're mostly potato-based. But they're better than chips and I somehow feel satisfied when my kids request these as a snack…though it could simply be the "Veggie" in the name.
Popcorn & Kettle Corn (Light or Regular). Pongs (collectible tokens found inside bags of Golden Fluff popcorn) might have helped popcorn sales earlier this year and led to the rise of popcorn as a preferred snack. Microwave popcorn might be pure junk, but I find that most snack bags are acceptable. Even better…freshly popped homemade popcorn (made in a pot with just a little oil) is actually the one homemade item my kids will accept.
And More Snacks!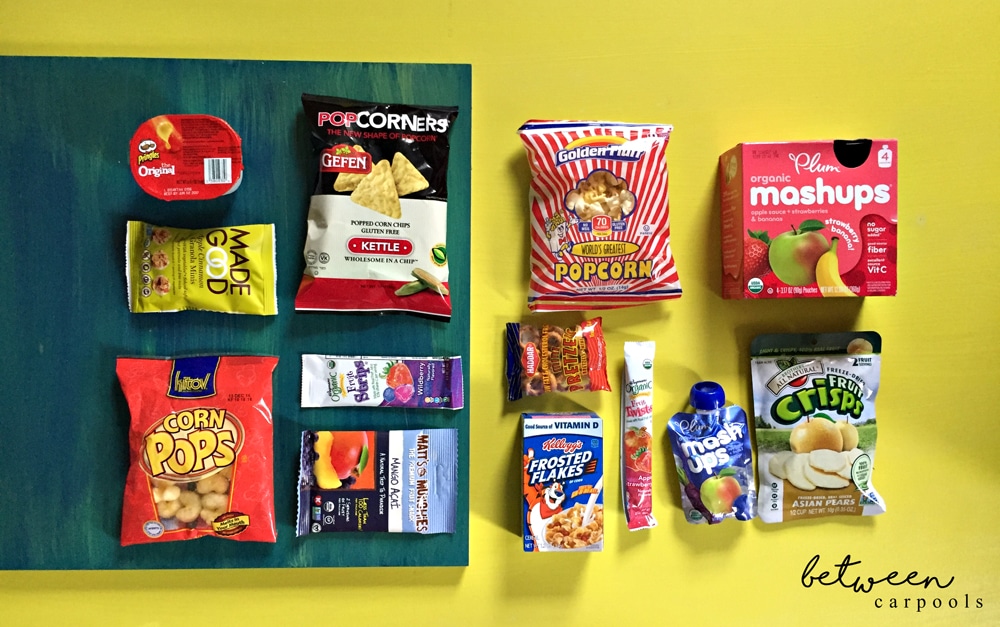 Corn Pops & Light Corn Pops. Light, airy, fun to eat, low in calories. These are a constant staple in my house. Though the blue bag is lower in fat and preferred, the red bag isn't so bad either.
Single Portion Cereal Boxes. Cereal gets a bad rap for breakfast, but compare it to your typical snack bag, and though most do contain sugar, they're fortified with way more nutrients than most other snacks you'd find on the market.
Pita Chips. Just add chummus.