When a woman has an organized pantry, it feels like all is right in the world. But sometimes getting it right is so confusing! 
I remember the first time I bought pantry containers. It was about 12 years ago, and one local store was having a sale on Click Clack Storage Containers. I was super excited to finally get my own and have one of those picture-perfect pantries. I remember standing in the store, trying to figure out which sizes to buy. What was I going to containerize and what not? I was so confused! 
Now, it's been long enough. Most of my Click Clacks have broken lids and I've decided it's time to replace them. But now that I've been organizing and reorganizing my pantry for long enough, I'm doing it a little smarter this time. I know now what needs a container, and what doesn't, and what sizes I do need.
I addressed cereal storage in a different post; click here to see the cereal containers I love and my fellow BCP team members use. And click here to learn how to make your own pantry labels.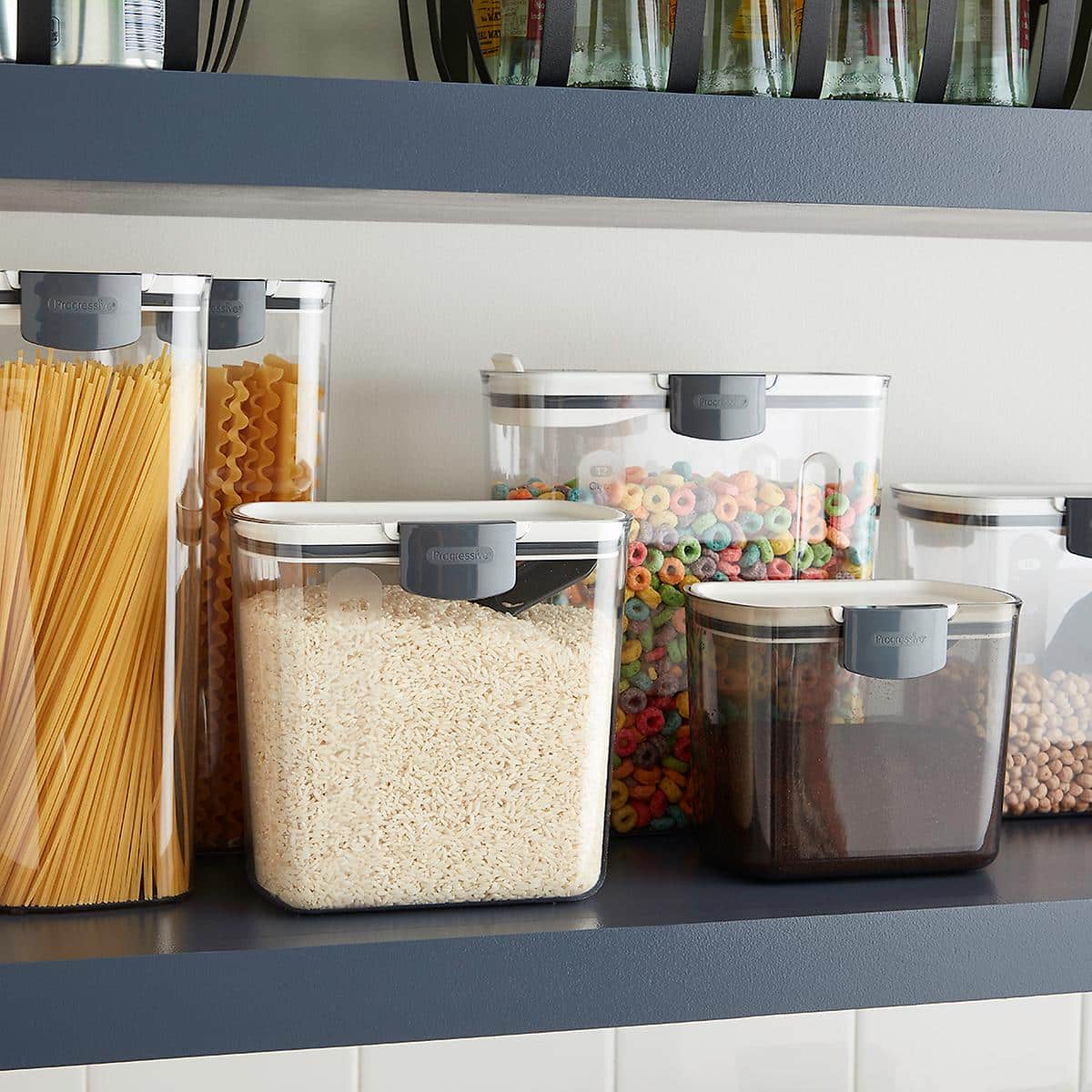 Which containers should you buy?
While Click Clack was popular back in the day, OXO took over in the past few years as the container of choice. I'm going with neither. My choice today is the Prokeeper made by Progressive. Unlike the OXO, the Prokeeper is dishwasher safe; they seal more tightly than OXO and they also have cool convenient built-in features like leveling bars in the flour and confectioners' sugar containers or a ceramic disk to keep brown sugar from hardening.
What goes in a container vs. bin?
My smaller-sized Click Clack containers mostly sat empty. I list below what I am containerizing and what I am NOT. In the end, I am only using 12 containers – only items that I really always have on hand, not "sometimes" items. I find that anything which you stock in much smaller quantities is practical to just keep in a bin, either in its original packaging or in deli containers.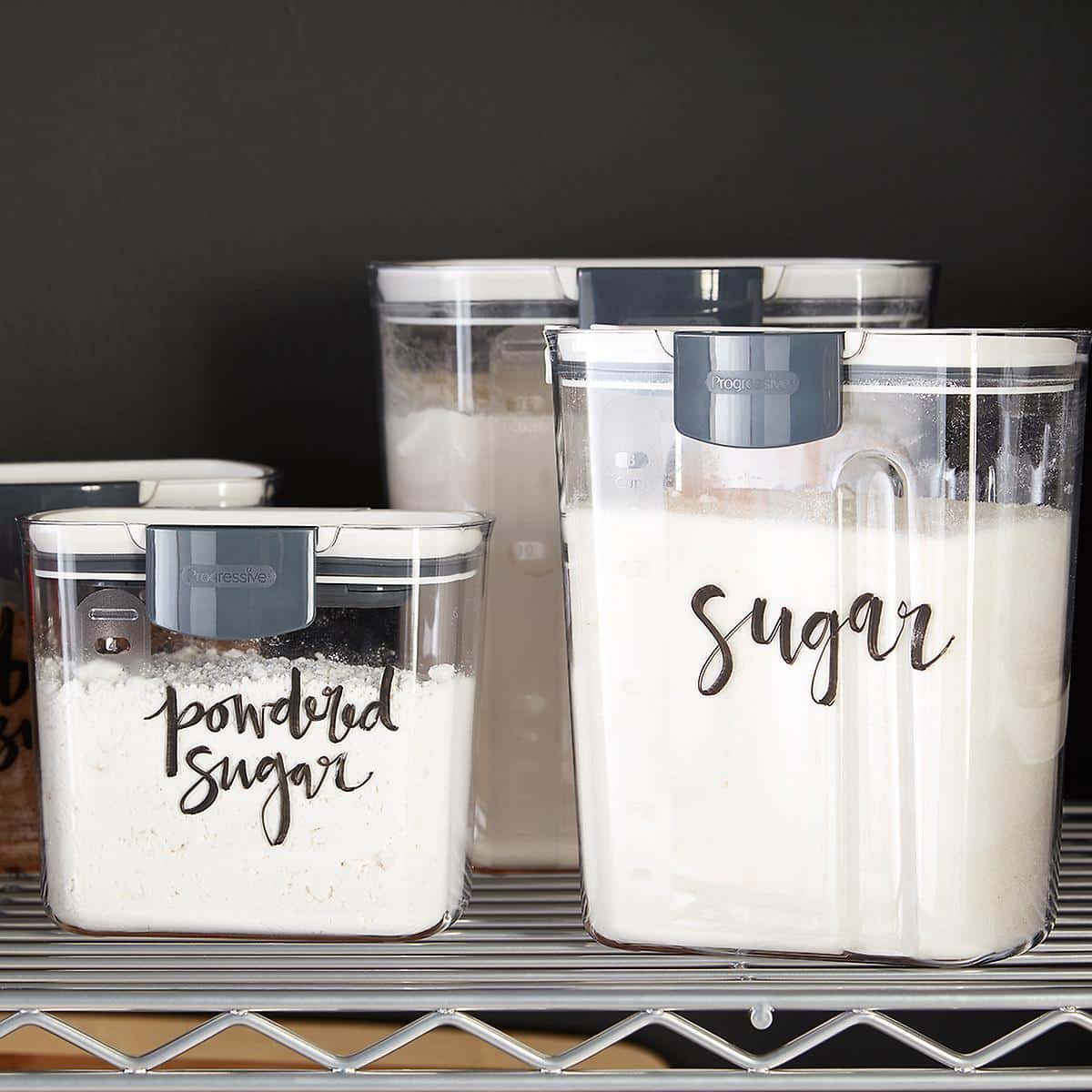 What about the things you don't containerize?
I do NOT buy containers for every little small item! That gives me too much pressure to keep them full! Rather, I keep them in their "category" and label larger bins. The BCP favorite is Ikea's KUGGIS which we were first introduced to by Renee Muller back in this post. I like that they're white because you can't see the inside (looks neater than when you can see the contents of the bin). I also find them to be very durable. But of course, you can use whatever pretty bin you like.
I transfer many items that come in bags to deli containers so they can be stacked neatly inside the bins. I keep everything that I DON'T containerize in categories inside bins with the following labels. Every family would have their own categories, but this is what works for mine:
Onions
Potatoes
Baking (include baking powder, baking soda, extract, corn meal, vanilla sugar, cornstarch, etc.)
Chocolate (includes chocolate chips, chocolate bars, cocoa, chocolate syrup)
Toppings (sprinkles, nut crunch, everything spice mix, etc.)
Nuts (whichever I have on hand at the moment. I buy smaller bags and go through them quickly rather than storing them in the freezer).
Dried Fruit
Baby
Condiments (ketchups, mustards, BBQ sauces, peanut butter)
Soup Mixes (Yeah, I have a bin for chicken consomme, beef consomme, vegetable consomme, onion soup mix. Don't yell.)
Cooking Wines & Vinegars
Syrups (maple syrup, silan, honey, corn syrup, pancake syrup, molasses…anything that's sticky)
Cans
Middle Eastern (Tahini, sesame seeds, lentils, etc.)
Asian & Sushi (Soy sauce, sesame oil, rice vinegar, hoisin sauce, nori sheets, sushi rice)
Shabbat (bags of barley, candy I want to hide for Shabbat…this one is high up)
Soup (Noodle Soups, matzah ball mix)
Rice Cakes & Crackers
Snacks (you can use a bigger bin for snack bags – if you're family always has certain snacks on hand that don't have individual packaging, then you may need a container for those)
Fruit Snacks (like those fruit pouches or fruit leathers)
Granola Bars
Healthy (like chia seeds, flax seeds, almond flour, millet, nutritional yeast, xantham gum)
Extra Spices (the surplus that are not in containers in the spice drawer)

I also use smaller KUGGIS bins for plastic spoons, forks, napkins, cups, and plates, but I know that these items are not always stored in the pantry in other homes. 
Pasta does not get a bin, the boxes line up neatly enough on an upper shelf, although I am considering adding a large bin for pasta and another one for ingredients like breadcrumbs, croutons, etc. Those items are not currently in a bin.  
Note on links below: I linked all these to The Container Store since they carry the whole line (they sometimes have discounts too, sign up to be a POP! member). I included links to both Bed Bath and Beyond and elsewhere within the product descriptions if you'd like to use your BBB coupons.