This dairy pastry is a staple in every Syrian home on Shavuot (and after every fast). 

A couple of years ago, I had this great idea of doing a series of posts featuring teens in the kitchen. Some of my daughter's friends stepped up and demonstrated a favorite recipe for me to photograph. And then those images just sat on my hard drive. 
When we decided to share a sambousak recipe for Shavuos (or is it Shavuot when you're talking about sambousak?), I remembered that we had this great series of step by step images already waiting for us! So here's a shoutout to Leah Kaye for sharing her time and talent with the Between Carpools world…
Now I hand the post over to Victoria to give you the instructions…
Any Syrian girl knows, from the time she's a bride or even earlier, that the recipe for Sambousak is "2-2-1." That's 2 cups flour, 2 sticks butter, 1 cup smead. This is the ratio that yields the ideal buttery pastry. The water will always be different, depending on the humidity in the kitchen and time of year. 
The only essential tool that you'll need that might not already be in your kitchen is a tortilla press like this one. -V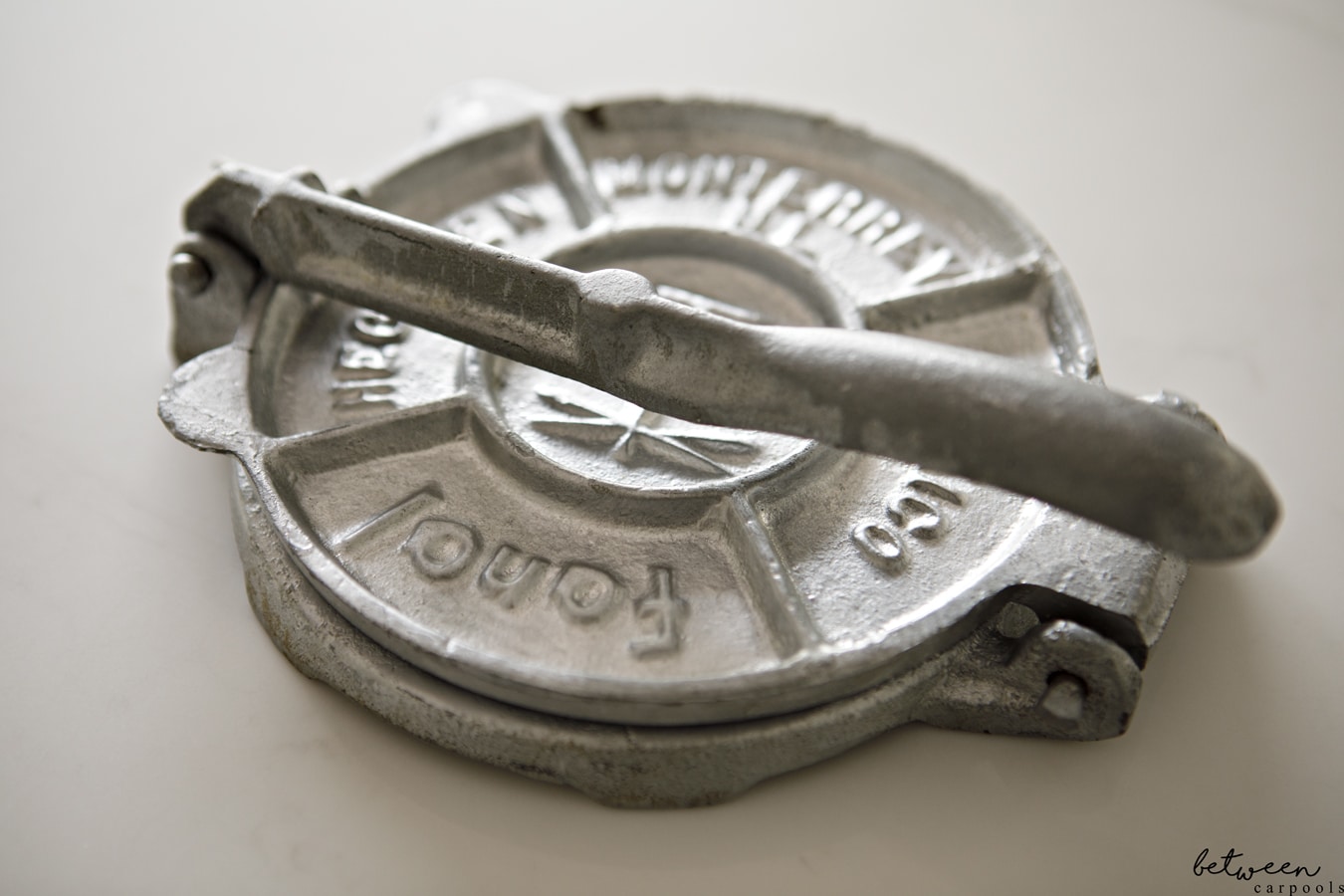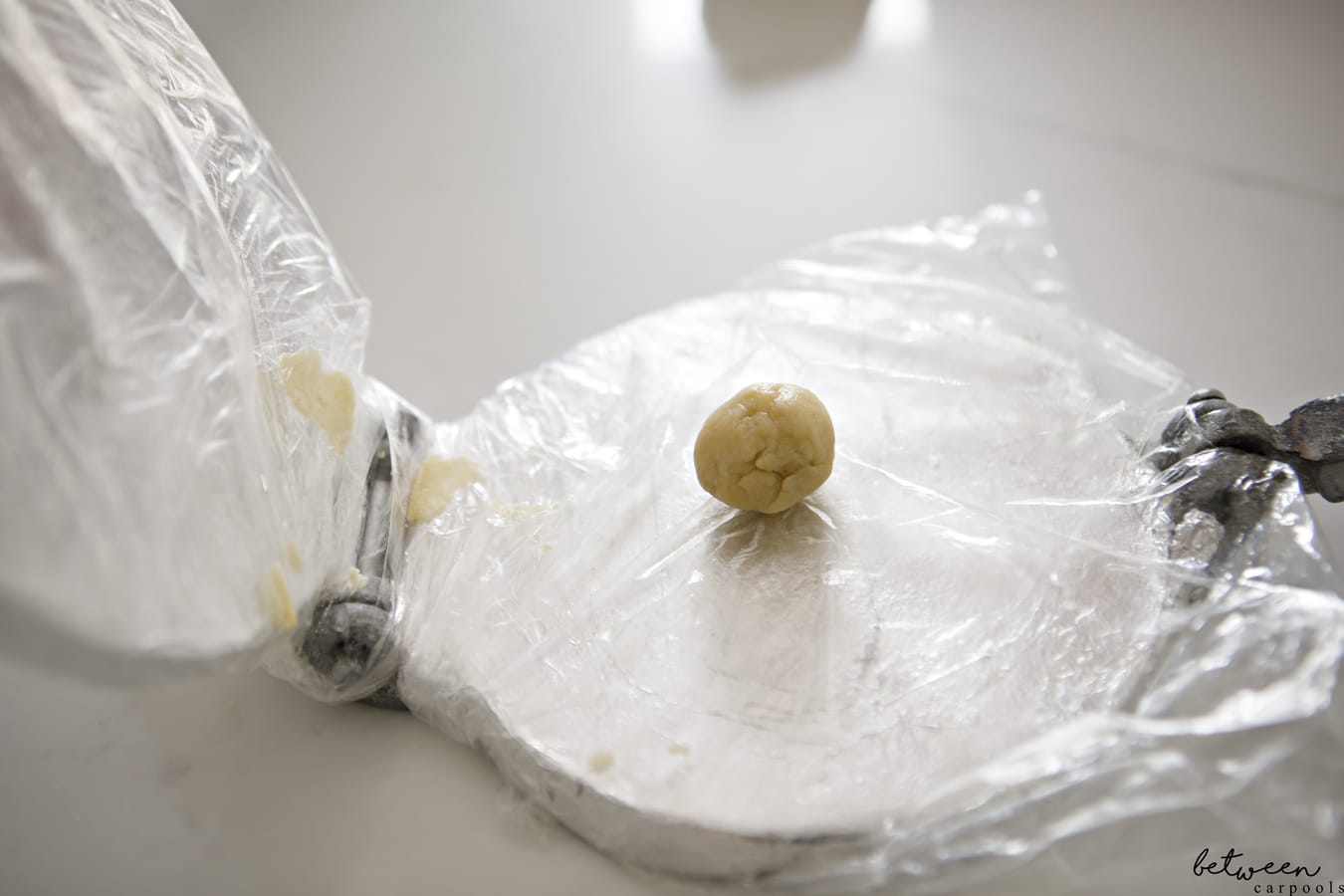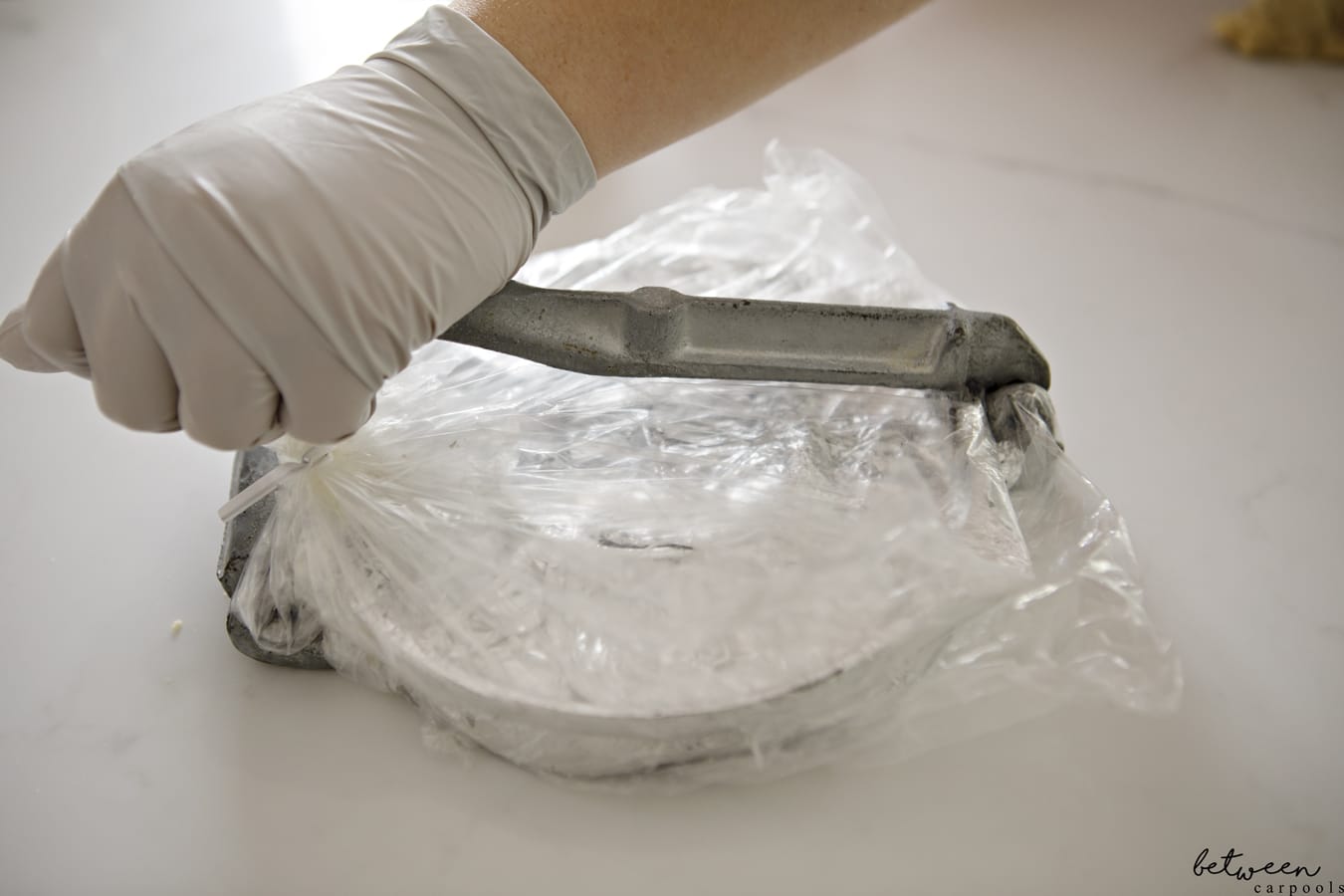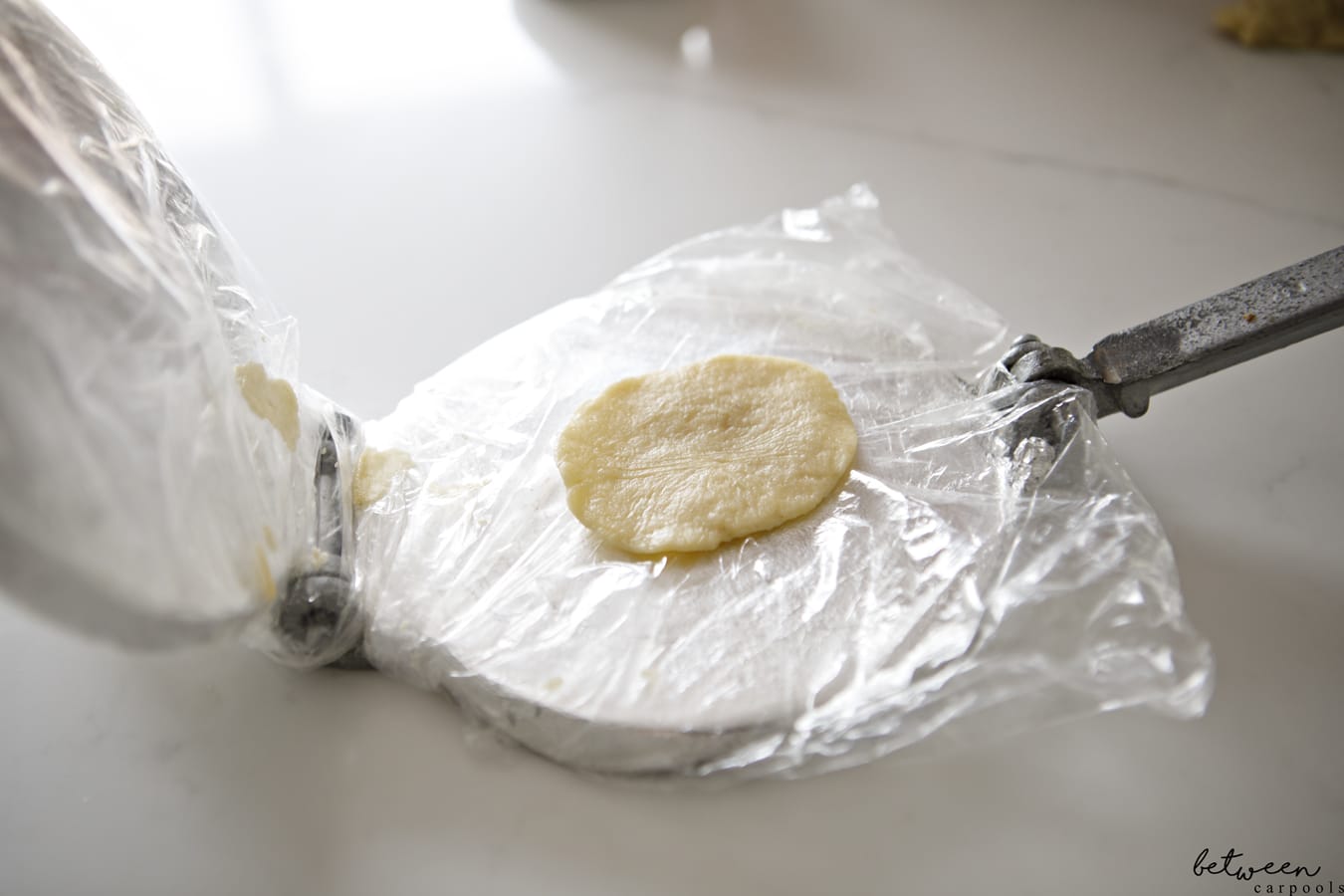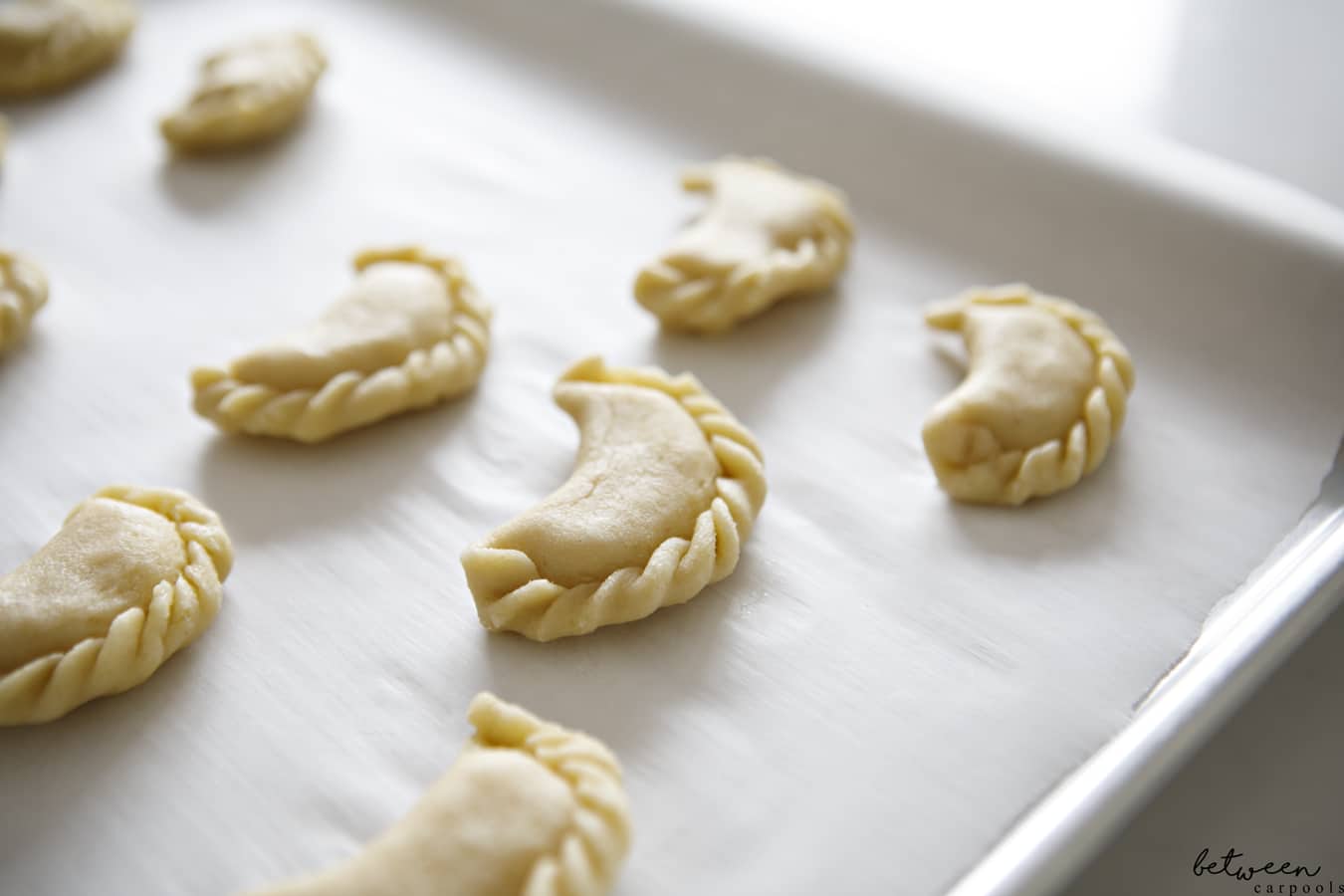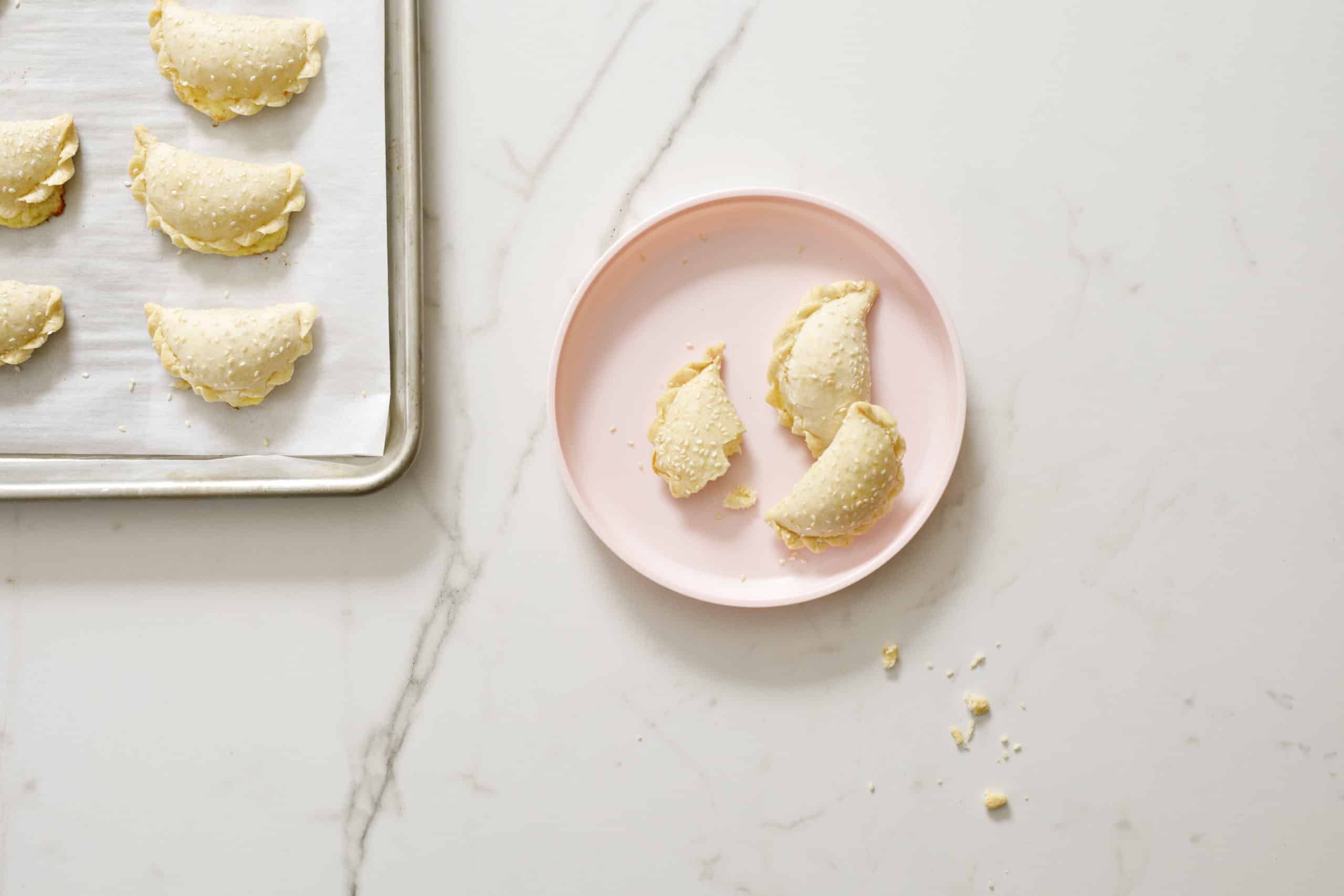 Sambousak
Ingredients
2 cups flour
1 cup smead
1 teaspoon of salt
2 sticks cold butter, chopped
½ - ⅔ cup water
Filling:
2 eggs
8 ounces shredded cheese (muenster is more traditional; mozzarella works fine)
Pinch baking powder (optional)
Instructions
In the bowl of an electric mixer fitted with the paddle attachment or in the bowl of a food processor, whirl together the flour, smead, and salt. Add the cold butter, a little at a time, until combined and crumbs form.
Now, slowly add in the water, very little at a time. Don't use it all...little by little. Keep mixing until the dough comes together. When the dough comes together and is lifting up off the bottom of the bowl, I test it by taking a small bowl of dough, flattening it into a circle, and then I see if I can shape and twirl the edges. If it's too dry and the dough cracks, it needs a little more water. You want to stop before the dough is sticky. It should feel very elastic and easy to shape.
Prepare your work area. Line a baking sheet or two with parchment paper. Wrap a tortilla press with plastic wrap or place Ziploc bags over them (make a hole for the handle). Prepare a bowl of sesame seeds. Prepare the filling in another bowl, combine eggs, cheese, and baking powder (optional).
Take a ball of dough and insert into tortilla press. You can choose to dip the ball of dough into the sesame seeds before going into the press, or add them afterwards.
Close the tortilla press and press down hard to flatten the dough. To fill, add a spoonful of egg/cheese mixture, then pinch edges closed to form a half moon. To twirl the edges, flatten one little corner piece of the half moon, then curl that little section over. Flatten the next piece, and curl. Keep going until the outer edges of the sambousak are curled. You can dip the top in sesame seeds or sprinkle the sesame seeds on top if you didn't dip the ball into sesame during the earlier stage. Place sambousak on prepared baking sheet when
Keep dough covered while working as it can dry out when exposed to air. You can leave the assembled sambousak exposed on the tray next to you while you fill it up. Sambousak can be frozen at this point. You should first flash freeze on a baking sheet, and later you can place them in a Ziploc bag.
To bake, preheat oven to 350⁰F. Bake for about 15 minutes. The sambousak are ready when the bottom of the sambousak is lightly golden, so you'll need to lift one up to check doneness. When the tops begin to get golden, they're slightly overdone. Frozen sambousak will need a bit longer baking time.
And NO, sambousak does NOT go with a dip!
Thanks to Vicky Seruya for your last-minute help!