I didn't expect a bento box to be the solution for my picky eaters.
I grew up eating everything that was served to me. Lox, spinach, broccoli, asparagus…all vegetables actually. Every type of fish or cheese too. Since day one. The term "picky eaters" was something completely foreign to me. Everyone in my family ate everything that was served to them. Happily, I would like to add.
Sure, the fact that my mom is a great cook helped. But that's not it. We were never forced to eat something, or to "finish the broccoli." We just ate because we liked it and we ate only as much as was necessary to fill us up.
My familiarity with the term "picky eater" expanded tremendously when I got to know my adorable children.
And yes, this is a topic that I am very passionate about and on which I could probably write a 12 page essay. But, I will not bore you, I promise. I just want to point out something I understood when it came to raising Child D.
Child D reached playgroup age right about the same time that bento boxes became all of the rage. Suddenly lunch was an event and everyone went crazy preparing them. At the time, I was just starting to get to know Esti Waldman. Her adorable daughter (who happens to be my daughter's age) was getting these colorful fun lunches everyday, in a bento-style box. It didn't take long before Child D announced "Ma! I want fancy lunch like Naava!!"
So Mom found out what "fancy lunch" stands for and Mom ordered lunch boxes on Amazon, listening very carefully to which ones Esti W. recommended.
And lunch has never been the same again.
Fast forward a few years: Child D grew up and now I don't pack lunch for her anymore. But, I notice, she is my healthiest and most adventurous eater. She will literally taste anything, without having to be persuaded.
I came to the conclusion that this happened, thanks to the lunch boxes. Hear me out. I will explain.
Child D was exposed to many different foods at a young age, an age where children still trust the parent and will eat anything, because that's what they do. I would fill up her lunch box daily with the usual foods (cream cheese sandwich, yogurt…) and then add something interesting to change it up. A pickle, a cut up mango, a bit of cottage cheese. Sometimes some celery. Or a hard boiled egg straight up.
This helped her develop a liking to all kinds of foods. And I enjoyed getting creative with her menu. She learned about textures and flavors. But mostly, she learned not to be afraid to try something.
I am in the process of testing out my theory on Child E who is currently 20 months old. He's been eating his lunch the bento way since this past summer (even when eating at home) and he loves it. So far so good.
I think I am onto something.
I will keep you posted.
In the meantime, have a look at what I sent for lunch this week. You might pick up an idea or two for your own toddler's lunch.
Monday's Lunch (find this box here):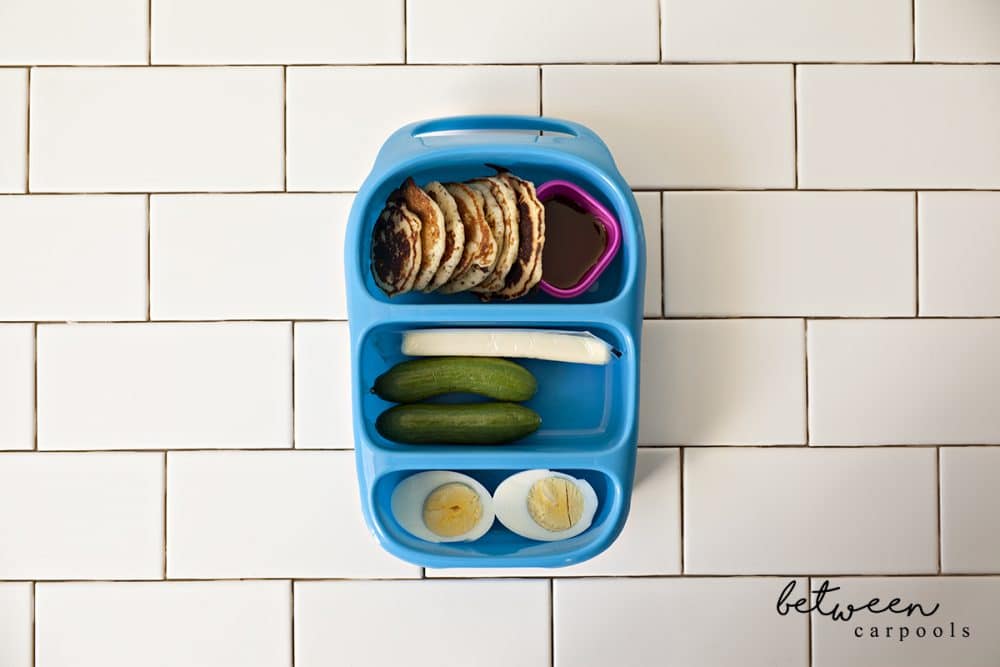 Good for you pancakes (recipe in Our Table page 96)  with sugar-free maple syrup, mini kirbies (also known as cutecumbers. I get them at Costco and I love them because they don't require peeling), mozzarella string cheese, and one halved hard-boiled egg.
Tuesday's Lunch (find this box here):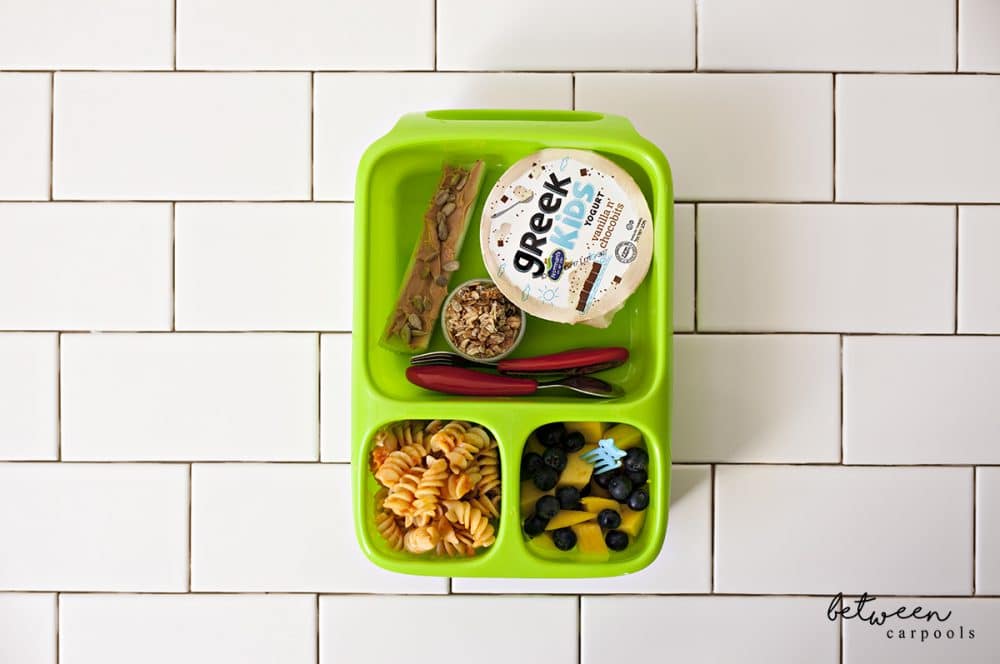 Norman's Greek kids yogurt (my son loves those, and I like the shape; it fits so well in the lunchbox) a bit of granola to sprinkle onto the yogurt, a celery rod filled with almond butter and topped with sunflower seeds, macaroni (yesterday's dinner leftovers), cubed mango, and blueberries. Make sure to add the cute little picks (see below).
Wednesday Lunch: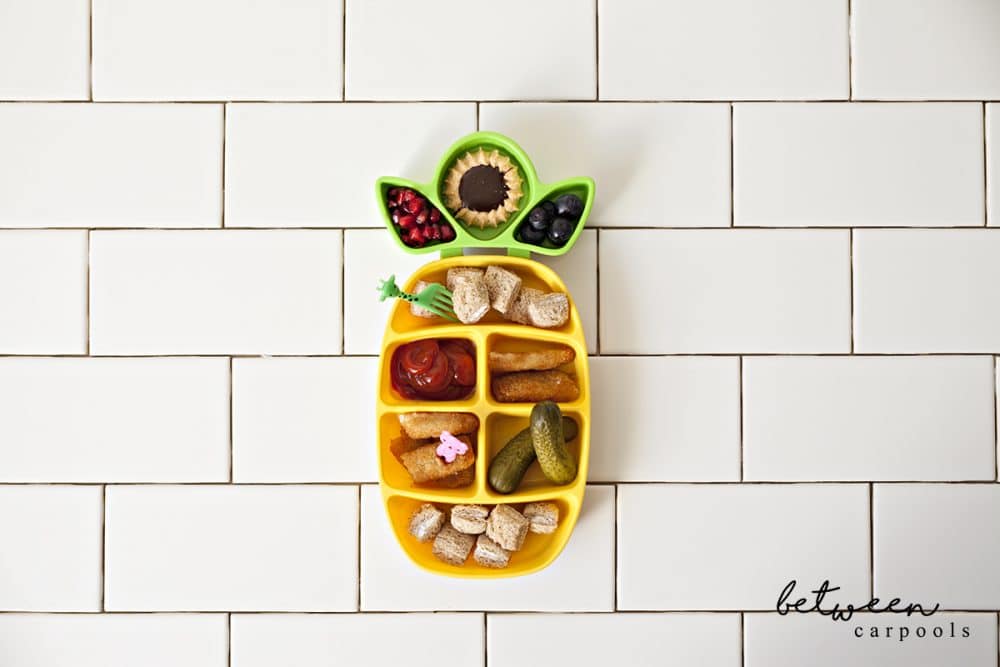 This is our favorite lunch box of all time. It used to belong to Naava Waldman. Naava outgrew bento lunches too and now we get to enjoy this cute pineapple. Sadly, it's not available for sale anymore.
Starting from the top right: Blueberries, Stella D'oro cookies, and pomegranate seeds.
Cubed sandwich, fish stix and ketchup, and gherkins. Check out our video on how to cube a sandwich easily.
Thursday's Lunch (find this box here):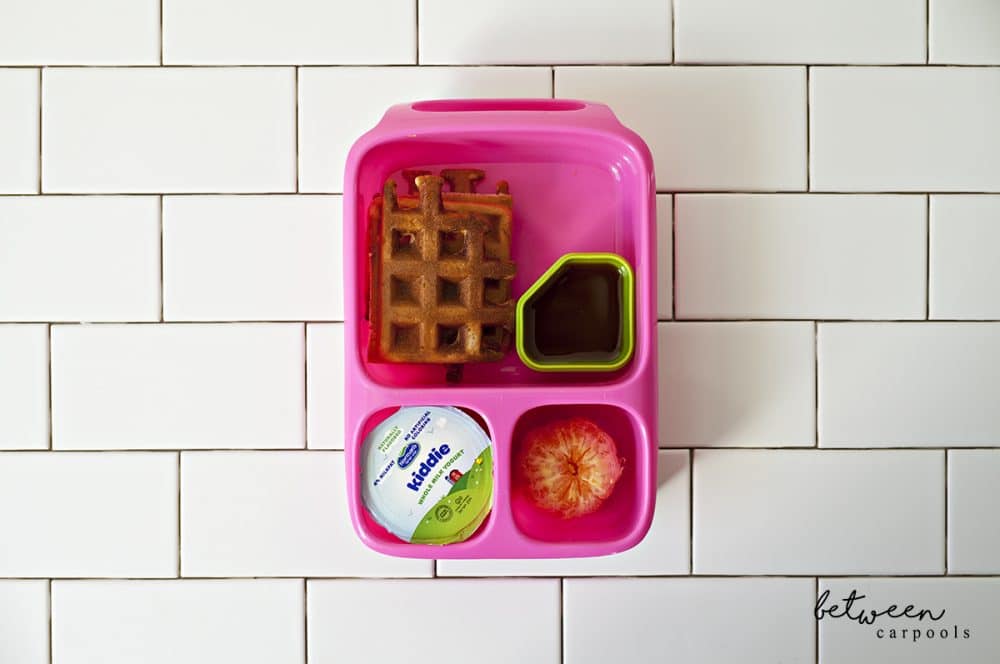 Waffles with sugar-free maple syrup (not gonna lie, those were breakfast leftovers), peeled tangerine, and a yogurt.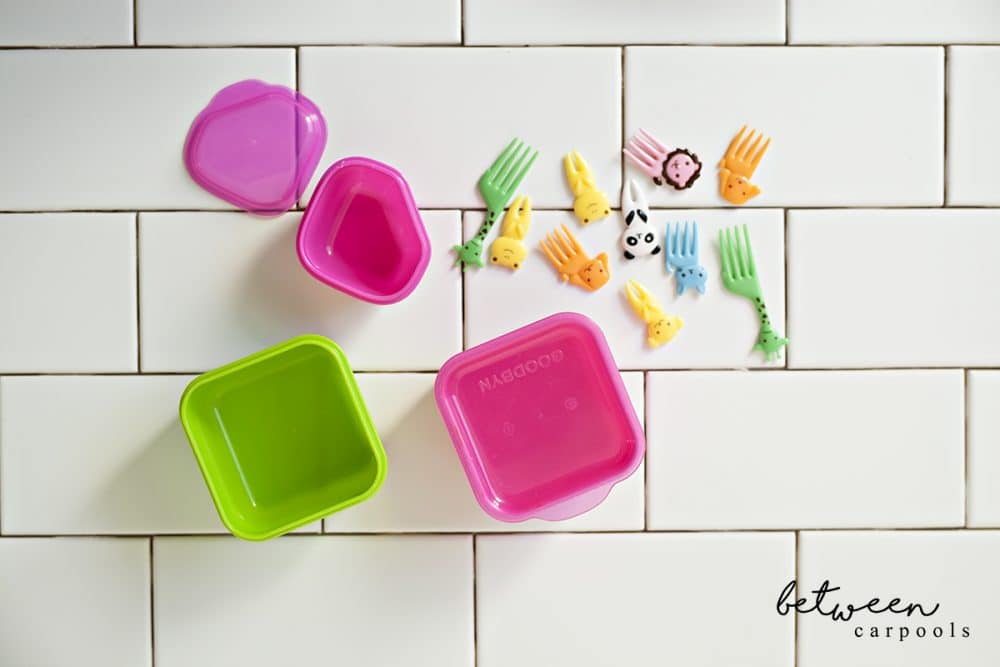 Find these adorable picks here and boxes here. These boxes are great for storing cut-up fruit, applesauce, and even soup. They seriously do not leak.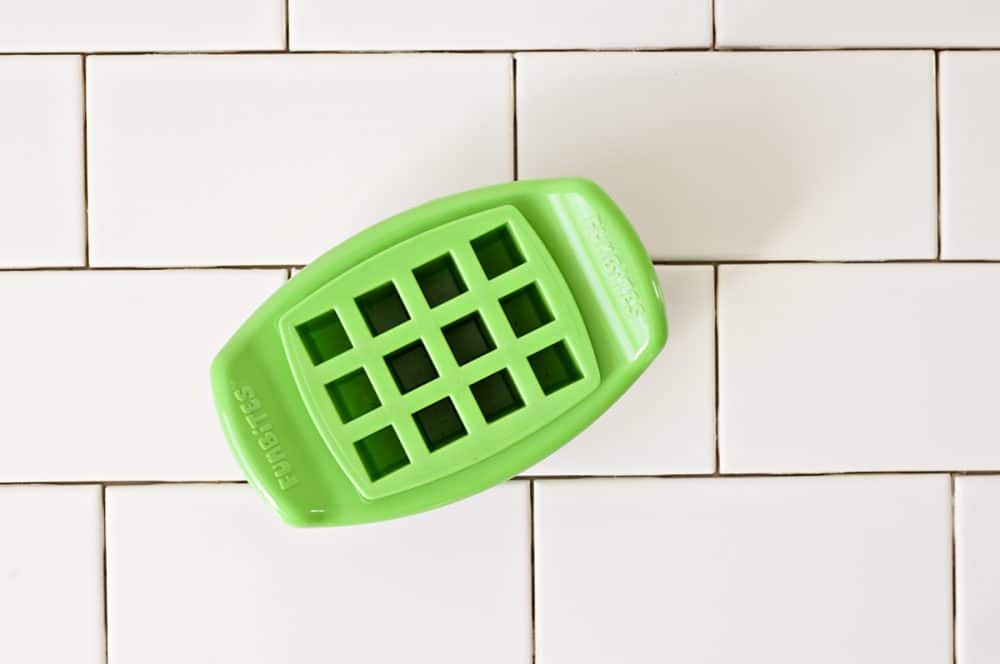 This FunBites sandwich cutter is one gadget I really love and use daily. Watch how here.