When you have the right challah recipe, it just makes every Shabbos and Yom Tov meal right.
Sharing a challah recipe comes with anxiety. There is nothing worse than someone trying your challah recipe to find that it doesn't work out for them. But, we've been loving these challahs for the last few years and I think it's finally time to share the recipe.
For years I had been making my mother's challah recipes. They're fluffy, light challahs that grow so large and I love them. The strange thing about challah recipes is that five people can prepare the same recipe and it tastes different in each house. The water in each town is different; the brand of flour you use makes a difference. That recipe served me well, until it didn't. A new move and the challahs weren't the same. Week after week for a few months they kept on crumbling or falling. I decided I had to find a new recipe that worked in my new home. I called a few people and asked them how many eggs does your recipe have? How much yeast? And I started baking. One was too sweet, one was too eggy, one not eggy enough. We finally settled on this version that we absolutely love.
Essentially every challah recipe has 7 ingredients for the 7th day of the week. When making challah, it's always good to review. Did I put in all the ingredients?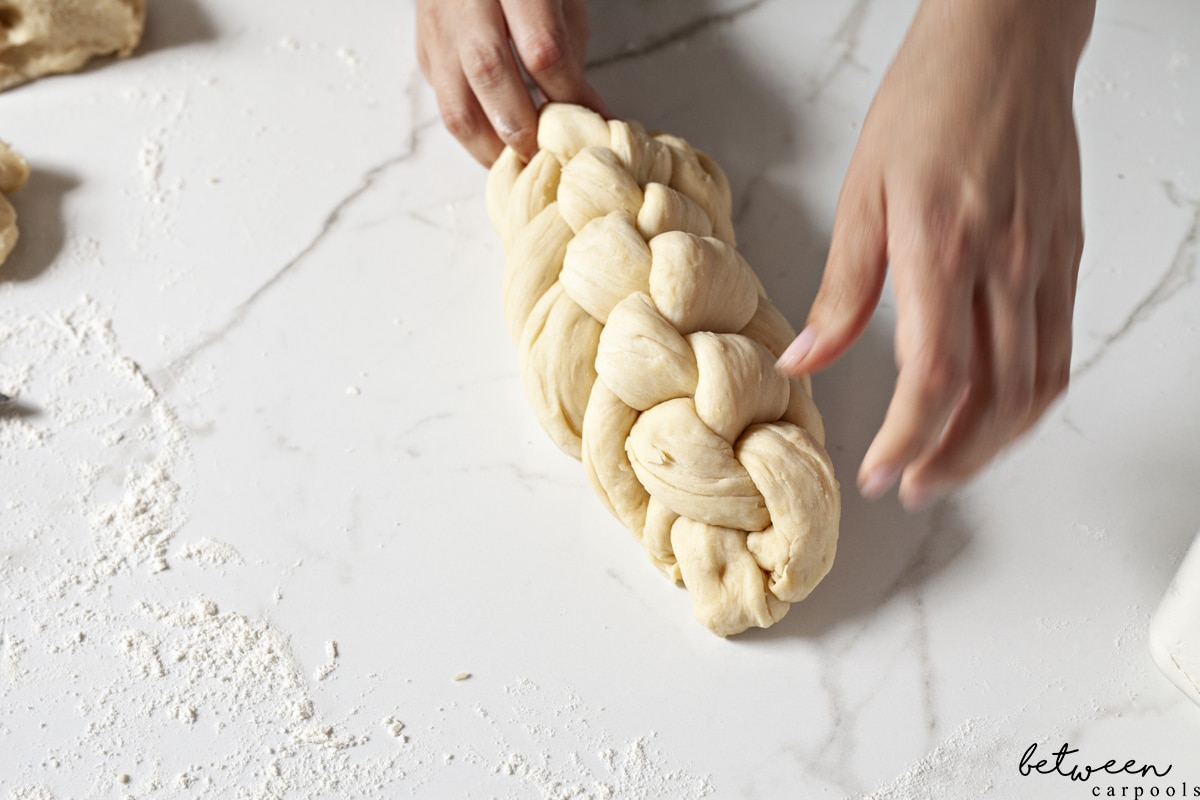 My Favorite Challah

My Favorite Challah
Ingredients
3 tablespoons dry yeast
4 cups warm water
1 cup sugar
5 lbs flour
5 eggs
1 cup oil
1 ½ tablespoons table salt (or 2 tablespoons kosher salt)
Instructions
In a mixer (Bosch) place the yeast, 1 cup warm water, and a bit of the sugar into the bowl. Add ½ the flour, sugar, another cup of water and start mixing. Add the eggs, oil and salt. Gradually add the remaining 2 cups water and flour. You don't always have to add all the flour or the water (it depends on the weather - see this post.) I prefer to add less flour than having to start trying to fix a dough that's tough. Add just until you feel that it's a nice dough. Mix very well for a good 4-5 minutes.
Remove dough from mixer and place in a large greased bowl. Cover with greased plastic wrap and let rise 1 hour (you can either take challah before you let it rise or right after you rise, depending on your minhag).
Preheat oven to 350⁰F.
Divide into 5-6 parts. (As you are dividing the dough, you don't want to lose the dough's elasticity. So cut it carefully and don't roll it out too much. If you formed the dough into a ball, you should let it rise again for 15 minutes so that it's easier to work it).
Braid (I braid it in 6 strands) and place in greased challah pans (I just spray them well). Cover with a towel and let rise for another 45-50 minutes. Brush with egg wash and top with desired topping (sesame, poppy, plain). Bake until golden, about 45 minutes. When you tap the bottom of the pan, it sounds hollow. At this point I turn the challah over into the pan so that it can cool off without the bottom getting soggy. Let cool completely.
Use High Gluten Flour for best results. 
How Brown Should My Challah Be?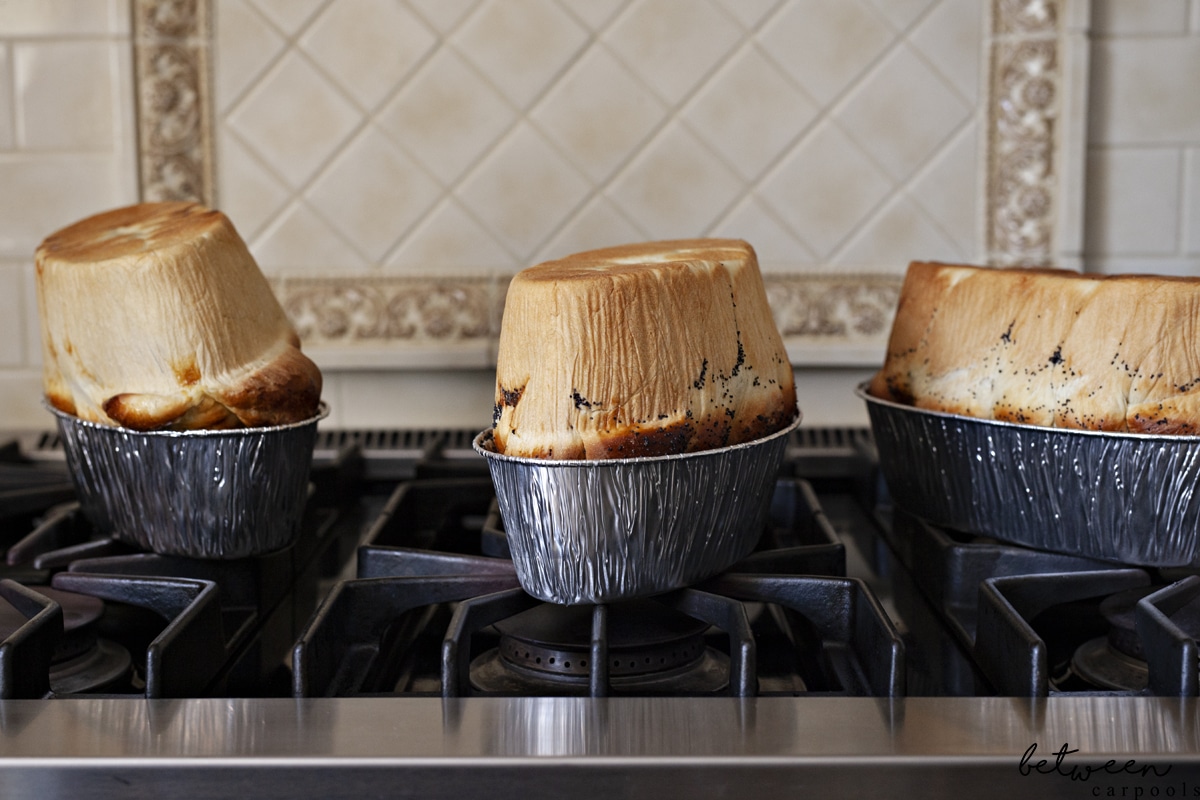 For the challahs that I serve Friday night that I'll be reheating in the oven, it's fine if they are lighter brown on the bottom.
I'll put the challahs that I'm serving Shabbos day back into the oven, upside down in the pan, so the bottom bakes more.
How to Freeze and Thaw Your Challahs
If freezing your challahs, place in freezer bags, removing as much air as possible and freeze. For challahs that I'm serving friday night, I remove from freezer a  few hours before Shabbos and place directly in the oven on a loose piece of foil to heat up. At the same time, I remove a bag of challah for Shabbos morning and I leave it in the bag until the morning. (I would love to take it out only on Shabbos morning but I'm afraid of forgetting!)
See what else I stock in my freezer here.