Sometimes, it's very useful to just know how to do it yourself.
Nothing beats picking up a freshly styled wig from the sheitel macher, but there are times when it just isn't practical—or economical. And during those times, knowing how to touch up, or even wash and set, your own wig is super useful.
Check out this post for a how-to on washing your sheitel. Once that step is done, now it's time to style it.
Essential Styling Tools
Before you can style your sheitel, you'll need to have some basic tools on hand. (Note: all products in this post come recommended by experienced sheitel machers.)
A Styrofoam head will work for touch ups here and there, but if you're planning on styling your wig more regularly, it's worth investing in a sturdier canvas head. (I use a 21" head.) A wig clamp or tripod will keep the head in place while you're gently pulling on it.
To secure the wig on the head, place T-pins on the earpieces and the nape of the sheitel. Never put pins in the silk or lace parts of the cap.
Standard T-pins will hold down the sheitel, but 2¾" strong teardrop pins are great for sectioning off hair and holding it in place once it's set. Large butterfly clips also work well for dividing the hair.
If your sheitel tends to get tangled, sparingly apply a detangler like Pravana Intense Therapy Leave-In Treatment or Paul Mitchell Super Skinny Serum. Using a soft-bristle brush or a curved, vented brush, gently brush the hair, starting from the bottom and working your way up.
Always let the wig air-dry on the head—it will save you time blow-drying and it's better for the hair.
If your sheitel looks good air-dried, then while it's damp, apply a styling product like Mizani Perfect Coil Oil Gel or Aussie Head Strong Volume Spray Gel, scrunch it, and you're good to go! This natural look should last a few days, but if you want your wig to hold the style, you'll likely need to use heating tools.
Which brings us to the #1 rule when styling a sheitel: always use as little heat as possible.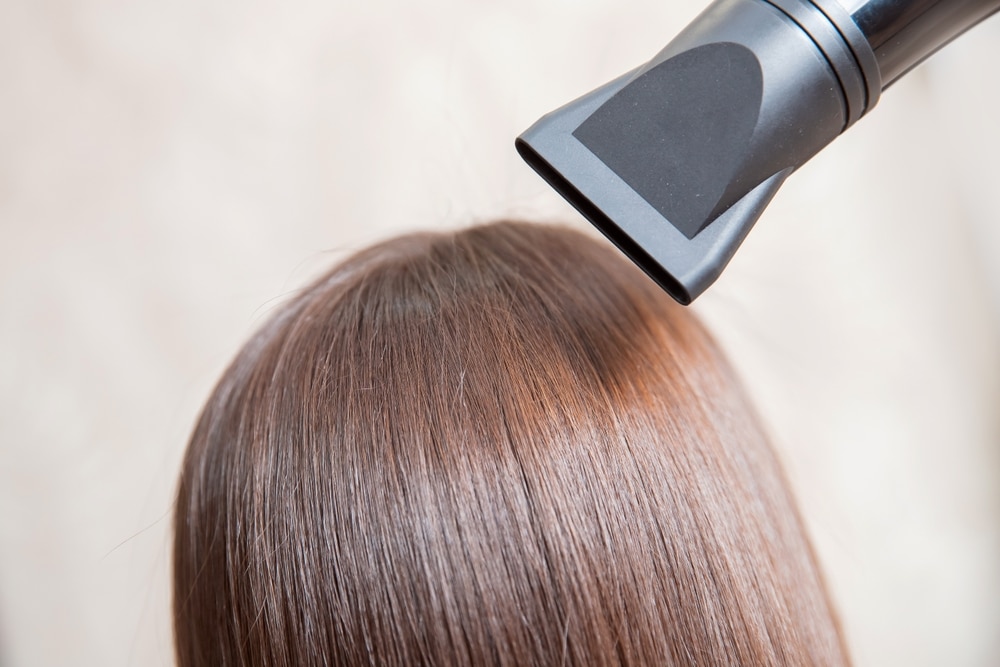 Blow-drying Your Sheitel
When blow-drying a sheitel, make sure to keep the blow-dryer moving—don't hold it in one area for too long. And if you're using a curling iron, start with a low heat setting and go higher as needed.
If you don't already own one, a professional-strength blow-dryer is a solid investment. The CHI Rocket and Babyliss Volare are both excellent choices.
Larger barreled brushes, like the Technique Ionic brush 390, are great for straightening longer sheitels. Smaller barreled brushes add volume or slight waves to layers.
Heat protectant spray is a must-have to protect hair from damage, and Biosilk Thermal Shield and Got2B Guardian Angel work amazingly. Lightly spray each section of hair before you blow-dry or curl it.
Curling Your Sheitel
It seems like there are hundreds of ways to achieve the natural, beachy wave that's popular now. One method is to use a curling iron that's 1½" and hold it horizontally, then unravel the curl before releasing the hair. The Babyliss Porcelain Ceramic curling iron and Hot Tools Signature curling iron are both industry favorites.
Another way to get an S-shaped curl is to use a 3-barrel crimper. Open and close the barrels as you slowly slide the crimper down each section of hair.
You can also try dividing damp hair into four sections and loosely braiding each one. While this method won't necessarily have the same staying power, it's definitely the easiest and gentlest on the hair.
For a more formal look with classic, defined curls, a traditional 1" to 1¼" curling iron held upright works well.
Tutorials abound demonstrating different curling methods, and they all take some practice. Don't be afraid to try a few techniques—and if you have an old sheitel lying around or a willing daughter, even better!
Once you're happy with the style, strategically place pins framing the front so that the hair is just barely resting on the pins. Try a non-sticky hairspray, like Rusk's w8less Super Hold, to help the style last.
Whether you style your sheitel yourself or take it to a pro, don't forget to gently brush your sheitel periodically, paying special attention to the nape. Especially in the summer heat, detangling regularly will help prevent knots and ultimately extend the life of your sheitel.
Special thanks to stylists Tauba Fitzig and Chaya Gold for sharing their valuable time and expertise.