This  strawberry banana ice cream is a great way to teach your kids how to make "sometimes foods" into an "anytime food."
I learned about the concept of "sometimes foods" and "anytime food" from a book called "Untangled" by Lisa Damour. I instantly loved the idea of not labeling foods as "good" or "bad" or even "healthy" and "unhealthy." I preferred to teach my children that there are foods that we can eat anytime like vegetables, fruits, and other whole foods. These foods offer our body sustenance and the nutrients we need. I try to teach my children that part of eating is a pleasure but the main reason we eat is to keep us healthy so we can serve Hashem. It's a mitzvah to make sure we fill our bodies with the food that it needs to be healthy and strong.
"Anytime foods" are foods that our bodies need. "Sometimes foods" are foods that we might enjoy but they might not have the most to offer our bodies and, in some cases, they even can include ingredients that could be harmful. Having these things once in a while is totally fine but if we make them a bigger part of our diet were depriving our bodies of the foods that it needs to be our best. I think this message is a much more honest and healthy message to give our children.
My husband is a pediatric dentist and when he goes to schools to teach kids about taking care of their teeth, he brings along fun educational games. My favorite is a magnetic board that's shaped like a tooth. He brings all different kinds of food images; some are magnets and some are not. The kids are then asked to figure out which are the foods that are good for their teeth and which of the foods that are not. When they put healthy food on the tooth it does not stick; it falls right off. When they place an unhealthy food on the board, it sticks. This allows even the youngest children to understand that when they eat sugary sticky foods, it actually sticks to their teeth causing bacteria and cavities.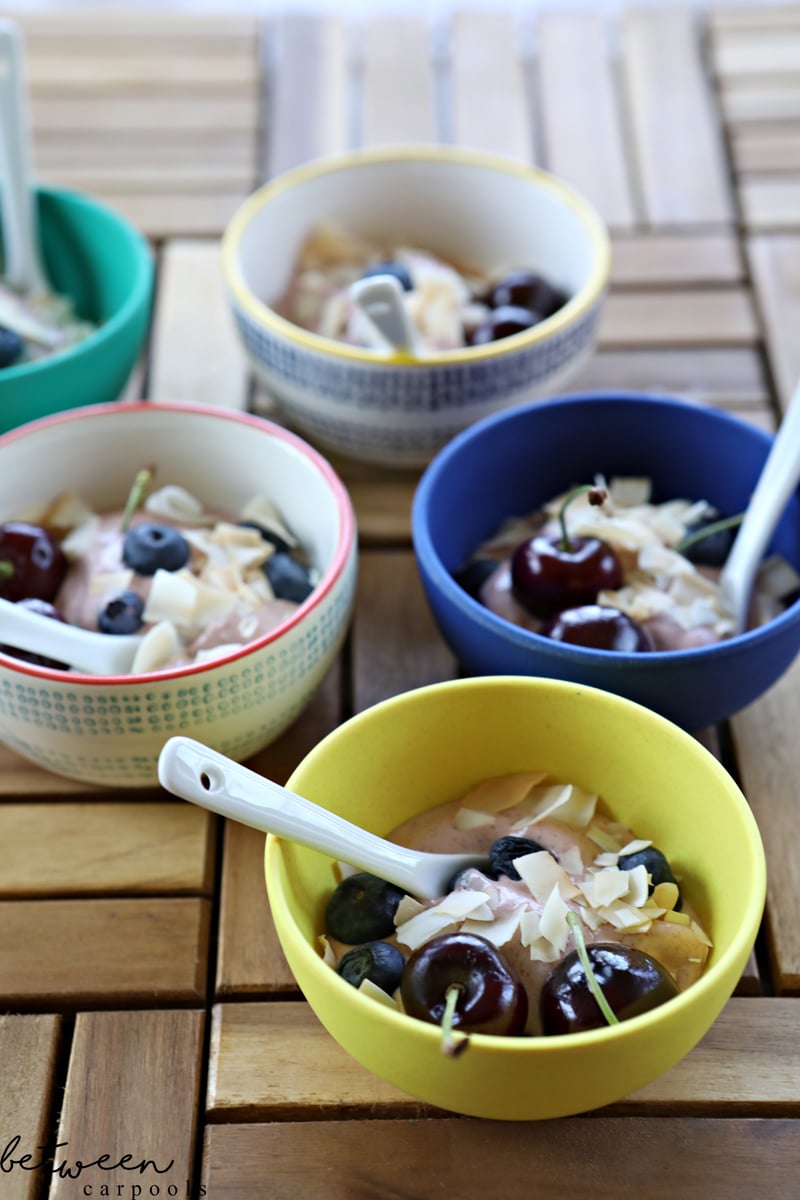 Anytime Ice Cream
Ingredients
½ frozen banana
½ cup frozen strawberries
1 tablespoon almond butter
2-4 tablespoons  almond milk
Toppings:
chopped frozen or fresh fruit, crushed nuts, unsweetened coconut flakes and/or high-quality chocolate chips
Instructions
Place banana, strawberries, and almond butter in the bowl of a NutriBullet or food processor fitted with an S blade. Start to pulse.
As you mix, add almond milk by the tablespoonful, stopping after each addition to determine whether ice cream has reached desired consistency. Less powerful machines will require more liquid, but if you have a more powerful machine, use less or ice cream will be too thin.
Mix until a thick, creamy ice cream appears. Sprinkle with toppings of your choice.